Builder Insights: Opportunity Ahead

Sara Gutterman
3 min read
A recent COGNITION survey of leading-edge builders across the U.S. highlights marked progress in the adoption of sustainable products and technologies.
Green Builder Media's market intelligence division, COGNITION Smart Data, keeps its finger on the pulse of builder and consumer insights. A recent survey of nearly 1,000 builders revealed cautious optimism about the market and a growing willingness to embrace solutions for net zero, all electric, healthy, resilient, intelligent, solar + storage powered homes.

The survey included production, custom, affordable, and multi-family builders from coast to coast. Over 85% of respondents build beyond code, with:
30% building to the National Green Building Standard
26% building to the Zero Energy Ready Home program, and
20% building to Energy Star.
Top Line Results
Respondents indicated that they generally feel positive about market conditions: While they recognize that home prices and mortgage rates remain high, fueling affordability concerns, they claim that low inventory, cooling inflation, a robust jobs market, and solid housing fundamentals give them confidence that the housing market will remain strong.
Even though they remain concerned about labor challenges, material shortages, and supply chain issues, over 75% of respondents said that they are optimistic about the long-term prospects of the housing market. Nearly 85% of builders report stable finances and access to funding, and they point to a solid construction backlog that will carry them through 2023 and into 2024.
80% of builder respondents expect that the Inflation Reduction Act and Infrastructure Bill will have a positive impact on their businesses by providing incentives for high-performance solutions and electrification products.
When asked to rank their top design/building priorities in order of importance, energy efficiency, and healthy home came in neck and neck, followed by connected living, water management (which is growing in importance among builders, especially in water parched states in the western half of the country), and sustainable design.
Respondents reported a high level of interest in embracing energy-related technologies like demand-side energy management systems, high performance building envelope systems and insulation, cool roof systems, induction cooktops, as well as water solutions like greywater systems and water management devices—reflecting steadily growing demand by both consumers and municipalities for solutions that will yield a net zero energy and water result.

Nearly 75% of builders claimed that they are interested in building and selling all-electric homes. The 25% that were unwilling or unsure expressed concerns about fluctuations in future grid-tied energy costs.
Builders indicated that the biggest benefit to selling an all-electric home to homebuyers was not homeowner cost savings, but rather reducing the homeowners' environmental impact and being able to offer healthier, higher performance, and more comfortable homes.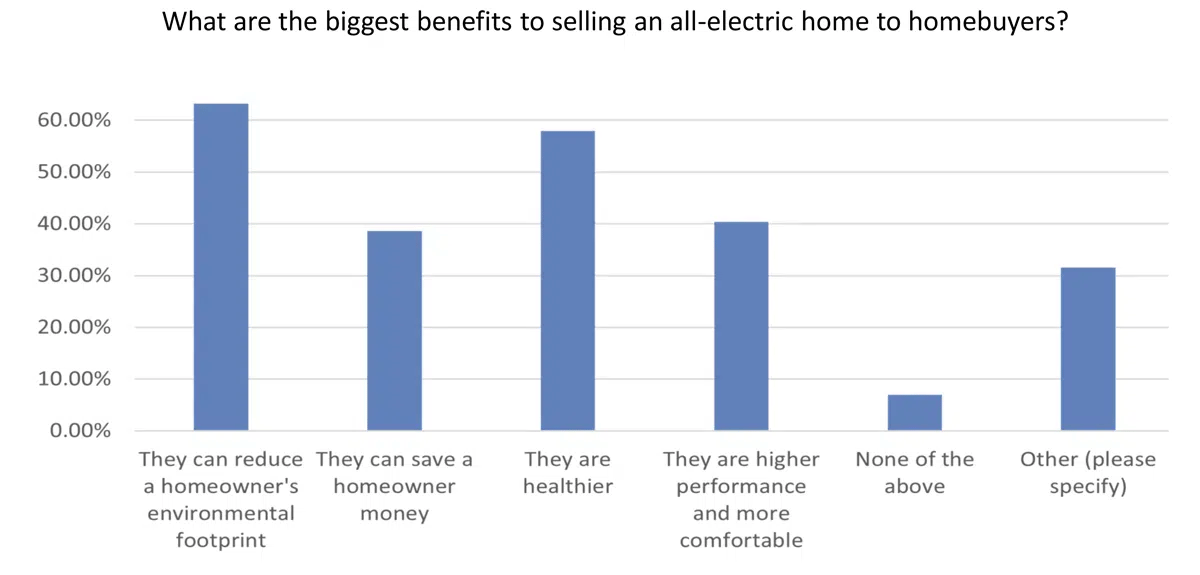 Over 60% of respondents indicated that they plan on using Inflation reduction Act (IRA) funding for upcoming projects as well as tax credits for their business operations. They also claim that IRA funding has incentivized them to increase the energy efficiency of their homes and renewable energy adoption.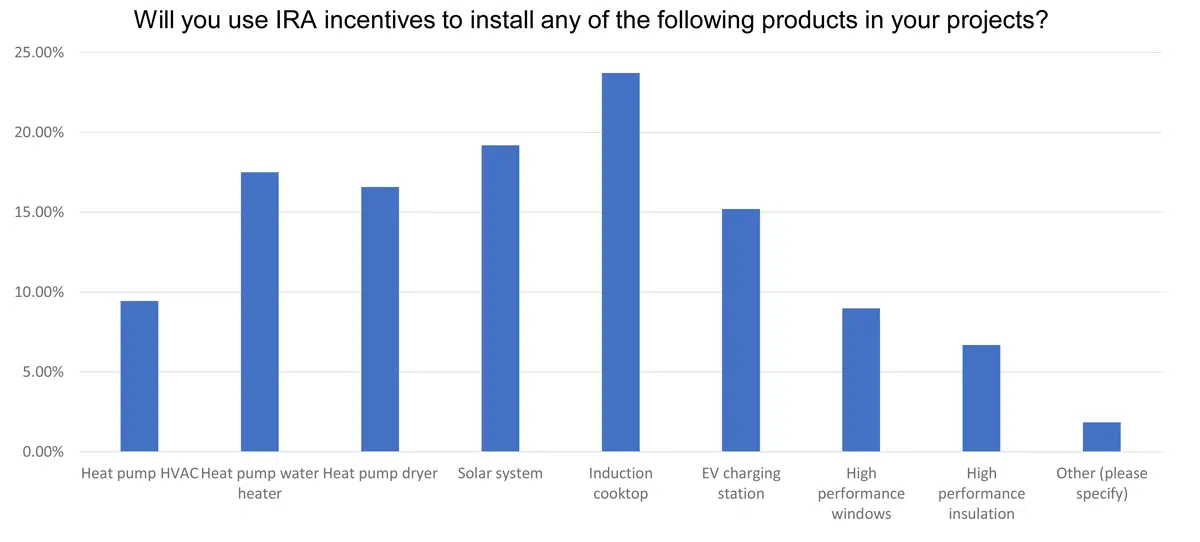 Specifically, respondents claimed that they will use IRA incentives to install products like induction cooktops, solar systems, heat pump technologies (water heaters, HVAC, and dryers), and EV charging stations in their projects.
They also cited increased demand from homebuyers for smart energy systems, solar photovoltaics, battery storage, smart thermostats, and other energy efficiency upgrades.
Opportunity Ahead
When correlating these builder insights with recently gathered data about consumer preferences, purchase drivers, and behaviors, it's clear that there is unprecedented opportunity to transform the built environment for all stakeholders involved in the home design, construction, and buying process.
Windfall funding from the IRA and Infrastructure Bill will drive the adoption of sustainable products and enabling technologies, allowing manufacturers to fast-track product development, builders to enhance the value of their projects, and homeowners to access cost-effective energy efficiency and electrification upgrades.
If we do this right, the homebuilding industry will jump lightyears ahead of where we are today in a short amount of time. To get there, it will take an all-in effort. Will you be part of the solution?
To learn more about how you can design and build higher performance, healthier, smarter homes for 30 to 50 percent cost savings, check out the Housing 2.0 training and education program.
---
This Housing 2.0 article is sponsored by: Jinko Solar, LP Building Solutions, Mitsubishi Electric , Panasonic, Schneider Electric and Sunnova.
Jun 22, 2023 11:39:27 AM · 3 min read
---

As cofounder and CEO of Green Builder Media, Sara is a visionary thought leader and passionate advocate for sustainability. A former venture capitalist, she has participated in the life cycle (from funding to exit) of over 20 companies, with an emphasis on combining sustainability and profitability. She lives in Lake City, Colo., with her husband, where she is an avid long-distance runner, snowboarder, and Crossfit trainer. She is also on the Board of Directors at Dvele, runs the Rural Segment for Energize Colorado, and is a former County Commissioner.