2020 Green Home of the Year Grand Award Winner: Empowered Perfection

Alan Naditz
6 min read
The Monroe Farmhouse showcases outstanding attention to energy, ventilation and heat management.
What would it be like to never pay a power bill again? Mark Kuntz, chief executive officer of Mitsubishi Electric Trane HVAC US (METUS), wanted to find out. After buying an 11-acre property in Monroe, Ga., he wanted to meet three goals: build a house that consumes little energy; incur no debt; and utilize materials that are durable and relatively maintenance free.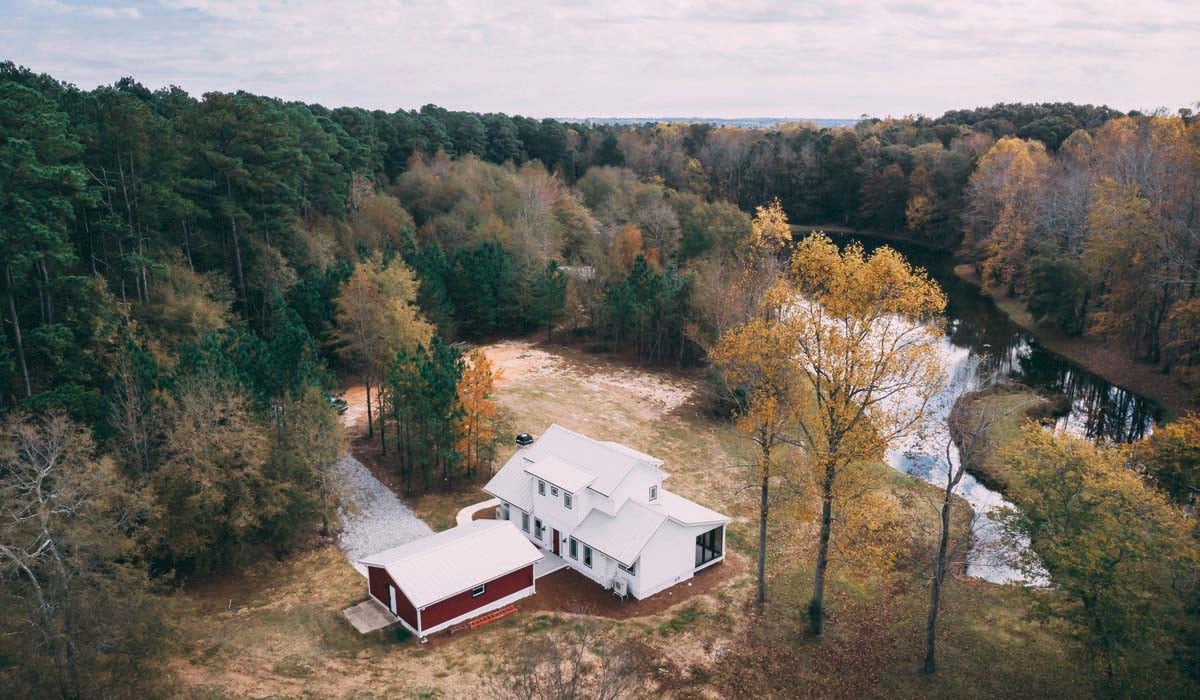 Kuntz chose Imery Group as the builder. The Athens, Ga.-based company has been installing Mitsubishi Electric HVAC equipment since 2011 and is dedicated to the green building movement.
"Everything we do as a company focuses on value and quality," says Imery Group owner Luis Imery. "[We emphasize] the economic value of a high-performance building, as well as the social and environmental values to the greater community."
After assessing Kuntz's goals and the property, the team set its sights on building a U.S. Department of Energy (DOE) Zero Energy Ready Home. "This home recognition essentially means that we maximized our efforts and did everything we could to make the house as healthy and energy efficient as possible, prior to the incorporation of renewable energy," explains Imery.
A Sealed Deal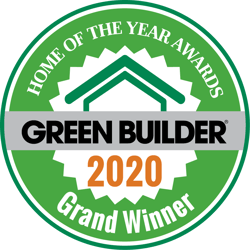 From the Judges: "This home seems to be in its own world. With a great deal of natural vegetation remaining on the site, in Georgia's climate, this home will seem tucked into nature in just a few years."
Project Stats


Name: Monroe Farmhouse, Monroe, Ga.
Builder: Luis Imery, Imery Group
Photographer: Imery Group; Mitsubishi Electric Trane HVAC US (METUS)
With these criteria in mind, the project team planned the thermal envelope and mechanical system design for the 1,863-square-foot, two-story home. "For a home like this, you always start with the building envelope: the exterior walls, the roof and the foundation assembly," notes Imery. "For Mark's house, we wanted to have a continuous and airtight thermal envelope. That means insulation that goes around the foundation, the walls and the ceiling, all in a continuous form."
Imery Group installed below-grade slab insulation to accommodate the horizontal plane of the house. The walls are covered in ZIP System® R-sheathing from Huber Engineered Woods, and the studs are staggered in a zig-zag pattern.
The home was further insulated with spray cellulose, a recycled paper product. The combination of these materials effectively prevents air leakage, allowing the mechanicals to perform optimally.
"The less wood you have touch the exterior of the home, the more efficient it will be, which is why we used the insulated sheathing and staggered stud walls," notes Imery. "On a conventional 2-by-4 wall, you typically place studs 16 inches on center. In this case, we did 2-by-6 walls—allowing us more insulation—and staggered the studs 24 inches on center for the exterior and 24 inches on center for the interior, offset 12 inches apart."
Once assembled, the roof and walls were rated by an R-value, the rate by which a material's heat flow resistance is measured. The walls were rated at R-28 and the roof R-50, significantly higher than code requirements for new builds.
In With the Good Air
Next up was the HVAC design. The METUS Performance Construction Team (PCT) and Imery Group brought in energy and HVAC consulting firm Energy Vanguard to collaborate on the layout and load calculations of the mechanicals.
"When you're building any new home, calculating the heating and cooling loads is important to do from the start," says Energy Vanguard President Allison Bailes III. "Room by room, you measure the loads so that you can then determine the total size of the equipment appropriate for the home. Then there's the ducting to factor in. Whether a system's ducted or ductless, you'll have to make sure air is distributed properly."
Ultimately, the team decided upon three MSZ-FH wall-mounted indoor units (one for each bedroom) and one PEAD horizontal-ducted indoor unit to condition the first level of the home. Mitsubishi Electric's mobile app and web service, kumo cloud®, was also installed so that Kuntz and his family can control the comfort of the home from their preferred smart devices.
Imery Group also installed a third-party energy recovery ventilator, a dehumidifier and photovoltaic solar panels based on their experience and recommendations from the METUS PCT.
A Hot Prospect
One other game-changing product was installed that further assists in making the home ultra-efficient: a prototype hot water heat pump from Mitsubishi Electric. The unit captures the heat from the outdoors, eliminating the need for the HVAC system to compensate for heat loss that might occur indoors.
"So far, we've been getting good performance results. We're hitting the energy factor level that a lot of utilities are looking for with hot water heat pumps," says Kuntz. "It's a split system, half outdoors—so it's not cannibalizing heat—and half indoors to provide hot water, and heating and cooling to the rest of the downstairs space. When in air-conditioning mode, it's capturing heat inside the house and putting it in the water. It's essentially gathering free heat."
Extending the concept of free energy a bit further, Kuntz also had an electric car charging station installed in the garage and plans to one day add a bi-directional charger. "My expectation is to provide living and transportation energy on a net-zero basis," he says. "With the solar panels installed, the expectation is that my energy generation will offset my usage, including my electric vehicles."
Extreme Efficiency
Since the home's completion in December 2018 and review by a third-party green verifier, Home Performance Solutions, the residence has exceeded the entire project team's expectations. With the solar panels, the home has a confirmed Residential Energy Services Network (RESNET) Home Energy Rating System (HERS) Index score of minus 13. For a conventional, new build home, RESNET references a HERS score of 100. The Georgia Building Code goes even further, requiring a HERS index of 90.
The home also officially meets DOE Zero Energy Ready Home, ENERGY STAR®, EPA Indoor airPLUS and EarthCraft™ certifications, and exceeds the 2009 and 2012 International Energy Conservation Code® (IECC).
In addition, with the solar panels, Kuntz's projected energy costs per year total $120. That's an annual savings of $2,837 compared to the average, new U.S. home. According to the Zero Energy Project, the total cost of ownership of a zero-energy-ready home is less than that of a similarly sized, conventional new home—not to mention, an environmentally conscious decision.
With such great energy savings, Kuntz can't help but advocate for performance building. "The proof is in the results," he says. "The whole notion of creating a home like this is that you can reap the benefits of no energy costs, low maintenance and extremely comfortable conditions without giving up window space, airy rooms and nice design."
In October 2019, the home was recognized with a DOE Housing Innovation Award as a Grand Winner in the small custom home category. And, it's the Grand Winner in this year's Green Builder Home of the Year competition.
Key Components
Appliances
: Samsung ENERGY STAR® appliances
Automotive (electric car charging, etc.):
Mitsubishi Electric INVERTER Charging Station
Building Envelope:
R-21 GreenFiber cellulose insulation, Huber R-3 ZIP sheathing, ZIP tape, MTI 3/8-inch rigid rainscreen, Allura Fiber Cement cladding
Cabinets, Shelves, Millwork
: Wellborn Cabinets
Caulks and Sealants
: Huber floor adhesive, PPG TOP GUN®
Countertops
: Elements Quartz
Exterior Finishes
: Allura Fiber Cement siding and cornice
Fireplace
: Heatilator element 42-inch EL42
Flooring
: Stained concrete
Garage Doors
: LiftMaster
Home Controls
: kumo cloud® from Mitsubishi Electric
HVAC/Ducts
: Mitsubishi Electric ductless and ducted minisplits with 3D i-see Sensor™ technology
Insulation
: ZIP System® R-sheathing
Lighting
: Progressive Lighting - Fixtures: Colton, Keeley
Paints and Stains
: Sherwin Williams, Porter Paint
Plumbing/Plumbing Fixtures:
Delta faucets and fixtures; PEX pipe material for water distribution. All fixtures were low-flow with WaterSense labels
Renewable Energy Systems (solar, wind, etc.):
Mitsubishi Electric photovoltaic panels connected to a SolarEdge StorEdge inverter, for a total rated output of 8.2 kW
Roof
: Blown in R-50 cellulose insulation; Huber ZIP sheathing as roof decking, ZIP tape and flashing, and 26-gauge standing seam metal roof
Specialty Products
: Ultra Aire MD33 In-Wall Dehumidifier
Ventilation
: Broan ERV
Windows, Skylights, Patio Doors
: Interstate Window and Door
Other:
Exhaust fans by Panasonic
Nexia Home Automation connecting Samsung appliances and water monitoring/shutoff system
kumo cloud® (by Mitsubishi Electric) – remote monitoring, programming and control of bedroom HVAC systems.
Honeywell RedLINK Internet Gateway and thermostat – remote monitoring, programming and control of living space HVAC system.
Sense Home Energy Monitor – remote monitoring of all electrical usage by device, and solar production
Ring – security and remote visual monitoring of premises
SolarEdge – remote monitoring and control of
PV system
Feb 10, 2020 3:08:35 PM · 6 min read
---

Alan Naditz is managing editor of Green Builder Magazine. He has covered numerous industries in his extensive career, including residential and commercial construction, small and corporate business, real estate and sustainability.