According to the National Oceanic and Atmospheric Administration (NOAA), 2011 and 2012 were the two most extreme years on record for destructive weather events, resulting in more than $170 billion in damages.
In 2012, 32.4 million people were displaced worldwide due to natural disasters1 – 98% of those displacements were due to climate and weather related events. Weather has a major impact on the built environment, and recovery after an extreme weather event costs approximately fourteen times more than prevention. States are now spending more money on natural disaster restoration than on education. The need to build resilient housing has never been more apparent.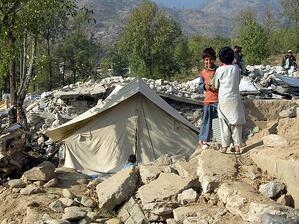 Official estimates show the 2010 earthquake in Haiti left 316,000 people dead, 1.3 million displaced, and over 285,000 houses damaged or destroyed.2 Hurricane Sandy displaced 776,000 people and destroyed at least 650,000 houses as it tore through coastlines in Haiti, Jamaica, Cuba, New Jersey and New York.3 In 2013, flooding caused over 1.3 million dollars in property damage in the U.S.4 Colorado reported 4,167 wildland fires through the National Fire Reporting System in 2012 which destroyed more than 648 structures, burned more than 384,803 acres and have caused at least $538 million in property losses.5
Although these statistics are alarming, current building science is available for creating housing that can stand up to natural disasters.
Products such as Insulated Concrete Forms can be used to build structures that can withstand tornadoes up to EF5. Class A fire-rated tile roofing can withstand a higher level of exposure to fire originating from sources outside of a building (such as wildfires) and can also provide increased resistance to (and protection from) hail, wind, frost and seismic activity. FEMA lists pressure-treated or naturally decay-resistant lumber, concrete, corrosion-resistant structural steel and closed-cell foam insulation as just a few coastal building materials that may help a home be more flood-resistant.
These are just a few of the solutions that have been designed to help curb the impact of natural disasters on the built environment. We invite your comments and expertise as we explore this subject over the next few months.
1 Study by Internal Displacement Monitoring Centre and Norwegian Refugee Council; 2 USGS; 3 NOAA; 50 states, 4NOAA Stat that includes the U.S, Puerto Rico, Guam, and the Virgin Islands; 5 Colorado Division of Fire Prevention and Control;