The Kashmir earthquake of 2005 produced images seen around the world – depictions of the absolute devastation and havoc caused by a natural disaster. It was during this time that Harry Skinner, a retired architect in Bellingham, Washington, came across a photo of a woman covered in snow, nursing her baby. Like so many others, he was unwilling to accept the standard of emergency relief shelter made available to displaced persons after such a traumatic experience.
"It was alarming [to see that photo]," says Skinner, "And I started to think, 'Now wouldn't it be great to come up with something innovative that could be used in situations like this and for all kinds of other things.'"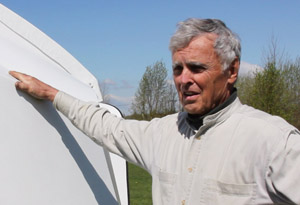 Recovery Huts Founder, Harry Skinner
Inspired by the rapid-delivery fabrication of large sheet steel auto body parts, Skinner began researching durable composite fiberglass technology, resulting in the Recovery Huts. Each basic Hut has an 85 ft2 footprint and six feet of headroom around the interior perimeter. It consists of four identical, 60 lb. stackable panels that two people can snap together in less than 30 minutes. Additional panels enable the basic Hut to evolve into an expanded Hut as well as the possibility of family clusters or "village" groupings which may be desirable in some cultures.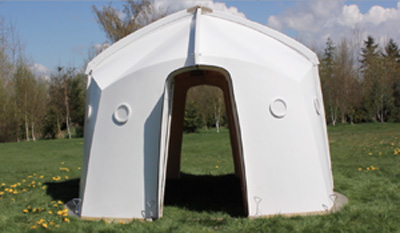 Basic Hut Prototype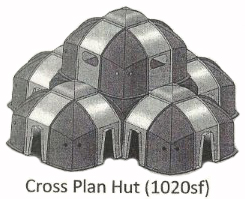 Example of "cluster" or "grouping" Huts
As demonstrated in areas such as Haiti or New Orleans, the rebuilding process in towns and communities after a natural disaster can be slow. The modular design of the Recovery Huts would allow for them to be quickly taken apart and moved from one location to another. This would be ideal for creating long-term temporary housing in areas where people have been displaced by natural disasters or wars and where rebuilding communities will happen in stages.
Recovery Huts, a non-profit venture, will be launching a crowdfunding campaign in the Fall of 2014 through Kickstarter. The goal will be to produce a certain number of market-ready Huts that can be sent to areas of need both abroad and in the United States for real-life testing.
"Kickstarter demonstrates a latent interest in people who are busy with their own lives and don't really see themselves as being great big contributor-investors but say, 'Hey, I think this is a good idea,'" says Skinner. "People want to be involved and with this type of project they can do so with relatively minor contribution."
To learn more about Recovery Huts follow us on Facebook and Twitter.
Questions? Email RecoveryHuts@hotmail.com.
Related Stories on www.greenbuildermedia.com: