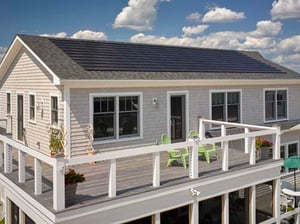 Apollo Tile II solar roofing systems are engineered for seamless integration with new or existing asphalt shingle or concrete tile roofs. Each all-black solar module features 14 high-efficiency monocrystalline silicon solar cells that offer 63 watts of rated power, among the highest in the industry. Once installed, these solar roofing systems provide a sleek, low-profile aesthetic.
Installation is simple: Modules are fastened directly to roof sheathing using standard deck screws. Fastening points are covered by subsequent solar modules, the same way that traditional roofing is installed. Additional installer-friendly features include simple flashing, plug-and-play connectors and built-in wire management.
Apollo II systems are lightweight, about as many pounds per square foot as a typical asphalt shingle and significantly less than concrete tiles. They're also durable—rated to withstand loading of up to 250 pounds per square foot—and are certified for roofing safety (UL1703) and solar performance (IEC61215). With the highest wind rating available for roofing systems, they can be installed in any wind zone in the country. Water management features are built into the modules to enhance protection against water intrusion.