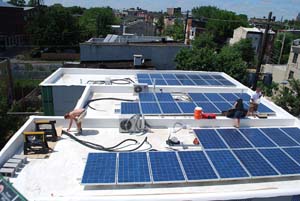 Once notorious leakers, residential flat roofs have been rebuilding their reputation in recent years. Better coatings and insulating systems, plus the ability to integrate solar and rooftop gardens, have builders and architects taking a second look.
by Dan McCue
WHEN PAUL LEDMAN PAUSED TO CONSIDER THE ROOFING OPTIONS of the new, multi-family home he was building in historic Portland, Maine, the ultimate choice seemed like a no-brainer.
To the former New Yorker, who has developed several multi-family brownstone and commercial projects, a pitched roof would have just seemed odd for the three-unit home he was contemplating.
Then there was the fact that his dream, in his own words, was to "have the most energy efficient home in Maine"—one that incorporated both the efficient use of energy and a 9,600-watt rooftop solar array.
"Suffice to say," Ledman says, "a flat roof was perfect for what we wanted."
By the time Ledman, principle of Eco-Capital, his general contractor, Mike White, of Island Carpentry, and his architecture firm, Kaplan Thomson Architects, finalized the design of the building in Portland, the structure was 29' x 69', with the first floor having two rental apartments, and the second and third floor (really a half floor) intended to serve as Ledman's home.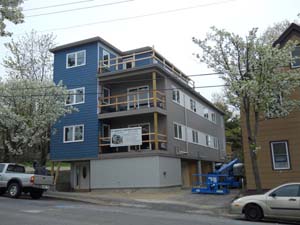 Given the design, the 2,001-sq. ft. roof would be split between the top level of the second and third stories. When the project was completed, a solar array would be attached to the third-story roof, and a deck would cover the second story.
"From our perspective, there really was no big deal about doing a flat roof for this project, so long as we had the pitch correct, the load correct, and had fully taken into account the susceptibility of the solar panels to the force and load of blowing winds," Ledman says.
With the concept in hand, the builder then turned to St. Hilaire Roofing Contractors of Lewiston, Maine, a five-generation, family-owned firm, whom White and others working on the project had known for years.

Why EPDM?
Dave St. Hilaire, vice president of St. Hiliare Roofing Contractors, first suggested using the synthetic rubber terpolymer ethylene propylene diene methylene (EPDM) on Ledman's project.
"We had considered other possibilities, but when he said, 'Why don't you put three inches of rubber foam down on this,' it really appealed to me," Ledman says. "So we looked at the cost and installation time and everything else, including local planning board approvals, and it was quickly obvious this was the best solution."
While Ledman and his team ultimately decided on a EPDM roof, other options that were considered were PVC and TPO membranes, which are essentially single-ply, thermoplastic roofs that are hot-air welded together.
Another consideration was color. Ledman and St. Hilaire opted for a dark roof, believing that its heat-absorbing properties were better suited to Maine's generally cool climate and long winters.
A number of recent studies have lauded white or light-colored roofs, including one recently published in the cool roofing blog at Coolflatroof.com, for the their ability to reflect sunlight in hot climates—not only reducing cooling costs, but increasing comfort for those inside the home.
According to their analysis, a cool white roof only gained 6 thermal degrees on a clear, sunny day, whereas a black roof of rubber, rolled asphalt or tar gained 87 thermal degrees during the same period of intense sunlight.
The only problem with a white roof is that in cool or temperate climates, the savings to be gained in the summer would be countered by increased heating costs in the winter—when heat absorbed by a dark roof may be beneficial.
Recently, researchers at the Massachusetts Institute of Technology (MIT) found a way to have it both ways, developing what they call "Thermeleon" coating technology that changes color. Eventually, the product may be applied as a spray over flat roofs, so that in cool weather the tiles appear black, reflecting only 30% of the solar rays that hit them. As the temperature rises, the polymer responsible for the material's dark appearance clumps into droplets, which scatter around the surface—causing the tile to turn white, and consequently reflect 80% of the solar heat that hits it.
Speaking to the planning board issues, Ledman points to his new neighbors' homes, most of which were built between 1890 and 1920, and almost all of which are three-story, flat-roof houses.
"Everything old is new again, eventually," states Ledman. "As a result, I think we had a plan that both we and the planning board were happy with."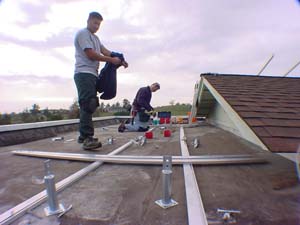 EPDM: Installation Matters
Of course, anyone who's ever been involved with a "flat" roof project knows the name is something of a misnomer. As in the case of a pitched roof, slope is a primary concern—regardless of what kind of roofing material is being used—and the only way to truly and effectively prevent water collecting on the finished structure.
The slope of a roof is determined by how many inches the roof rises over 1 foot.
According to the International Building Code, the typical built-up flat roof that uses tar or asphalt goes by the guideline that for every foot of a flat roof, a minimum of ¼" must step up or down.
This is the basis for calculating the angle, which is approximately a 1.19° slope. This angle may need to change if you choose an alternative building material for the membrane of the roof. A common slope used that covers most materials is 2:12, which means that for every foot, the roof steps up or down 2".
In anticipation of the roofing project, Ledman and his team built the pitch they desired into the actual framing of the house, creating the ¼" per foot drop required to shuttle rainwater off of the roof and into a downspout. Installation of the EPDM roof took two days, with scuppers installed to direct the rain where the owner wanted it to go.
"One of the beauties of EPDM is the ease with which it can be installed," St. Hilaire says. "Basically, it's a rubber that looks like tire tubes, and it has a similar flexibility."
For Ledman's multi-family dwelling, St. Hilaire first put down 3" of foam insulation—increasing the R-Value of the roof—and then used .060"-thick sheets of EPDM. The sheets come in an assortment of widths, including 10' x 50', 10' x 100', 16.5' x 100', 20' x 100' and 25' x 100'.
Once the insulation is in place, St. Hilaire says, the contractor essentially has three choices for how to install the rubber on top of the insulation. His preferred method, and the one he employed on the Portland project, is to glue it down. His reasoning is simple: "You are not adding a significant amount of weight to the roof."
Another method would be to use a mechanical fastening system—either metal plates or metal straps that are screwed into the roof—but St. Hilaire says he prefers not to do that because the metal components tend to flutter in the wind and abrase their way through the rubber over time, thereby causing premature aging.
The last method is to employ ballast, which is application more appropriate for large commercial settings like grocery stores, schools and other large structures that are engineered to handle more weight.
"In the latter case, small stones are used to hold the rubber down, so basically, you're lose-laying your insulation, loose-laying your rubber over that, doing your seams, and then spreading stone," he says.
"We don't do much of that," he adds. "It's hard work."
That's the reason St. Hilaire gives for preferring fully-adhered systems like glued-down sheets of EPDM—fewer complications all around.
Asked if he's ever used liquid EPDM to affect a repair, and the fifth-generation roofer quickly demurs. "I know that there are sprayed-on roofing systems that are really big in other parts of the country, but in my experience I've found that liquid products don't have the properties they need to hold together for the long haul," he explains. "You have to add fabric or take additional steps to make it hold up, like installing spray foam and then, after that's cured, spraying on multiple layers of the liquid EPDM, and it's just not an approach I prefer. Plus, with the extremes in weather we have in the Northeast, I really haven't found that they work."
The outside walls of the Ledman dwelling were covered with Rboard, a rigid, GreenGuard-certified polyiso foam insulation panel with a specially coated facer on both surfaces. In finishing the roof, the St. Hilaire team came to around 1.5' up the exterior walls of the partial third story, then secured a self-adhesive ice and water shield at the transition from the roof EPDM to the board.
"It's a technique that I think has worked very, very well," Ledman says. "Now, when we bring down the vinyl siding, we can overlap it a little bit and shield the transition."
The next challenge for the team was preparing for the installation of the solar array.

Through-Bolts
"In order to avoid problems later, you have to account for the lifting potential of the solar panels and their susceptibility to high winds, and that means they have to be bolted down really, really well," Ledman says.
To accomplish this goal, the roofing contractor installed pressure-treated 6" x 6" sleepers (below) that were bolted into the blocking underneath the roof structure—an approach that tied the solar array into the home's 2" x 12" roofing system.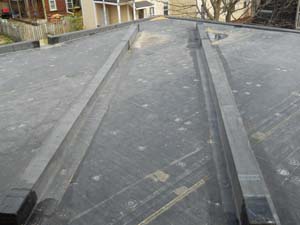 "It's really one solid unit," Ledman says. "And that was really the only exceptional thing we had to do."
According to Ledman, use of the sleepers—which he'll also use to install a deck on the second-story roof, will not void his 10-year warrantee. Plus, he said, the solar panels and deck over the rubber roofing material will help to protect it from damaging UV rays.
St. Hilaire says a residential flat roof done with EPDM will typically qualify for a 10-year warranty provided by the manufacturer. However, if a roof meets certain exacting criteria, such as heavier rubber or redundant flashing or seams, it's possible to secure up to a 30-year warranty from the manufacturer, installer or some combination of both.
When the roof needs to be replaced, much of the material can be recycled for use in pavers, walking pads, and even jogging tracks. But St. Hilaire says he prefers an alternative option—repairing the roof rather than removing it (See sidebar).
"We'll leave it there and add more to it," he says.