Download Your Free Copy of the Zero Energy Residential Buildings Study
Innovation in high performance products, renewable energy, and automation technologies, and corresponding advancements in codes and policy, have facilitated a massive migration towards net zero energy structures, as affirmed by a new market report released by Team Zero.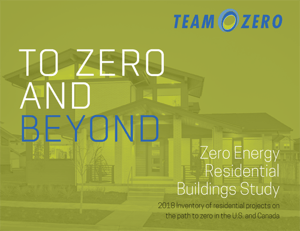 The study offers some noteworthy insights:
"The inventory documents 22,146 single family and multifamily projects that are either in design, construction, or operation, representing a 59% increase over the prior year inventory," says Richard Willingham, Chairman of Team Zero. "The tremendous growth in net zero structures across North America serves as reassurance to builders, homeowners, and manufactures alike that investing in high-performance structures and renewable energy is a smart, feasible market strategy."
The study reveals that larger multi-family buildings comprise the majority of net zero projects, representing 71% of the total residential stock, and that projects incorporating renewables are proliferating like never before.
Not surprisingly, California leads the net zero movement with 6,828 units. New York comes in second at 3,022. On a regional level, the Southwest (California, Arizona, Colorado, and Texas) is the trailblazer with over 9,600.
The growth numbers in Canada are impressive as well, with a 240% increase in net zero projects in 2018.
Fill out the form on this page to download your free copy.