As predicted in the Celestia Project, roads made with recycled (and recyclable) polymers are becoming a reality.
A Scottish company, MacRebur, is among the world's first to make plastic asphalt additive available commercially. Here's information from their website: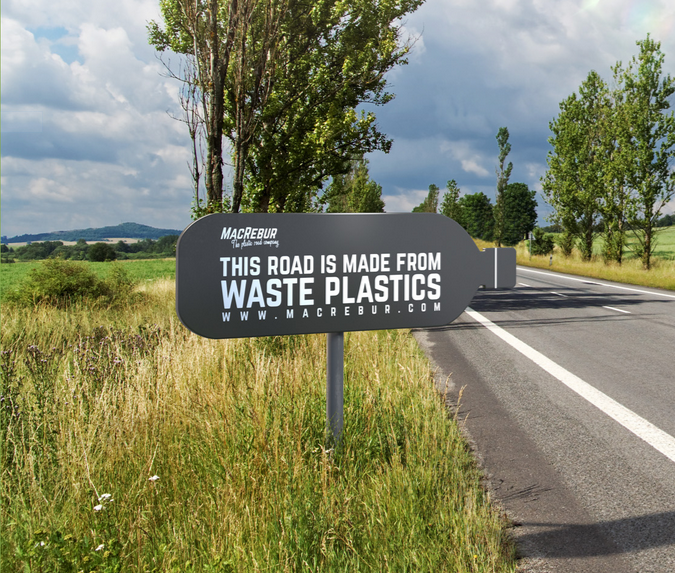 MR6 is a waste plastic pellet additive used to replace bitumen in an asphalt mix, resulting in a stronger, longer lasting, cost effective, greener road-free from potholes. MR6 enhances the roads we drive on./p>
Our customers are the asphalt manufacturing companies, of which there are 275 asphalt plants currently operating in the UK and nearly 5000 across Europe.
Worldwide, the asphalt market produces 1.6 trillion tons of asphalt, and for example in the US this is expected to rise by 3% each year.
As MR6 replaces part of the bitumen in an asphalt mix, the potential market is colossal and very scalable as to our knowledge there is no other product in the world like it.
MR6 can be added into every ton of asphalt produced without any modifications being required by the asphalt manufacturing plants,
According to the Guardian, India has been quietly building plastic composite roads for four years, with excellent results:
The environmentally conscious approach to road construction was developed in India around 15 years ago in response to the growing problem of plastic litter. As time wore on, polymer roads proved to be surprisingly durable, winning support among scientists and policymakers in India as well as neighboring countries like Bhutan. "The plastic tar roads have not developed any potholes, rutting, raveling or edge flaw, even though these roads are more than four years of age," observed an early performance report by India's Central Pollution Control Board. Today, there are more than 21,000 miles of plastic road in India, and roughly half are in the southern state of Tamil Nadu. Most are rural roads, but a small number have also been built in cities such as Chennai and Mumbai.
Polymer roads have had a harder time breaking into the U.S. market. According to some observers, this is because U.S. public works departments are afraid it will result in job losses, and the mix costs somewhat more up front than asphalt. But these are merely untried assessments at this point, and the market is very young. We believe the product will ultmately find a natural market in the U.S. as a shift to electric vehicles cuts into tax income in the U.S. for asphalt road repair and replacement.
The U.S. does use polymber in certain specialty paving, but costs are still up to 50% higher than standard asphalt paving.One game changer may be India's new tar plastic roads, described by the Guardian:
While polymer roads in the US are made with asphalt that comes pre-mixed with a polymer, plastic tar roads are a frugal invention, made with a discarded, low-grade polymer. Every kilometer of this kind of road uses the equivalent of 1m plastic bags, saving around one tonne of asphalt and costing roughly 8% less than a conventional road. Dr R Vasudevan, a chemistry professor and dean at the Thiagarajar College of Engineering in Madurai, came up with the idea through trial and error, sprinkling shredded plastic waste over hot gravel and coating the stones in a thin film of plastic.
---
© 2015, Green Builder Media. All rights reserved. This article is the exclusive property of Green Builder Media. If you would like to reprint this content, you are free to extract a short excerpt (no more than 1/4th of the total article), as long as you 1. credit the author, and 2. include a live link back to the original post on our site. Please contact a member of our editorial staff if you need more information.