Water Heater Technology Key to Electrified Houses

Cati O'Keefe
1 min read
Sponsored Content
In this ebook, Water Heaters In Control, learn about the latest technology in water heaters and how they are an integral link to today's electrified homes.
An easy way to step toward energy efficiency and carbon neutral homes is to spec the most energy-efficient water heater available. Manufacturers have made great strides in bringing down the cost of water heating units, raising the energy efficiency, and simplifying the installation of these workhorse appliances.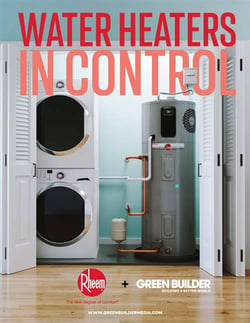 Green Builder Media partnered with Rheem to produce a new ebook that digs into what makes a water heater efficient and what other features are important to today's home buyers. A case study on the ProTerra Hybrid Electric Water Heater, this ebook will teach you how a host of components make a water heater efficient and intuitive for homeowners.
For example, the ProTerra offers leak detection and prevention and allows the homeowner to schedule for time-of-use rates. The "battery storage" aspect of the appliance means the water can be super heated during the day when the power grid has a lighter load, and then it's ready for that evening shower but at a lower cost and with less impact on the environment.
Other features address the demands of today's home buyers, like the ability to fit the streamlined unit into small spaces. But the most important aspect of a water heater is its ability to save energy.
"The ProTerra is the first product in the market that has an UEF of up to 4.0," says Ankur Maheshwari, Rheem's Global Decarbonization Lead. "Compare that to the standard electric UEF of .93, and that is tremendous. One dollar of electricity in the unit converts to $4 of heat in water. That's where the efficiency comes in."
Read Water Heaters In Control and learn more about this groundbreaking product and how it takes the building industry and homeowners one step closer to a more comfortable, energy-efficient home and a better climate outcome.
Jul 21, 2021 12:09:34 PM · 1 min read
---

Cati O'Keefe is the editorial director of Green Builder Media. She has 25 years of experience reporting and writing on all aspects of residential housing, building and energy codes, green building, and sustainability.