In Wildfire Zone, Resilient Doors Offer Fortress-Like Protection

Samantha Carlin
1 min read
In this video, Ron Jones discusses the deciding factors during product selection for the entry and garage doors. Energy efficiency, performance and durability were all non-negotiable requirements.
In this video, Ron Jones, owner of VISION House Mariposa Meadows and president of Green Builder Media, talks about the specific products that make Mariposa Meadows unique, resilient and sustainable. On the topic of fire protection, Jones expressed how imperative the choice of doors was for the safety of the buildings.
For example, the steel entry doors from Assa Abloy have a three-hour fire rating. "They are incredible," Jones asserts. He greatly admires "the security and solid silence you feel from them."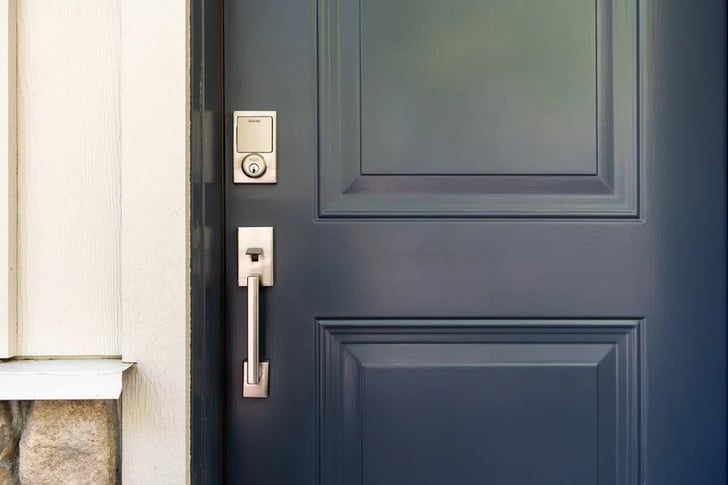 "The door to the outside is the first line of security for your safety and your comfort, and I don't know how we could have done better than their products," Jones says.
"The garage door is typically the largest opening in a house and, therefore, can save considerable amounts of energy if properly insulated," Jones explains. Because Mariposa Meadows is an off-grid compound reliant on solar power and battery storage, Jones took every opportunity to make these homes as energy efficient as possible.
Jones selected a Clopay garage door to meet energy and resiliency needs. The 16 x 8 foot R-15 door is insulated with Intellicore insulation technology and operates to keep the heat inside. "The garage is heated, but even when there's no heat turned on and it's zero degrees outside, I've never seen the thermometer go below 40 degrees in there," Jones notes.
Additionally, the garage door has a 100 mph wind-load rating, perfect for this wind-whipped location. "It snugs up so nice and tight, and it doesn't detract from the aesthetic of the building; it actually enhances it," Jones adds.
"I couldn't be happier with the selections we made," Jones concludes.Check the VISION House Mariposa Meadows' microsite for more videos of Ron Jones on the products selected for the project.
Mar 6, 2023 10:33:43 AM · 1 min read
---

Samantha is able to express her passion for the environment -- both natural and built -- as the special projects manager at Green Builder Media. Prior to joining the Green Builder Media team, she worked as an order management specialist at C.A. Fortune, a consumer brands agency. She is a recent graduate of the Master in Environmental Management program at Western Colorado University with an emphasis on sustainable and resilient communities. Originally from the suburbs of Chicago, she is currently thriving in Gunnison, CO where she enjoys the surrounding geology, mountain biking, and skiing.