Trane's Tranquility IAQ Package for Building Pros Offers Easy Upsell

Matt Power, Editor-In-Chief
4 min read
Aware of the fast-growing interest in indoor air quality, Trane has developed an upsell program that demystifies HVAC for many budgets, including exacting high-end clients.
Sponsored Content
Why did VOCs and "airborne particles" recently become household words? The answer is pretty straightforward: When homeowners gained the ability to monitor pollution in their own homes with inexpensive sensors.
New air-quality measuring products on the market give offgassing materials nowhere to hide, especially in carefully sealed, well insulated high-performance homes. What's more, some of them offer longitudinal data—meaning they not only track the presence of particles in the air at any given moment, but give their owner bar charts and other data showing how their home's level of pollution rises and falls over the course of a day, week or month.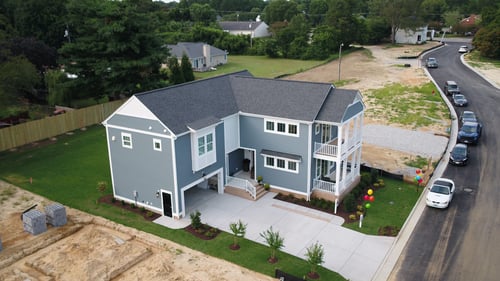 Simplifying IAQ.By designing and packaging IAQ products as part of a home's HVAC system Tranquility by Trane makes IAQ part of a builder's portfolio.
Trane clearly had builders in mind with its new Tranquility by Trane solution. . Like other brand categories in the industry, such as exterior sealing and insulation, they've embraced a holistic approach that looks at a home's environment as a system. But just as importantly, it puts a priority on the quality of the air being heated, cooled, and how it moves through the home or apartment. If you ask Trane, the "V" in HVAC - Ventilation - is going to be a big focus in 2020.
To keep IAQ within healthy parameters, the Tranquility approach designs for balanced ventilation and humidity control with heating and cooling-- from the earliest planning stages of developing the architectural floorplan. At the same time, Trane streamlines the entire process with integrated design, driving more and better collaboration between the builder, the HVAC dealer and the end-buyer, or customer. This approach leans on third party mechanical design, takes the right-sized specifications back to the team. All parties agree on what tonnage best serves the customer.
The results are minimal duct runs, and smaller equipment,which opens up budget for IAQ enhancements such as Trane's CleanEffects™ whole house filtration system. (CleanEffects™ is the first AAFA certified whole house filtration system in North America.).
With integrated design parameters around IAQ and comfort you can still reduce the bottom line for builders and HVAC-installers, without compromising comfort for owners.
"In the status quo, the adoption of 3rd party design in residential new construction is still rare. By providing the design as a service, we can help builders meet IAQ and comfort goals with less effort and complexity." Says David Maruna, Trane's Marketing leader for Builders & Property Managers, "By putting IAQ and healthy home goals up front in conversations with clients, and making it part of an energy efficiency story, building pros can satisfy savvy clients, and build better, healthier homes—at the same time adding a little profit to their bottom line."
Full Transparency for Homeowners
In the past, the end user had to rely on wall-mounted thermostats and sensors to weigh the performance of their mechanical system. Now, however, every client with a phone has a transparent view of exactly what's happening in the home. Is the CO2 level high in the bedroom? Is something slowly releasing VOCs in the living room? The information provided on their smartphones not only tells them where fresh air is lacking, or a window is leaking cold air, but also where the builder may have cut corners and used materials that require a long time to offgass.
This ability to monitor the home inexpensively, as you can imagine, puts the work of HVAC installers and builders in the spotlight, particularly at the high end of the market. A client who buys a net zero home expects the indoor air quality to match the cost per square foot of that project. The home may have an extremely low HERS rating, but if its air quality is poor, the client will be unhappy and the builder will be looking for retroactive HVAC solutions.
Tranquility by Trane embraces this new transparency, and seeks to manage it from the get-go. The Trane products can be accessed easily by wifi devices, yet hands-on management remains optional. The products are designed to work together in the background, and provide numerous perks for homeowners, including:
Quiet, comfortable sleep environment
Superior temperature consistency
Excellent humidity control
Ease of use with best-in-class WiFi controls & sensors
Cost-saving energy efficiency
Simplified Complexity for Pros
For building pros, what Tranquility offers is essentially a turnkey approach to better indoor air quality, with lower risk of callbacks and frankly, a buffer to remove any lingering indoor air pollutants created during the building construction. Trane offers a whole line of products that can scrub, dilute or otherwise address indoor air quality, including humidifiers, HRVs, and whole house filtration. When used in conjunction with high-performance equipment such as the company's HV20i Heat Pump, they provide a complete IAQ and energy-smart solution for modern, high-performance homes.
Air sensors and wifi monitoring have created a whole new area of concern for clients, one that they're willing to pay a little extra to address, particularly at the premium end of the market. Trane will be rolling out this program in earnest at IBS in January in Las Vegas from Jan. 21 to Jan. 23. If you want a hands-on look at how it works, visit their booth N727.
Builders, Learn more about Tranquility by Trane HERE.
Jan 3, 2020 4:25:44 AM · 4 min read
---

Veteran journalist Matt Power has reported on innovation and sustainability in housing for nearly three decades. An award-winning writer, editor, and filmmaker, he has a long history of asking hard questions and adding depth and context as he unfolds complex issues.