Tiny RV Home Sales Boom in Florida as Pandemic Rages

Matt Power, Editor-In-Chief
3 min read
Turnkey models of a hybrid RV-tiny home, priced at about $45,000, appeal to urbanites fleeing Covid-19 ravaged urban centers.
Editor's Note: The release reprinted below describes an RV-tiny house hybrid. It should be noted, however, that an RV and a tiny home are not always synonymous. This hybrid definition works well for places like Florida, which tend to have relaxed (or rarely enforced) rules about full-time living in RVs or travel trailers (many places do not allow full-time RV living).
Also, an RV is built to a different, generally less stringent building code than what some regions would define as a tiny house. So, for example, you can't just drop one of these models on your empty lot. You might find that your city limits occupation of an RV on your property to 14 consecutive days per year or something to that effect. So your only option would be to either park the RV in a bonafide RV park, or reclassify your property as an RV park.
You will want to find out what your local code requirements are for living in RVs before deciding to purchase and live in one of these models!--Matt Power
Perhaps it's the warm wood interior that has made ESCAPE a tiny house design that Forbes has called "the world's most beautiful." The company is experiencing a surge in tiny RV home sales as consumers leave city life for a more secure setting.
Tim Mastic is one of those consumers.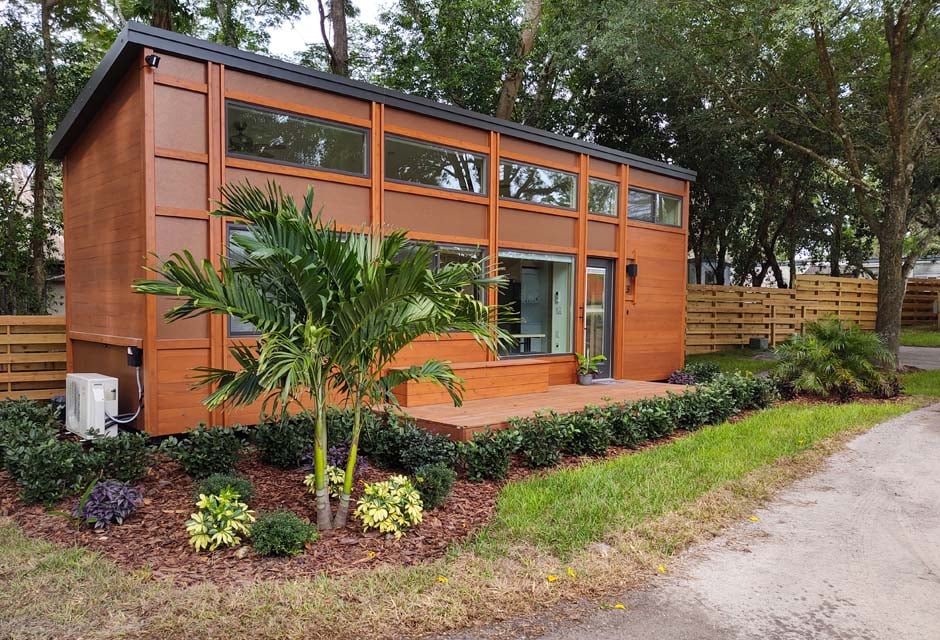 The 31-year-old software implementation manager who works remotely for iCIMS, (a talent acquisition company based in New Jersey), was the first resident to move into the new ESCAPE Tampa Bay Village. The Village is the latest offering from ESCAPE as a way for folks to simplify, save money and find a safe haven.
The unique community of 10 eco-efficient tiny homes features outdoor living and work-at-home space within a park-like setting close to downtown Tampa.
Mastic was drawn to the privacy of ESCAPE Tampa Bay Village.
"It's like an intimate, upscale campground," says Mastic. "I can still get into the city within minutes but feel like I am worlds away as my tiny RV home features solar power, a private deck, and nature at my doorstep."
"For many, 'Cityscaping' means having the space to breathe, "says ESCAPE founder, Dan Dobrowolski. "We're delivering our tiny RV homes to areas outside of New York City, San Francisco, Tampa and more, as homeowners seek peace of mind and open space during this COVID-19 era."
The need for a remote home office continues to grow because of the increased risk of getting infected with coronavirus in office buildings are more crowded work areas.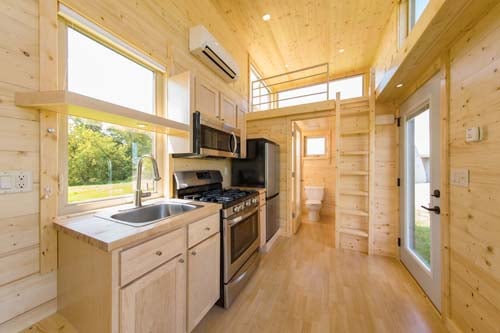 Examples include a Manhattan executive who is now living and working in an ESCAPE One XL on acreage in the Hudson Valley and a west coast-based tech entrepreneur who has positioned his ESCAPE Vista in the Santa Cruz mountains.
ESCAPE One & One XL and the ESCAPE Boho XL are popular designs at the Village and are also gaining a lot of interest with Cityscapers who are purchasing them and placing them on more rural settings across the country.
"We're delivering our tiny houses on wheels to people all over the country who want the flexibility to move anywhere they wish," says Dobrowolski. "California, Connecticut, Florida, Minnesota, New York, Ohio, Texas and everywhere in between."
The modern, tiny homes can sleep from as many as six to eight people, are wrapped in windows to provide natural light and draw the outdoors in, feature open living and dining floor plans, full-size kitchens and baths, and spacious bedrooms and lofts.
The homes are transported via their own trailer, feature climate control systems that can withstand extreme cold and heat, and hook up to power and water within minutes, making them flexible for wherever and whenever their owner wishes to travel.
"Now, more than ever, people are looking for space to breathe," says Dobrowolski. "We're helping them do so by providing a lifestyle of comfort and mobility."
Jul 20, 2020 12:56:11 PM · 3 min read
---

Veteran journalist Matt Power has reported on innovation and sustainability in housing for nearly three decades. An award-winning writer, editor, and filmmaker, he has a long history of asking hard questions and adding depth and context as he unfolds complex issues.