The Essential Guide to Build or Remodel an Eco-Friendly Home

Cati O'Keefe
1 min read
Packed with hundreds of tips, terms, and energy-saving ideas, the Homeowner's Handbook of Green Building & Remodeling helps homeowners reduce monthly bills while helping mitigate the climate emergency. And it's free!
As inflated prices put pressure on everything related to fossil fuels—home heating, cooling, electric and water bills, food, and transportation—home improvement offers an area where people can regain control in their lives and lower their impact on the environment.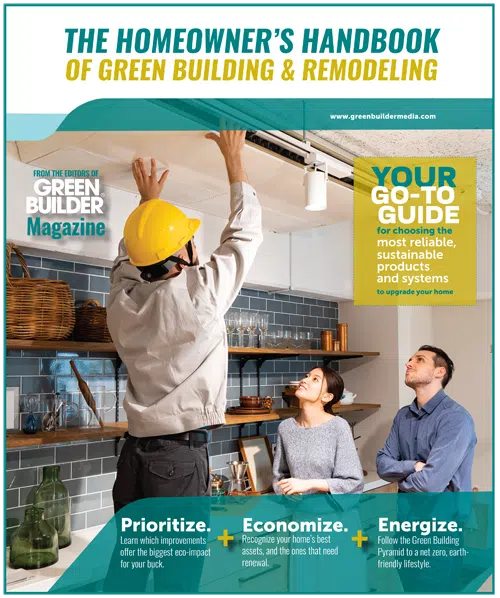 Written over several years by the award-winning editors of Green Builder magazine, the Handbook starts with a look at which remodeling projects pay off most quickly. How do you choose? Our exclusive Green Building Pyramid breaks down the path to net-zero living. Start with the big stuff—such as location and siting—and work your way up to energy efficiency via smart home tech and solar panels.
The goal? To help you select projects with the greatest return on your home improvement dollar, from bathroom remodels to whole-home gut jobs. As advocates for conservation and greener living, we want to help you lower your home's monthly energy consumption and operational costs lower while at the same time reducing your environmental impact. We're all on this limited planet together.
Here's the kind of information you can gather from the Handbook:
How much, and what kind of, insulation do I really need?

Is plastic composite roofing durable?

What should I look for in a heat pump air conditioner?

Why do some "green" cabinets still give off chemical odors?

What's the truth about electric v. gas cooktops?

Will I have to wash my solar panels all the time?

Do dishwashers actually save water or energy over hand washing?

Should I replace all the old lightbulbs in my house now?

How can I keep the summer heat out of my attic?

How can I prevent leaks from destroying my house when I'm away?
Broken into easy-to-follow categories and topics, with links and write-ups on dozens of high-performance products, the Homeowner's Handbook of Green Building & Remodeling is available to download here.
Jun 16, 2022 8:13:31 AM · 1 min read
---

Cati O'Keefe is the editorial director of Green Builder Media. She has 25 years of experience reporting and writing on all aspects of residential housing, building and energy codes, green building, and sustainability.