Download The Homeowner's Handbook of Green Building and Remodeling
The Essential Guide to Build or Remodel an Eco-Friendly Home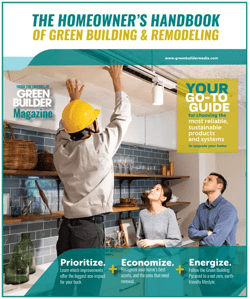 Packed with hundreds of tips, terms, and energy-saving ideas, the Homeowner's Handbook of Green Building & Remodeling helps homeowners reduce monthly bills while helping mitigate the Earth's climate emergency. And it's free!
Learn:
How much, and what kind of, insulation do I really need?
Is plastic composite roofing durable?
What should I look for in a heat pump air conditioner?

What's the truth about electric v. gas cooktops?
Will I have to wash my solar panels all the time?
And so many more answers to your burning questions about eco-friendly homes!
Download the Homeowner's Guide by filling out the form on the right.
Download your copy by filling out the form on this page.
---
The Homeowner's Handbook is brought to you by the generosity of the following sponsors: