A Guide to Tiny Homes

Michele Lerner, Associate Editor
7 min read
Granny flats aren't just for grannies anymore: they could be the home of choice for millennials, too.
Although tiny homes and other accessory dwelling units (ADUs) have multiple names, including granny flats and backyard cottages, no one calls them "millennial minis." But maybe they should. After all, the housing affordability crisis hit millennials harder than most generations.
For some, building their first home in the backyard of their baby boomer parents could be the solution to their housing woes. Alternatively, buying or building a house with an ADU that can be rented to tenants can improve affordability for first-time buyers.
ADUs, which are typically defined as attached or detached living spaces that share property with a main house but have a separate entrance, can be a tiny house, a cottage or an apartment above a garage, in an attic or a basement. Typically, the ADU is smaller than the main house, with a kitchen, a bathroom and one bedroom or several bedrooms depending on how much land and space is available.
"ADUs can be a great option for millennials and Gen Zers who struggle to afford their first home," says Marianne Cusato, a designer who is a faculty member at the University of Notre Dame School of Architecture. "If they can find a property with an ADU that they can rent to someone for $1,200 a month to bring in income to offset their mortgage, that can give them the boost they need to become homeowners."
Flexibility is a big selling point for ADUs, says Gordon Stott, co-founder of Connect Homes in Los Angeles, which manufactures seven ADU models as well as multiple other housing types.
"Our customers use ADUs for a multigenerational household, a home office, guests and as a long or short-term rental," Stott says. "One family lived in an ADU on their lot while their custom home was being built. We've also provided them in Sonoma County as housing for a fire recovery village."
While ADUs seem like a solution for a variety of issues, Stott says consumers need to understand the regulations in their jurisdiction and required infrastructure that can add to the cost.
Turnkey Tiny Homes
Multiple options are available for tiny homes, so if your parents have the space on their lot or you want a rentable space to help you make your mortgage payments, it's possible to order an ADU and have it delivered. It will cost a bit more than an Uber Eats delivery, though.
You can get an ADU kit delivered from Home Depot for $10,000 for a 100-square-foot steel frame up to $66,000 for a steel frame kit for a 1,400-square-foot bungalow with two bedrooms, a loft and two bathrooms. Assembly is required, along the electricity, plumbing, appliances and more, which can add significantly to the price.
An all-inclusive version from Connect Homes in Los Angeles can cost $208,500 for a 640-square-foot unit with one bedroom and one bathroom to $661,500 for a 1,920-square-foot modular home with four bedrooms and three bathrooms. The price includes the ADU, delivery within 100 miles of the factory, installation and a foundation, assuming a flat lot with decent soil and nearby utilities.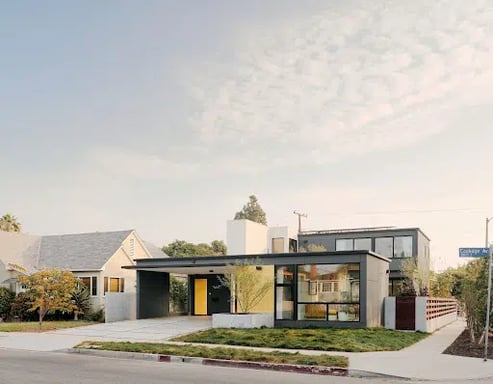 Carport ADU, which puts the ADU in front and provides a place for parking. And also sets up a cool relationship with whatever house it's in front of. Image credit: Gordon Stott, Connect Homes.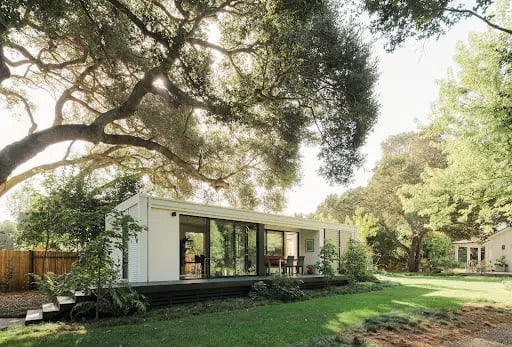 Connect 2 in Menlo Park looks modern but also blends with a more traditional looking main house. Image credit: Gordon Stott, Connect Homes.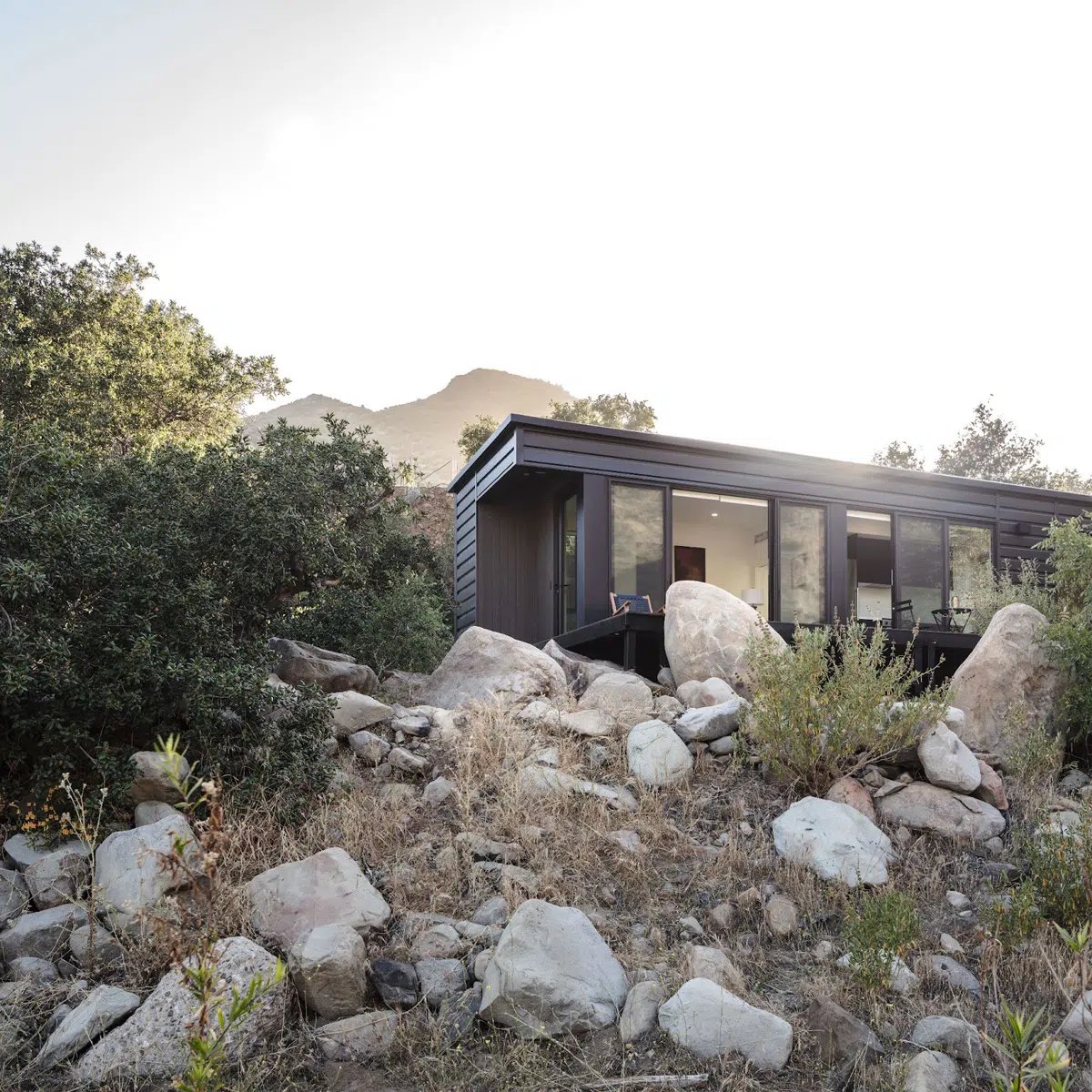 The Connect 1 in Ojai is in the backyard of a main house. In this case, the backyard fronts the Ventura River. Image credit: Gordon Stott, Connect Homes.
If you prefer a custom design, Certainteed One Precision Assembly can manufacture the floors, walls and roof for an ADU within a week and install it in one to three days. The ADU panels are built to your specifications in a controlled environment that reduces waste.
Green Builder Media offers the Transcend prefab unit, which touts low cost of ownership and energy efficiency through exacting building science and quality control provided by precision engineering in the factory environment. Each modular home has a tight envelope that optimizes energy performance for comfort and manages air and moisture infiltration.
Many ADUs are factory-built, which reduces waste and creates tightly built, energy efficient living spaces. Connect Homes' ADUs include heat pumps with a 20 SEER rating, low-e windows and doors, ceilings with R-46 insulation and floors with R-30 insulation.
Hidden Costs of Tiny Homes
Before building or buying an ADU, you'll need to review the water, sewer, electrical and gas meters on your site to see if anything needs upgrading to accommodate more living space, Stott says. If you're in a rural area, you'll need to check to see if the current septic system is large enough or needs to be expanded.
"Here in California, there are sometimes hidden 'gotchas' the come up later in the process, such as the need for a new fire hydrant to serve the additional structure," Stott says. "If a larger water or electrical service is required to the site, what are the cost impacts? The good news is that local agencies are more aware of these potential hurdles than ever before, so talking to a local building department along with an ADU provider can help you get in front of the obstacles."
Financing an ADU
Given the costs of installing an ADU, most people need to finance the project. If you want to build one with your parents, they may be able to access the value of their home with a home equity line of credit or a cash-out refinance.
"Some local banks and credit unions have come out with ADU-specific financing programs, but cash and a home equity line of credit are also popular options," Stott says.
If you're building an ADU on property with an existing house, you may be able to use a renovation loan such as an FHA 203 (k) or a Fannie Mae HomeStyle loan that wraps the ADU construction costs into a 30-year mortgage.
Some localities offer incentives for ADUs. In an effort to create more affordable housing in California, Napa County offers a forgivable loan of up to $105,000 to homeowners building an ADU if they commit to renting it for five years to tenants with a household income of less than 80% of area median income, Stott says.
The State of California offered a $40,000 grant towards building an ADU, but all funds were reserved by March 1, 2023. However, funding may become available again in the future.
Related post: 11 States that Don't Have Building Codes for Tiny Homes
Challenges of Tiny Homes
While ADUs are not a new concept, in recent years they have gained attention as a solution to the shortage of affordable housing. But 75% of residential land in the U.S. is zoned so that only single-family homes can be built on the property. Progress has been made in many states and local governments to allow ADUs, but other obstacles remain, in part because of opposition to ADUs that primarily centers on fear that they will change a community.
Many jurisdictions have restrictions on ADUs such as the requirement for setbacks from the lot line, minimum spaces for parking or size limitations that make them difficult to build.
"ADUs are being reimagined now as a mainstream idea and zoning decisions are increasingly positive for ADUs," Cusato says. "But now the other pieces need to fall into place to make them viable everywhere. We're just at the point where they're legal, but all the other layers haven't caught up yet such as financing options, codes and stress test requirements such as whether they will add to traffic issues or overcrowded schools."
Zoning rules typically restrict an ADU's size to a certain percentage of the size of the main house, but most people wouldn't want an ADU to be bigger than their own home anyway, Cusato says.
"You can build a nice 600-square-foot one-bedroom apartment with an alcove for a nursery above a standard 24-by-24 garage that would be great for two people and a baby," she says.
Bigger obstacles are parking and permitting requirements, which sometimes delay or prevent ADUs from being built. For example, Cusato is working on a development now of single-family homes with ADUs, but the permitting process meant the ADUs couldn't be built until each house is complete.
"It would have been so much easier to build everything at once instead of working around the obstacle of a house to get into the backyard," she says.
One challenge to ADUs is NIMBYism from people who think ADUs will encourage a transient population, cause overcrowding or bring down property values.
"Since it costs about $150,000 to $200,000 to build a backyard cottage, that means they are mostly being built by homeowners with a high income," Cusato says. "So, no one is likely to turn the neighborhood into a slum."
Tiny Homes: Property Taxes and Home Values
California led the way in easing restrictions on ADUs, even overriding homeowner association rules to make certain that homeowners could build them on their property. But determining the value of an ADU or the increase in taxes on properties with an ADU can be tricky. Stott says property taxes may increase "minimally" depending on the jurisdiction.
Adding an ADU will increase the property taxes for the homeowners because they're considered a home improvement and they add living space to the land, according to research by the Los Angeles Times. So, for example, in Los Angeles County, where home values are admittedly high, adding an ADU that costs $200,000 to a $1 million house would increase the annual property taxes from about $12,500 to about $15,000.
"Some banks assume an ADU will add 20% to 30% in value to a property, but anecdotally, an ADU may add even more value than this," Stott says. "Then there's the income that an ADU can generate. One of our customers in Northern California put a 960-square-foot ADU with two bedrooms and one bathroom on their lovely property and regularly rent it for more than $1,000 per night."
The practicality and flexibility of ADUs for a variety of housing needs makes them an obvious solution, Cusato says.
"It's great to see how many places are embracing them now," she says.
Sep 16, 2023 8:00:00 AM · 7 min read
---

Michele Lerner is an award-winning freelance writer, editor, and author who writes about real estate, personal finance, and business.