Roofing: Select the Best Defense for Your Climate

Matt Power, Editor-In-Chief
8 min read
Replacing a roof is one of the biggest expenses for homeowners. Choose materials that mean you'll only have to do it once.
In the United States, asphalt shingles have historically been the default choice for roofing a home, in part because of their low price, but also because most people don't tend to stay in a house more than a decade or so.
That's changing, as climate migration and the pandemic incline home buyers to aspire to a "permanent" home. As a result, other types of more durable products–such as metal, clay tiles, plastic and rubber composites, concrete, and so-called "green roofs"–continue to gain customers.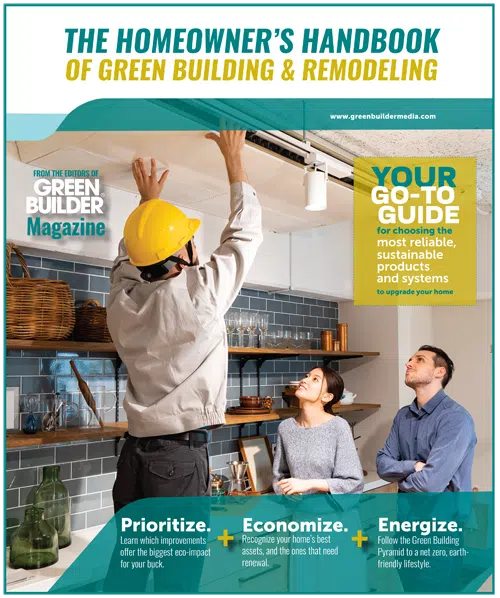 Other options have also come along recently, including a new generation of low-maintenance solar "shingles" that turn the roof into a power plant. Replacing an old roof typically adds about $12,000 to your home's resale value. But more important, it protects your valuable investment, and the right stuff lowers your insurance payments and utility bills. That's a green dividend.
Asphalt Roofs: A Little Recycling and a Lot of Cool
Asphalt composition roofing includes three-tab and newer, thicker fiberglass and laminated types. These products offer affordable options generally designed to last a maximum of about 25 years. Some premium brands offer warranties up to 50 years, however.
Asphalt's biggest environmental bugaboo is that it's derived from petroleum processing, feeding fossil fuel demand. It's also tough to recycle, although one company, GAF, is making strides in solving that problem.
In 2021, the company made history by making new shingles from old ones, using 7% of the second-hand material. It is now producing 12 new roofs with recycled content from just one end-of-life roof. But the industry's main response to the call for better eco-performance has been to offer different colors and granular formations that better reflect the sun's heat, reducing the amount that is absorbed into the roof and attic or living spaces below.
Some of these products have achieved federal Energy Star status for their reflective values, helping reduce peak cooling demand by up to 15 percent. At the same time, cooler shingles last longer, increasing their likely service life. Other types of recycling programs, such as those that convert old asphalt shingles into roads, also improve their ecological pedigree.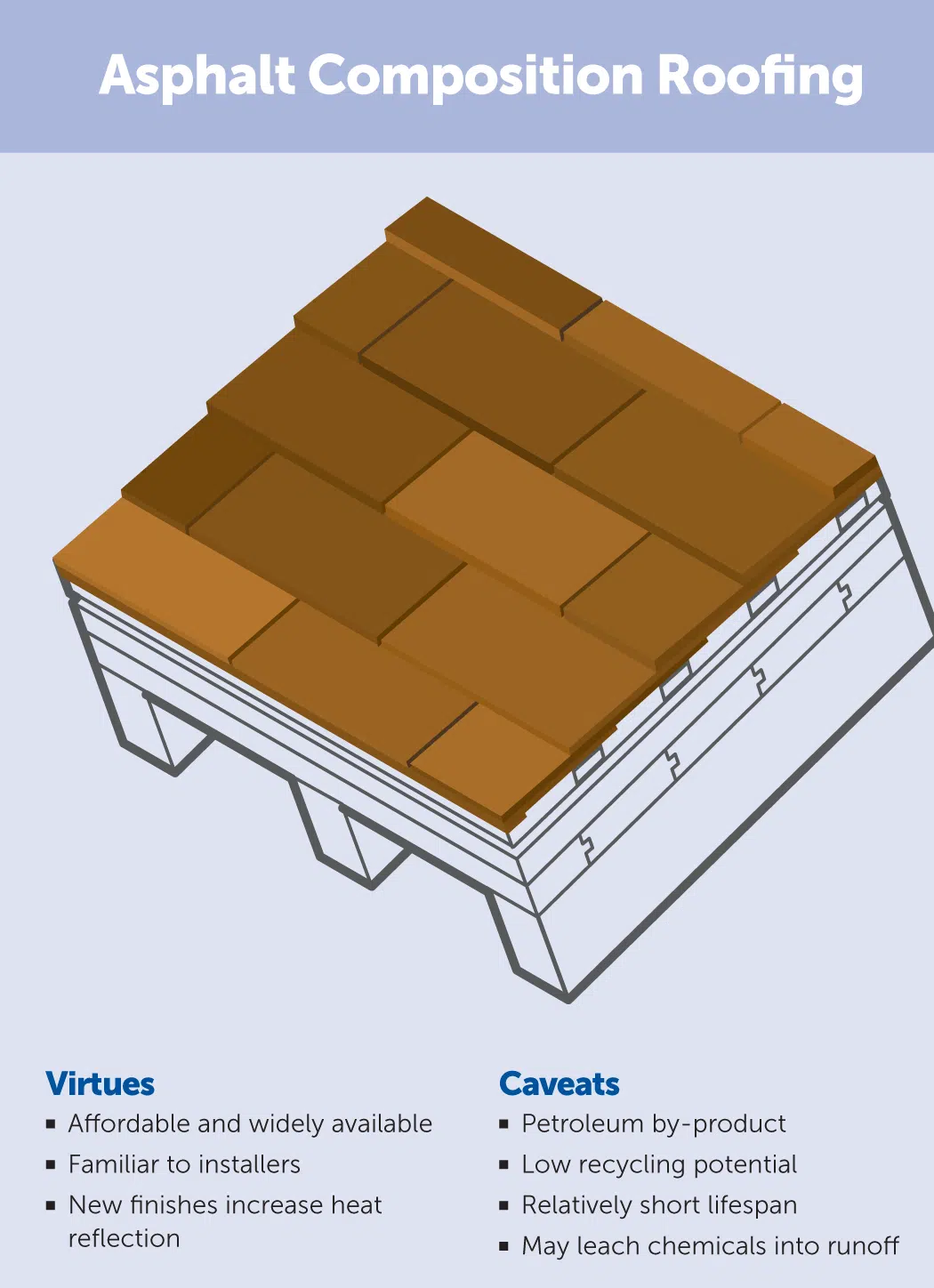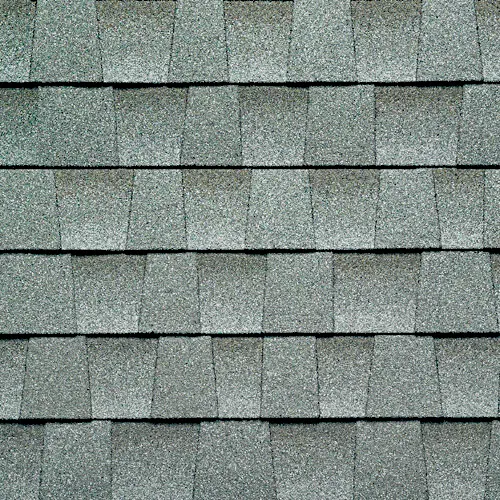 GAF Timberline Cool Roof Timberline series fiberglass-asphalt shingles from

GAF

feature reflective surface granules to reduce attic heat gain and cooling energy use. The higher end HDZ products come with algae protection for 10 years, and overall lifetime warranty of 50 years.
Metal: Decades of Performance
Set aside any visions of cheap tin roofs. Today's metal roofing—most of it made from recycled steel—is a lot tougher and aesthetically appealing than the corrugated sections that shelter shacks and barns. That said, metal roofing still makes a distinct fashion statement.
Long rows of sleek metal, separated by slight ridges (called standing seam) are a departure from tiles and shingles. Metal's market share in single-family housing has more than quadrupled (to about 15 percent in 2022) since 2004. That's partly because metal roofing has a strong environmental story when you consider the amount of recycled steel it contains, its durability (usually 50 years or longer), and the fact that the material can be 100 percent recycled at end of life.
More recently, the metal roofing industry has introduced cool roof finishes that reflect the sun's infrared light to reduce heat absorption into the structure by as much as 36 percent; some manufacturers have also partnered with thin-film solar electric suppliers to create integrated solar arrays within the panel channels, to generate renewable energy.
The industry has also expanded its styling, forming, and coloring panels to simulate curved clay tiles or individual shingle shapes, for a broader range of housing styles.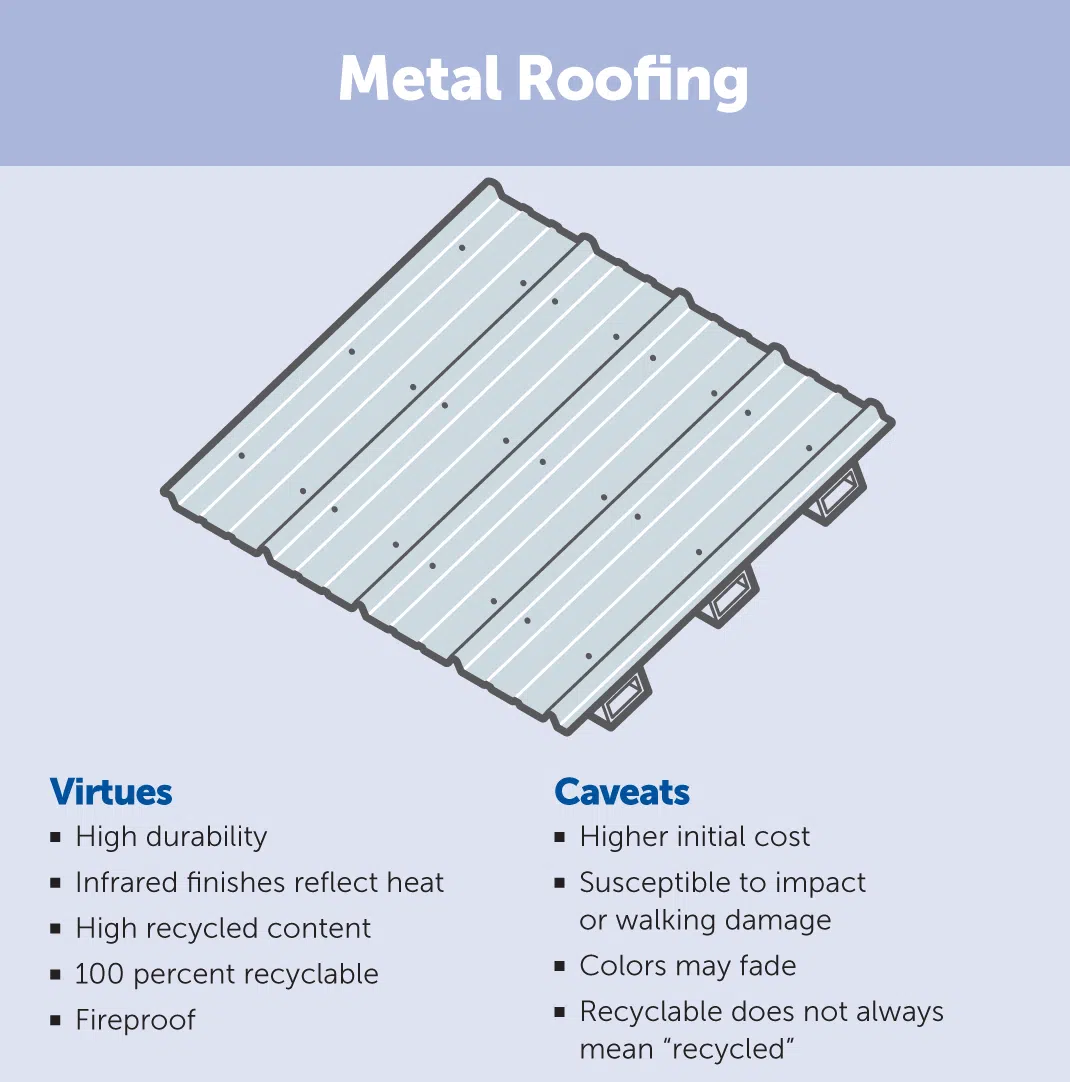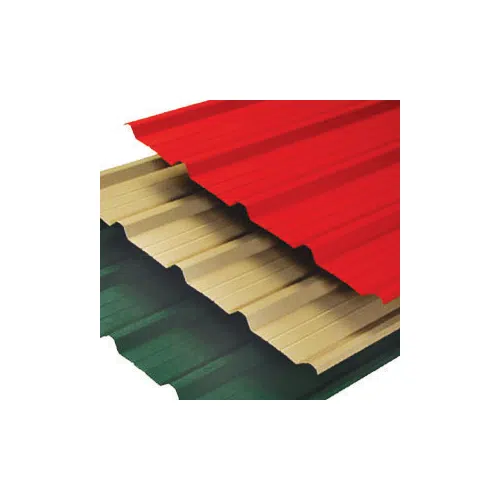 Fabral Standing Seam Metal Roof Panels. Durable, low-maintenance metal sheds snow and protects the home from extreme weather.

Standing seam panels

are finished with the Enduracote paint system, which is guaranteed with a lifetime film integrity warranty and a 30-year warranty against color fading.
Wood Roofs: Natural, But Consider Wildfire Risks
Wood shingles and shakes are the only material that can claim to come from a renewable resource (trees), although it's important to find out how and where that timber is harvested. A wood roof can easily last 50 years if installed and maintained properly. Wood shingles applied over a vented roof deck will remain cooler, dry out faster and generally last longer.
Wood's serious drawback is its inherent flammability. With the ever-growing threat of wildfires, wood products have become too big a risk in certain parts of the country, even when treated with flame-resistant coatings. They also require some maintenance and waterproofing. If choosing a wood species, cedar is the durability gold standard, but make certain the lumber is harvested sustainably.
Recycled Polymer Shingles: Reusing Rubber and Plastic
Polymer-based products are gaining attention in the marketplace. Not all products can boast the same green credentials, however. Some are made with polyethylene or recycled from automobile tires, with a high percentage of recycled content. Others, however, are made with "virgin" polyvinyl chloride (PVC), a less desirable plastic that's rarely recycled.
These recycled composites are much lighter, and easier to install than "real" slate or clay tiles, and come in many profiles or "looks." They offer extreme longevity, 50 years or more. Some brands also offer a Class A fire rating, if wildfire is a concern. Here is a resource for more information.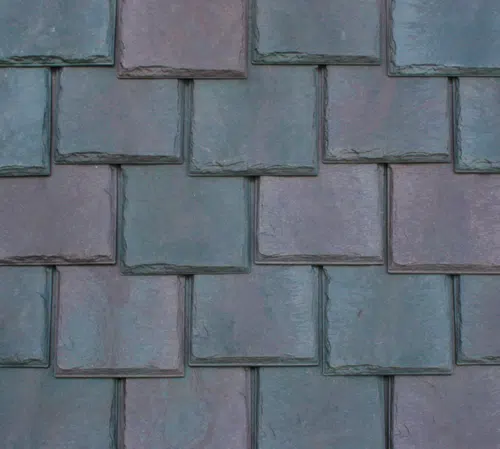 Brava Recycled Plastic Roofing Brava's composite tile is made of compressed recycled plastics & other sustainable/recyclable materials. Available with the look of slate, barrel tiles, and even wood shakes, it's designed to withstand hail, with a class 4 impact rating, and the manufacturer claims it should last 50 years or more.
Cement Composites: Lower Life-Cycle Costs
Also scoring high in the recycled content category are cement composite roofing materials, such as fiber-cement shingles, which offer good durability. However, the sustainability of cement composites depends on the source of feedstocks used for production and, more importantly, the source of energy used to create the cement.
Fiber-cement products have high embodied energy as well. In response, some companies use fillers like wood fibers or fly ash to reduce the required amounts of cement, concrete, and aggregate material. Another side benefit is these filler materials create tiles and shingles, which weigh significantly less than standard concrete roofing products and therefore require less energy to transport.
However, some fiber-cement roofing shingle products were discontinued after beginning to fail from swelling, cracking, shrinking, or discoloration within five years.
Clay/Concrete: Almost Forever
Clay or concrete roof tiles would appear to have it all: good looks, fire resistance, and extreme durability. Recent innovations also address issues of stormwater management and enable cool roof capability. But the high cost of buying and installing masonry tile has relegated its use to regional styles and high-end housing. Since 2004, its share of the residential roofing market has shrunk in the U.S. but is growing steadily worldwide.
Nonetheless, a quality tile roof that is installed over a heavy-duty underlayment and screwed to the roof deck (not just mortared) should last for decades—if not a century or two—before it's time to remove them, replace the underlayment and put the tiles back on.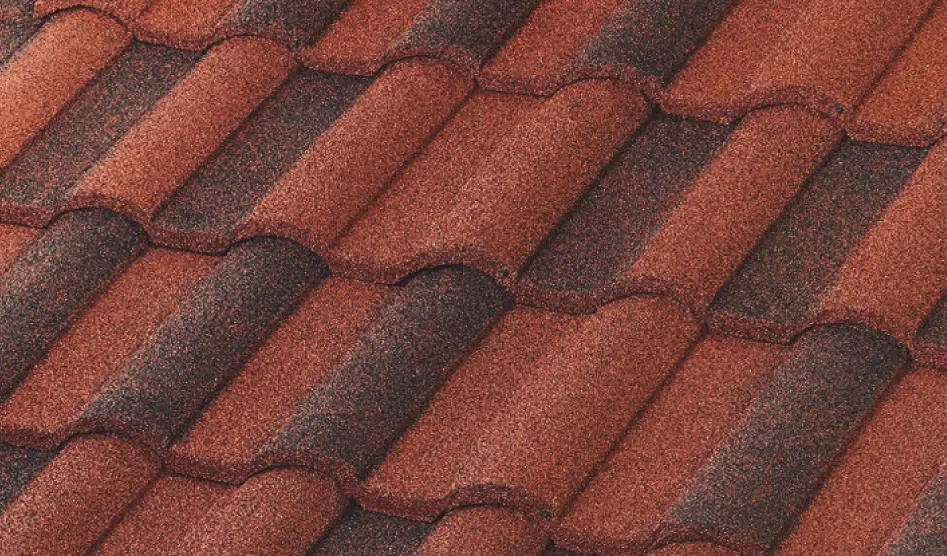 Unified Steel Stone Coated Steel Barrel Tiles. With the look of traditional tile roofing, products such as this BARREL-VAULT Tile - Barcelona, from Westlake Royal Roofing offer many of the advantages of tile: longevity, durability, fire resistance, as well as other perks. For example, they're walkable and relatively lightweight, making them fast and easy to install.
Roofing Durability
While numbers vary somewhat by brand and installation quality, the chart at left offers a broad overview of the long-term cost of different roofing types, based on expected lifespan and maintenance. Created by a roofing reseller, the chart shows only a few brands, but as a general rule, you get what you pay for. An early initial investment in metal or high-end laminate shingles pays back nicely over time.– Editor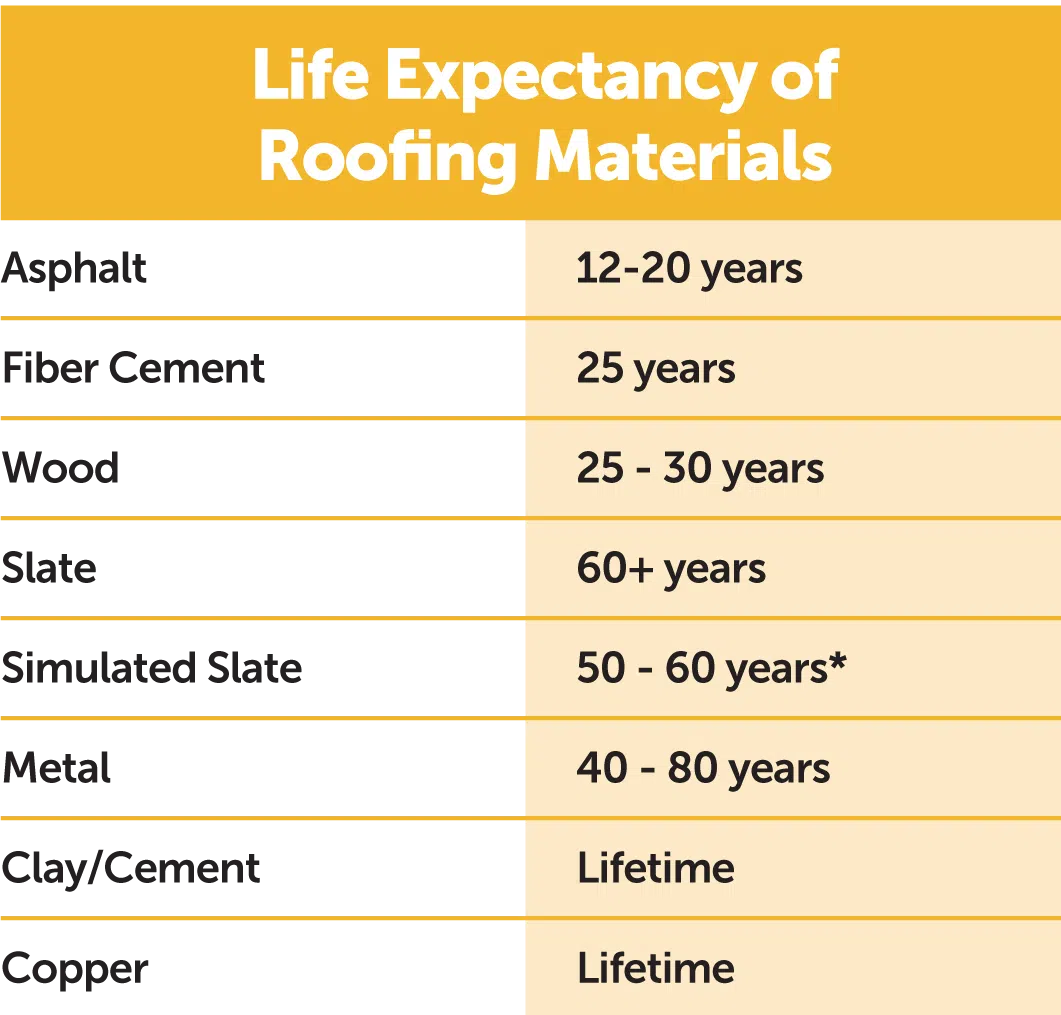 Sustainable Spectrum: Low-Slope Roofing
What is the most eco-friendly option for flat roofs? The durable synthetic rubber membrane known as EPDM (ethylene propylene diene monomer)—with its low installed cost—continues to be a popular choice. However, as a petroleum-based product with a fairly short service life, it is not all that sustainable.
Responding to the market demand for sustainable products, some manufacturers have begun offering "cool" EPDM in white, to decrease unwanted heat gain to the interior, extend the membrane's life and help mitigate the heat island effect.
Otherwise, a protected membrane roofing assembly enhances durability for low-slope roofing and could therefore be considered sustainable, says Christopher Dixon senior associate/architect and specifier at NBBJ in Seattle.
"Thermoplastic polyolefin (TPO) membrane roofing materials are popular today and have recently replaced PVC as the most common thermoplastic membrane material," adds Mark Yanowitz, principal and licensed construction designer at Verdeco Designs in Andover, Mass.
"They are generally preferred over PVC, as they are considered a 'cleaner' polymer, containing less problematic additives than their PVC equivalent. All thermoplastic membranes are recyclable, but to date, the local and national secondary markets are not well established." TPO is white (and therefore, cool), but longevity depends on the product quality and proper installation, so do your research.
At the same time, Yanowitz suggests that the leading sustainable strategy for flat roofs is integrating a green-planted roof. "Along with protecting the roofing membrane below, these systems can greatly assist in the building insulation and in the reduction of stormwater runoff."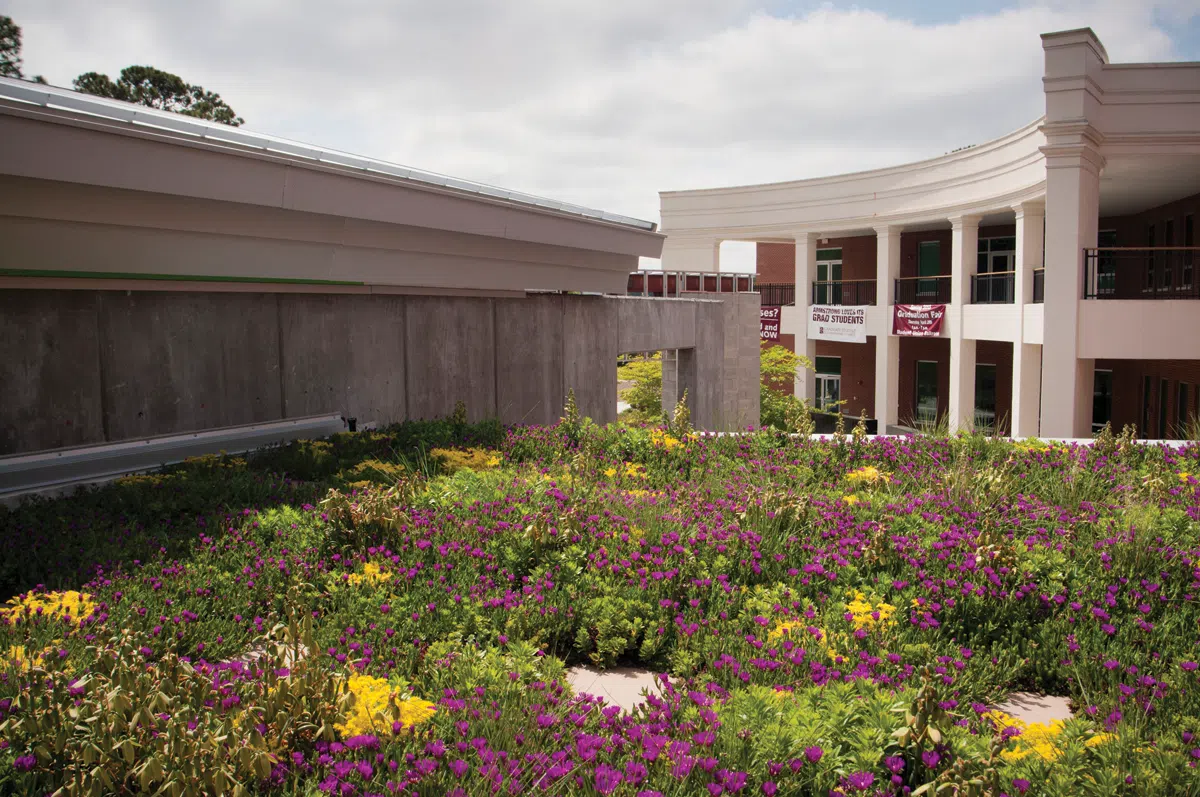 The green roof topping Armstrong Atlantic State University's Learning Commons absorbs rainfall and reduces stormwater runoff.
Roof Basics:
FAQs
What is a roof deck?
The deck is a substrate over which roofing is applied—usually plywood, wood boards, or planks.
What is a drip edge?
A drip edge is an installed lip that keeps shingles up off the deck at edges and extends shingles out over the eaves and gutters to prevent water from wicking up and under the shingles.
What is roof exposure?
Roof exposure is the area on any roofing material that is left exposed to the elements.
What is flashing?
Flashing is thin pieces of impervious material used to waterproof a roof around any projections on the roof.
What are granules on roofing?
Granules are crushed rock that is coated with a ceramic coating and fired, used as top surface on shingles.
What causes an ice dam on a roof?
Ice dams are formed when snow melts on a roof and re-freezes at the eave areas. Ice dams force water to "back up" under shingles and cause leakage.
What are laminated shingles?
Asphalt-based shingles are made from two separate pieces that are laminated together. They are also called dimensional shingles or architectural shingles.
What is soffit ventilation?
Soffit ventilation is intake ventilation installed under the eaves or at the roof edge.
What is steep-slope roofing?
Steep slope refers to slopes steeper than a 4" rise for every 12" of length (expressed as 4:12).
What is a tear-off?
A tear-off means the removal of existing roofing materials down to the roof deck.
What are roof valleys?
Valleys are areas where two adjoining sloped roof planes intersect on a roof, creating a "V"-shaped depression.
---
Publisher's Note: This content is made possible by our Today's Homeowner Campaign Sponsors: Whirlpool and Carrier. These companies take sustainability seriously, in both their products and their operations. Learn more about building and buying homes that are more affordable and less resource intensive.
Jan 24, 2023 2:53:07 PM · 8 min read
---

Veteran journalist Matt Power has reported on innovation and sustainability in housing for nearly three decades. An award-winning writer, editor, and filmmaker, he has a long history of asking hard questions and adding depth and context as he unfolds complex issues.