Return to the Great Outdoors

Sara Gutterman
2 min read
As people spend more time inside, they're finding solace in home remodeling projects.
Sustainable landscaping and outdoor living are on the rise, offering a welcome connection with nature and the security of self-sufficiency. Homeowners are rediscovering their gardens, swimming pools, backyards and other at-home recreational activities, as evidenced by market data harvested by COGNITION Smart Data. The volume of landscaping-related conversations has increased dramatically since the onset of the pandemic, with an overwhelmingly positive sentiment.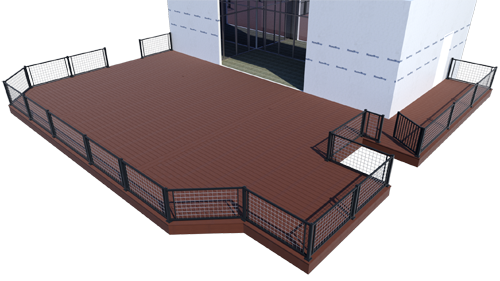 Mariposa Meadows' design calls for Saddle-style Trex Enhance decking—supported by Trex Elevation steel deck framing—constructed in a wrap-around fashion to lend continuity.
COGNITION data also shows that people's concept of landscaping is shifting—they're not talking about sweeping lawns with sprawling Kentucky bluegrass that require vast amounts of water and mowing. Rather, they're expressing interest in edible gardens that provide food security, native plants that save water, and urban oases that offer refuge in concrete jungles.
Mariposa Meadows will boast a full spectrum of Trex outdoor living products, including decking, railing, furniture, fire pits and staircases to provide ample sustainable, durable and beautiful outdoor living spaces. "The reality of this location is that it is an area of pristine beauty but also a harsh environment," says Leslie Adkins, Trex vice president of marketing. "It needs products that hold up and still look great after many seasons."
After working with project co-owner and designer Ron Jones on the hardscaping design, the Trex design team suggested a suite of products that would hold up to Mariposa's severe climate. "People think of us as 'decking,' but there are so many products engaged here," she says. "The foundation is Trex Elevation steel deck framing. This is relevant for this location with the temperature changes and dryness and snow. Elevation will hold up better than wood."
This long-lasting foundation is topped with Trex Enhance decking. The company also specified an integrated railing and recessed outdoor deck lights on the Trex Spiral Stairs.
Adkins notes that all the products showcased in this high alpine project are the same that would be used in any U.S. climate or region. "This project allows us to showcase all of the elements of Trex: beauty, durability, low-maintenance and eco-friendliness," she says. "The toughness and engineering of our products can survive Mariposa Meadow's environment—and backyard America."

Trex products, such as the Spiral Stair, Enhance decking and Elevation steel deck framing, can experience all types of harsh environments and still look good. Courtesy Trex
Nov 30, 2020 12:11:34 PM · 2 min read
---

As cofounder and CEO of Green Builder Media, Sara is a visionary thought leader and passionate advocate for sustainability. A former venture capitalist, she has participated in the life cycle (from funding to exit) of over 20 companies, with an emphasis on combining sustainability and profitability. She lives in Lake City, Colo., with her husband, where she is an avid long-distance runner, snowboarder, and Crossfit trainer. She is also on the Board of Directors at Dvele, runs the Rural Segment for Energize Colorado, and is a former County Commissioner.