Results Are In on How to Build Better Homes for Lower Cost

Samantha Carlin
2 min read
This free webinar shows how builders were able to optimize design while saving resources, time, and money through the Housing 2.0 program.
The Housing 2.0: A Disruption Survival Guide and the workshops of the Housing 2.0 program provide a framework for consistently delivering homes with a superior user experience at a lower cost. This includes nine strategies with over 150 best practices. The big question is: Does the program deliver on its promise?
The "better home for less cost" claim was put to the test in 2021 with two action groups where like-minded high-performance builders collaborated on applying design optimization best practices. And the results are in. All the builders substantially improved their existing designs, including $10,000s of cost savings and added value.
In this webinar, you'll learn from their experience, including how they customized the Housing 2.0 design optimization framework for their companies, benchmarked it to one or more current house designs, iterated towards optimized designs, and tabulated impressive business outcomes. Better for lower cost is a great business model. Check out this webinar–it's a great way to get started!
The Housing 2.0 Thought Leader Series is brought to you by:

---
About the Presenter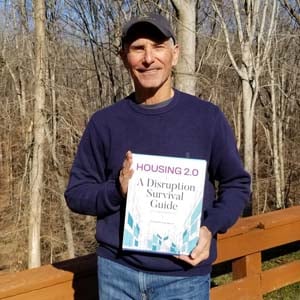 Sam Rashkin is the author of Housing 2.0: A Disruption Survival Guide . He presents a comprehensive strategy for transforming the new homebuyer consumer experience. Sam brings the lessons from his new book to housing executives across the country with workshops and collaborative meetings that help them accelerate innovation. Apart from this work, Sam has earned a national reputation for leading housing programs that have partnered with thousands of home builders and resulted in over one million certified high-performance homes. Rashkin was recognized for his contributions to sustainable housing with the 2012 Hanley Award.
He received his Bachelor of Architecture from Syracuse University; and is a registered architect in California and New York. During his 20-plus years as a licensed architect, he specialized in energy efficient design and completed over 100 residential projects. He has served on the national Steering Committees for USGBC's LEED for Homes, NAHB's Green Builder Guidelines, and EPA's Water Sense label, and on the development team for EPA's Indoor airPLUS label. Sam has also prepared hundreds of articles, technical papers, reports, and seminars; and contributed to other books on energy efficient and green construction.
Mar 11, 2022 3:21:04 PM · 2 min read
---

Samantha is able to express her passion for the environment -- both natural and built -- as the special projects manager at Green Builder Media. Prior to joining the Green Builder Media team, she worked as an order management specialist at C.A. Fortune, a consumer brands agency. She is a recent graduate of the Master in Environmental Management program at Western Colorado University with an emphasis on sustainable and resilient communities. Originally from the suburbs of Chicago, she is currently thriving in Gunnison, CO where she enjoys the surrounding geology, mountain biking, and skiing.