Remodeling Market Forecast For 2023

Mel Smith
2 min read
Remodeling growth will continue in 2023 and the most growth anticipated is in surprising metros including Raleigh, N.C.; Rochester, N.Y., and Lewiston-Auburn, Maine.
According to Green Builder Media's Cognition Smart Data, the remodeling market is growing. In 2022, the remodeling market grew by 7% year over year, with expenditures totaling $306 billion. The residential sector accounted for $193 billion of these expenditures, and the non-residential sector accounted for $113 billion.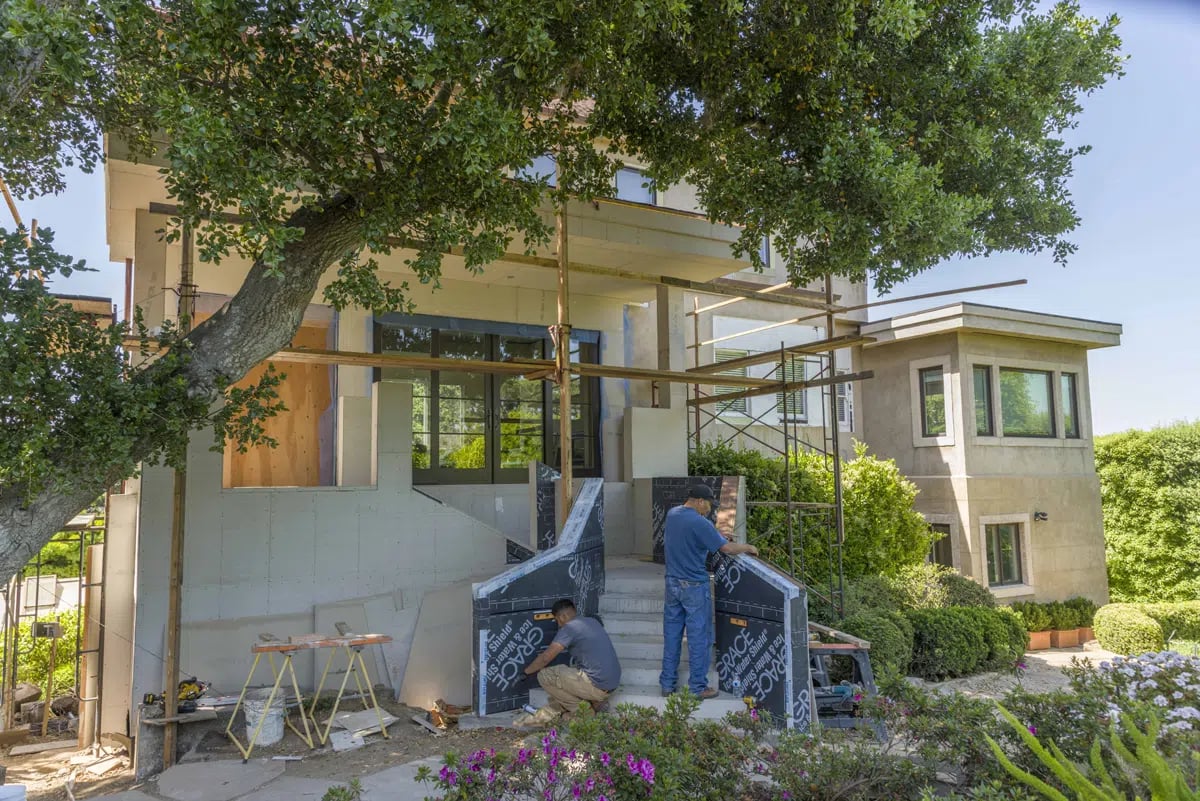 The single-family housing sector was the largest contributor to the growth in remodeling expenditures, increasing 8% from 2021 to 2022. This increase was driven by spending on renovations to kitchens and baths.
The commercial building sector saw a slight decrease in remodeling expenditures from 2021 to 2022; however, this decrease was more than offset by increases in other sectors such as multifamily housing and large commercial buildings.
What Were The Leading Remodeling Projects in 2022?
In 2022, Americans spent over $1 trillion on remodeling projects. The most popular category was kitchen remodels (39%), followed by bathrooms (25%). Other home improvement categories include:
Electrical work (12%)
Exterior work (10%)
Windows and doors (9%)
Flooring (8%)
Heating/AC (6%)
Insulation (5%)
The amount spent on each category varies greatly depending on location: for instance, in the Northeast region of the United States, insulation was the most popular renovation category at 9%, while in the South Central region it was kitchen renovations at 43%.
The top five trends for home improvements include:
Updating kitchens and bathrooms.
Adding bathrooms.
Expanding or improving outdoor living spaces.
Improved energy efficiency.
Increasing storage space.
What Does The Forecast For Remodeling in 2023 Look Like?
According to the Leading Indicator of Remodeling Activity (LIRA), released by the Remodeling Futures Program at the Joint Center for Housing Studies of Harvard University, the total value of remodeling projects in 2023 is expected to be nearly $450 billion.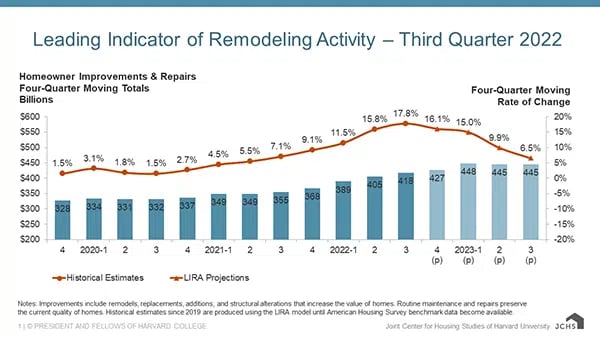 A large portion of this market growth is expected to come from four areas as homeowners choose increasingly to remodel instead of move in 2023:
energy efficiency retrofits
work from home spaces
aging in place retrofits
disaster repairs/mitigation
According to the US Census Bureau, approximately half of all U.S. homeowners participated in some sort of renovation project in the last two years.
Where Will Remodeling Be Happening in 2023?
In 2022, there were six stand-out metros that were anticipated to show the largest gains in the home remodeling market: Tucson (23.0 percent), Riverside (21.9 percent), Phoenix (20.3 percent), Austin (19.2 percent), San Antonio (19.1 percent), and Las Vegas (17.5 percent). These numbers were based on record home appreciation and home sales in the previous year.
Based on that, remodelers in metro areas like Manchester-Nashua, N.H.; Columbus, Ohio, and Raleigh, N.C. may expect greater interest in their services.
Brighton, N.Y.
Nashua, N.H.
Worthington, Ohio
Derry, N.H.
Windham, Maine
Bethlehem, Pa.
Johnson City, Tenn.
Hooksett, N.H.
North Attleboro, Mass.
Auburn, Maine
Cary, N.C.
Fort Wayne, Ind.
Want to keep up with the latest remodeling and building trends? Check out our Today's Homeowner site. For comprehensive information and data on home trends, visit Cognition Smart Data.
Jan 2, 2023 8:15:00 AM · 2 min read
---
Despite being a full-time editor and parent, Mel makes time for slow breathtaking moments- from watching the stars under a Florida sky to eating berries in the back-woods in northern Maine. Past experiences include camping across the U.K., embracing a minimalist wardrobe, building a traveling medieval pleasure garden, trying to get to net-zero living in an apartment, creating a verge garden for people experiencing food insecurity and most recently living, working and traveling in an RV for two years.