Reducing Insurance and Maintenance on High-Performance Appliances
Don't let rising insurance costs and maintenance costs take a big bite out of your overall savings from renewable energy and super-efficient appliances.
When you factor in the savings such as up to 20% on your heating and cooling bills with a new heat pump and $350 annually with a hybrid heat pump, the benefits go well beyond doing the right thing for the planet. The same kinds of financial perks make solar panels and high-efficiency clothes washers attractive.
But what about the "hidden" costs of maintaining and insuring some of those big ticket upgrades? If you're not careful, you can lose much of your potential savings to recurring (and sometimes unnecessary) maintenance and insurance plans. Here's what you need to know to assess your real risks and keep those costs low.
How Insurers See Your Green Gear
"There are two main insurance implications when you add anything to your home," says Michael Guisti, an analyst for InsuranceQuotes.com. "First, you need to determine if what you've installed is increasing the value of your home."
For example, solar panels and a battery backup system could add $35,000 to the value of your home, Guisti says.
"If the home is destroyed in a fire, you could be underinsured if you haven't upgraded your policy," he says.
The second issue is perceived risk associated with some green features, Guisti says.
"Some insurance companies see solar panels as creating a risk of blowing off in hurricanes or sustaining worse damage in a hailstorm than a traditional roof," says Guisti. "Some homeowner's insurance policies even exclude solar panels because of this."
Guisti recommends that homeowners check with their insurance company when they upgrade any part of their house to see if they need additional coverage.
"Most home modifications, particularly as they relate to installing and utilizing green or eco-friendly equipment and practices, will be covered from an insurance perspective," says Angi Orbann, vice president of property and PI product management at Travelers insurance company.
Some green improvements may get you a discount on your insurance, says Orbann.
Products, Regions and Installation Methods Matter

Insurance considerations for different green features depend on the specifics of the equipment.

Solar panels. Most rooftop attached solar panel systems are covered under a standard homeowner's insurance policy, so generally no separate insurance is required, says Orbann. However, some policies exclude damage or reduce coverage when it's caused by a particular threat such as wind damage, she says.

Solar arrays installed on separate structures such as a shed or a garage may not be covered under a homeowner's insurance policy, because they're not attached to the main house. In that case, you may need a special rider or policy to cover them, says Guisti.

"If your solar panels are leased, then the lease dealer is responsible for insuring the solar panels," says Guisti.

That could mean the leasing company would replace damaged or destroyed panels, but that depends on the details of the lease agreement.

Note also that not all solar panels are equal. If you live in a hail prone area, make sure the panels are made with tempered glass, such as the ones made by Jinko Solar. These are much more resistant to hail damage. In fact, good solar panels are less likely to be damaged than metal roofs in extreme hail.

Heat pumps and hybrid hot water heaters. Regular homeowner's insurance policies typically cover heat pumps and hybrid water heaters, says Orbann.


"If it's a device that's installed outside, they're of course vulnerable to the elements and largely covered against most elements such as lightning and wind," says Orbann. "That said, most policies don't cover normal wear and tear or poor maintenance, or elements that may be covered under an add-on policy such as for floods or earthquakes."

If your hybrid water heater includes a leak detector, such as the Rheem ProTerra model, that's networked to an app or smartphone, you could be eligible for a discount, says Guisti.

EV chargers. Homeowner's insurance coverage for electric vehicle chargers may vary depending on whether the charger is hard-wired or a plug-in, says Orbann. EV chargers that are part of your home are typically covered by your homeowner's insurance policy.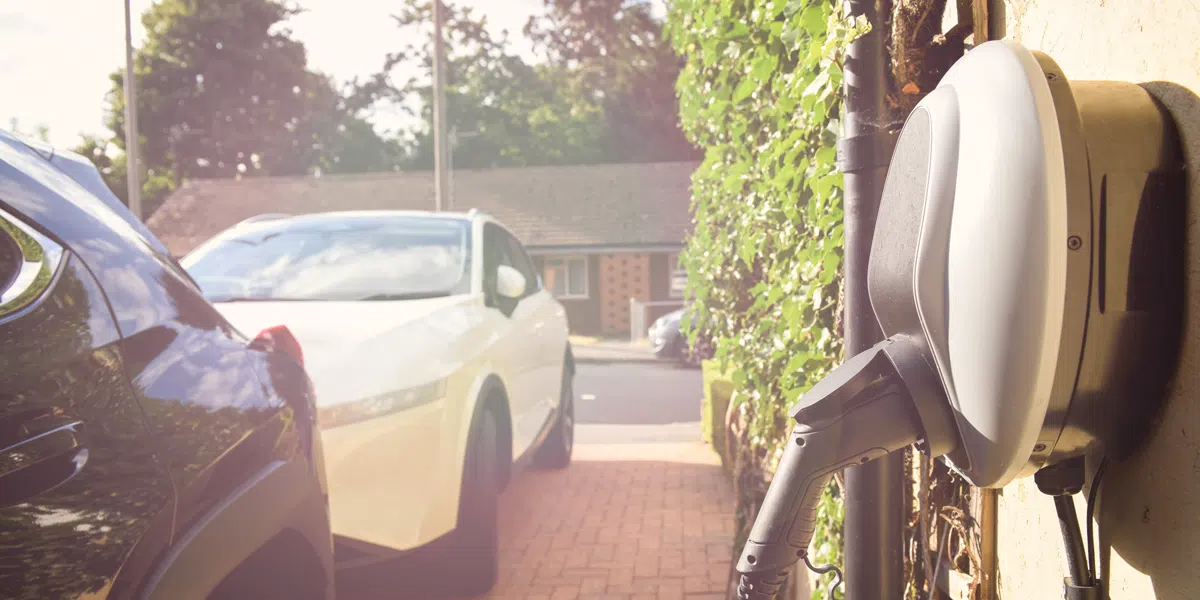 Hydrogen generator. Since hydrogen generators are relatively new technology for residential use, homeowner's insurance policies may not cover them or could even exclude them, Guisti says.
"It's cool technology that's installed outside your house, so you might be able to get an endorsement or rider to insure it the way you can get coverage for a swimming pool pump to protect it from a lightning strike or other damage," says Guisti.
The important thing, says Guisti, is to talk to your insurance agent to see if your green features are covered or excluded from your homeowner's insurance policy. He also recommends estimating the added value to your home to increase your coverage, and to see if any upgrades can earn you a discount on your premiums.
Since most insurance policies don't cover normal wear and tear, service plans for green equipment typically won't make a difference in your insurance premiums, says Orbann.
However, to keep your green equipment performing well, maintenance is usually required.
Maintenance: How Much Is Enough?
While some green features such as an induction stove just require typical cleaning, others need regular maintenance and inspections by professionals.
Efficient appliances: Make them last. You paid a little more for a high-performance clothes washer, dryer and dishwasher. By addressing the things likely to make them break, you reduce your professional maintenance costs.
Hard water: Your dishwasher, washing machine, water heater shower heads and faucets can be damaged by hard water, which clogs pipes, leaves stains and clogs up reverse osmosis water lines. Run distilled white vinegar through your washing machine cycle, use a dishwasher cleaner occasionally and soak your faucets and shower heads in a plastic bag full of white vinegar to remove deposits. Drain your water heater annually to get rid of sediment, too.
Dirty dryer vents: If you use your dryer often - and especially if you have furry pets - you should clean your dryer vents twice a year or at least annually. You can buy a DIY kit for $30 to $75 if you have relatively simple and shallow dryer ducts or hire a pro for #150 to $200. Cleaning your vents keeps them operating more efficiently and is important for fire prevention.
Washing machine: Besides an occasional white vinegar wash cycle, clean your drain area regularly and check for coins. Address mold issues around the door seal. Some models have a special "Clean Cycle" you should run once a month or so, such as

this one from Whirlpool.
Solar panels. Solar panels don't require a lot of maintenance, but regular cleaning helps them work more efficiently, says Bailey Carson, a home care expert at Angi. She recommends spraying them with a garden hose a few times a year and letting them dry in the sun.
"If your solar panels need a deeper clean, make a soapy water mixture by mixing warm water and dishwashing detergent in a bucket," Carson says. "After hosing down the panels, use the soapy water and a soft brush or squeegee to gently scrub the panels clean. Once the panels are clean, rinse them off with your hose and let them dry in the sun."
Carson says manufacturers or installers can recommend how often to bring in a pro to check on the panels.
Studies have shown, however, that cleaning solar panels makes little difference in their performance. Unless you're in a very dusty area, let the natural rain do the work for you.
Hybrid water heater. Carson recommends draining and flushing your hybrid hot water heater annually to get rid of any buildup and allow the machine to work more efficiently.
"To flush your hot water heater, turn the temperature down to the lowest setting and drain the tank," Carson says. "Before you close the drain, turn the water on and let it flow through for a few minutes to flush away any sediment. Close the drain and let the tank fill before turning the thermostat back to your preferred temperature."
Another good practice is to put an inline sediment trap in your home water line, before water gets to your heater and other appliances. These low-cost devices will catch larger particles such as rust, gravel and so on. In urban areas especially, where old pipes are still in play, this is a good practice.
Heat pump. While manufacturer instructions may vary for specific models, Carson recommends regularly cleaning your heat pump.
"Generally, cleaning your heat pump means replacing disposable filters or cleaning your filters once a month to improve air flow," says Carson. "You should also regularly clean your heat pump's coils, fans and supply and return registers."
Heat pumps should also be inspected and receive professional preventative maintenance at least once a year. Carson says maintenance can cost between $150 and $600 annually (although the latter would be for multiple units) depending on where you live and the condition of your heat pump. That's a huge unwanted cost, and not a surprise to most homeowners.
New models of heat pumps offer a possible mitigation. Mitsubishi, for example, offers something called Dual Barrier Coating on its new heat pump products. It's a coating that makes them much less likely to gum up with dust and oils.
EV chargers. Residential EV charges are very low maintenance, says Carson.
"If you have a level one charger (which plugs directly into your home's outlets), you'll only need to replace the electrical outlet once every few years, which costs between $50 and $100," says Carson. "Level two chargers, which are more complex, need to be wiped down regularly with a moist towel. They're made up of several components, which you'll need to replace as they break, so you'll need to check it regularly for imperfections."
Beating the System
Assess your real level of risk, before you pay a lot extra for cleaning and insurance of your gear.
Solar panels. Let them be. You probably don't need to pay to have your solar panels cleaned.
Heat pumps: two-year cycles. If you pull the filters out of your heat pumps and wash them in the sink, you'll cut the amount of dust collecting in the coil way down. You may be able to go two years without a full cleaning–longer if you buy a unit with special anti-dust coating.
Water quality: soften it. If you have hard water, get a softening system now. You'll add years of life to your appliances, pipes and faucets without high maintenance bills.
Energy/Water-Efficient Appliances: Clear the way. Clean dryer ducts, drains, dishwasher pans regularly to prevent buildup.
To make the most of your green technology and reduce your expenses, start with an insurance review and look for potential discounts. Once that's covered, regular maintenance can keep big repairs at bay and your appliances and systems running as efficiently as possible.
---
Publisher's Note: This content is made possible by our Today's Homeowner Campaign Sponsors: Whirlpool, Vivint, myQ, Sonos and Jinko Solar . These companies take sustainability seriously, in both their products and their operations. Learn more about building and buying homes that are more affordable and less resource intensive.