Quiet, Efficient, Green

Michele Lerner, Associate Editor
9 min read
Austin's heat and the combined forces of allergies and her dogs are no match for the cooling systems in Tiana Cooper's ReVISION house.
Reducing her environmental footprint was the top priority for millennial influencer Tiana Cooper when she planned to remodel her Austin, Texas home. But, resiliency was also extremely important. "I want to be self-sufficient so that if there's a power outage like the one Texas experienced earlier this year, I won't be out in the cold," she says.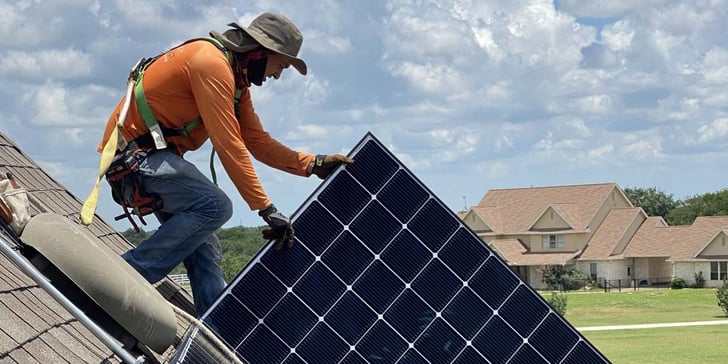 Cooper chose LG's 350-watt NeON 2 solar modules to provide a reliable source of power for her home and electric vehicle (EV). In addition, she opted for a multizone heating and air conditioning system, which works together with Greenfiber insulation for an energy-efficient, comfortable home. The central vacuum system from H-P Products provides indoor air quality benefits as well as easy cleaning, and the LiftMaster garage door opener provides ventilation and safety benefits whether Cooper is at home or away.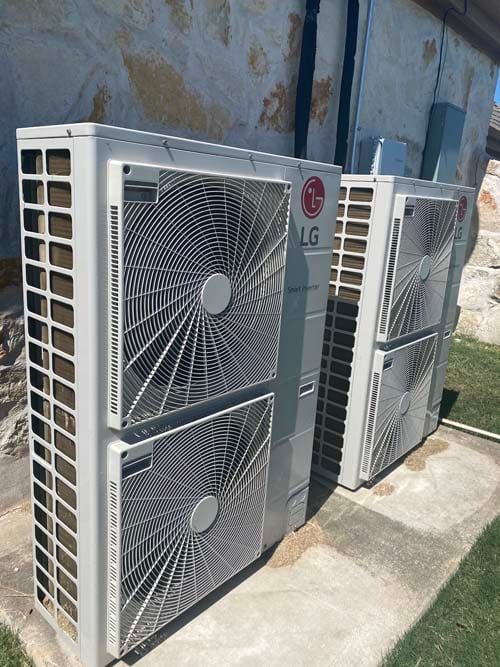 The inverted compressor by LG uses less power than a standard heat pump because it runs at variable speeds. The system provides more stable temperatures and requires less backup power, meaning it would require a smaller generator to power the HVAC should the power go out. Courtesy LG Electronics
"Like most people, I'm just really busy with work and travel, so the most important thing about this house remodel is that all the products work together as a system and can be accessed remotely," says Cooper. "It makes it super easy to live here and will save me money on utility bills in the long run. These energy-efficient, smart technologies will help me make sure the house performs optimally."
Adaptability of HVAC system
Triple-digit temperatures and humidity are the hallmarks of an Austin summer, but even the mild winters were uncomfortable in Cooper's house. She realized the decades-old HVAC system wasn't working well.
"It didn't have zoning, so there would be parts of the house that were super freezing or hot," says Cooper. "Plus, I was paying a lot in utilities."
Cooper travels often and doesn't always use every part of her house, so it didn't make sense for the environment or her budget to condition areas of the house that were unused. She selected two indoor systems, one to retrofit into an existing ducted system and a second ductless system, both connected to the outdoor heat pump.
"We installed the ductless indoor system into the largest pantry I've ever seen," says Terry Frisenda, executive sales manager at LG Electronics. "When Tiana travels, the dogs stay in the pantry, so it's smart to be able to cool that room individually and raise the temperature in the rest of the house."
Technology makes it easy to change systems and create new zones with ductless or ducted systems, says Frisenda.
"We've solved one of the oldest struggles of heating and air conditioning, which was uneven temperatures not only from one level to another in a house but even from one end of a large ranch house to another," says Frisenda. "Ductless systems can easily be used to individually manage temperatures. Instead of running a larger system, you can consume less energy with individual systems."
In addition, the inverter compressor installed by LG uses less power than a standard heat pump because it runs at variable speeds rather than via a simple on and off switch. The system provides more stable temperatures and requires less backup power, meaning fewer solar panels and a smaller generator are needed to run the HVAC.
Supplemental Sun Power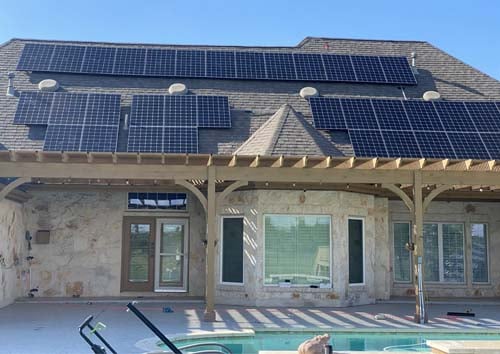 Solar modules from LG Electronics means Cooper is less reliant on the electric grid in Texas, which has been particularly plagued by rolling power outages. Shown here is the installation of LG NeOn 2 350-watt modules by NATiVE Solar. Courtesy NATiVE Solar
Cooper opted for solar modules from LG Electronics to reduce her dependence on the sometimes-unreliable electric grid in Texas, which has been plagued by rolling brownouts and blackouts, as well as the devastating failure of the grid during the unusual ice and snow storm early in 2021.
"Tiana had two overarching goals for her home: to get it as close to being net zero as possible and to future-proof the home to make it more resilient," says Brian Lynch, director of solar and storage for LG Electronics.
Cooper's home has a large south-facing roof, which is ideal for generating solar power.
"The solar modules we produce now have a better design, with wires instead of ribbons. These are more beautiful, and they absorb more light," says Lynch. "New technology has drastically reduced the cost of solar modules while increasing their efficiency."
While 440-watt modules are now available, Cooper chose to install 35 LG NeON 2 350-watt modules because they produce plenty of electricity at a lower cost. Lynch estimates that Cooper's electric bills will be near zero or have a negative balance over the course of a year.
LG's solar panels are designed for sustainability and guaranteed to produce at 90 percent of its capacity at the end of 25 years, compared with the 80 percent of the capacity of most solar panels, says Lynch.
Insulation Offers Comfort and Sustainability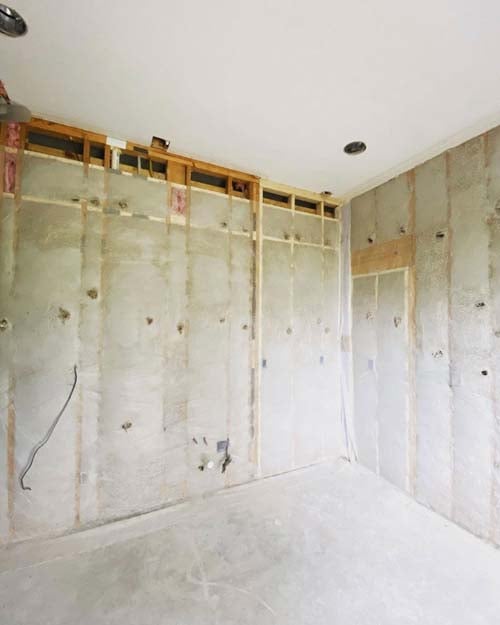 Greenfiber's 85 percent post-consumer recycled paper insulation locks in 1.34 tons of carbon dioxide during the lifetime of the home—the equivalent work of 807 trees. Courtesy Greenfiber
Adding insulation when remodeling is a standard part of improving energy efficiency, but there's nothing standard about Greenfiber.
"Our insulation is made from 85 percent post-consumer recycled paper, so it starts from a tree, is used by consumers, and then recycled for the insulation," says Laura Woodford, director of marketing for U.S. Greenfiber. "The coolest thing is that we sequester carbon, and can lock 1.34 tons of carbon dioxide during the lifetime of the home, which is equivalent to what 807 trees can absorb."
Greenfiber is delivered regionally to cut down on transportation emissions, and developed at an electrically run plant that uses 13 times less energy than it takes to manufacture fiberglass insulation, Woodford says.
While Greenfiber offers sustainability benefits and increases the energy efficiency of any home, Woodford says the Sanctuary cellulose insulation product that was installed in Cooper's attic and some interior walls provides wellness advantages, too. It equalizes the temperature throughout the house, gives the peace of mind of fire resistance, and provides 60 percent noise reduction.
"When I heard that Greenfiber had the additional benefit of soundproofing, I was sold," says Cooper. "I have a home office near busy rooms and because I do podcasts, I need quiet. Now I can have energy efficiency, and some peace and quiet!"
Breathe Easier In a Cleaner House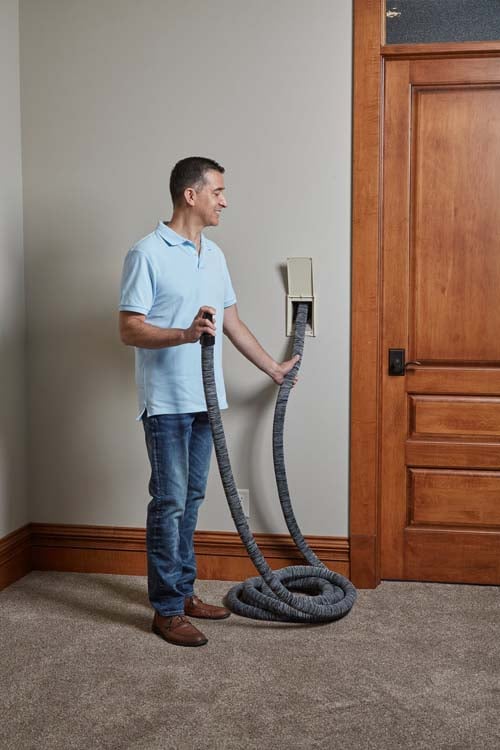 The retractable hose of the H-P Products central vacuum system offers a convenient way to keep allergens to a minimum in today's homes. Courtesy H-P Products
The pandemic raised awareness of the importance of improving indoor air quality, says Greg Calderon, vice president of H-P Products.
"Clearly, it's important to talk first about the HVAC system and ventilation, but vacuuming is like a dirty little secret that no one mentions," says Calderon. "The problem is that traditional vacuuming cleans your floor but dirties your air by recirculating the particles the vacuum picks up."
Cooper chose a central vacuum system from H-P Products, which pipes everything the unit picks up into a container in the garage. It only needs to be emptied once or twice a year, says Calderon. "I have allergies and dogs, and the combo of those two things can definitely cause suffering, particularly through high allergy season," says Cooper. "I wanted to make sure I was doing everything possible to improve my air quality."
H-P's central vacuum system in Cooper's home has retractable hoses in every room, which "clean at the speed of light because they have a larger motor than a portable vacuum," says Calderon.
"Another reason I picked H-P's central vacuum is because of the convenience," says Cooper. "When I clean, I'm flying around the house, so I love the fact that I don't have to lug hoses around. They retract right into the wall."
High-Tech Garage Features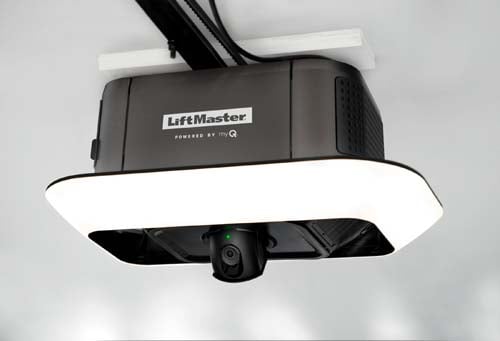 LiftMaster's garage door opener system includes a security camera and smart home connectivity. The system can send alerts to a smartphone and allows remote access for deliveries. Courtesy LiftMaster
Tech innovations such as a security camera and smart home connectivity mean that LiftMaster's accessories do more than just open the garage at Cooper's house.
"I use the garage as flex space for hobbies and also to store important items, so I wanted to be able to check on the space when I'm home and away," says Cooper. "The LiftMaster camera allows me to do this from my phone. I want to feel safe and secure, and this is a simple solution for that."
The camera can be connected to the myQ smart home app so it can be operated remotely, says Melissa Foley, principal of strategic relations for Chamberlain Group, which manufactures LiftMaster garage accessories.
"You can get an alert if someone tries to open your garage door and you'll have a video to share with the police if needed," says Foley. "The app can be connected to the Amazon Key In-Home Delivery service, which lets you get packages delivered to your garage. Or, you can remotely open your garage for deliveries."
LiftMaster anticipates adding indoor air quality innovations in the future. "People often store pesticides, chemicals, and paint in their garage, but they also sometimes use the space for hobbies and exercise," says Foley. "We're designing sensors to test the air for allergens, dust, and carbon monoxide so that homeowners will know when they need to ventilate the space."
For now, sensors monitor the temperature in the garage and can be set to open the door to increase air flow. "A really cool thing LiftMaster offers is the ability to raise the garage door a little every hour so the space gets a fresh air exchange," says Cooper.
Whether Cooper is working at home or traveling, she has the peace of mind that comes with knowing the systems in her house seamlessly and smoothly function to maintain her comfort and safety.
---
What do millennials want when it comes to housing? We've got the rare, up-close inside scoop! Follow Tiana as she traverses the home shopping, buying, and renovating process, with Green Builder's expert advice on her side.
All facts and figures in this article come from COGNITION Smart Data.
---
FAQs
Q: What remodeling projects are homeowners investing in?
A: According to a recent survey of remodelers, consumers are investing in energy efficiency, indoor air quality, and smart water solutions. Here are the specifics remodeling project types, according to COGNITION Smart Data:
Energy-Efficiency Retrofits
Installing solar
Installing super-efficient heat pump water heaters and HVAC systems
Installing EnergyStar appliances
Installing smart thermostats and energy monitoring systems
Replacing old roofs with energy-efficient metal and/or cool roofs
Sealing attic venting
Putting ducts inside conditioned space
Adding a radiant barrier
Installing LED lighting and natural lighting via tubular skylights
Replacing inefficient windows and doors
Upgrading pool pumps to more efficient models
Indoor Air Quality Retrofits
Upgrading vent fans and range hoods
Installing ERVs and whole-home air filtration systems
Installing proactive IAQ monitoring systems
Water retrofits:
Installing leak detection and water monitoring systems
Installing spot or whole-home water filtration systems
Q: How much can you save on heating and cooling bills with a new energy-efficient HVAC system?
A: Up to 20% can be saved on heating and cooling bills with a new energy-efficient HVAC system.
Q: Who is doing the most home improvement?
A: Millennials lead the home improvement charge, with approximately 82% implementing at least one home improvement project in 2021.
Q: What types of remodeling projects are millennials doing?
A: 52% of millennials have implemented remodeling projects that have increased home performance and sustainability, including installing solar panels, smart lighting, eco-friendly appliances, and heat pump technology.
Q: What percentage of the millennial generation will pay for a healthy home?
A: 85% of millennials said that they would pay more for a healthy home.
Q: Do millennials care about indoor air quality (IAQ)?
A: 92% of millennials believe that good IAQ is extremely or very important.
Q: What is as important as "location" to millennials when they are home shopping?
A: IAQ is now seen by early-adopter and first-mover millennials as a fundamental homeowner right, and is as important as the location to some home buyers.
Q: What health and wellness categories are millennials interested in?
A: Millennials are particularly aware of health and wellness, and they're looking for non-toxic products, antimicrobial surfaces, and proactive IAQ systems that will keep their homes healthy.
Oct 22, 2021 2:35:28 PM · 9 min read
---

Michele Lerner is an award-winning freelance writer, editor, and author who writes about real estate, personal finance, and business.