Panelized Homes Bring Speed and Performance to Building Industry

Samantha Carlin
2 min read
CertainTeed's ONE PRECISION ASSEMBLIES panel building system is optimized for building performance and speed.
Sponsored Content
In this video, Green Builder Media Editor-in-Chief Matthew Power and Dennis Michaud, Managing Director of CertainTeed Offsite Solutions, discuss CertainTeed's new product line, ONE PRECISION ASSEMBLIES and its benefits to both builders and homeowners.
"It is very difficult to build a high-quality, tight, sustainable, mold-free home in many other conditions that builders face," Michaud emphasizes.
ONE PRECISION ASSEMBLIES helps to overcome these challenges.
ONE PRECISION ASSEMBLIES feature built-to-spec, fully-constructed wall, floor, ceiling, and roof panels that significantly ease and accelerate the building process and facilitate the construction of high-quality, energy-efficient homes.
"It's a panelized system, so what you do is you put your design in, and they build the components at the factory, deliver the pieces to the job site, and assemble the house," Power explains.
With this system, a home's exterior can be fully assembled in 1-3 days on the job site, depending on the size of the structure. The interior finishes, kitchens, and baths are then completed in the sided, insulated, weather-tight home envelope.
With this new approach, CertainTeed and the builder are able to control the whole process, including the design, build quality, energy performance, labor, and job site waste.
"It comes from automated quality control," Michaud explains, "so we're actually able to inspect, in real-time, every aspect of the build."
When asked about the most common misconception about offsite construction, Michaud notes that builders often think offsite construction isn't built to the same standards as on-site work. But, he notes, "modular or panelized construction is built to the same codes, and sometimes beyond those codes, in order to allow durability in transportation."
CertainTeed panels go above and beyond with energy-efficient features and expert building science practices that "give builders more choices to hit performance and productivity goals," Michaud notes.
Currently, the company is focused on single-family homes, duplexes/triplexes, and ADUs. To start, the service is being offered in the northeastern quadrant of the US, from North Carolina to Maine.
To get started with ONE PRECISION ASSEMBLIES, reach out to CertainTeed at 610-893-6200.
Watch this video to learn more about CertainTeed's new ONE PRECISION ASSEMBLIES process and options, and visit www.certainteed.com/OPA to start designing your own panelized dream home!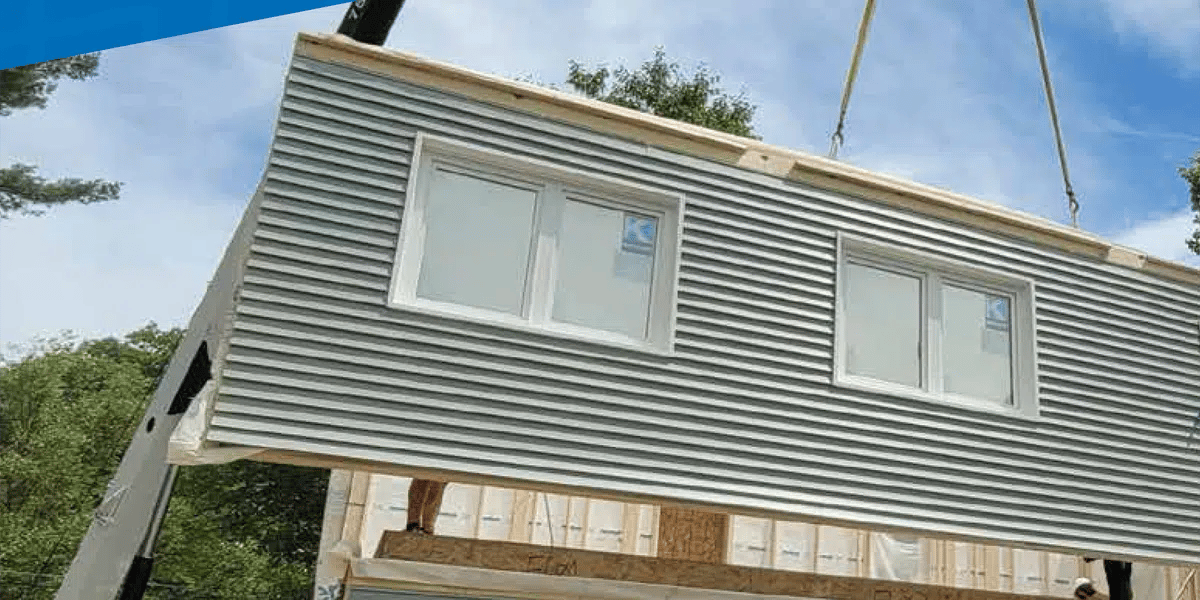 Aug 29, 2023 8:00:00 AM · 2 min read
---

Samantha is able to express her passion for the environment -- both natural and built -- as the special projects manager at Green Builder Media. Prior to joining the Green Builder Media team, she worked as an order management specialist at C.A. Fortune, a consumer brands agency. She is a recent graduate of the Master in Environmental Management program at Western Colorado University with an emphasis on sustainable and resilient communities. Originally from the suburbs of Chicago, she is currently thriving in Gunnison, CO where she enjoys the surrounding geology, mountain biking, and skiing.