Intuitive Appliances Enhance the Cooking and Cleaning Experience

Samantha Carlin
5 min read
Sponsored Content
At ReVISION House Scottsdale, Whirlpool Corporation sets a high bar with user-friendly, efficiency-enhancing technologies.
Internationally renowned building science expert Steve Easley and his wife, indoor air quality expert Susan Raterman, purchased a 50-year-old home in Scottsdale, Ariz. After falling in love with the location, the duo decided to purchase the older home and renovate it to optimize performance, sustainability, wellness, aesthetics, intelligence, and durability—ultimately creating a self-sufficient home to last generations.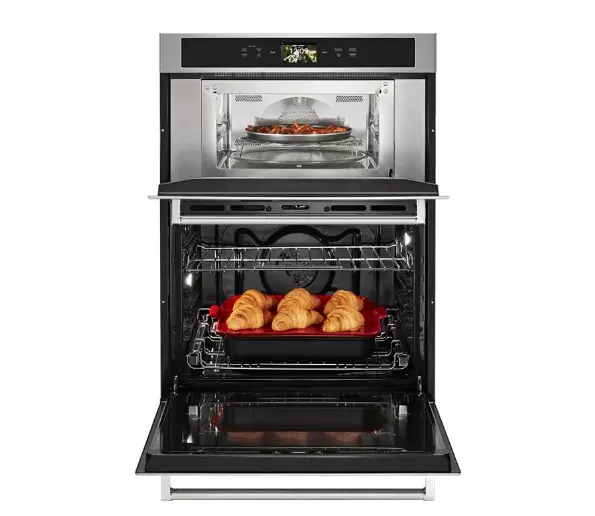 The uniquely designed KitchenAid Smart Oven+ provided the ability to finish food in several different ways. Grill, steamer and baking stone attachments make professional-level meals simple for Ratterman and Easley. They each fit interchangeably into the included heating element and base pan, which connect to the back of the oven for precise control.
With a long list of requirements, Easley and Raterman knew that they needed state-of-the-art appliances that could meet their diverse cooking needs. They selected the high-performance products Whirlpool Corporation has to offer, which they knew would enhance the health and sustainability of their home and also meet their evolving needs over time.
Easley expresses his trust in the brand: "This will be our fourth project where we have used Kitchenaid appliances. They have always performed well and we love their innovative features."
Nicole LeBlanc, Associate Shopper Marketing Manager, Builder Channel at Whirlpool Corporation, explains why the specific products selected were ideal for this ambitious home revamp. "The ReVISION House Scottsdale is focused on optimizing everything from performance to health and sustainability, and Whirlpool Corporation's purposeful products fit right in with that vision" she says.
LeBlanc further notes that Whirlpool Corporation is "always looking for ways to improve life at home, and the appliances selected for the ReVISION House Scottsdale do just that, in addition to offering energy efficiency.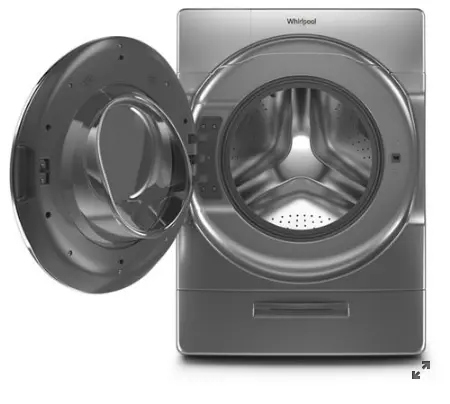 The Smart Front Load Washer with Load & Go XL Plus Dispenser helps determine the ideal cycle combinations and saves up to 35 custom cycles to care for various fabric and load types. Whirlpool also incorporated a Steam Clean option to remove everyday stains, cleaning deep into the fabric, leaving colors bright and whites, well...white!
Health-Conscious Cooking
New technologies and techniques for cooking and preparing delicious foods have gained popularity in recent years. Since both Raterman and Easley work full-time, cooking ease is a must in their house without compromising health.
Easley and Ratterman "believe strongly in the environmental benefits of electrification." They plan to "switch from natural gas cooking to an electric induction cooktop with even better temperature control and enhanced indoor air quality."
The KitchenAid Smart Oven+ is a combination oven with both steam and convection capabilities. The beneficial addition of steam "is a popular, healthy method of cooking that helps preserve nutrients and keep foods moist, eliminating the need for excess oil," LeBlanc explains. Plus, the inclusion of powered attachments expands the capabilities of Easley and Raterman's kitchen, adding the ability to grill and stone cook.
Smart Control Takeover
Several of the selected Whirlpool and KitchenAid products throughout the ReVISION House Scottsdale boast smart, capable features that simplify chores like cooking dinner or doing laundry.
With the Wrinkle Shield Plus option with Steam, the Whirlpool Smart Front Load Electric Dryer tumbles the load with steam until the dryer door is open. This function helps release and prevent wrinkles, keeping laundry fresh and ready.
In the kitchen, the couple's KitchenAid Smart Oven+ connects to a mobile app for remote monitoring and control. It can save cooking instructions, making that tricky dish less intimidating the second time around.
On top of that, Raterman and Ealey can start preheating the oven from their home offices with built-in Alexa and Google Assistant capabilities. The app will even suggest when to tend to food, leaving the pair free to relax without worrying about dinner burning.
Moving to the laundry room, Raterman and Easley's Whirlpool Smart Front Load Washer and Dryer are also smart-capable. With Load & Go XL Plus Dispenser, the washer stores roughly 40 loads worth of detergent and fabric softener. Smart sensors analyze each load and dispense the ideal amount of detergent, eliminating guesswork.
Remote control with the Whirlpool app lets the couple customize cycles, start, stop and pause their washer and dryer from anywhere. Additionally, the app allows them to perfectly coordinate washer and dryer cycles and schedule loads. The washer even comes with a built-in drying option for smaller loads and increased efficiency.
Efficiency Upgrades
Whirlpool Corp.'s products offer environmentally friendly components and energy-saving technologies, making them perfect for the net-zero home. In the desert, with scarce natural resources, the husband-and-wife team are determined to reduce their consumption of resources like energy, water, and food.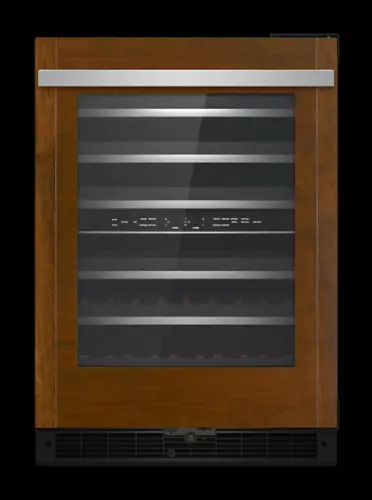 The couple's new JennAir 24" Built-In Undercounter Wine Cellar holds 45 bottles behind a double-paned UV-resistant glass to preserve their collection. The two temperature zones and eight settings give each bottle the necessary care to sustain the coveted body and finish.
KitchenAid Built-In Side by Side Refrigerator features the ExtendFresh Plus Temperature Management System to keep temperatures consistent for fresher ingredients through a sensor-controlled system with a variable-capacity compressor. Similarly, the Produce Preserver extends the life of fruits and vegetables by absorbing ethylene, a ripening accelerator emitted by produce.
Along with the KitchenAid Side by Side Refrigerator, JennAir Undercounter Wine Cellar features LED lighting to increase visibility and reduce excessive heat. This energy-efficient lighting system also miraculously doesn't need replacement.
ReVISION House Scottsdale's new KitchenAid Free Flex Third Rack dishwasher exceeds government standards for energy efficiency, reducing energy demand and cost. With the inclusion of the largest third rack available, this dishwasher allows Raterman and Easley to fit more into one load, reducing water usage. Additionally, with an advanced clean water wash system, food particles are continuously filtered out, avoiding the need to wash dirty cookware and glassware separately.
When it comes to dirty laundry, Whirlpool has it covered with their Energy Star Certified 7.4 cu ft Smart Front Load Electric Dryer. The EcoBoost option lowers the temperature and lengthens cycle time to decrease energy consumption. It even comes with a dryer rack that attaches inside the stainless steel drum, making the air-drying process simple and space-saving.
Sustainability at the Core
Beyond manufacturing excellent products, Whirlpool continuously evaluates and improves its corporate sustainability initiatives. For example, the company has reached zero waste to landfill at 71 percent of their sites and achieved record low levels of energy and water use in plants, ultimately achieving Gold or Platinum level LEED certification. In addition, Whirlpool has reduced greenhouse gas emissions by 20 percent over the last four years and has a long-term plan to continue pollutant reduction and invest in renewable energy production.
Looking to the future, Raterman and Easley hope to extend their living independence well after retirement. Their new Whirlpool, KitchenAid and JennAir appliances meet the requirements for health, ease, efficiency and aging-in-place designs and technologies.
Nov 10, 2021 8:22:42 AM · 5 min read
---

Samantha is able to express her passion for the environment -- both natural and built -- as the special projects manager at Green Builder Media. Prior to joining the Green Builder Media team, she worked as an order management specialist at C.A. Fortune, a consumer brands agency. She is a recent graduate of the Master in Environmental Management program at Western Colorado University with an emphasis on sustainable and resilient communities. Originally from the suburbs of Chicago, she is currently thriving in Gunnison, CO where she enjoys the surrounding geology, mountain biking, and skiing.