In Sustainable Show Homes, Storage Systems Optimize Every Square Foot

Samantha Carlin
3 min read
As housing becomes more expensive, it's imperative that homeowners optimize every square foot. High quality storage and closet systems can help in this endeavor.
When COVID-19 sent the world into lockdown, we were stuck–stuck in our homes–homes that so quickly transformed from a haven and shelter to a multi-purpose space. An office, a classroom, and a gym suddenly had to fit inside our four walls.
People were left with two options: Get rid of belongings or create space through decluttering and improved organization. According to the New York Times, the pandemic forced us to look at our stuff and deal with the overwhelming clutter tucked away in crawl spaces, attics, unused rooms, and closets.
Amanda Parker-Wolery, Vice President of Marketing from Organized Living, has recently noticed that "home buyers love the idea of their home being customized to fit their needs and lifestyle. Home storage and organization is a huge player when it comes to customization as it provides creative ways for homebuyers to store their belongings."
Organized Living offers storage systems that can be fully customized to a homeowner's needs, providing accessories to store all types of belongings. "At Organized Living, we're always looking for better ways to maximize storage for our Builder partners so they can satisfy their homebuyers' demand for better storage solutions," says Parker-Wolery.
Incorporating New Spaces
Parker-Wolery notes, "It's no surprise that home offices are here to stay. In fact, 45% of homeowners are willing to pay for a better home office in their next home. Builders are now incorporating at least one, if not two, dedicated workspaces into the homes they build. They are focused on providing an alternative work-from-home space that any member of the family can utilize. Whether it's a fully functioning home office or a flex zone, Builders are creatively providing their homebuyers with dedicated space inside the home to get work done."
When home builders don't have as large of a floor plan to work with, they are thinking outside the box with secondary or tertiary bedroom closets and turning them into a "cloffice"–the alternative solution to an office without having to sacrifice an entire room.
Organized Living at VISION Homes
With rising costs for homes and rent nationwide, combined with the increased popularity of compact living, the demand for organized spaces is at an all-time high. As people do more in their homes, they are looking for creative storage solutions that can help declutter and organize any area of the home.
Professional organization tools and products can help make smaller spaces feel larger, eliminate useless nooks and crannies, and enhance the usefulness and efficiency of any room.
Two of Green Builder Media's VISION House projects will feature Organized Living's products.
At the ReVISION House Scottsdale, the Select and freedomRail solutions were chosen for their versatility and flexibility. In the primary bedroom, the Select traditional built-in storage system will transform the closet.
"Select holds 170 pounds per linear foot. Furniture-grade laminate, full-extension soft-close drawer glides, and soft-close hinges combine to create the strongest storage solution available," says Parker-Wolery.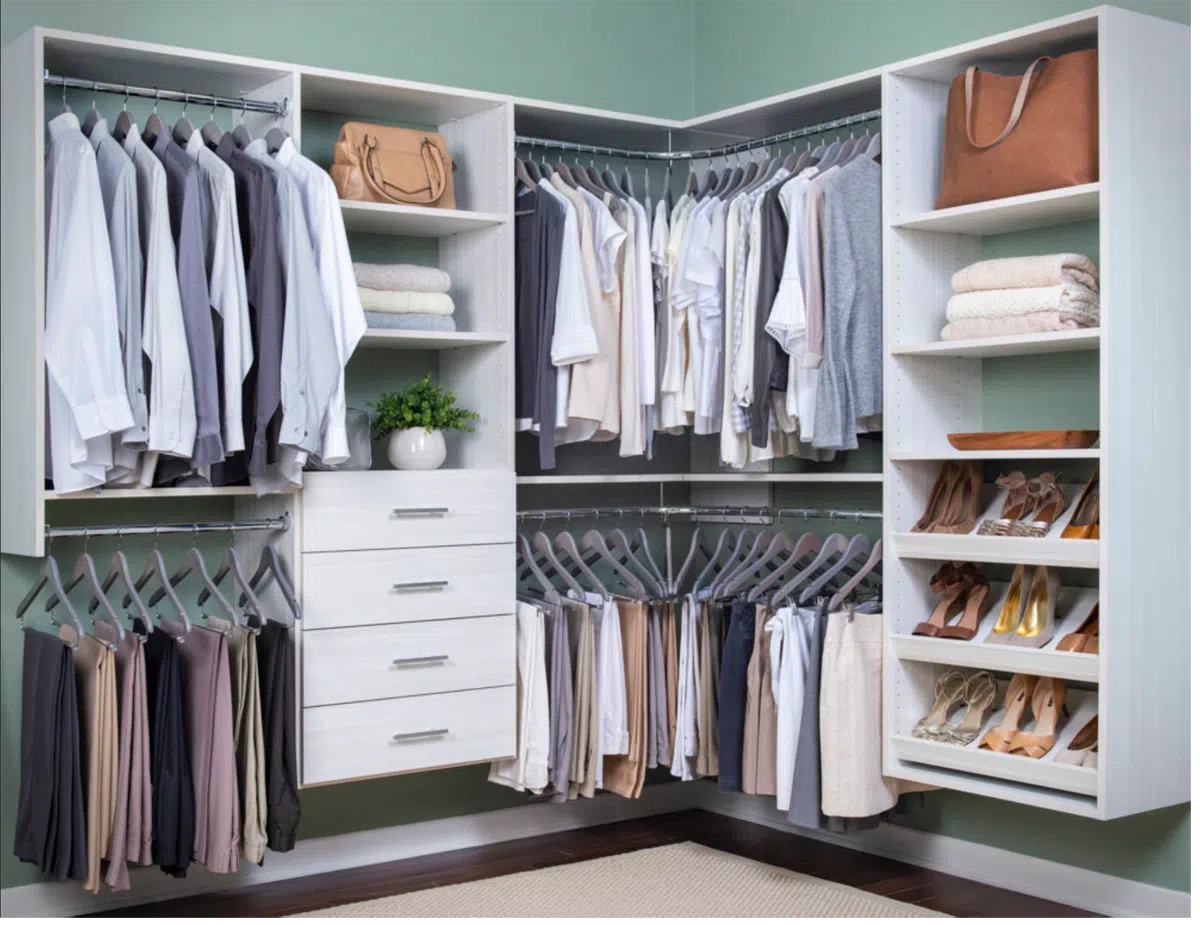 The Corner Rod Solution in this Select system makes closet corners useful. The accessory allows hangers to slide between two adjoining rods without lifting the hangers. Image credit: Organized Living
To make cooking a breeze, the freedomRail line helps organize food and appliances. This system is a truly adjustable storage system that "offers flexibility and ease to change components to fit homebuyers' active lifestyle, without any tools needed," Parker-Wolery explains. "The Rail is attached to the wall, and from that Rail, Uprights hang vertically. All shelving, hanging rods, and accessories hook easily into place from the Uprights. Homebuyers can instantly move the components on the Uprights, and the Uprights along the Rail."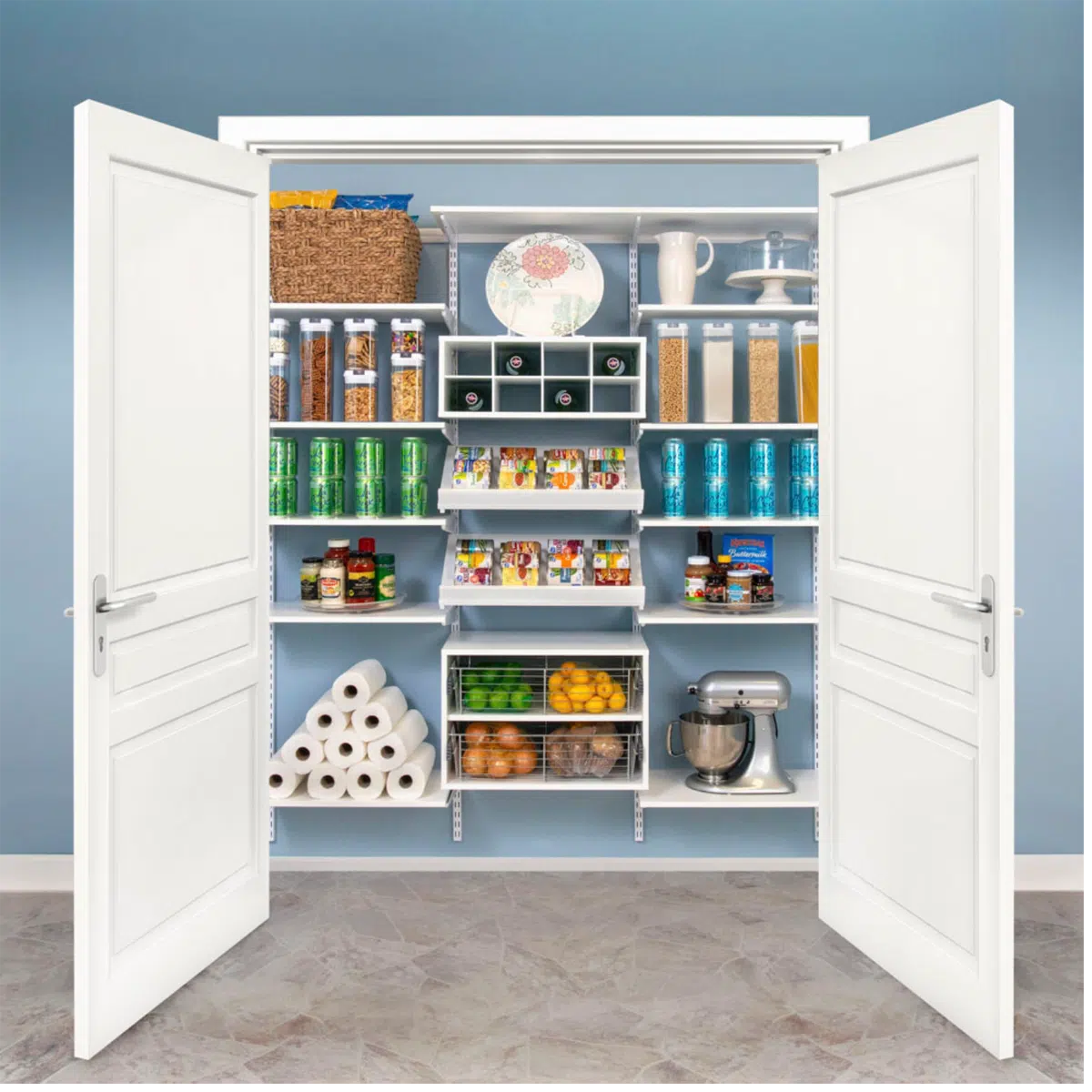 freedomRail can be moved and added to by the homeowner without any tools. Image credit: Organized Living
At 10,000 feet, the owners of the off-grid VISION House Mariposa Meadows, Sara Gutterman and Ron Jones, made purposeful use of every inch of space. Reliant on solar and battery backup, the three homes in the compound are compact and efficient in terms of both energy and space allocation.
Similar to ReVISION House Scottsdale, the pantries at VISION House Mariposa Meadows will utilize freedomRail, so anyone staying there can make the space work best for them. In the bedroom closets, Gutterman and Jones chose a refined fixed wood shelving option called VUE .
Parker-Wolery explains how VUE "provides the look and strength homebuyers expect. VUE is the new standard for Builders and the perfect step up for homebuyers who prefer solid shelving over ventilated wire."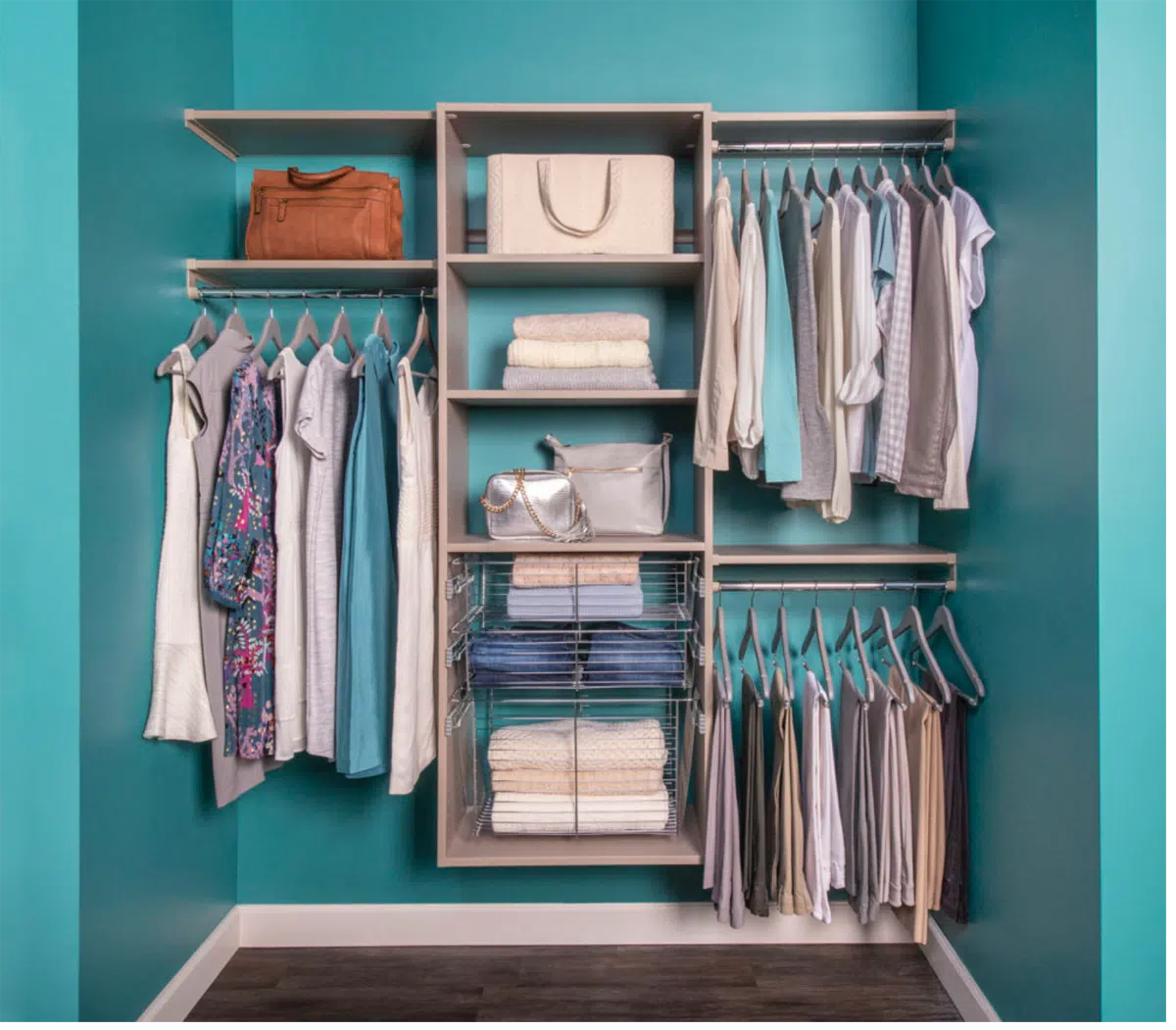 VUE meets LEED requirements and does not contain harmful VOCs. Image credit: Organized Living
Organized Living is "proud to partner with Green Builder Media on the ReVISION House Scottsdale and VISION House Mariposa Meadows," Parker-Wolery says. "This winning partnership is a testament to our core value of 'do the right thing.' We are impressed with the work Green Builder Media is doing to move the industry forward more sustainably and how their vision aligns with our value of thinking long-term."
Stay current on the progress at VISION House Mariposa Meadows and ReVISION House Scottsdale and Organized Living's participation.

Jan 17, 2023 12:17:48 PM · 3 min read
---

Samantha is able to express her passion for the environment -- both natural and built -- as the special projects manager at Green Builder Media. Prior to joining the Green Builder Media team, she worked as an order management specialist at C.A. Fortune, a consumer brands agency. She is a recent graduate of the Master in Environmental Management program at Western Colorado University with an emphasis on sustainable and resilient communities. Originally from the suburbs of Chicago, she is currently thriving in Gunnison, CO where she enjoys the surrounding geology, mountain biking, and skiing.