HVAC Giant Gives Back With Purpose

Cati O'Keefe
4 min read
Lennox embarks on another year of its popular charitable program, Feel the Love, in a time when corporate social responsibility, particularly for millennials, is more important than ever.
HVAC manufacturer and distributor Lennox has a long history of giving back to the communities it serves. One program, in particular, illustrates the company's charitable tendencies. Feel The Love (formerly Heat UP) was started in Wisconsin by Dave Chatmon, Manager, District Sales, who suggested a program to his dealer network that local communities could nominate an "unsung hero," Lennox would donate furnaces, and the dealers would install them for free.
The first recipient of a free furnace was a retired veteran. Just one year later, the program was installing 83 furnaces in Wisconsin. The program was taken national in 2018, spearheaded by Stephanie Bond, Director, Marketing – Brand & Stores. With Chatmon sharing what he learned in his 10 years running the program, Bond and team grew the program from nine districts to 32, with 1,300 installs since inception, done in one cause-oriented impact weekend each year.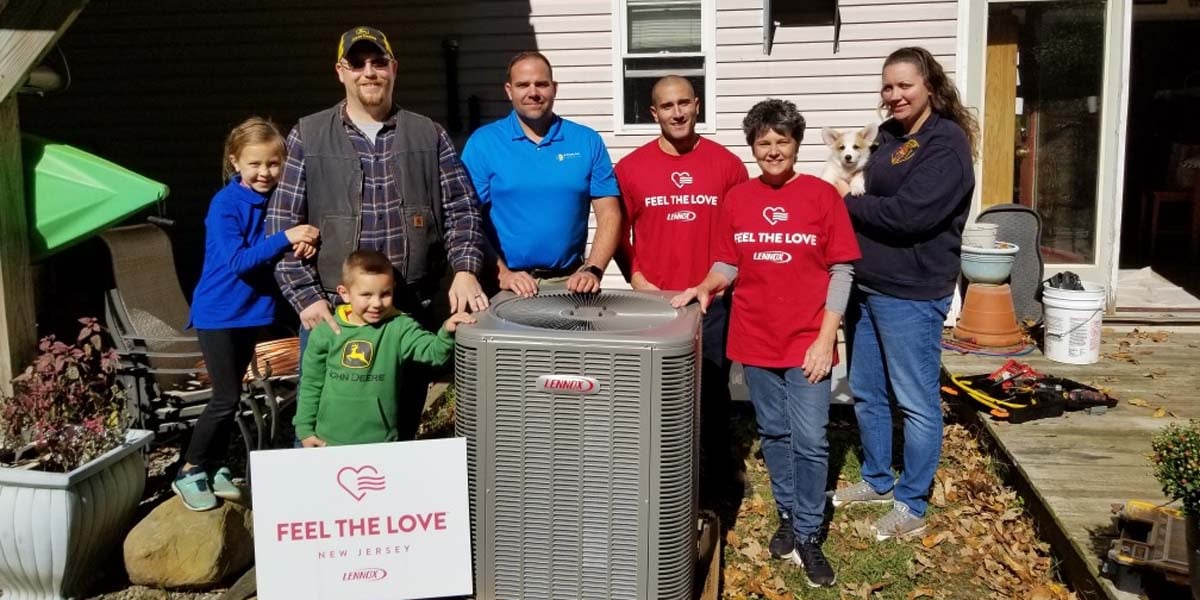 "In 2019 we extended the program to all sales districts bringing safety and comfort to more home-owners, Bond says. "This cause marketing effort reached across North America and Canada, with 230 installations."
This campaign is important to Lennox is because it keeps with the emotional intangibles that tie with its "Air Is Life. Make It Perfect" brand statement. "Feel The Love is emotional," Bond agrees. "When you feel comfortable, your home is your sanctuary. We say our system is the heart of a home, so there is something around the theme of a home filled with love."
Lennox generates love outside the home with this program. "The unsung heroes often nominated are doing for others–vets, first responders, the elderly, teachers," Bond says. "One recipient, in particular, comes to mind, a single mom. She said 'I can't believe this! This is so amazing–but if someone is more in need, please give it to them.' These community members are doing things for everyone but themselves, and they are the ones this program is designed for."
Everyone Feels the Love!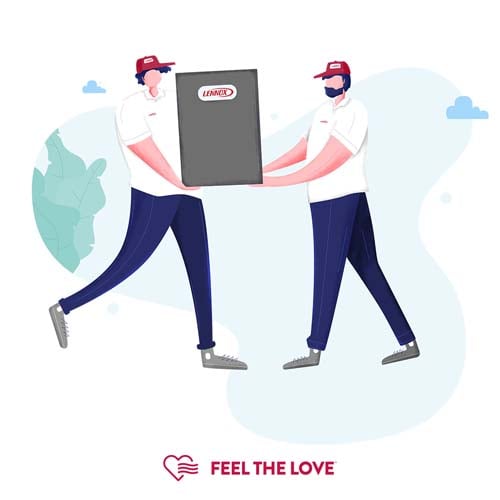 The ripple effect of this giving program is its effect on participating dealers. "Dealers go above and beyond on Feel The Love Day," says Bond. "It is an enjoyable day for Lennox employees, dealers, and homeowners—a big love fest while perfect air is being installed!"
"We coach dealers on how the program works and how to ask their technicians to participate," Chatmon says. "At first, dealers found it hard to ask technicians to donate their time, but we explained that the concept is to let the team give of themselves, so they can enjoy the experience from their own heart."
This concept wasn't created in a vacuum. Ample research shows that people want to work for companies that have solid corporate values–and consumers want to buy from them.
The 2017 Cone Communications CSR Study looked at consumer attitudes around corporate social responsibility and found that 87 percent of consumers said they'd purchase a product because a company advocated for an issue they cared about and more than 75 percent would refuse to purchase a product if they found out the company supported an issue contrary to their beliefs.
On top of corporate values, consumers want to buy products from them, especially those with a strong green message. "Millennials are concerned about human impact on the environment," says Green Builder Media CEO Sara Gutterman. "Our COGNITION Smart Data shows that about 73 percent of millennials say they'd be willing to spend more for sustainable products."
"Doing good is good for business and employees," Bond says. "And these stats support employee engagement as a way to retain talent. With the tech shortage, this is a great way for Lennox and dealers to showcase how we care about the communities where we work and live, and we want to incorporate employees in it."
Bond emphasizes that the upside of employee retention or consumer attention isn't the reason they do good in their communities. "It doesn't drive it, but is part of it," Bond says. "Lennox Dealers get to see that the consumer cares that the brands and products come from a good place. It can be a differentiator at the kitchen table for dealers: They can say, 'We are accepting nominations for our Feel The Love program, do you have anyone to nominate?' This gives them a connection with the homeowner beyond the sale."
Intangible Upsides
After a Feel The Love weekend in October 2019, Bond and Chatmon got a flurry of emails, such as this one from Lee Eft, the Des Moines District Sales Manager: "These are great events and a somber reminder that there are lots of people in the world less fortunate than we are. It is great that our dealers and Lennox step up and take care of people in need."
Chatmon attests to the positive image this projects to dealers and prospective dealers: "We've had several dealers come to managers and say, 'Listen, we want to be part of this program. How do I become a Lennox dealer? Honestly, we didn't expect that."
The competition asks Chatmon how the company does this and even why they are doing it. "From my experience running the program in Wisconsin, I can tell you that when dealers are part of a family like this–doing what we do–they feel they are looked up to. They feel the leadership of Lennox," he says.
Visit the FeelTheLove site to learn more about how you can be a part of this charitable building industry program as a dealer or by nominating a recipient. Nominations open in May.
Mar 23, 2021 10:11:00 AM · 4 min read
---

Cati O'Keefe is the editorial director of Green Builder Media. She has 25 years of experience reporting and writing on all aspects of residential housing, building and energy codes, green building, and sustainability.