Green Builder's 2023 Sustainable Brand Index

Alan Naditz
7 min read
When our readers think about green building, here's what comes to mind first.
As the world went back to business in 2022, our readers went back to generating and providing services for the construction industry (and in many cases, for themselves). Our annual survey reveals what products were on the public's mind the most, from the best energy-saving appliances to the cars they like to drive on the job.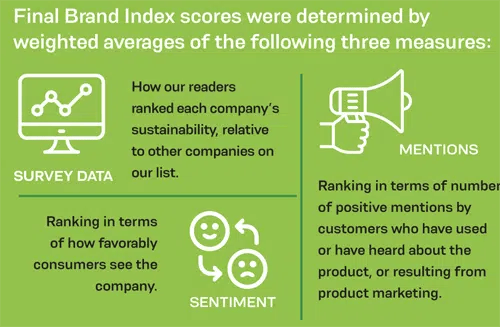 Results here evaluated brands using three distinct tools: our traditional survey data, market visibility or "mentions," and public sentiment. These are averaged to create a Brand Index Score and derive a company's final ranking among its peers.
Many of the big-name players are back within the familiar surroundings of the top five within their category, while others were bumped out of this year's top 10. A few lesser-known companies are on the way to becoming household names. Overall, our survey shows where a company is doing well, and which improvements could round out category excellence.
Appliances
There's no doubt who ranks first in sustainability imaging among appliance makers. LG topped all three survey components—and is the only company among any category winners to do that—largely due to its ever-advancing and continually popular Signature Kitchen Suite brand and consistent emphasis on energy efficiency and performance.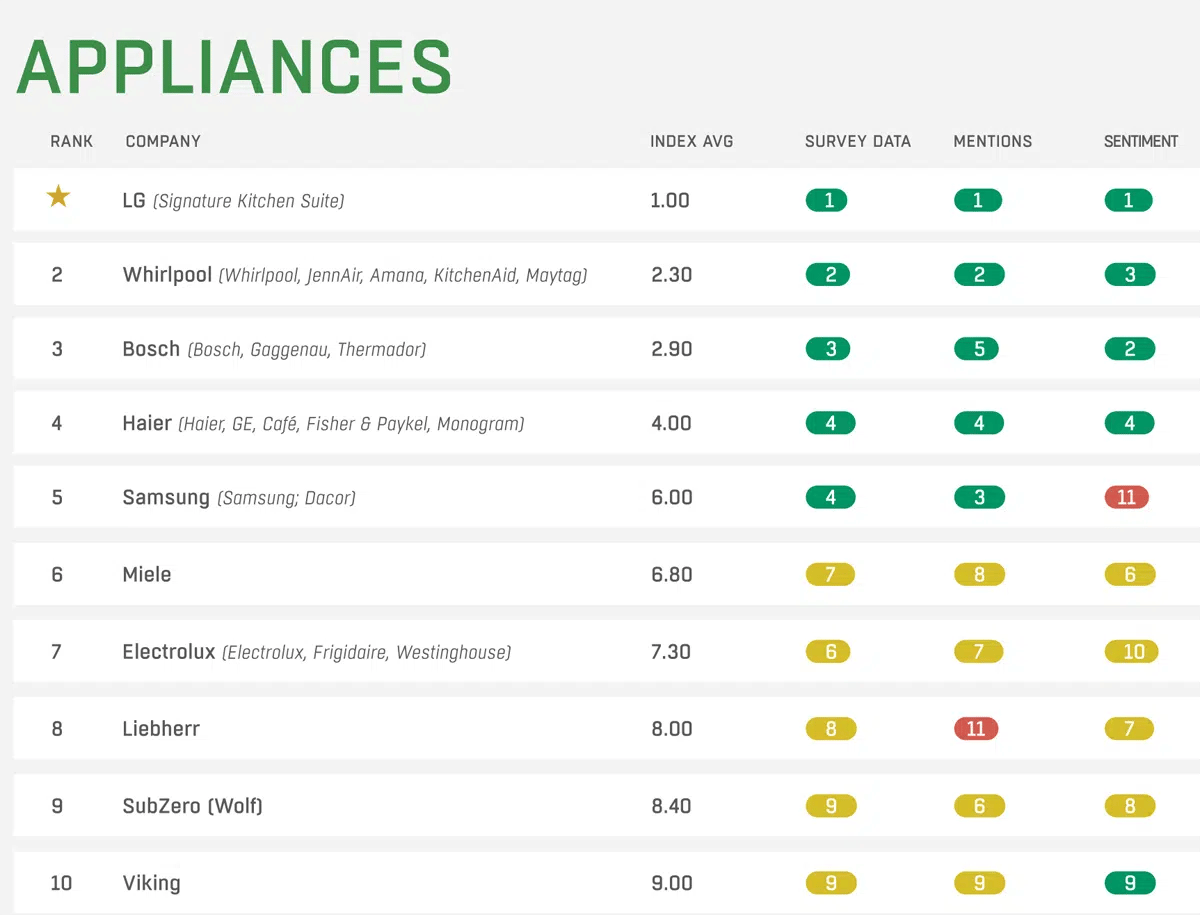 Building Wrap
DuPont's always-strong name recognition moved it into the top spot among building wrap manufacturers last year, and kept it at No. 1 this year. TYPAR, usually ranked at the lower end of our survey, used best-ever word of mouth and product marketing to finish second.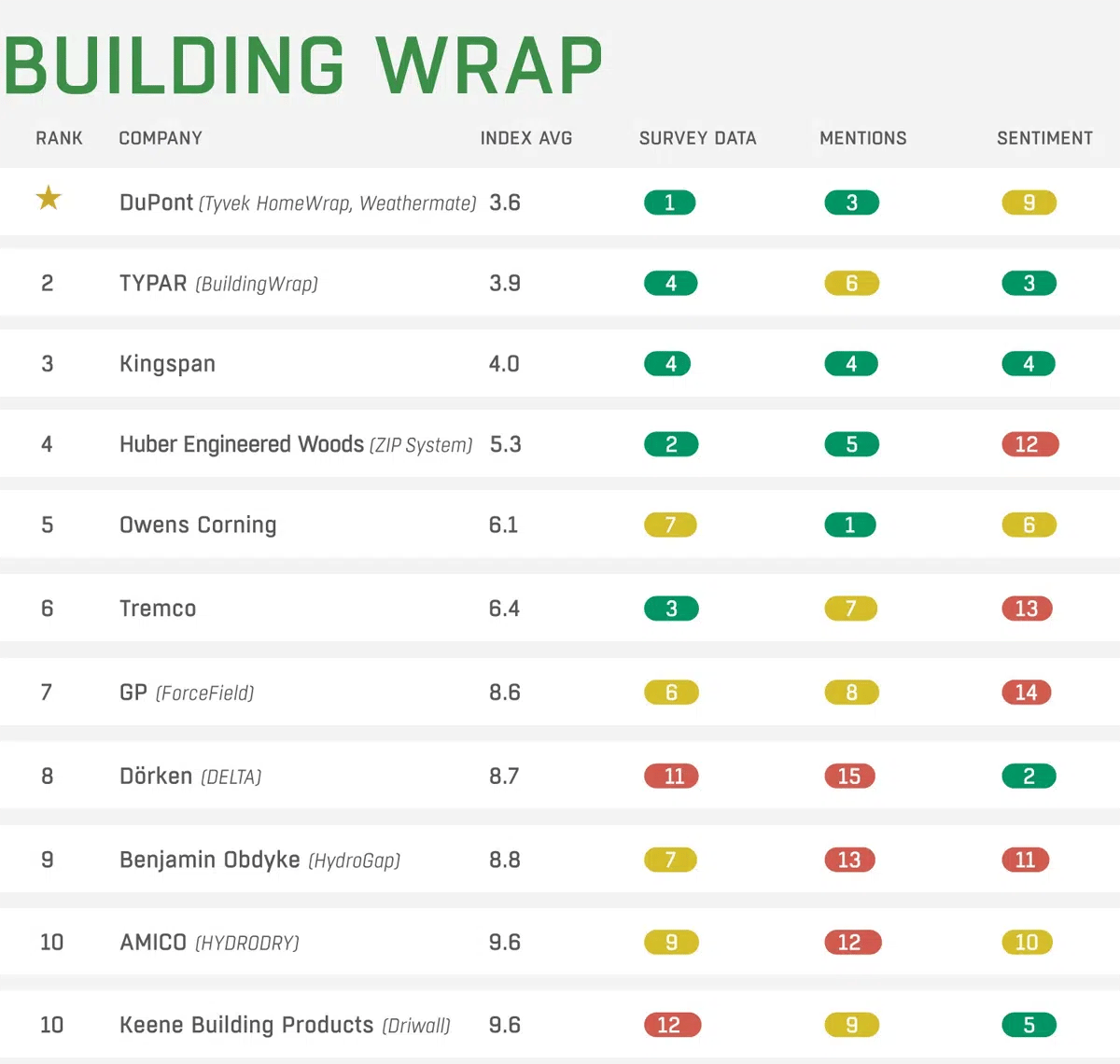 Cabinets and Shelving
With a wide range of eco-friendly cabinetry brands designed to offer something for everyone, American Woodmark has finally reached the top of the industry and public's minds. IKEA also retains its image as a green leader, and has begun some new sustainability initiatives in the past few months.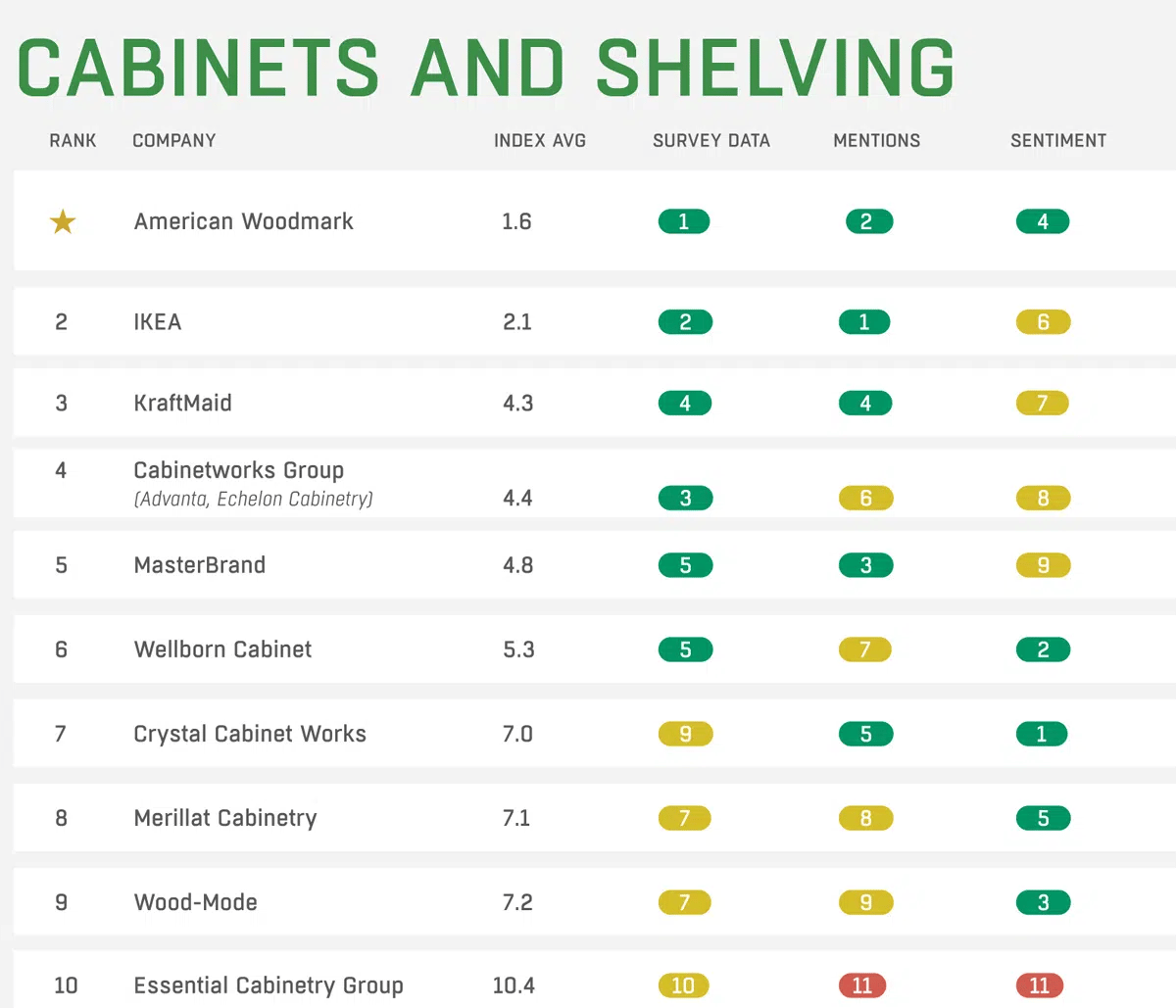 Countertops
Another year, another top finish for DuPont Surfaces. The countertop surface maker (and its previous namesake, Corian) has been perceived as a sustainable brand in the industry for years. The continued popularity of its sustainably made Solid Surface, Quartz and Endura lines can probably be thanked for keeping that strong positive reputation in the market.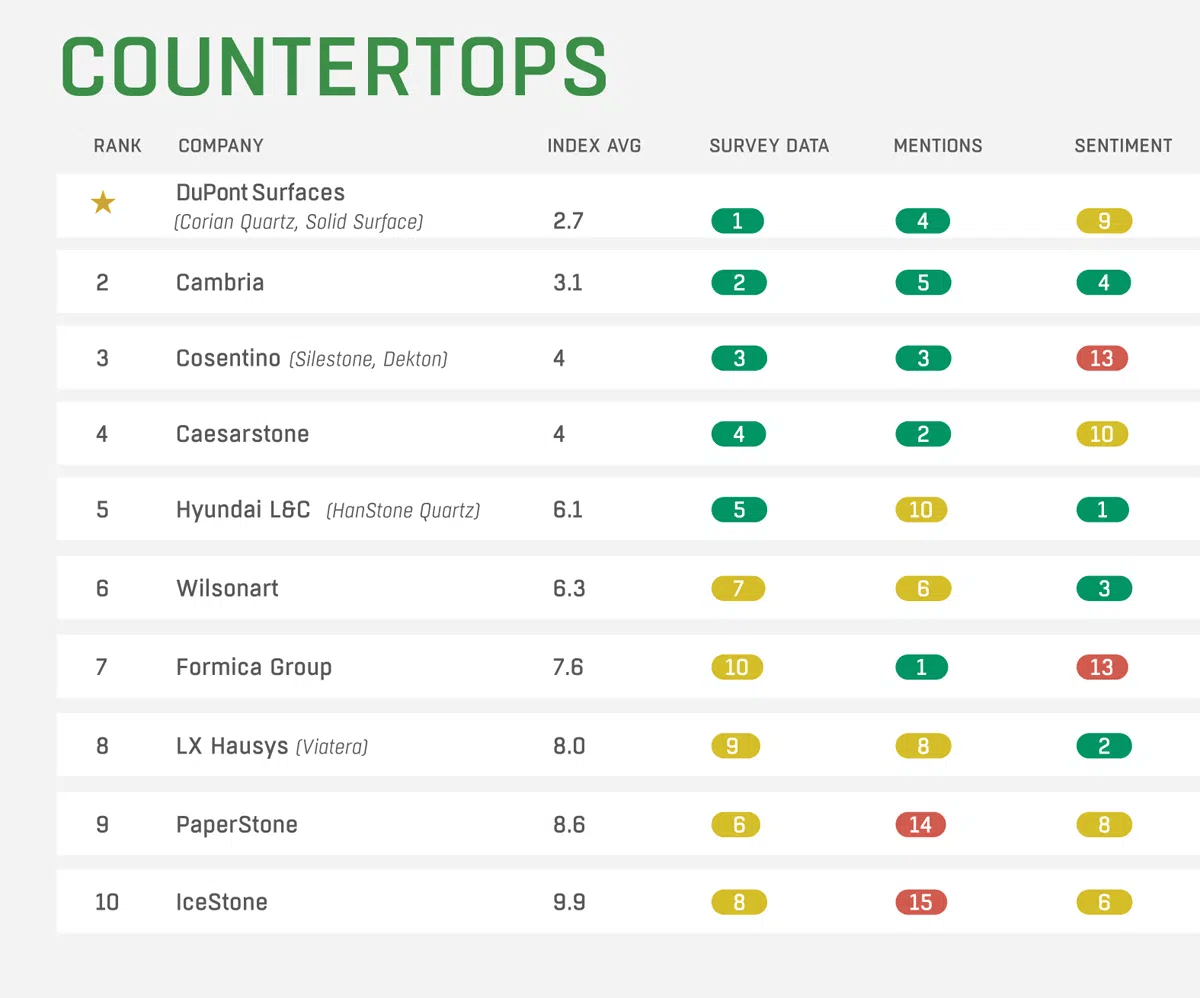 Decking
In terms of overall sustainability, it's 13-0 for Trex, the only company in the history of our survey to never finish less than No. 1. This year, the decking giant can do almost no wrong, earning the public's trust after years in the middle of the pack.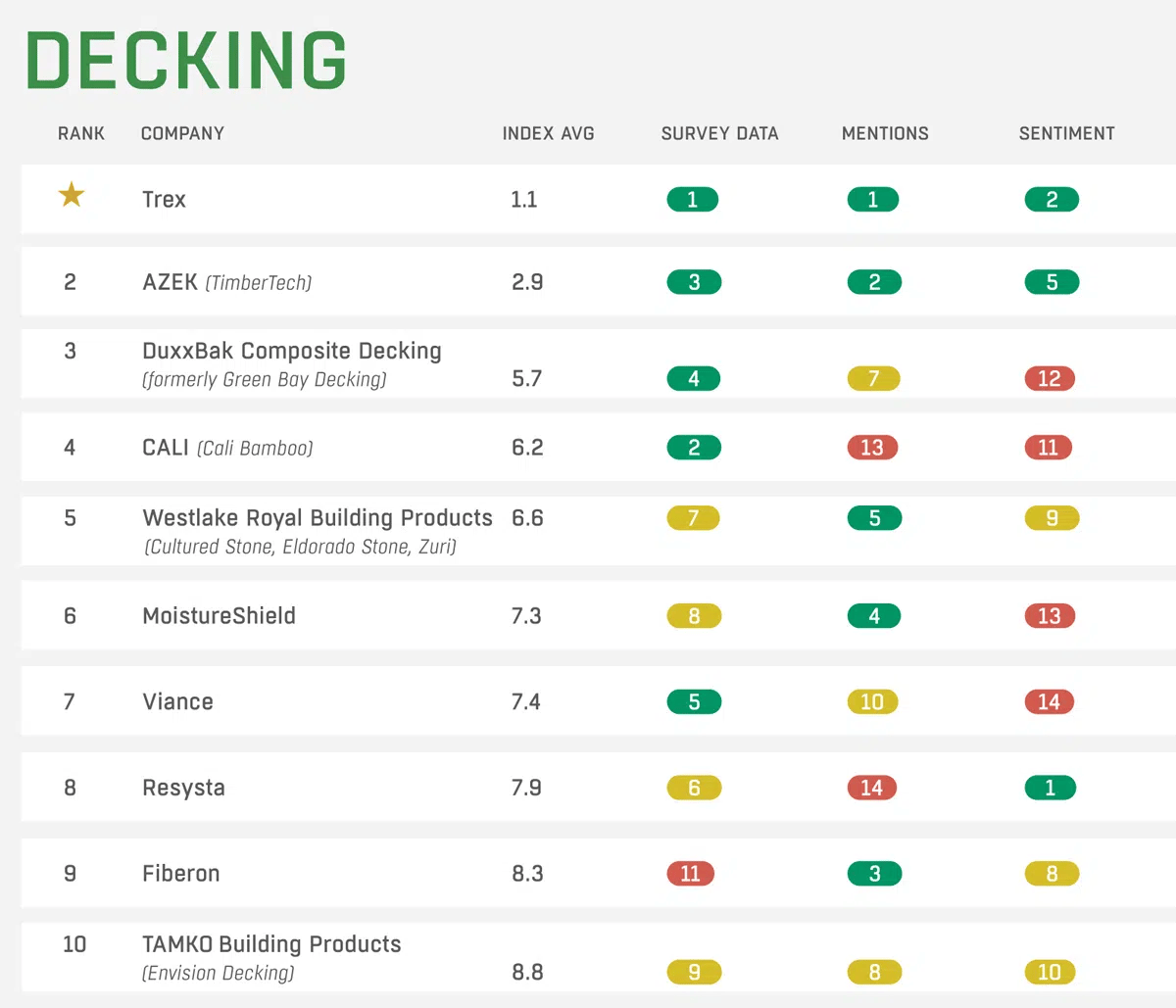 Doors
The gang's all here—again. Last year's top doormakers are also this year's, with Therma-Tru leading the way for a fifth consecutive year. Almost every company has a sustainable angle to brag about, from lumber certification to re-use of water and materials in manufacturing.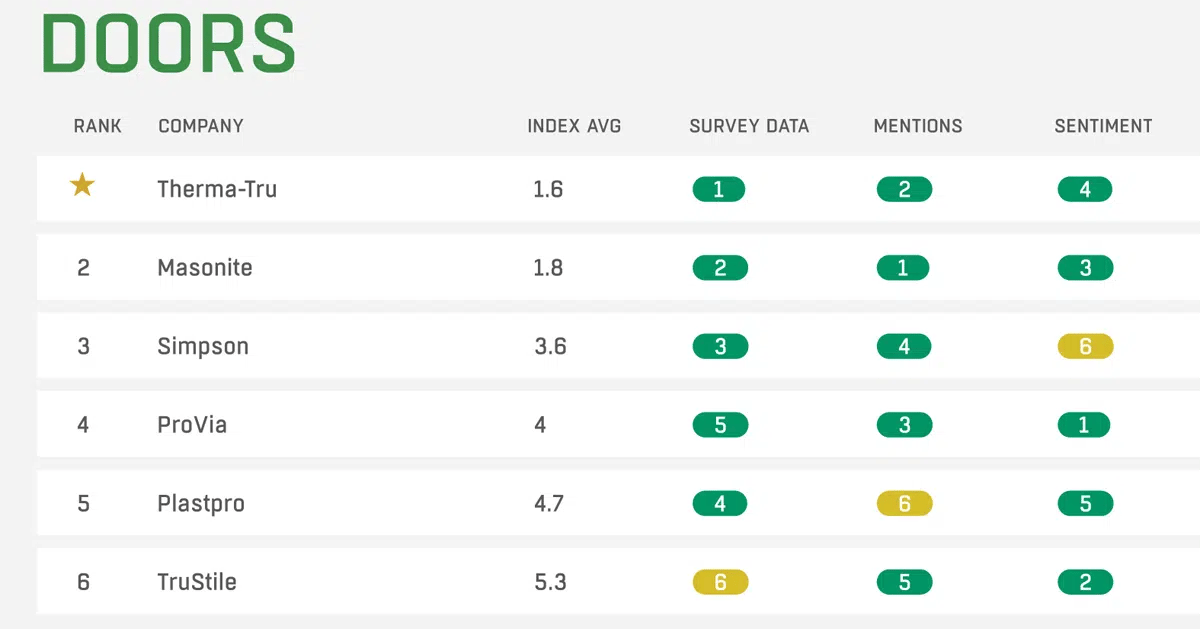 Flooring
Mohawk and Armstrong Flooring continue to battle for bragging rights, with the former claiming the top spot this year (and in 2021 and 2019) after Armstrong won it in 2022, 2020 and 2018. The reason? Strong word of mouth. But both companies need to work on their sentiment scores.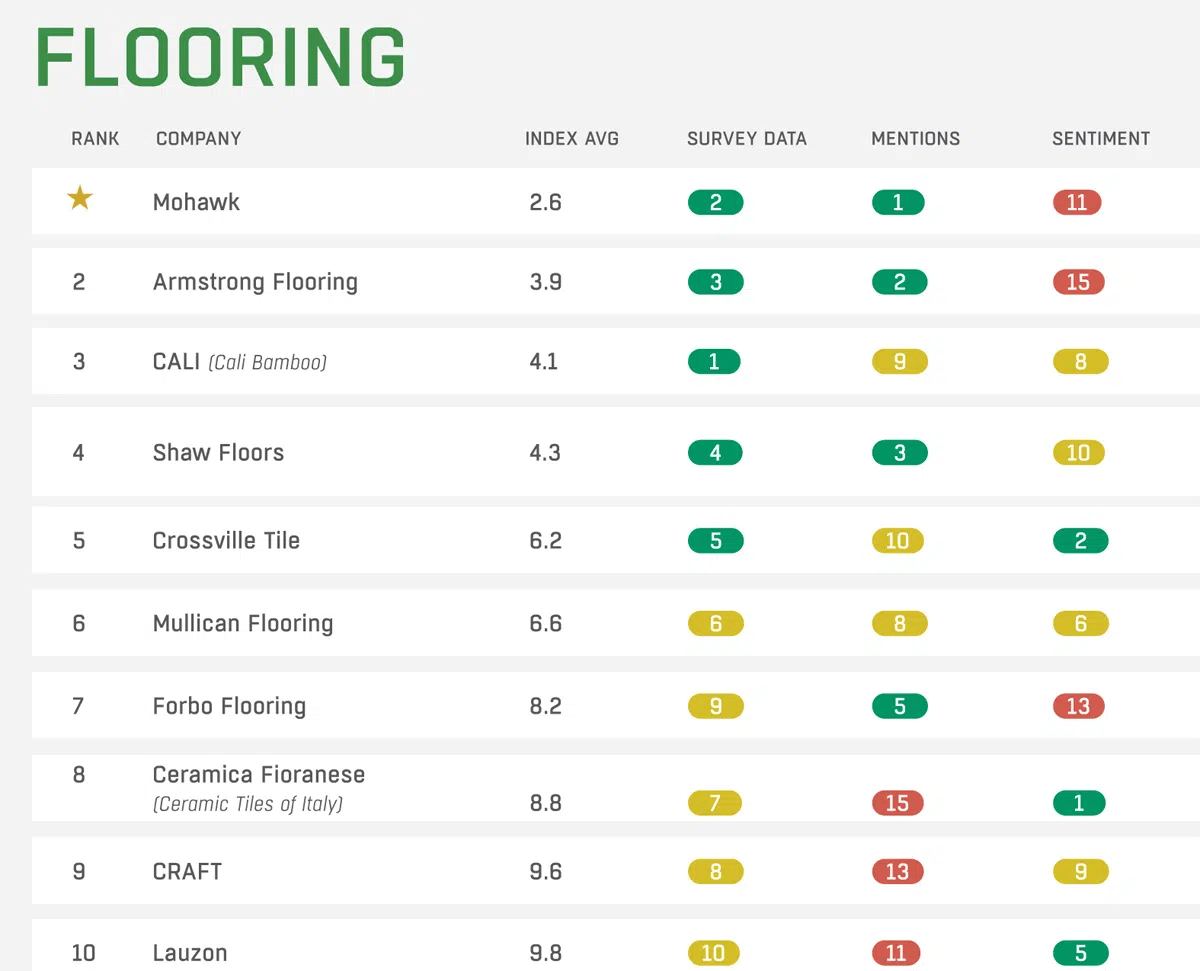 Hot Water Systems
There's nothing better for business than making sure people know who you are and what you do. Rheem and A.O. Smith have that formula down. But they can take a lesson from Rinnai when it comes to ensuring that you're winning hearts and minds on social media.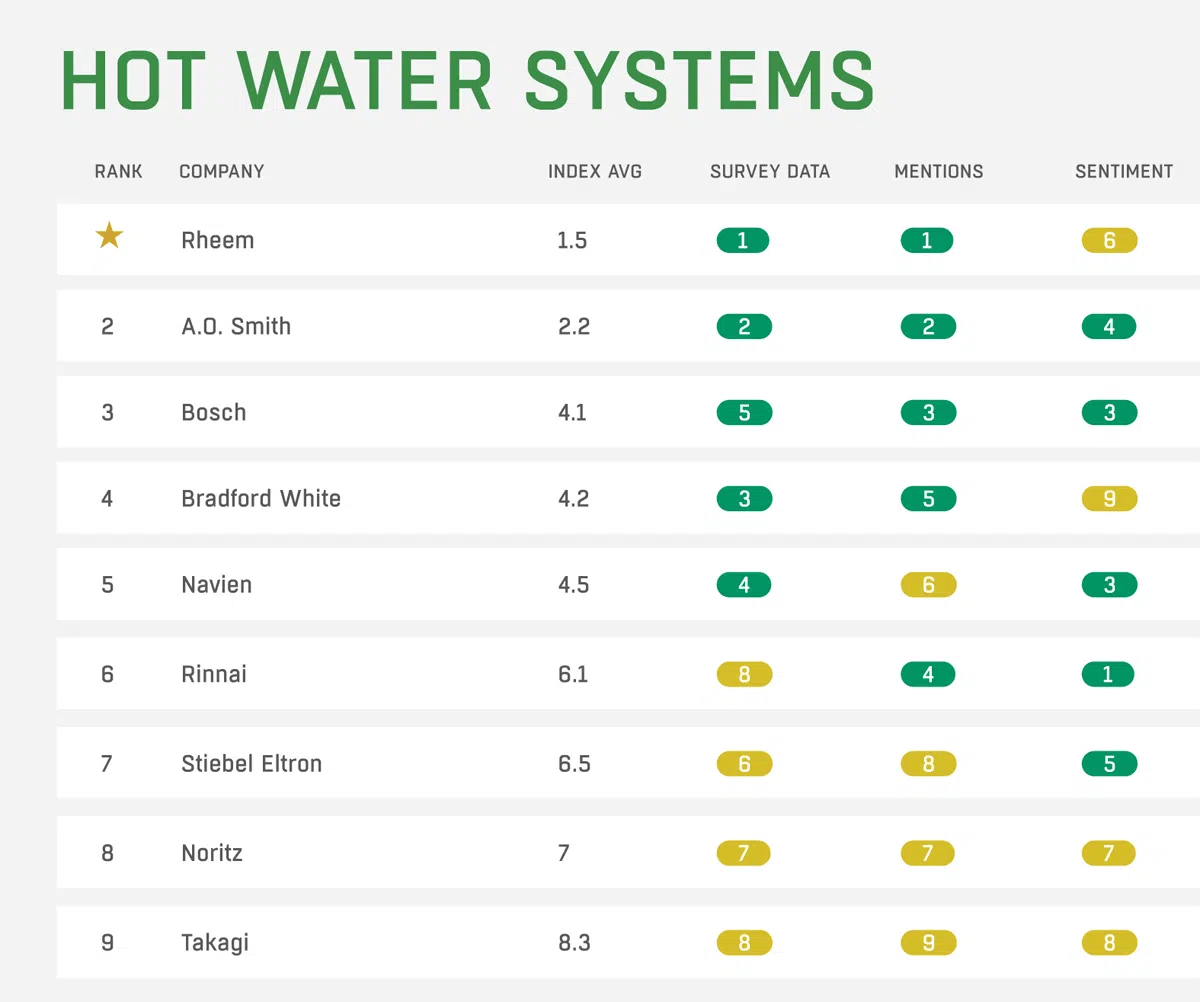 HVAC
Trane's consistent innovation and good service record continues to deliver. Except for Daikin, which returns to the top 10 after missing out last year, the new list of HVAC makers is the same as it was in 2022.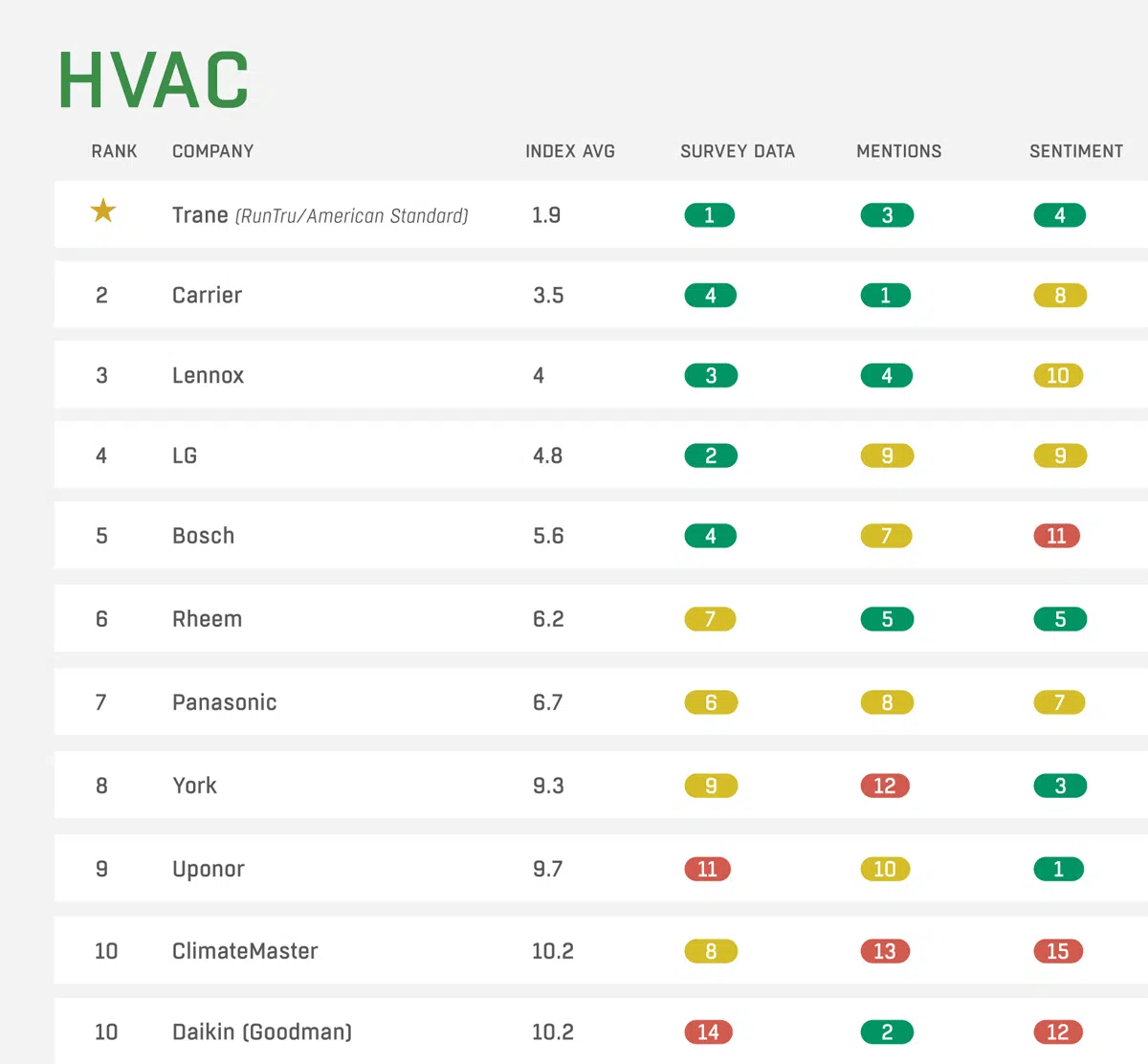 Insulation
Among insulation manufacturers, there's Owens Corning, and then there's everybody else. The company continues to widen its lead over competitors in product recognition and popularity. The also-ran pool keeps changing: Out from last year are CertainTeed and Applegate Insulation; in are Dow, NCFI, and Nu-Wool.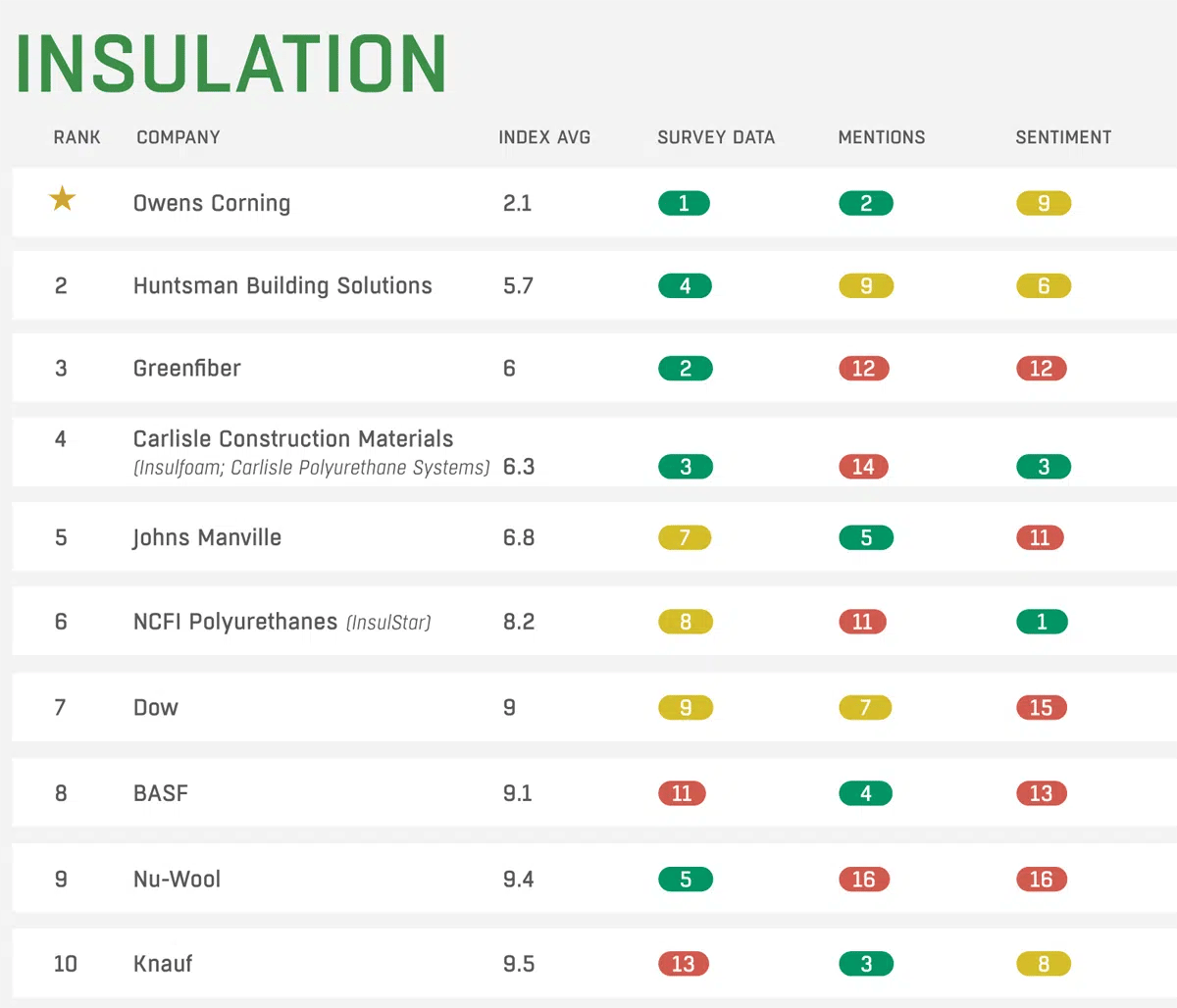 Lighting
Last year's winner, Eaton Lighting, drops to the middle of the pack, while Philips returns to the top after an off year. The difference? Level of effectiveness when marketing their respective lighting products. But both companies need to improve their lower-end corporate images.
Paint and Coating
You wouldn't think Sherwin-Williams could improve after finishing in the top three in each category in 2022, but the paint manufacturer pulled it off. The top scores in product recognition and public appeal, and runner-up mark in popularity, stem in part from an increased focus on non-VOC products.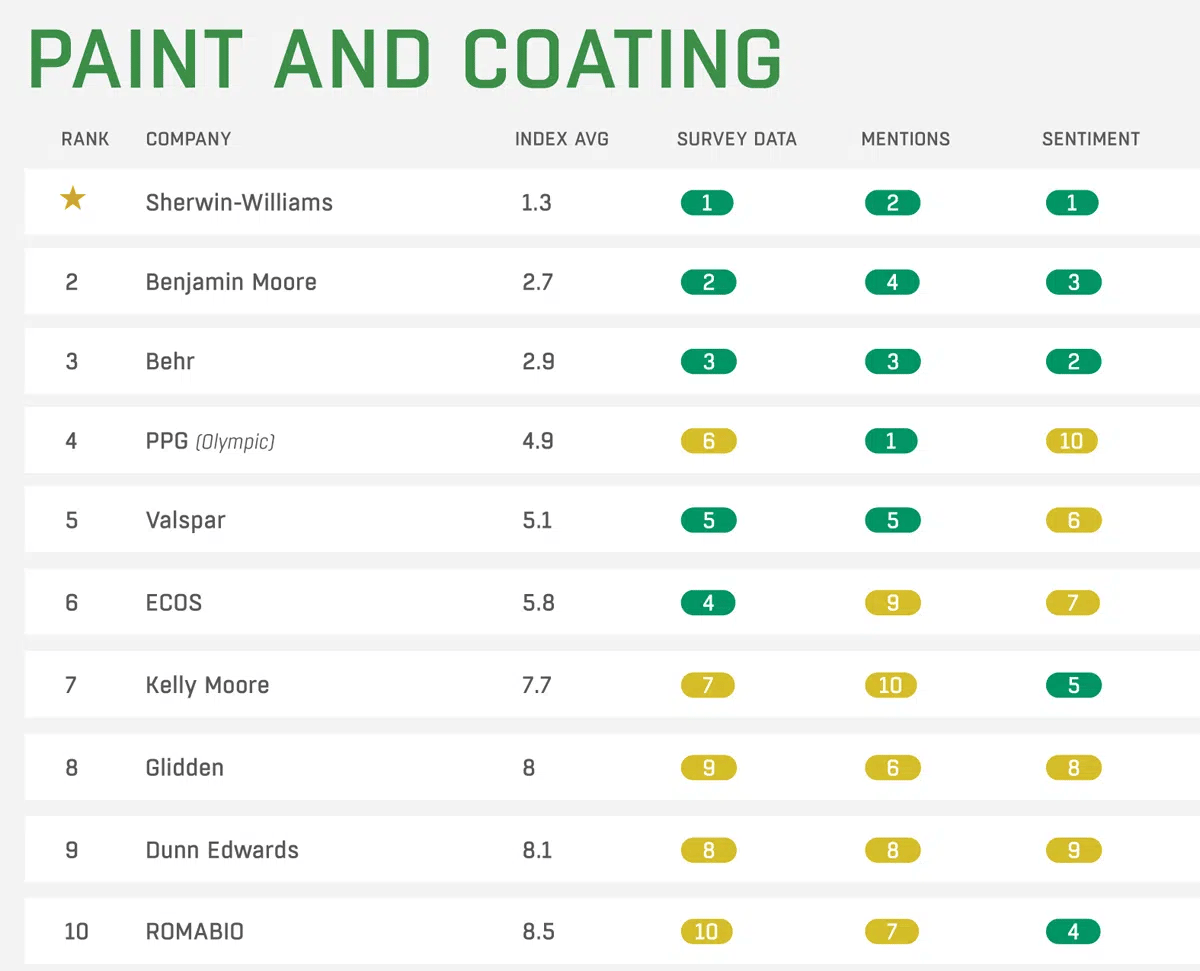 Photovoltaic Systems
Seven wins in eight years isn't too shabby for Tesla Solar, which has finally moved past the controversy involving the parent company's purchase of what was once SolarCity. Over the past few years, the public has increasingly embraced the new entity's potential and available services.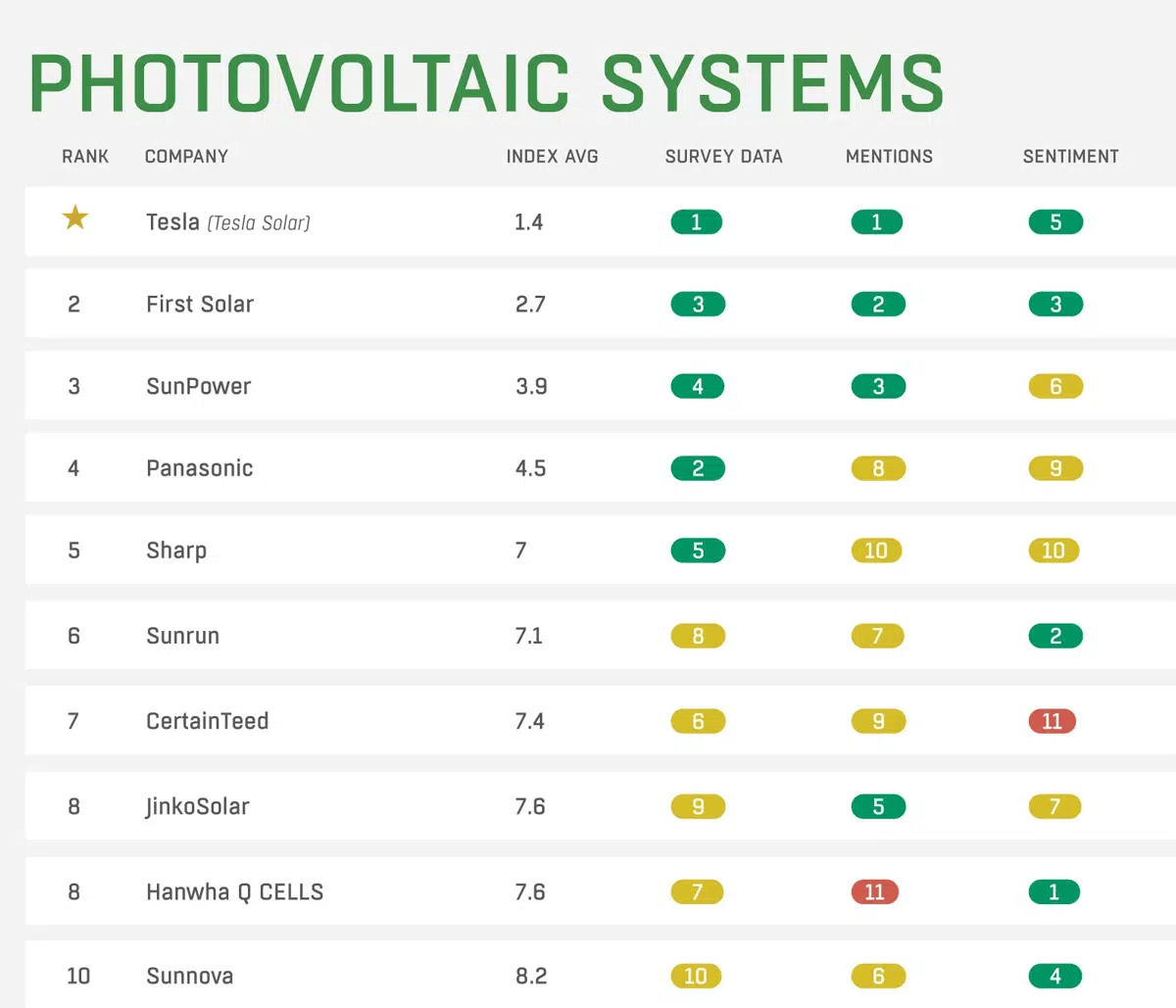 Plumbing
Kohler returned to its natural leadership role in sustainability, with clear messaging and new offerings. Last year's surprise winner, Niagara, dropped back to its traditional positioning this year. Kohler, American Standard, Moen and TOTO typically hold the top five, where they have resided since 2017.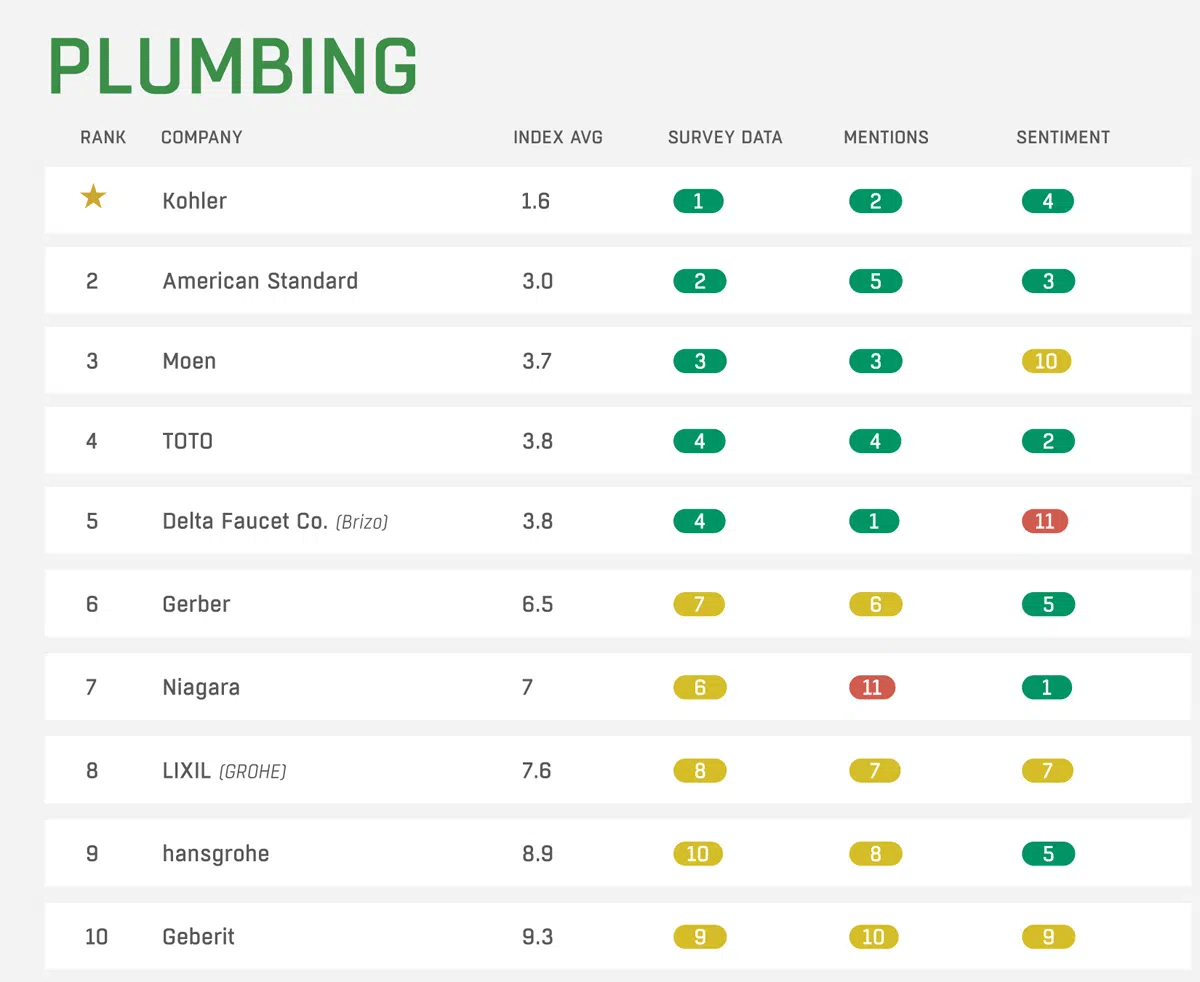 Roofing
Aside from Owens Corning, roofing's main players continued to swap spots. But efforts to stand out were offset by weak public opinion, and vice versa. It also reflects a shift back toward composite shingles, running against the demand for concrete and clay versions over the past two years.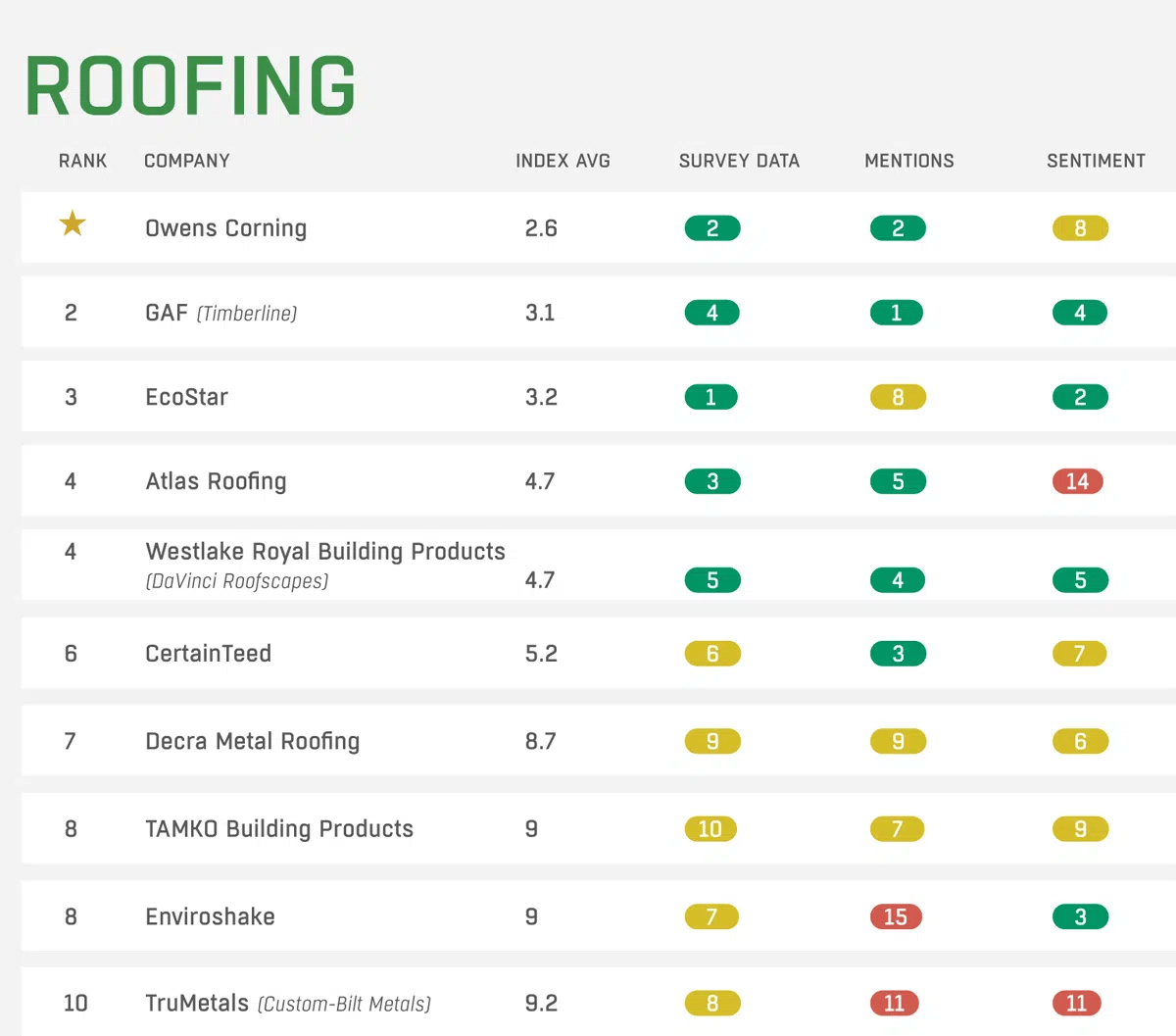 Siding
Westlake Royal, CertainTeed, James Hardie and LP are the industry's most highly regarded siding manufacturers, but they're not public favorites. Strong word of mouth is keeping them in the spotlight. Watch out for K2 Stone, with consistent scores across the board and a solid public standing.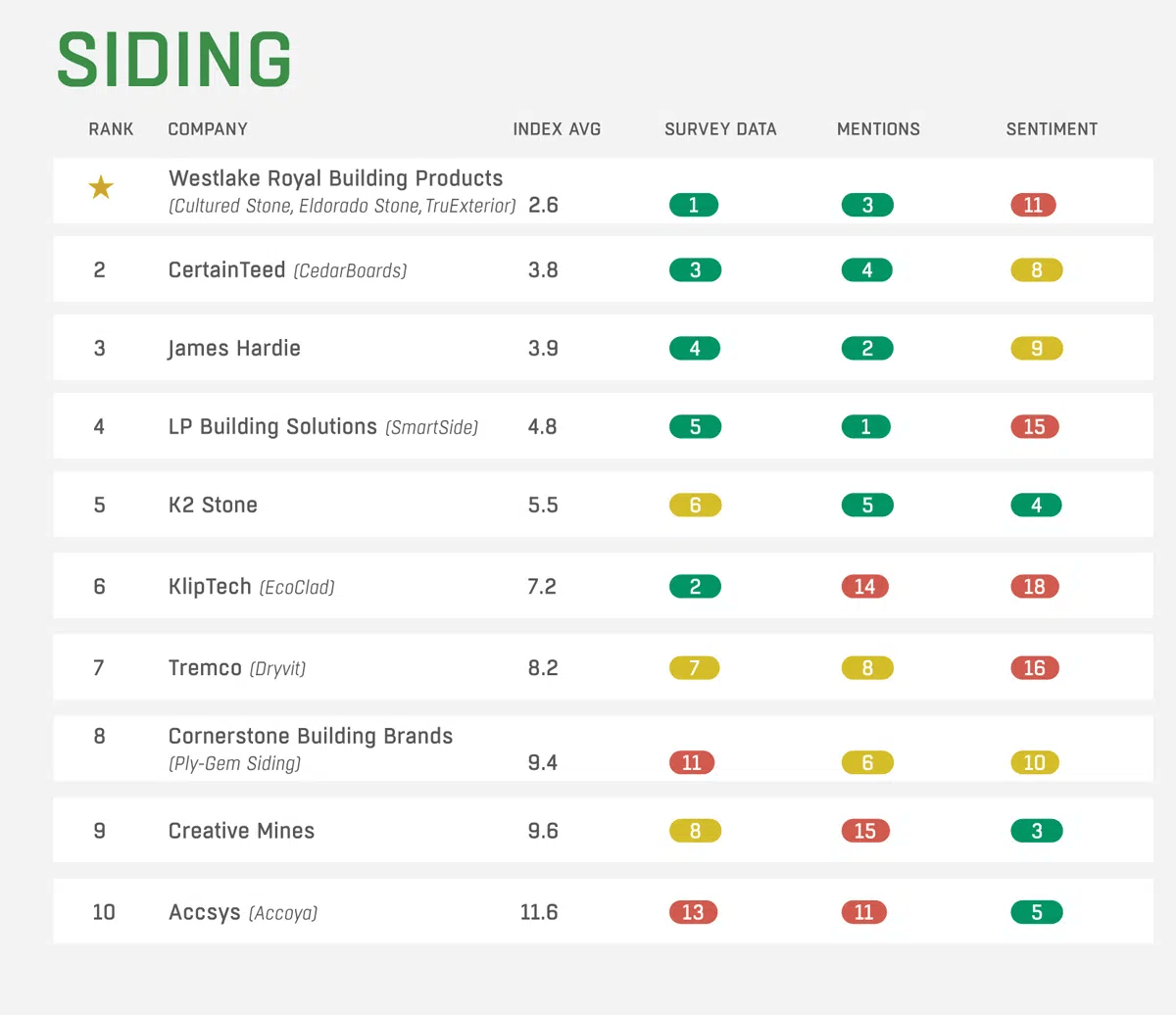 Smart Home Technology
Amazon and its Alexa-related line continues to benefit from its worldwide reach and household name status. But recent reports say the retail giant's smart products have peaked in popularity, opening the door for Google, Samsung and Apple, who have lurked in Amazon's shadow for nearly a decade.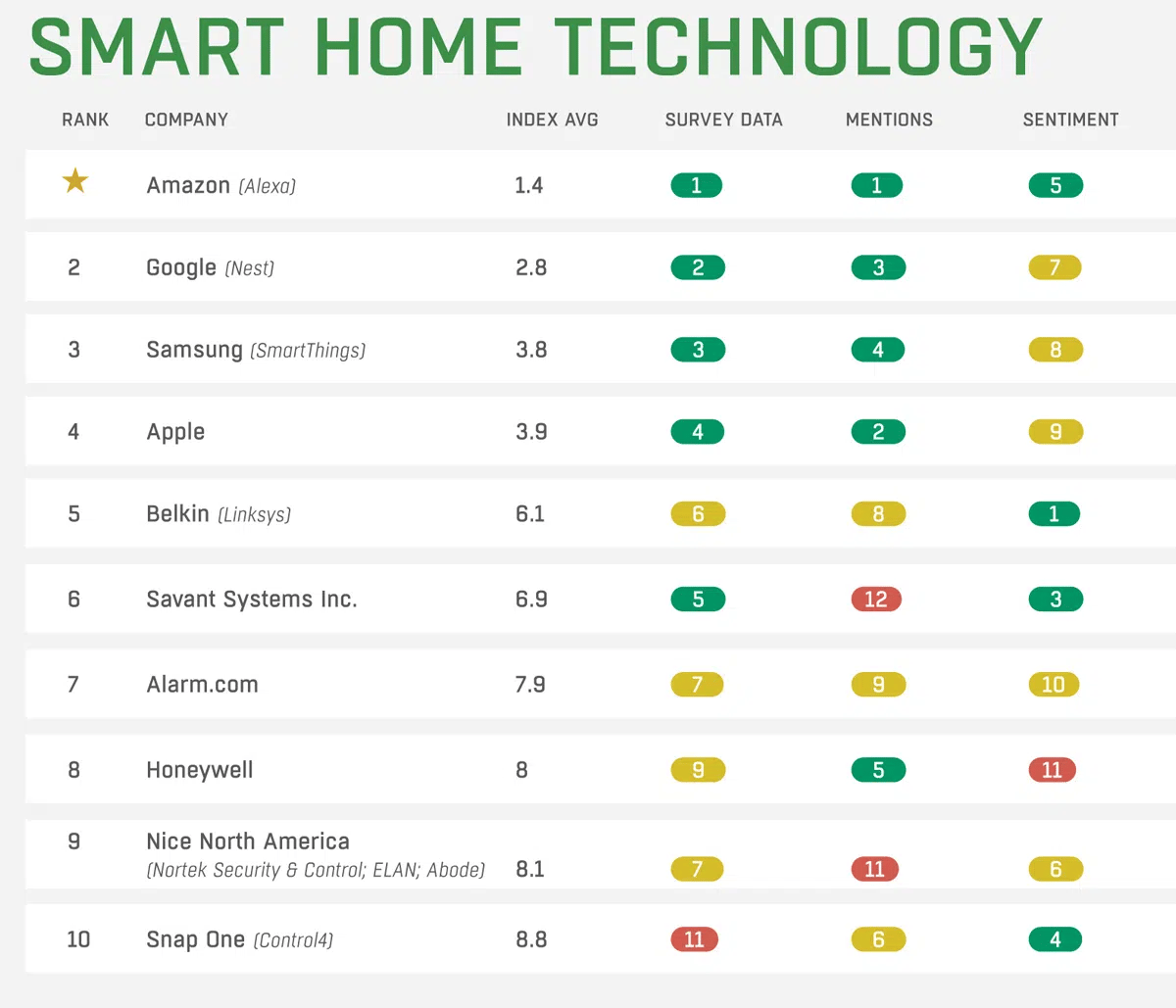 Smart Switch
Lutron Electronics didn't top any of our survey categories, but solid work performance overall helped the company hold off TP-Link and Leviton. Lutron's line of smart dimmers isn't likely to lose steam anytime soon, so staying at or near the top is feasible.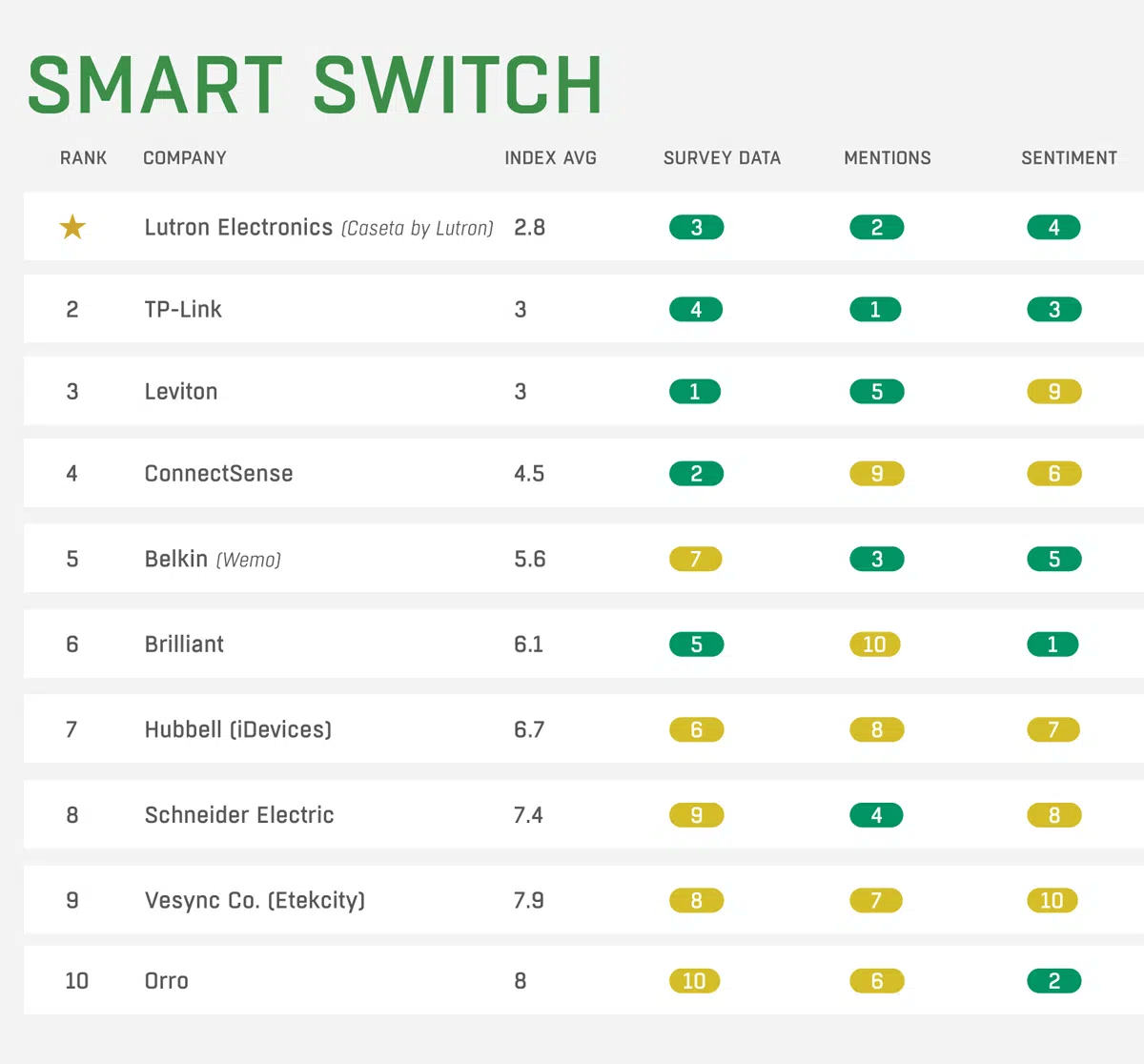 Solar Components
Fans of Tesla's solar components continue to shrug off partial owner Elon Musk's antics, as the company hits No. 1 for a second year. Tesla's growing product recognition and decline in everyone else's paints a mixed picture of where this industry is headed in 2023.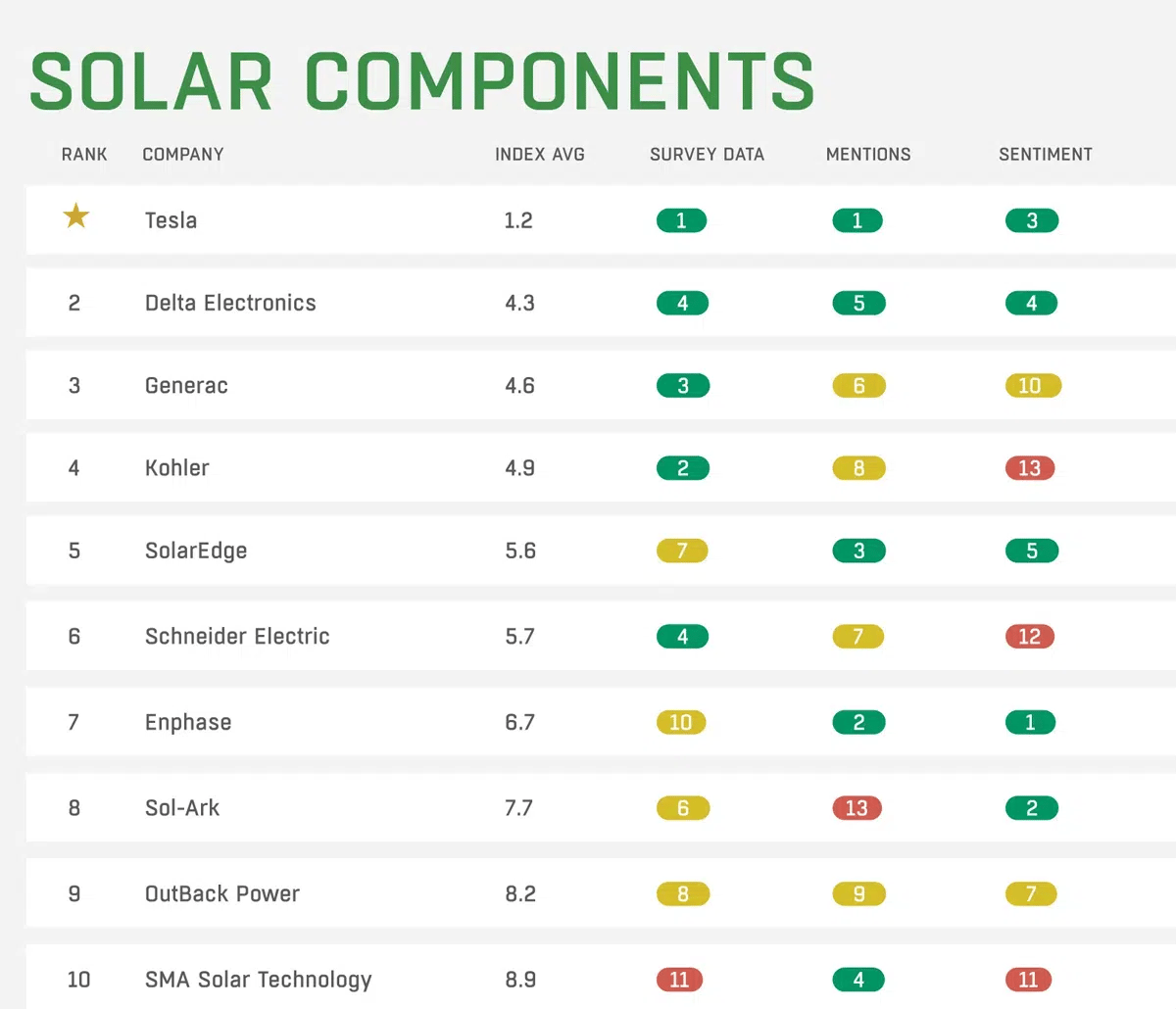 Structural
While Premier Building Systems and Boise Cascade maintain their traditional spots at or near the top, this year's list features some new or revitalized blood. West Fraser and LP need to polish their presence among peers and the public, but the top 10 in general is in a better state than in 2022.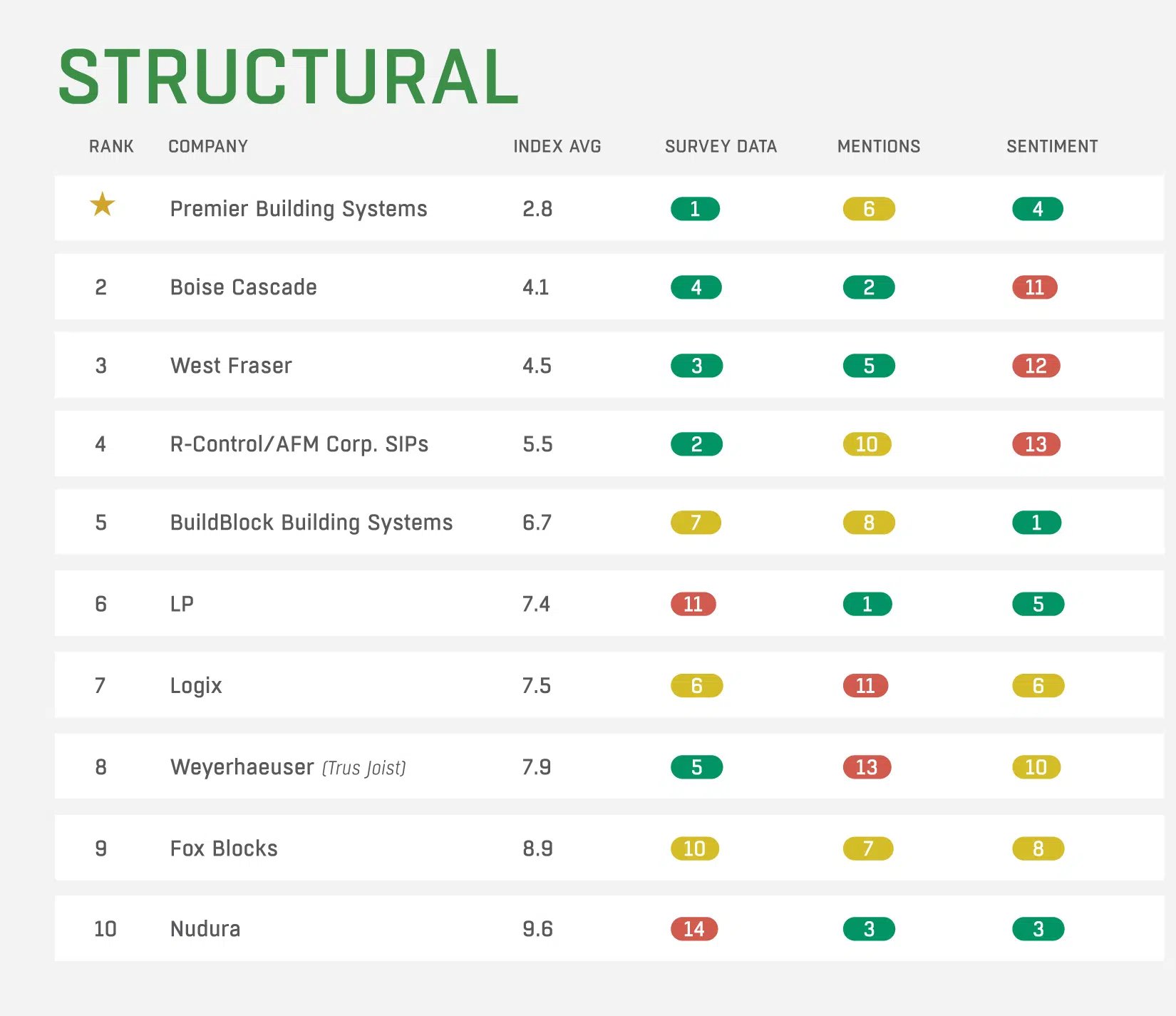 Thermostat
Google's Nest brand has rebounded nicely in the past two years, evolving into a product that people enjoy and like to inform others of. But with our top 10 maintaining their survey positions and market shares, overall growth is showing signs of leveling off.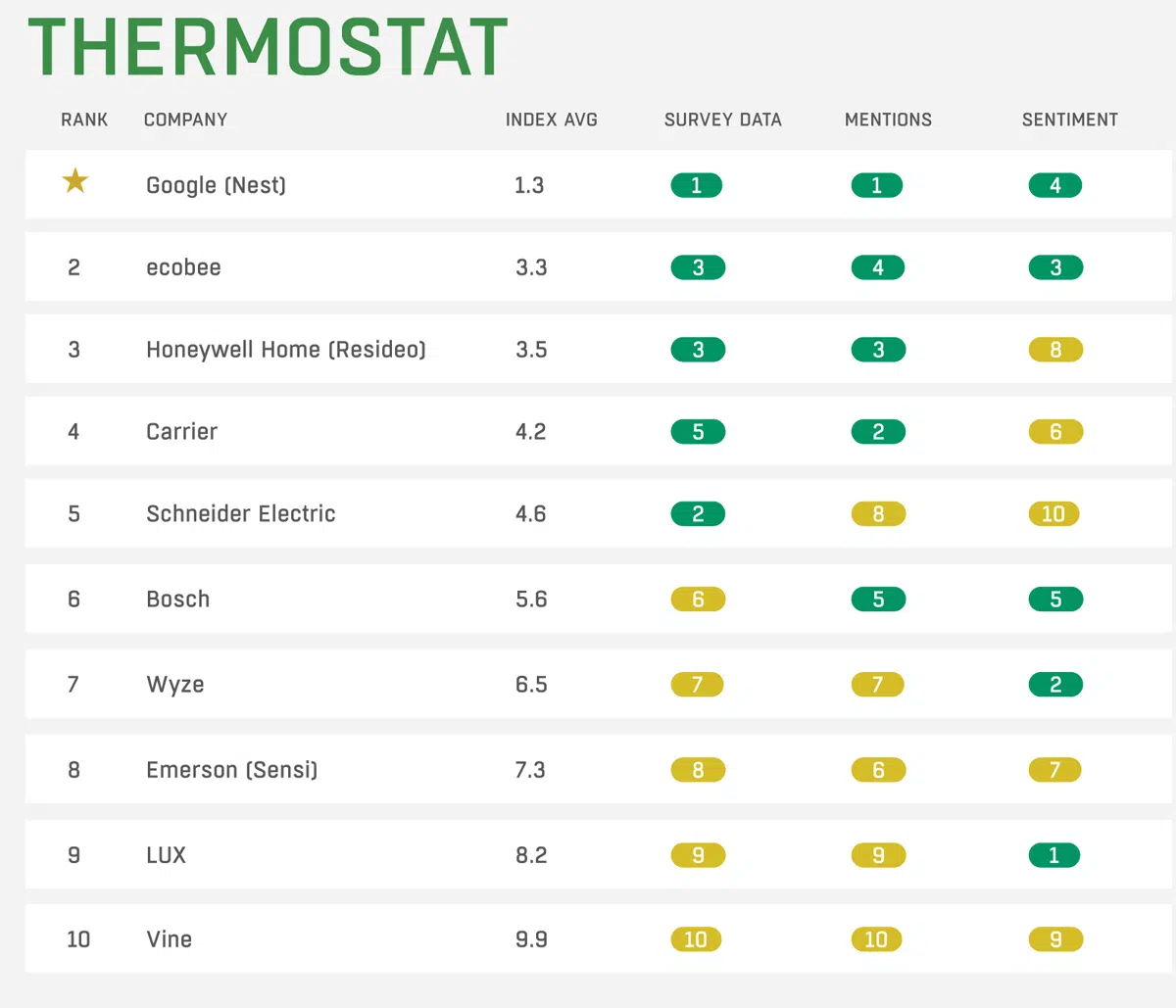 Ventilation
Panasonic and Delta Breez remain the overall leaders, but it's important to note that many of these top 10 brands are encountering negative sentiment online. Is this the normal "troll" effect, or something they want to address, before it impacts their overall brand image?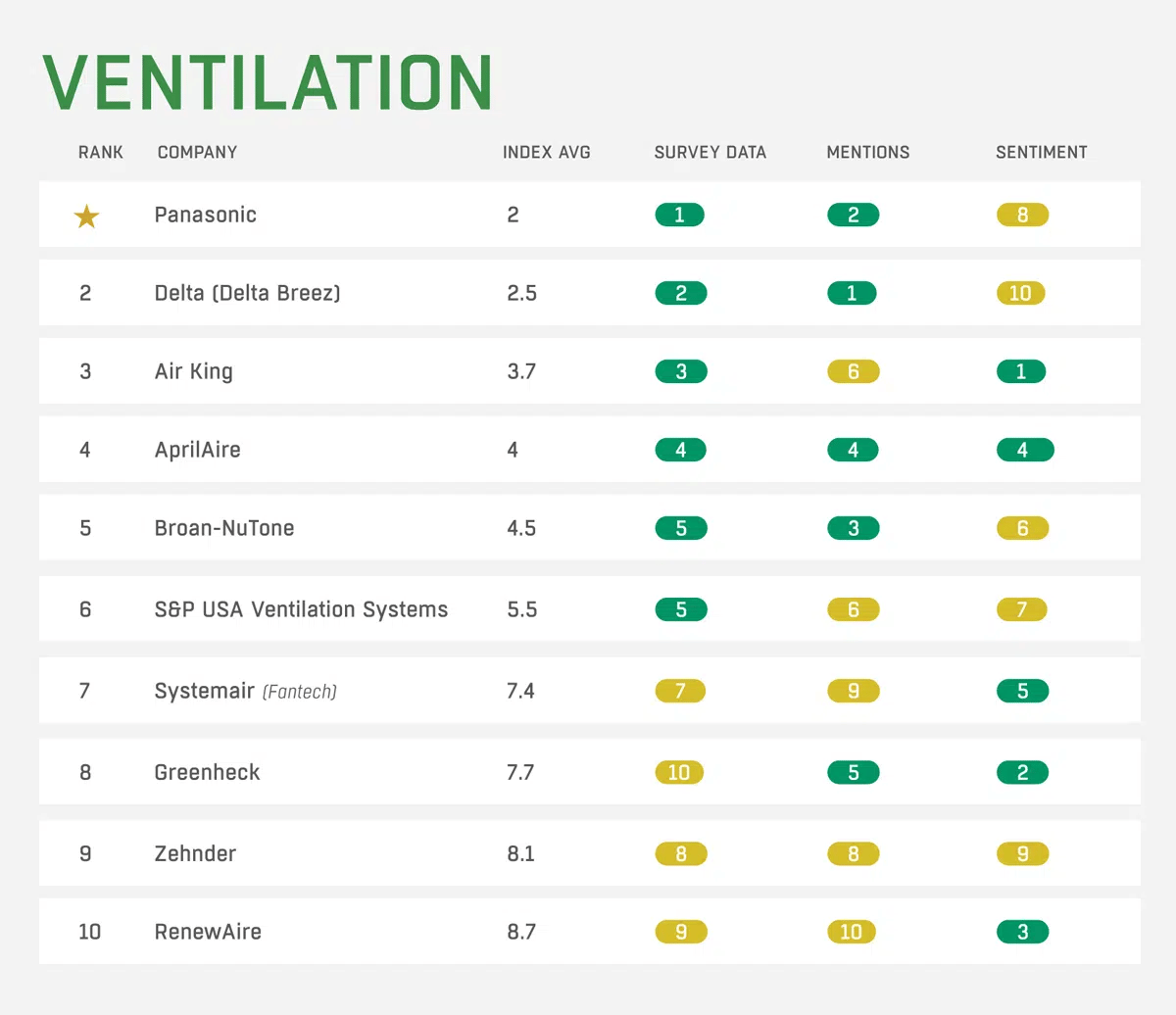 Window
When promoting products and generating word of mouth, Andersen and Pella are doing everything right. Like other popular brand categories, however, they're getting a lot of negative chatter on social media, something that could catch up with them over time. For newcomer aluplast, it's the opposite: Little is said, but people who use the products like what they see.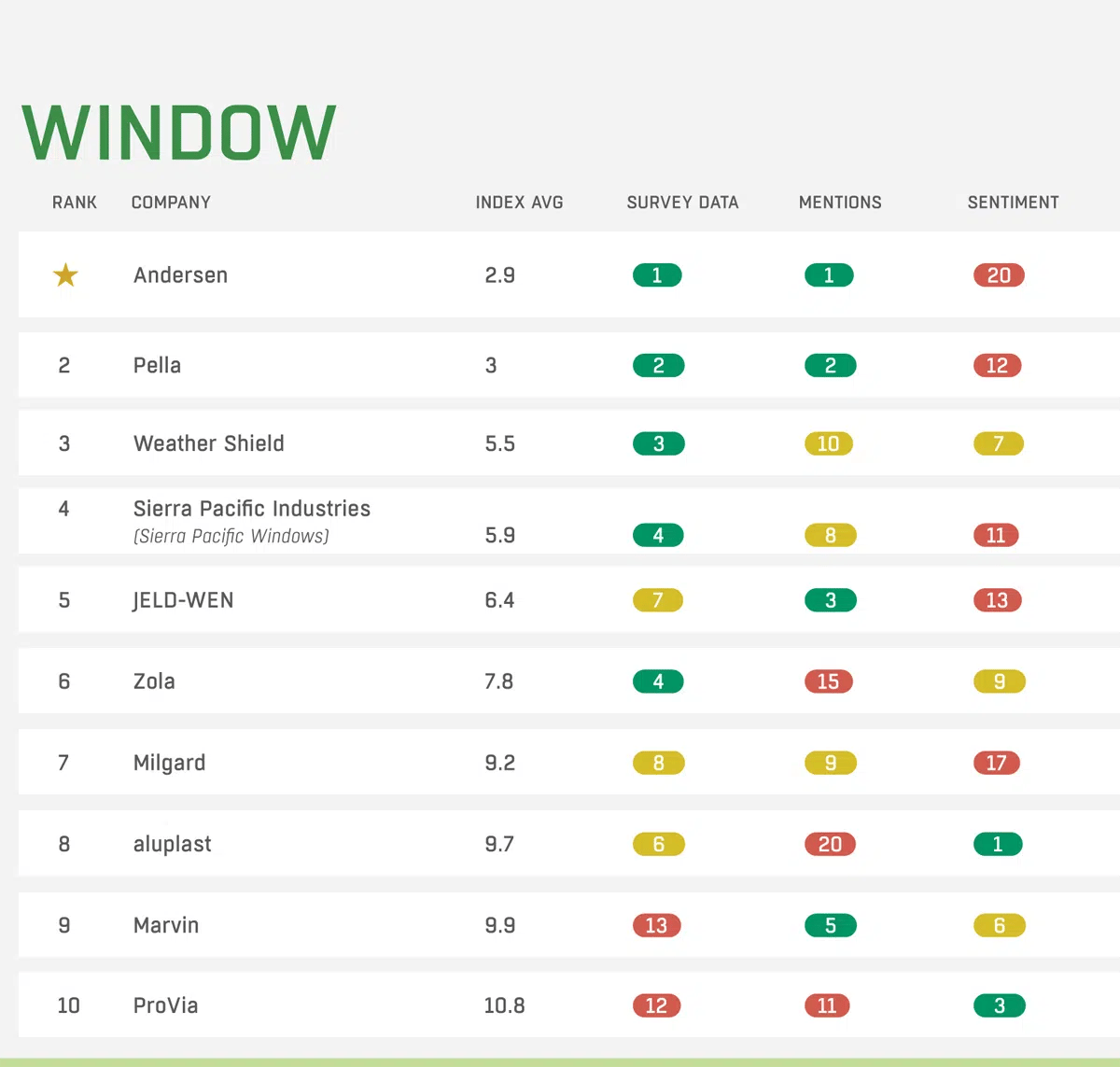 Work Vehicles
Toyota took the top spot this year. The company's sales slipped in 2022, but it sold 8 million more cars than Ford, despite an industry-wide computer chip shortage. Ford's bright spot is its electric vehicle division, led by the Mustang Mach E SUV, for which sales rose 45 percent from 2021.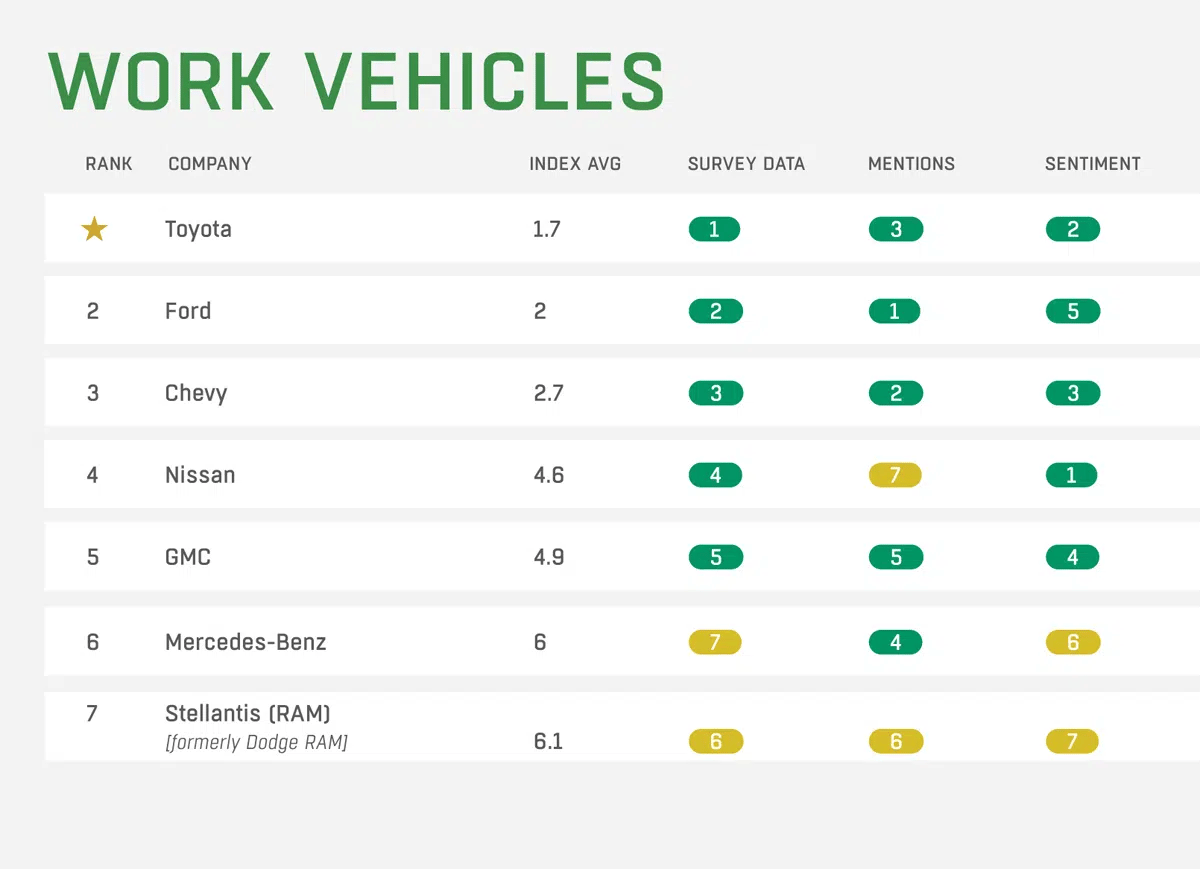 May 15, 2023 8:00:00 AM · 7 min read
---

Alan Naditz is managing editor of Green Builder Magazine. He has covered numerous industries in his extensive career, including residential and commercial construction, small and corporate business, real estate and sustainability.