Gen Zs on the Rise

Sara Gutterman
3 min read
The mounting influence of Gen Zs is permeating all sectors of the economy, with major implications for the housing sector. Ignore this emerging generation at your peril.
Gen Zs–individuals born between 1997-2012–are starting to flex their economic and social muscles. Weighing in at 68.6 million strong in the U.S., this young generation currently has a spending power of $360 billion—a number that is expected to grow exponentially in the next several years.
This generation's childhood was marked by two crippling recessions and a global pandemic, which has made many Gen Zs more debt-adverse, budget-conscious, and discerning than their older Millennial counterparts.
Gen Zs are also incredibly vocal about their passions and concerns. As they emerge, they're changing the rules of engagement. In the face of divisive politics, existential environmental threats, global pandemics, and social justice challenges, they are calling out a broken status quo, demanding an urgent reckoning, bold leadership, and a radically better future.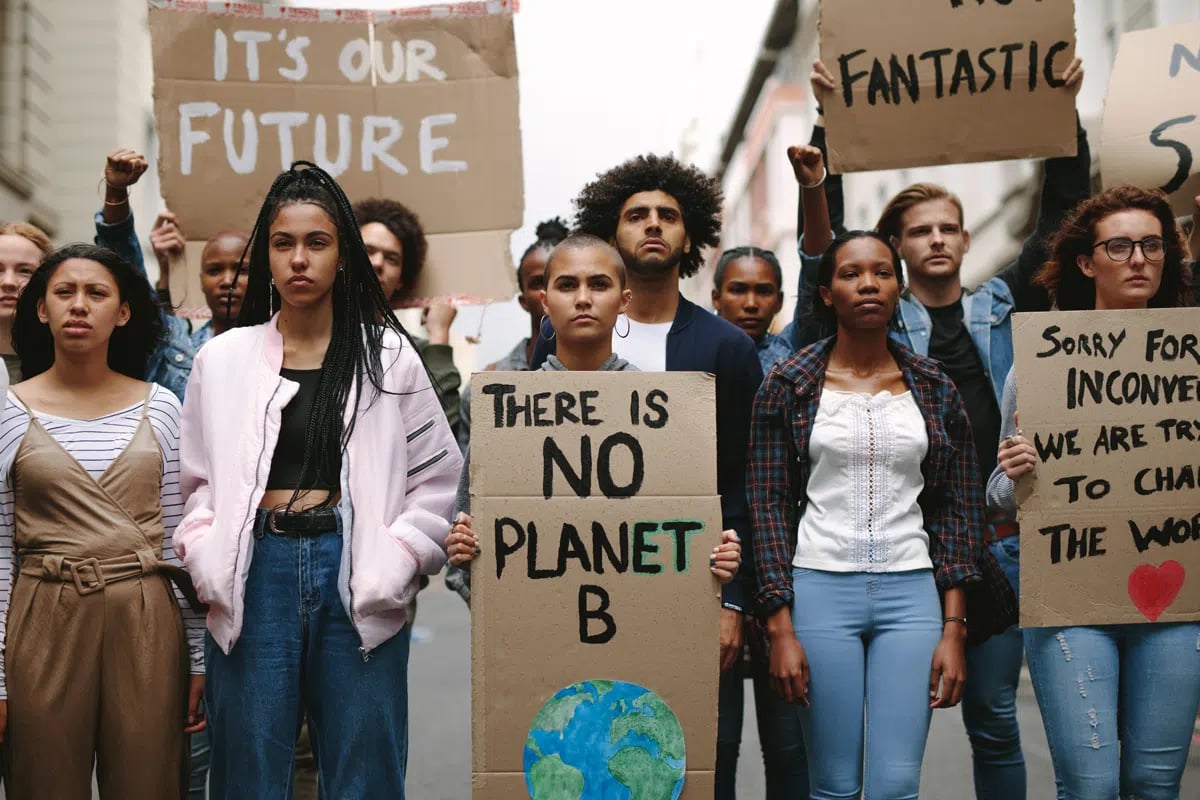 Climate Revolution
Perhaps the most defining feature of this generation is their high level of stress and anxiety due to climate change. They want 'Ecopsychology' openly addressed in the workplace, and they're demanding benefits like mental health days, therapy, and access to medication.
According to Green Builder Media's COGNITION Smart Data market intelligence, over half of Gen Zs surveyed report feelings of sadness, anger, powerlessness, and helplessness when it comes to mitigating the impacts of climate change, and nearly 50% feel ignored when they try to express their climate anxiety.
Fortunately, members of this generation are motivated to act: COGNITION shows that over 80% of these budding leaders believe that they can—and must—step up to make a difference in the world.
The most diverse generation in American history, Gen Zs utilize equality as a guiding principle. COGNITION data shows that:
60% want to see a restructuring of our economy with equality and climate change in mind.
61% want to see climate action that is as urgent as COVID response.
85% claim that they have greatly been affected by climate change.
64% feel guilty about their negative impact on the environment.
73% support using public protests to raise awareness about climate change and other important issues.
In line with their personal values, Gen Zs are demanding levels of climate accountability from companies. A recent survey conducted by KPMG indicated that 51% of Gen Zs reported that ESG was their top priority from employers when seeking a job, and more than 1/3rd have rejected job offers from companies that didn't have strong enough green credentials.
Gen Zs and Housing
The American Dream is alive and well within the Gen Z generation. COGNITION data reveals that 86% already have set their sights on homeownership. And, with the recognition that paying higher prices for a home is a better prospect than paying ever-increasing rents, these individuals indicate that they want to purchase homes quickly: according to Rocket Homes Research, nearly 45% of Gen Zs want to purchase a home within a speedy 5 years.
Older Gen Zs who are purchasing homes are generally entering the market in small or mid-sized, affordable markets.
While long on desire, Gen Zs still face a rocky road in the home buying process. The biggest challenge that this generation is facing is unrealistic expectations about home prices: on average Gen Zs have an expectation that they'll pay around $223,000 for a home, whereas the median national home price has reached a bloated $425,000.
Gen Z Lessons Learned
There are a few important implications for building professionals and manufacturers alike when considering this generation.
First, Gen Zs value individualism and independence. They have a strong sense of agency over their lives that comes from their deep-rooted values and attitudes.
Second, they value measured consumption. Covid and inflation-related supply chain shortages, in conjunction with a mounting sense of urgency to solve for climate change, has driven this generation to embrace nature-positive actions and decisions that blend affordability with sustainability.
Third, record-low levels of trust, a greater demand for transparency and accountability, and soaring fears around fake news and misinformation has aroused a sense of conscious consumerism within members of this generation.
Lead or Be Left Behind
At a time of profound challenges and new possibilities, Gen Zs are looking for transformative brand leadership and systemic change. They're demanding shifting paradigms–not just shifting preferences.
To effectively reach these customers, companies need to navigate and embrace the context and contradictions inherent in today's society, understanding the gap between brand promises and lived experiences.
Authentic leaders will take advantage of this moment to ask hard questions about transparency, accountability, and their company's role in our urgent social and environmental challenges, and they'll find a way to meet consumer demand for a transition from an outdated business model in which companies extract value by exploiting people and natural resources to a new paradigm whereby companies create value by enriching the lives and livelihoods of employees, communities, customers, partners, shareholders and the environment.
Feb 23, 2023 10:57:34 AM · 3 min read
---

As cofounder and CEO of Green Builder Media, Sara is a visionary thought leader and passionate advocate for sustainability. A former venture capitalist, she has participated in the life cycle (from funding to exit) of over 20 companies, with an emphasis on combining sustainability and profitability. She lives in Lake City, Colo., with her husband, where she is an avid long-distance runner, snowboarder, and Crossfit trainer. She is also on the Board of Directors at Dvele, runs the Rural Segment for Energize Colorado, and is a former County Commissioner.