Eye of the Needle

Sara Gutterman
3 min read
Even though housing starts, permits, and home prices are soaring, the ugly trifecta of out-of-control lumber costs, labor challenges, and material shortages has a stranglehold on the industry. What's the magic elixir that will solve for these throttling challenges?
With high demand and limited inventory, economists predict that the U.S. housing market will set more records in 2021 as the country slowly recovers from the pandemic–especially since the Federal Reserve has committed to locking in low interest rates and keeping its bond-buying program unchanged for the remainder of the year.
According to COGNITION Smart Data , the housing market fundamentals are expected to remain strong for the foreseeable future:
Home value growth is projected to rise 13.5% by mid-2021 and land at 10.5% by the end of the year.
Annual sales volume is expected to reach 6.9 million by the end of 2021.
Single-family housing starts are projected to reach 1.134 million in 2021, growing to 1.165 million in 2022 and 1.210 million in 2023.
The numbers are penciling out in favor of homeownership: The median average monthly mortgage payment is approximately $300 less than the median monthly rental payment when comparing commensurate properties.
No doubt, it's a seller's market. Inventory is so tight in markets from coast to coast that competing offers and overbidding have become commonplace.
With that said, the housing sector is struggling with some gargantuan challenges. To begin with, lumber costs have reached staggering highs, driving up the cost of an average American home by approximately $36,000 and pricing over 2 million families out of the market.
Material shortages in key categories like appliances, cabinets, and HVAC have disrupted construction schedules, leaving builders scrambling.
And labor challenges, which have plagued the industry for years, have been exacerbated by the pandemic. More than 80 percent of builders now report that they are struggling with lack of access to skilled labor.
The silver lining: These complex challenges are forcing building professionals to rethink their approach to design and construction, making alternative building systems that were once considered out of reach, like Insulated Concrete Forms (ICFs), structural insulated panels (SIPs), panelized wall systems, and prefab, a viable alternative—a move in the right direction for sustainability, since many of these solutions are inherently higher performance, more resilient, and higher quality than traditional stick framing.
Moreover, as today's home buyers become savvier about options for healthy, efficient, smart homes, they're moving away from a straight price per square foot valuation metric towards one that incorporates sustainability, quality, and long-term cost of home ownership, forcing disruption that is reverberating throughout the housing industry.
All vectors point to one logical outcome: the time for the next generation of housing is here. Building professionals and manufacturers that demonstrate the ability to adapt and solve for the new reality will succeed, while those that drag their feet will be left far behind.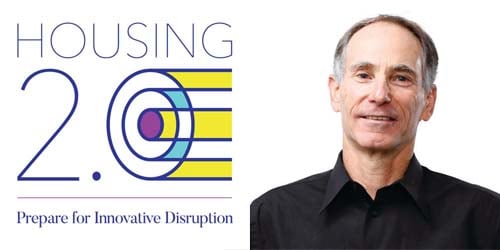 Enter Housing 2.0 , a comprehensive education and training program that Green Builder Media has launched in conjunction with industry leader Sam Rashkin, designed to help building professionals design and construct sustainable homes at a fraction of the cost.
Housing 2.0 program teaches building professionals how to improve the homebuyer experience through innovation, exploring five main areas of the housing industry:
1) Sustainable Development
2) Sustainable Design
3) Home Performance
4) Quality Construction
5) Effective Sales
The multi-faceted program includes 5-part workshops (offered quarterly), online courses, Action Groups, custom content, and one-on-one engagement with leading high-performance, healthy home builders and designers.
We recently completed our first 5-part workshop—participants included representatives from leading builders like Meritage Homes, Richmond America, Thrive Homes, and Mandalay Homes, and we had such great engagement that we added a 6th bonus session.
If you're interested in learning about the transformation of the building industry but weren't able to participate in that first workshop series, don't fret! We have three more rounds of workshops, ongoing online courses, Action Groups (during which we'll work closely with builders, developers, and architects to apply the Housing 2.0 fundamentals to their projects), and loads of content still to come!
---
The Housing 2.0 program is made possible by the generous support of building industry leaders, including Mitsubishi Electric, ZIP System, Panasonic, and Schneider Electric.
May 6, 2021 2:25:56 PM · 3 min read
---

As cofounder and CEO of Green Builder Media, Sara is a visionary thought leader and passionate advocate for sustainability. A former venture capitalist, she has participated in the life cycle (from funding to exit) of over 20 companies, with an emphasis on combining sustainability and profitability. She lives in Lake City, Colo., with her husband, where she is an avid long-distance runner, snowboarder, and Crossfit trainer. She is also on the Board of Directors at Dvele, runs the Rural Segment for Energize Colorado, and is a former County Commissioner.