Disruption Comes to Housing: Part 2 - What

Sam Rashkin
10 min read
In the second of a three-part blog series, I delve into the "what" of disruptive innovation in the housing industry.
According to one expert, we're living in an unprecedented age of acceleration with two key realities for predicting the future of any business endeavor. First, "if it can be done, it will be done," and second, "if you don't do it, someone else will."
Let me interpret. Any market-ready innovation that can cost-effectively improve user experience (UX) is a sure thing, and if you ignore this opportunity, it is also a sure thing that someone else will not.
My personal corollary to this business theory is that the companies which leverage innovations to optimize UX become industry leaders. The data backs this up. According to two separate studies, UX leaders compared to laggards provide three times greater financial return to investors, and are three times more resilient during recessionary periods with shallower troughs and quicker recovery.
The logical follow-up question then becomes, which innovations should be leveraged?
The answer is those innovations that provide solutions or opportunities to hard trends rather than soft trends. A hard trend is a projection based on measurable, tangible, and fully predictable facts or events. In other words, something that will happen, a future fact. A soft trend is a projection based on statistics that have the appearance of being tangible, fully predictable facts. In other words, something that might happen, a future maybe.
Following this guidance, I have been studying and addressing housing industry hard trends for decades while leading two national programs: ENERGY STAR Certified Home and Zero Energy Ready Home.
This includes extensive engagement with thousands of builders, home energy raters, building science experts, architects, and manufacturers that inspired a much larger understanding of changes ahead for the industry. The results are curated in my book and workshops entitled, "Housing 2.0: A Disruption Survival Guide."
The key finding is that housing disruption is looming ahead with certainty. Go figure. The focus of my latest work is an extensively vetted framework for adapting to these forthcoming changes rather than being left behind.
This three-part series provides an overview of the "Why," "What," and "How" housing professionals can prepare for this future. The first part laid out "Why" disruption is looming ahead based on powerful external forces acting on the housing industry. In other words, the hard trends shaping the future with certainty.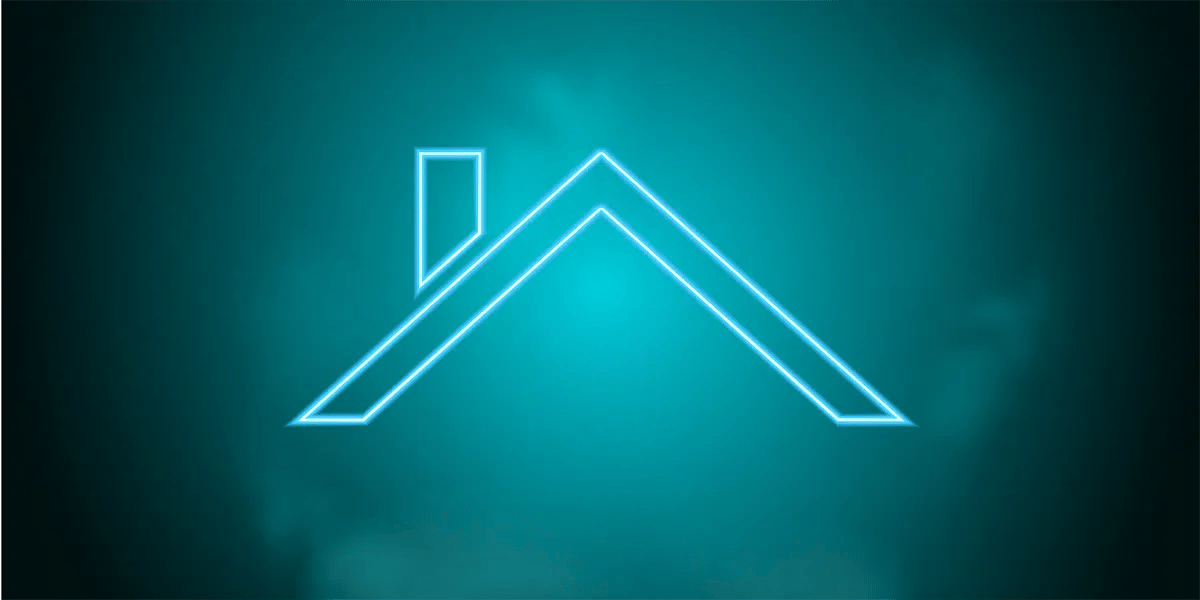 This second part of the series identifies "What" the future looks like based on four market-ready innovations that address these external forces. The final part of this series will examine "How" we can apply new business strategies to get past significant barriers blocking the deployment of these innovations.
The exciting result is an industry that delivers high-performance homes faster, better, and cheaper. It can be done; it will be done.
Housing Disruption … Where We Left Off
At the end of the first article in this series, five crises converging on the housing industry were identified that are reaching and exceeding the pain threshold for builders across the nation. These include:
Lack of housing UX Readiness. Mainstream builders do not appear ready for rising homebuyer expectations. This is based on personal observations as well as data from one of the largest builder peer review programs. Tabulated results showed 1.7 out of five stars was the average rating for 75 percent the 120+ production builders listed. Meanwhile, 3.4 is the average star rating required for a consumer to consider engaging with a business. Imagine how much higher the star rating threshold is for the ultimate consumer product, homes. In other words, severe pain.
Lack of Affordability. The number of affordable houses for households in the $75K to $100K income bracket was an incredibly low 1.5 percent in 2022 when median household income was $79,900. This is 2.7 times less affordability than pre-Covid when it was an already alarmingly low 4 percent. Never-ending media reports continue to expose equally disturbing affordability issues related to high interest rates, increasing material and labor costs, foreclosures, escalating rent costs, and inventory shortages. In other words, severe pain.
Lack of Trades. In 2022 the construction industry workforce shortage was 650,000 on top of the normal hiring pace. Even if you can find trades, significant issues remain regarding their cost, quality, training, productivity, and waste. As a result, trade problems consistently show up as a top concern in builder surveys. In other words, severe pain.
Lack of Productivity. The lack of productivity is visually obvious when visiting construction sites. Data validates this observation. One research study cites housing as the least productive industry in the U.S. with nearly two-times less productivity gains than manufacturing over past decades. This is further corroborated by separate findings that production resources add over six-times greater value in manufacturing compared to housing. In other words, severe pain.
Lack of Digitization. Only agriculture and hunting prevent construction from being the least digitized industry in the U.S. Digitization creates a virtual twin of a product on the computer before it is fabricated. For the housing industry, this would significantly reduce cycle time, inefficiency, waste, and rework while improving quality, accuracy, and system integration. The inability to leverage these benefits is a huge loss. In other words, severe pain.
The good news is there are four under-utilized, market-ready innovations that can mitigate the severe pain imposed by these crises. They are:
UX Optimization
Mass-Customization
Digitization as a Service (DaaS)
Offsite Construction
Innovation #1: UX Optimization
Steve Jobs, the founder of Apple Corporation, is famous for this quote: "If you keep your eye on the profit, you're going to skimp on the product. But, if you focus on making really great products, then the profits will follow."
Seems so simple. And the financial outcome in the case of Apple has been astounding. In 2011, they had more cash reserves reported than the entire U.S. Treasury.
In contrast, the predominant focus for the housing industry is on minimal first cost. This is profoundly evident with my frequent audience survey question, "What does 'builder grade' mean?" That's because I always get the same resounding response shouted back at me, "cheap!"
I'm baffled wondering how an industry that sells the ultimate consumer product can be complacent with the common consumer perception that builders left to their own devices always choose the cheapest option.
Housing 2.0 uniquely advocates the Apple business model with a dominant focus on making really great homes with confidence the profits will follow. At its core is a comprehensive framework for consistently optimizing the homeowner UX that includes 5 key UX's, 19 strategies, and over 160 best practices (Figure 1).
This framework is based on extensive research and over eight years of extensive vetting with hundreds of housing professionals. And most importantly, in addition to a superior UX, substantial cost savings are achieved by minimizing waste and complexity and optimizing systems integration.
As a result, this innovation delivers better homes for lower cost and should be immediately applied by all housing professionals.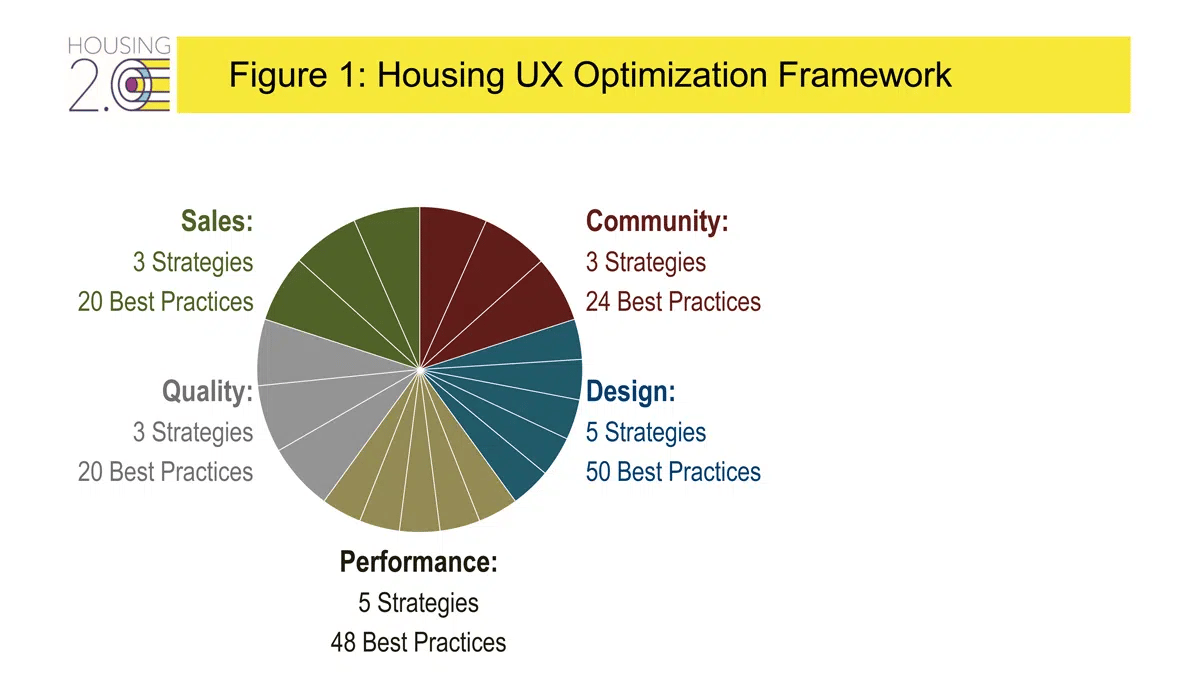 Innovation #2: Mass-Customization
Personal observations suggest builders provide too much customization to their homebuyers that adds both cost and stress. While this assessment is highly controversial to many of my builder friends, evidence backs it up.
For instance, while at a large custom builder conference a few months ago, too many builder panels I attended included stories about clients overwhelmed with all the decisions they had to make literally breaking down in tears, becoming exhausted, or occasionally slipping into marital conflict. Much more limited choices carefully curated by experts and optimized for design, performance, and quality can provide the perception of significant choice and a much better consumer sales experience.
An analogous example demonstrating the business case for less customization is the huge success of Costco, the second highest ranked brand in the U.S. in 2023. Their compelling and unique retail business model is to offer substantially lower consumer choice with expertly curated products at fair prices.
The result is much more limited product stock keeping units (SKUs) that create immense buying power, low retail markup, and high inventory turns that have solidified the brand's value proposition over time. It turns out that retail consumers are demonstrating with their pocketbooks a preference to sacrifice choice for a simplified and less stressful sales experience that ensures expert selected products at fair price points.
These observations lead to two theories. First, mainstream builders can't afford all the customization currently being provided. And second, a perception of significant customization can be created at much lower cost with carefully curated but limited design options applied to a standard set of internal and external building blocks. This is mass-customization.
Among the impressive examples of mass-customization, I often cite a new development called Lago Place by Younger Homes in Lake Travis, Texas. Figure 2 shows a simple set of building blocks for the lower, ground, and upper levels that can be configured into 25 different home plans with diverse choice relative to interior living, outdoor living, and amenities.
This along with impressive use of Housing 2.0 design optimization best practices result in substantial cost savings from minimized waste and simplicity along with fully integrated systems. However, mass-customization remains a highly underutilized innovation in the housing industry.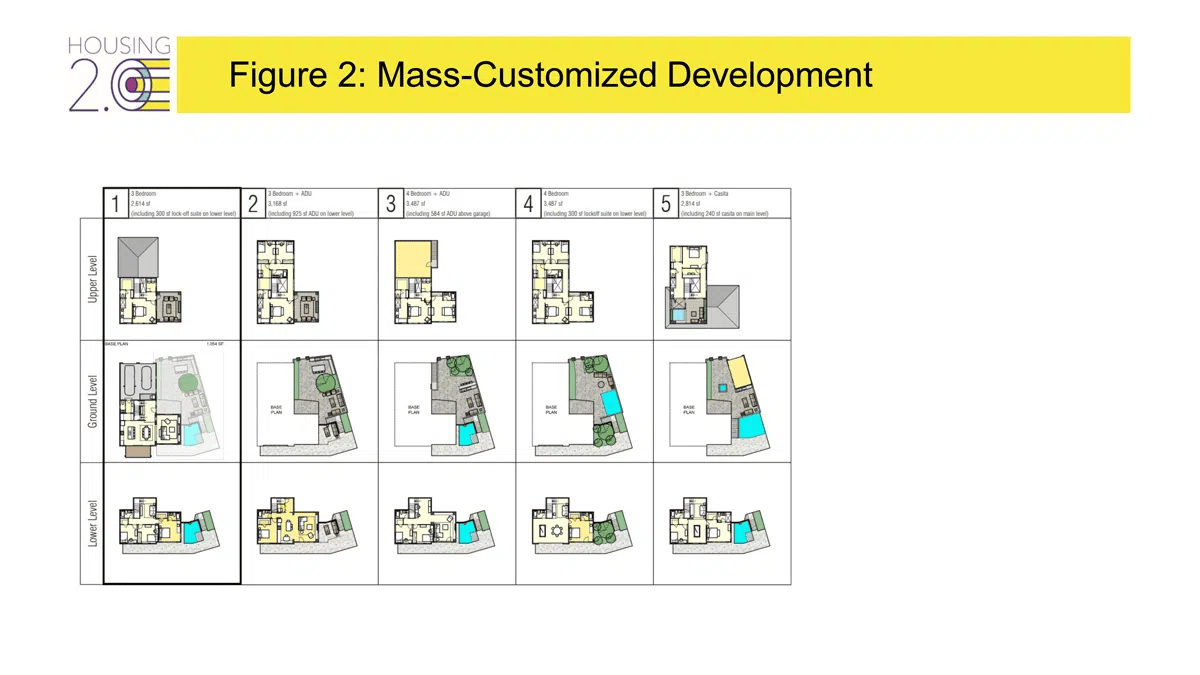 Innovation #3: Digitization as a Service
Every other major industry fully digitizes their products before going into production. As mentioned earlier, this process creates a virtual twin of the product on the computer that enables optimization of product design, materials, waste reduction, systems integration, assembly, quality, and risk reduction. These business benefits directly address the crises confronting the housing industry.
An example of a fully digitized home is shown in Figure 3. Once the design UX is optimized with mass-customization, the added cost of digitization can be amortized by applying these digitized building blocks to multiple projects.
The key to deploying digitization is that the industry will have to transition from basic users of building Information modeling (BIM) to power users. However, rank-and-file builders, architects, and developers currently lack adequate resources and core competencies. How we get past this roadblock will be covered in Part 2 of this series.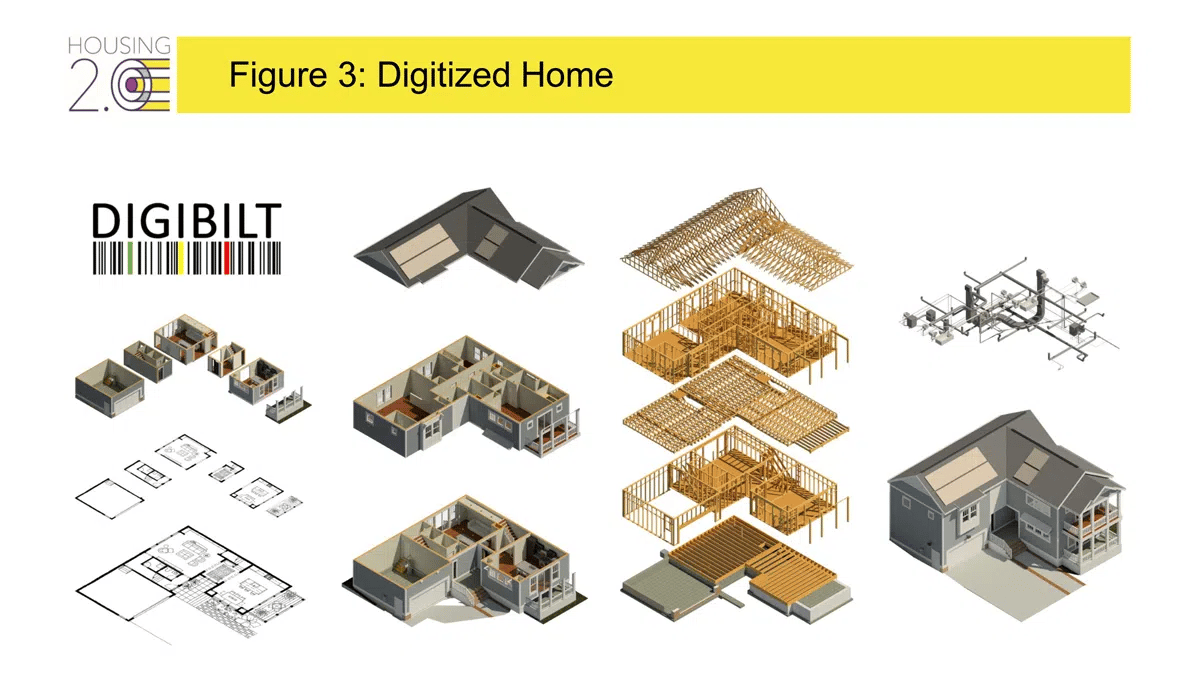 Innovation #4: Offsite Construction
The U.S. is stuck at 2 to 3 percent market penetration for offsite construction while countries like Germany and Japan have grown to 20 percent and Sweden leads globally with about 85 percent. The substantial relief from a declining workforce and productivity improvements are critical benefits to the housing industry.
In addition, it also ensures reduced cycle time, improved quality, greater accuracy, stronger assemblies, less rework, and huge waste reduction. Consider the cost benefits of offsite construction just from reduced cycle time where the construction schedule can be easily reduced 30 to 50 percent, or approximately 30 days (Figure 4 below).
With builder cost of operation at $500 to $800 per day according to one study, this cycle time reduction would be worth $15,000 to $24,000 to a builder's bottom line.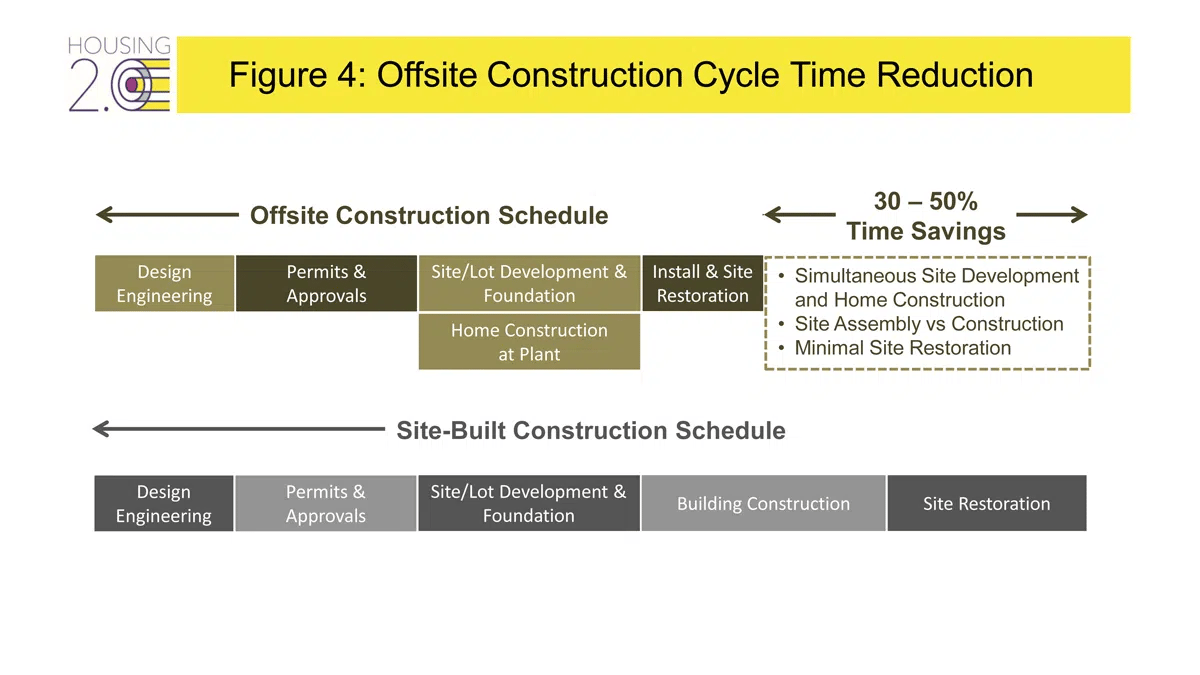 What Does All this Housing Innovation Look Like
The future of housing with certainty is just a matter of connecting the dots between the market-ready innovations and crises they mitigate (See Figure 5 below). UX optimization ensures a UX that exceeds buyer expectations while extracting cost savings by eliminating waste, optimizing simplicity, and integrating systems.
Mass-customization integrates optimized UX designs into repeatable building blocks that cost less to build. DaaS creates virtual twins of UX optimized and mass-customized homes including automated bill of materials and construction instructions that enhance productivity. And finally, offsite construction substantially reduces trade workforce requirements while using advanced factory production methods and systems for superior performance and quality.
These innovations have been sitting on the sidelines for too long and can no longer be ignored. The Housing 2.0 book and Housing 2.0 workshops lay out guidance for adapting to these innovations to help survive the disruption ahead.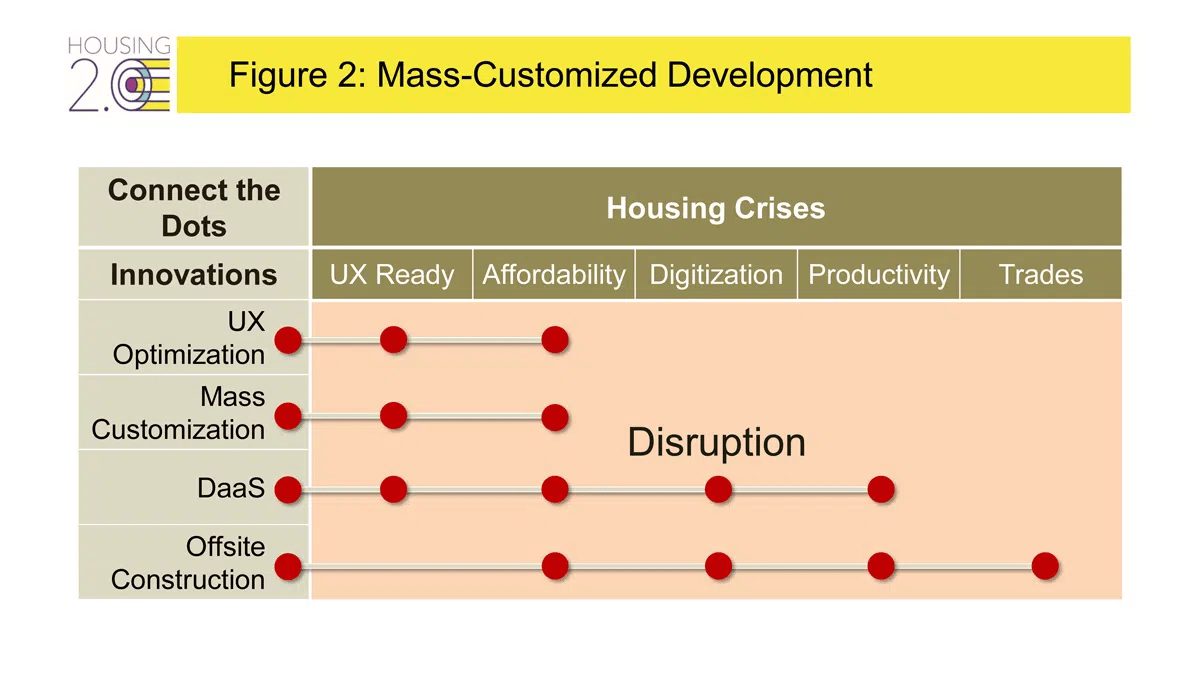 As the industry adopts these innovations, it becomes easy to envision "What" the home of the future looks like. And not surprisingly, it tracks the latest disruption in the car industry to faster, better, and cheaper electric vehicles. This includes:
Replacing an Obsolete 100-Plus-Year-Old Platform. Where the electric car replaces the 100-year-old internal combustion engine with battery-powered electric motors, housing will replace 150-year-old framing technology with advanced offsite enclosures. In both cases, the new platform provides the foundation for a superior UX.
Loading with Tech. Electric cars fully integrate advanced technology including controls, cameras, sensors, smart components, and batteries. The resulting benefits are too compelling for homes to ignore. Where homes also include solar technology, these benefits include zero energy bills, comfort, convenience, safety, health, resilience, durability, and entertainment.
Ensuring a Superior UX. Where the electric car is enhancing UX relative to design, performance, and quality, so must the housing industry. In addition, location is uniquely critical to housing which therefore must also optimize the community experience. In both cases the products will live, work, and last better.
Curating Expert Packages. Where the electric car features expertly curated packages for both exterior and interior building blocks across multiple product lines, so will the housing industry. In other words, mass-customization. The results in both cases are ample consumer choice along with lower cost, stress, and complexity in product configuration.
Owning the Customer. Where the electric car includes simple and paperless transactions along with ongoing online services for desired upgrades, so will the housing industry. In both cases this ensures companies own their customer for life with services that continually improve the UX, cultivate a value-based relationship, and provide ongoing revenue streams.
Important note; I'm not delusional. There are impressive barriers to change in the housing industry, even with a compelling business case. This is obvious watching the glacial adoption of proven innovations in the housing industry.
The final article in this series will examine these roadblocks and lay out strategies "How" disruption finally breaks through them. Coming full circle, if you don't do it, someone else will. Stay tuned.
I'm going to bring a full-day Housing 2.0 workshop to my favorite building science event, the EEBA High Performance Builder Summit 2023 in Salt Lake City on October 9. I'd love to have you join us.
Have you picked up my book yet? You can buy it here.
---
This Housing 2.0 presentation is sponsored by: Jinko Solar, LP Building Solutions, Mitsubishi Electric , Panasonic, Schneider Electric and Sunnova.
Aug 15, 2023 7:45:00 AM · 10 min read
---

Sam Rashkin is a building industry luminary, influencer, and architect. Author of the book Retooling the U.S. Housing Industry: How It Got Here, Why It's Broken, and How to Fix It, Sam has led housing programs resulting in more than one million certified high-performance homes. He served on the national steering committees for USGBC's LEED for Homes, NAHB's Green Builder Guidelines, and EPA's Water Sense label, and on the development team for EPA's Indoor airPLUS label.