COGNITION Hot Take: The Touchless Phenomenon

Sara Gutterman
1 min read
Demand for touchless faucets has exploded as consumers find creative ways to pandemic-proof their homes.
According to COGNITION Smart Data, Green Builder Media's market intelligence and data services, demand for touchless faucets has increased by nearly 130 percent in 2020 as consumers seek COVID-friendly solutions for their homes. This shouldn't be a surprise, given that sink handles contain more than 600 times more microorganisms per square inch than toilet handles.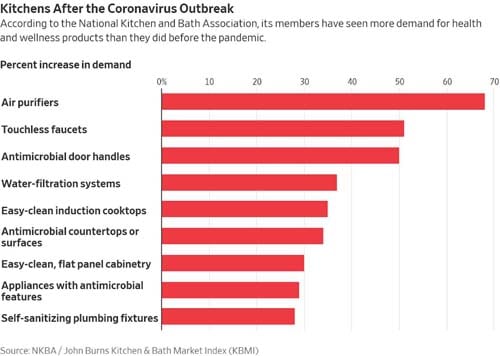 Search volume for touchless faucets has trended steadily upwards over the past year, and The Harris Poll reports that over 90 percent of consumers believe that touchless fixtures are extremely or somewhat important for reducing the risk of infection from high-touch surfaces.
The National Kitchen and Bath Association recently reported that its members have seen a marked increase for health and wellness products in 2020, with air purifiers experiencing the largest uptick in demand, followed by touchless faucets and antimicrobial door handles.
Touchless faucets enhance both hygiene and convenience: some of the newest hands-free faucet models are voice-enabled, allowing a homeowner to give directions to the faucet to turn on/off or pour exact amounts of water. Some models have built-in intelligence that enables settings like "handwash mode," which directs water to flow for 5 seconds to wet the user's hands, then the water turns off for 20 seconds while the soap is applied, then the water turns back on for a 10-second rinse.
For more information about innovative products for a pandemic-proof home, sign up for a COGNITION subscription.
---
About COGNITION Smart Data:
COGNITION Smart Data offers advanced intelligence and insights about market trends and important customer information like behavioral patterns, purchase drivers, buying preferences and sentiment. COGNITION enables clients to make informed business decisions, yielding specific deliverables and tangible results. COGNITION provides a definitive competitive advantage by allowing companies to stay a step ahead of their competitors.
For more information on how you can tap into the power of COGNITION Smart Data, visit www.greenbuildermedia.com/cognition or contact Sara Gutterman at sara.gutterman@greenbuildermedia.com.

Dec 23, 2020 1:30:42 PM · 1 min read
---

As cofounder and CEO of Green Builder Media, Sara is a visionary thought leader and passionate advocate for sustainability. A former venture capitalist, she has participated in the life cycle (from funding to exit) of over 20 companies, with an emphasis on combining sustainability and profitability. She lives in Lake City, Colo., with her husband, where she is an avid long-distance runner, snowboarder, and Crossfit trainer. She is also on the Board of Directors at Dvele, runs the Rural Segment for Energize Colorado, and is a former County Commissioner.