Builders Market Hard to Millennials—For Good Reason

Alan Naditz
8 min read
Millennials reign supreme in the hearts and minds of builders. Here's how they are changing home building.
There were a lot of firsts in 1984. Apple's Macintosh computer crashed its way into the world during the Super Bowl. The Soviet Union boycotted the U.S.-hosted Summer Olympic Games for the first time in its history. A deadly virus known as HIV struck humanity. Tetris arrived to test people's minds and fingers. A new guy named Alex Trebek helped relaunch a game show called "Jeopardy."
And, a new generation of children arrived: The millennials.
Fast-forward to 2020. Those same generational forerunners are turning 36. They and the rest of their millennial colleagues — anyone born from 1984 to 2002 — are ready for prime time as the nation's key marketing targets.
Housing industry, this is your cue.
According to a study by Realtor.com, this group of 72 million (more than the Baby Boomer and Generation X groups combined) has gone from young, self-centered, and generally pessimistic, to mature and family-minded.
"It's an age at which they are on their first or second jobs," notes Realtor.com senior economist George Ratiu during an interview with CNBC. "Many of them are having kids, and with that their preferences have shifted. We're seeing that they obviously are very much interested in buying homes."
Ready, Willing, Waiting
Millennials want to buy homes, baby boomers want to downsize, and Gen Xers just want a second chance.
With the coronavirus increasing the number of people wanting to change their living situation by 2.1 million households, the three principal generations—baby boomers, Generation Xers, and millennials—are out shopping for homes (or at least they hope to). According to COGNITION Smart Data research, each group has its own preferences for its new residences.
Millennial Generation. In full force. Millennials, who have been renting and want to own a home, are the most motivated homebuyers. These individuals are looking for spaces to work from home, advanced connected living and communication technology, home gyms, and for young families, larger yards.
Boomers. Going small. Boomers who want to downsize are the second-most motivated buyers. They are looking for germ-resistant finishes, touch-free fixtures, air and water filtration systems, energy efficiency, and assisted living technologies. They're more interested in private outdoor decks and patios than large yards that will require maintenance.
Generation X. On the sideline. Gen Xers are least likely to buy again in today's market. They are still feeling hangovers from the "just charge it!" Reaganomics years that led to poor spending habits, followed by system shock from economic downturns in the 1990s, and early and late-2000s.
As a result, now-skeptical Gen Xers are delaying further home purchases and improvements. This is critical for building professionals given that, in 2019, Gen Xers made up 30 percent of the home improvement market, spending an average of $12,000 per household on remodeling projects and hiring professionals 85 percent of the time.
Maturing Millennials And Home Buying
Ratiu notes that millennials' interests in "family-friendly lifestyles and affordable housing" will replace prior affinities for bustling downtown shops and cafés. As a result, millennials are considering new options in housing, such as trading in convenient urban condos for modest, mid-size city apartments and suburban homes, he says.
According to COGNITION Smart Data research, the most active home buyers in this audience are dual-income, college-educated couples who are living in dense apartment buildings and "want more space, have a strong ethic of sustainability, are totally at home in the digital world, and are at their peak homebuying potential."
They tend to think small. Millennials are looking for compact floor plans, low monthly payments, and smart homes that are sustainable, efficient, and healthy. This audience segment is also intrigued by small footprint living. While they are looking to upsize, it's from a modest 800 to 1,000 square feet to a slightly more indulgent 1,200 to 1,500 square feet.
Having grown up with technology, and in an age where "green" was more than just a color, millennials also want homes with the latest and greatest—and most environmentally compatible—technology.
Millennials have a high level of purchase interest in solar technologies (including photovoltaics, storage solutions, and power management systems) to reduce carbon footprint, decrease energy bills, and increase self-sufficiency. They also consider the ability to net meter, or feed energy back to the grid, a badge of honor.
They want to integrate smart home technologies with solar energy systems, as well as streamlining connectivity and redundant technology to keep hubs, routers, servers, security systems and backup power supplies functioning.
Furthermore, many of these home buyers believe that connected living technologies such as smart thermostats, security, lighting, indoor air quality (IAQ) sensors, and leak detection, should be included as a standard offering in a home purchase, not as an upgrade.
They can be easier to sell to than their older counterparts. This group, totally comfortable making large purchases online, is already driving the digitization of the housing market, as indicated by a massive uptick in 3D home tours.
Millennials Demand Work-Life Balance
Millennials (and their colleagues, the youngest Generation Xers) are comfortable working remotely and are looking to establish a work-life balance that incorporates home fitness, wellness, and healthcare.
"Their home-buying decisions will be based on different factors than previous generations," COGNITION notes. "No location, location, location here—rather, [millennials are] focused on community amenities, access to trails and recreation, and healthy homes."
This makes millennials a prime group to target as homebuyers, given the current pandemic, according to Jeff Tucker, an economist with real estate marketplace operator Zillow Group. Millennials, he notes, have the greatest chance to become a homeowner because of their ability to "work from anywhere and live anywhere."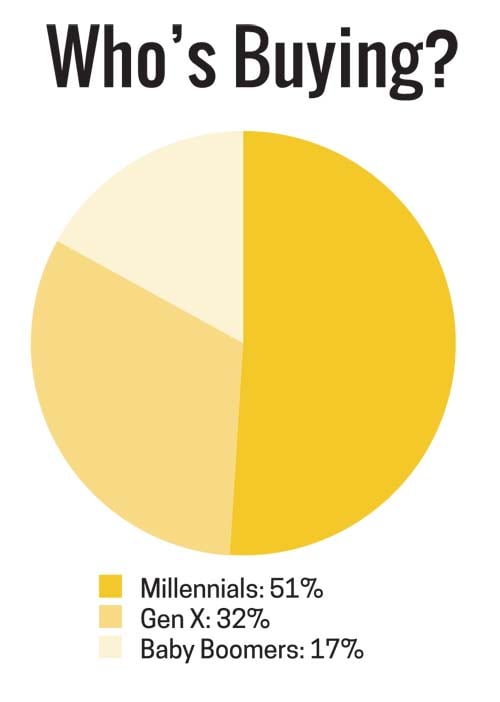 Be patient, though. According to a report by Irvine, Calif.-based marketing firm CoreLogic, millennials can take more than a year to find the right home. That shouldn't surprise anyone, though.
"Some of them have lived with their parents for a decade or more while they saved up their down payment," notes Saumi Shokraee, CoreLogic's Professional, Research & Content Strategist. "With a desire for modern home technology and a location that fits their lifestyle, they are quite particular about their investments."
That investment is likely to be a new home, according to a survey from the National Association of Home Builders (NAHB). Millennial home buyers who prefer a brand-new home jumped from 28 percent in 2007 to 41 percent in 2018 and are expected to top 50 percent this year. "Millennials do not have the appetite to buy a home and deal with remodeling it to fit their desires," Shokraee notes.
Holding Pattern
Millennials may want to buy a house, but not everyone's ready—or able—to move.
Thanks to millennials' emergence as a real estate buying power, there's a lot of construction work ahead for new home builders. Realtor.com senior economist George Ratiu notes that the housing market is underbuilt by about 4 million homes, based on current inventory.
But although the 30-something crowd may want to contribute to that supply shortage, some of them aren't ready yet. The financial website Investopedia offers five reasons why millennials can't yet ask for keys to their new home.
Affordability. How much home a person can buy is generally limited to 25 percent of their monthly gross income. The nationwide median new home purchase price was $327,000 as of September, according to U.S. Census Bureau Housing and Urban Development (HUD) — about double that amount if trying to buy in a pricey market like California.
Meanwhile, a millennial's annual salary averaged $47,000, HUD reports. Pencil out all the figures and a single person or even a two-person household usually can't meet the payment threshold.
There are lower-priced areas of the U.S. where a millennial household could make such an income work. "The question is whether millennials are willing to relocate and leave jobs, friends, and family in order to buy a home," foreign exchange trader Aaron Hankin says.
Later marriages. In 1960, 80 percent of people aged 25 to 34 lived with a spouse or partner. By 2019, that number had dropped to 60 percent, according to the Census Bureau. People are also waiting longer to get married—approximately age 21 in 1960 vs. age 29 as of last year.
And, they're starting families later: the Department of Health and Human Services Center for Disease Control reports that the first-time mom's average age has increased from 21 years in 1970 to 26 years in 2020. Delays in those life events lead to less of an urgency to buy a home, Hankin notes.
Student debt. Student loans topped $1.76 trillion by October 2022, according to the

Board of Governors of the Federal Reserve System.

Most millennials coping with this type of post-college expense aren't thinking about buying homes—according to a NAR survey, 50 percent of homeowners age 35 or younger said they waited at least a few years before taking the plunge.
Debt or no, it now takes a long time for millennials to come up with the typical 20 percent down payment needed for purchase: almost 12 years for anyone with student debt versus eight years for those without.
Tighter lending standards. Banks have toughened up credit underwriting rules to reduce risk, including not bending on the 20 percent down payment rule. Not surprisingly, it is taking millennials longer to accumulate enough cash.


Big city lights. According to Pew Research, as of 2018, 88 percent of millennials now live in metropolitan areas. Many live in regions with a larger proportion of renters to homeowners, pushing up rental prices.
In addition, millennials seem unwilling to commute or even own a backyard. Home sales within five miles of the center of any of the 10 most-dense cities are above levels from 2000. But sales drop to 50 percent below 2000 if they're for homes more than 10 miles outside a city.
Homebuying? Women Make the Call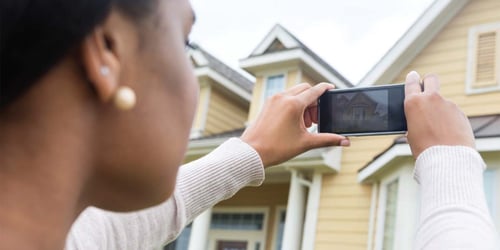 Millennial men may have more money to spend on a new home, but it's women who choose what home to buy and where. Credit: SDI Productions/iStock
Millennials are the biggest influencers in the home buying market. Most of this marketing segment consists of two-income couples, but women are driving the bus when it comes to decision making.
Approximately 73 percent of these buyers are dual-income, college-educated couples. But female millennials express four times more home buying purchase intent in online conversations than millennial men.
Single female millennials account for 19 percent of home purchases, while single millennial men only represent 8 percent.
Unmarried millennial women have a higher homeownership rate than single male millennials, and purchase more-expensive homes. Their housing choices have a median price of $200,450, compared to $189,920 for men.
Single female millennial homebuyers tend to purchase apartments and condos in urban areas, a trend that hasn't changed even with COVID-19. Single millennial men are more likely to buy homes in rural areas, and millennial couples purchase homes most often in suburbs.
Millennial women make $0.22 per dollar less than millennial males, but their lower annual income doesn't impact their interest in making long-term investments, including home purchases.
Source: COGNITION Smart Data
Mar 18, 2021 11:03:56 AM · 8 min read
---

Alan Naditz is managing editor of Green Builder Magazine. He has covered numerous industries in his extensive career, including residential and commercial construction, small and corporate business, real estate and sustainability.