Al Fresco Living Accelerates During Pandemic

Sara Gutterman
3 min read
Homeowners have invested in enhancing their outdoor living areas at record rates during COVID.
While consumers have scaled back general living expenses during the pandemic, spending less on discretionary activities like dining out, recreation, and travel, they're not holding back on investing in home improvement projects.
According to COGNITION Smart Data, remodeling projects are up by 75 percent this year, with homeowners spending on average $17,140 (up from $12,000). Outdoor living projects have commanded the lion's share of those dollars, as COVID amplified the desire to connect with nature and as homeowners relied on outdoor spaces to gather safely with loved ones.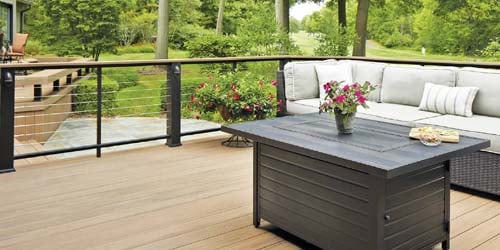 A recent report by The American Institute of Architects (AIA) indicates that outdoor living areas topped the list of most desirable home features this year. The report also avows that enhancing outdoor cooking spaces is the fastest-growing kitchen trend.
The Focal Point
COGNITION data shows that decking projects are leading the charge when it comes to outdoor living improvements. Homeowners are building new decks and replacing old ones to make them attractive spaces for entertaining, working, and relaxing.
According to Patrick Barnds, SVP Product Management at The AZEK Company, "We are seeing unprecedented interest and demand for our composite decking products. Homeowners want the combination of design, durability, and sustainability that our products offer."
"Many homeowners who are building new decks lean towards composite options because they are low maintenance and impervious to moisture, pests, and UV damage," Barnds continues. "We're also seeing an acceleration of wood conversion—homeowners replacing older wood decks with composites, not just because of performance and sustainability aspects, but also because they have more design options with composites."
Beyond offering a diverse portfolio of beautiful outdoor living products, AZEK has established a robust science-based recycling program, through which they turn a wide spectrum of polyethylene and PVC products—such as plastic wrap, bags, film, siding, flooring, window components, and piping—into composite decking and outdoor furniture.
Barnds notes that contractor-based decking projects have been bigger and more elaborate over the past year, with multiple levels, covered spaces, cabanas, and flex spaces, whereas DIY projects have tended to be smaller but more personalized and unique. "DIYers are using more colors, patterns, and widths than ever before to visually divide deck spaces," he observes.
Personal Oasis
Other trending al fresco living projects include:
transition spaces that provide shelter from the elements through roof covers, screens, pergolas, gazebos, and awnings.
intimate "sanctuary spaces" that offer peace and quiet for those much-needed reprieves.
outdoor kitchens, entertainment systems, and dining areas.
integrated smart technology, like voice-enabled televisions, connected outdoor grills and appliances, and smart lighting.
spaces that offer "flexible privacy," allowing homeowners to enjoy nature while screening out neighbors, roads, and unappealing sightlines.
rooftop gardens, balconies, terraces, and integrated planters in urban settings.
sustainable landscaping and edible gardens are also on the rise, driven by a marked interest in enhanced security and self-sufficiency during the pandemic.
COGNITION data shows that homeowners are moving away from sweeping lawns with sprawling Kentucky bluegrass that require vast amounts of water and mowing in favor of edible gardens that provide food security, water-saving native plants, and native greenspaces that offer refuge in concrete jungles.
Urban dwellers are getting creative about finding ways to grow herbs and vegetables on small apartment patios or even bringing the garden inside with living walls and potted plants.
Homeowners Brave the Elements
As the weather turns colder, nature lovers and outdoor entertainers are not deterred: Homeowners are bundling up, choosing to socialize safely outside rather than moving inside and risking infection.
COGNITION data shows a striking uptick this quarter in the purchase of outdoor heaters, firepits, and other elements that allow homeowners to remain outside, enabling them to socialize safely as another wave of coronavirus cases sweeps across the country. The good news: Investment in outdoor living is expected to continue into 2021 and beyond as homeowners recognize the true worth of outdoor spaces with respect to both quality of life and resale value, particularly within the millennial and older Gen-Z audience segments, who are now the top housing influencers spending more money on buying and remodeling homes than any other generation.
Dec 31, 2020 8:22:16 AM · 3 min read
---

As cofounder and CEO of Green Builder Media, Sara is a visionary thought leader and passionate advocate for sustainability. A former venture capitalist, she has participated in the life cycle (from funding to exit) of over 20 companies, with an emphasis on combining sustainability and profitability. She lives in Lake City, Colo., with her husband, where she is an avid long-distance runner, snowboarder, and Crossfit trainer. She is also on the Board of Directors at Dvele, runs the Rural Segment for Energize Colorado, and is a former County Commissioner.