5 Sustainable Product Innovations From Design + Construction Week

Matt Power, Editor-In-Chief
2 min read
This week in Las Vegas, the housing industry seemed to surge back to pre-pandemic enthusiasm, with many brands recasting, rebranding and introducing new products.
There were a few surprises this year at Design + Construction Week. Among the press events I attended was an official one from Owens-Corning, which is getting into the spray foam business. The company acquired a bio-based spray foam company called "Natural Polymers," and will be integrating spray foam into their other product lines.
I asked whether there might be hybrid options, such as using a layer of spray foam in cavities before adding fiberglass, and it sounds like that's a definite possibility. The foam contains 11 percent bio material, and is Greenguard certified.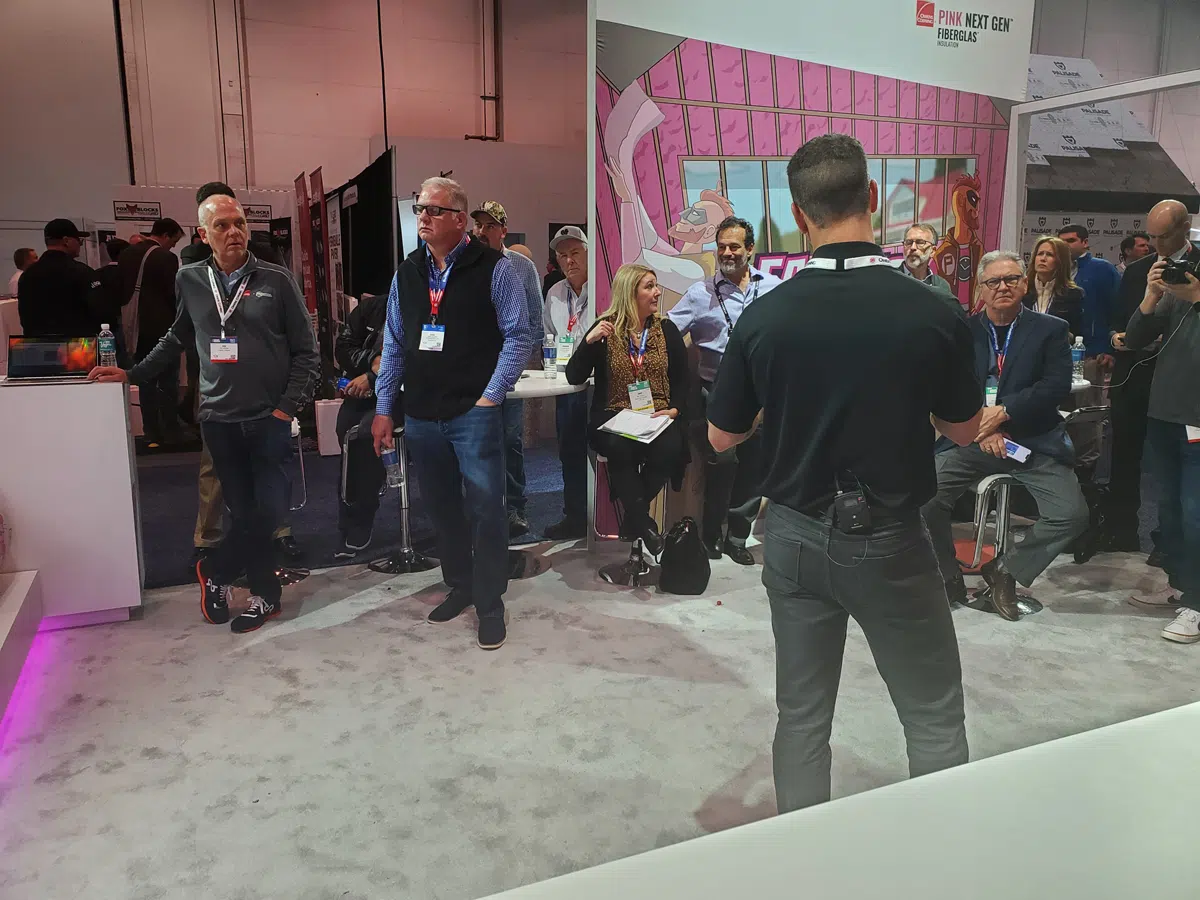 I really like the concept of a fireplace amenity that has the look and feel of a gas or wood hearth without requiring large inputs of fossil fuel or grid electricity. Netzero Fire demonstrated a NetZero Waterplace that uses water vapor to create the illusion of flames by cleverly lighting them from below with efficient, color-changing LED lights.
The results are essentially 3D artworks for the living room. It's a win-win for both builders and clients. Builders get to upsell interiors with this low-impact "jewelry" without perpetuating costly energy dependency.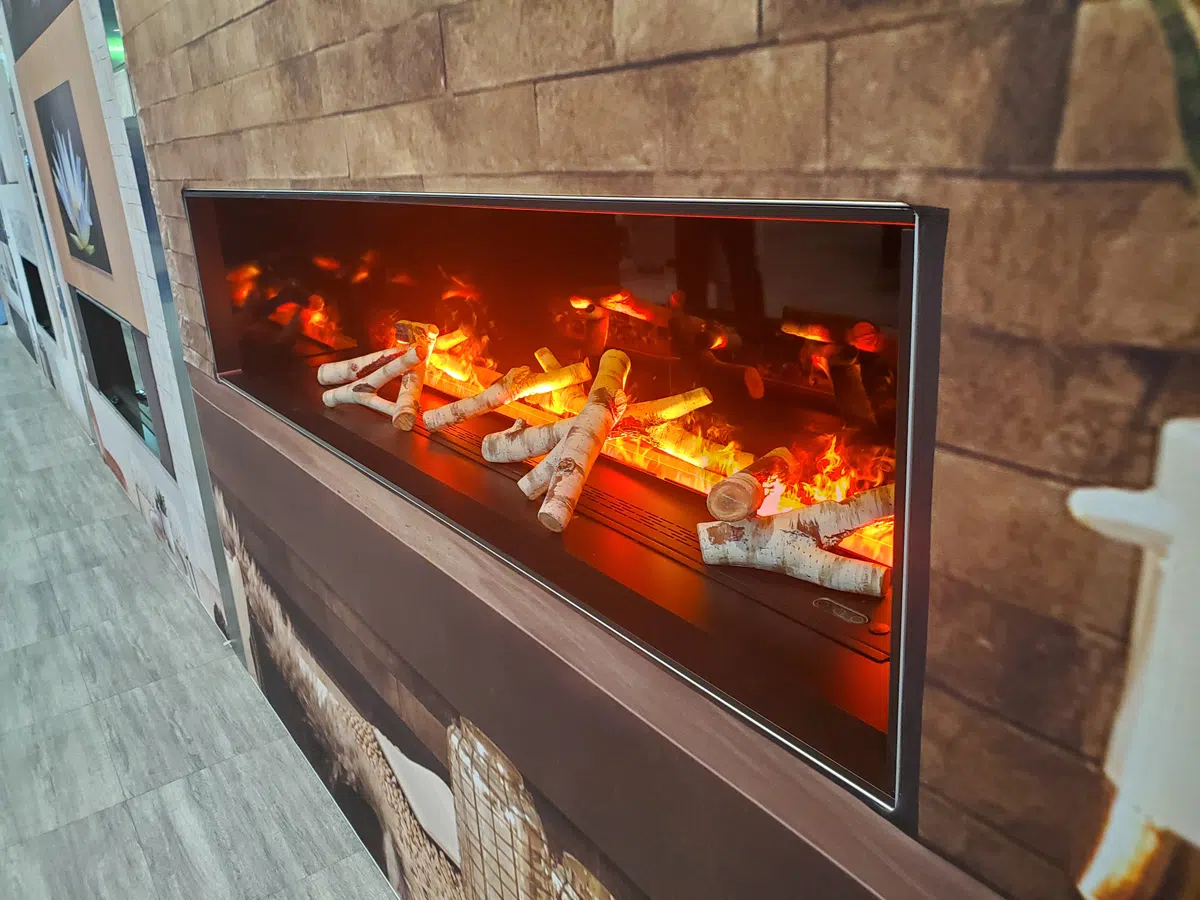 Another product that caught my eye is a type of non-toxic, durable wood for decking and siding called Tantimber. ThermoWood treatment of wood is a well-established practice in Turkey, where the wood originates.
The process heats non-endangered, sustainably harvested wood species to about 200 degrees, and essentially bakes out all of the sugars. This makes it much more resistant to fungal growth and decay. I asked the company to provide details on the overall C02 footprint from heating and transportation, which we will report on later.
One cool detail is the fastening system (shown), which gets the wood off the joists, and allows you to pop boards off and flip them over, potentially adding years to their overall lifespan.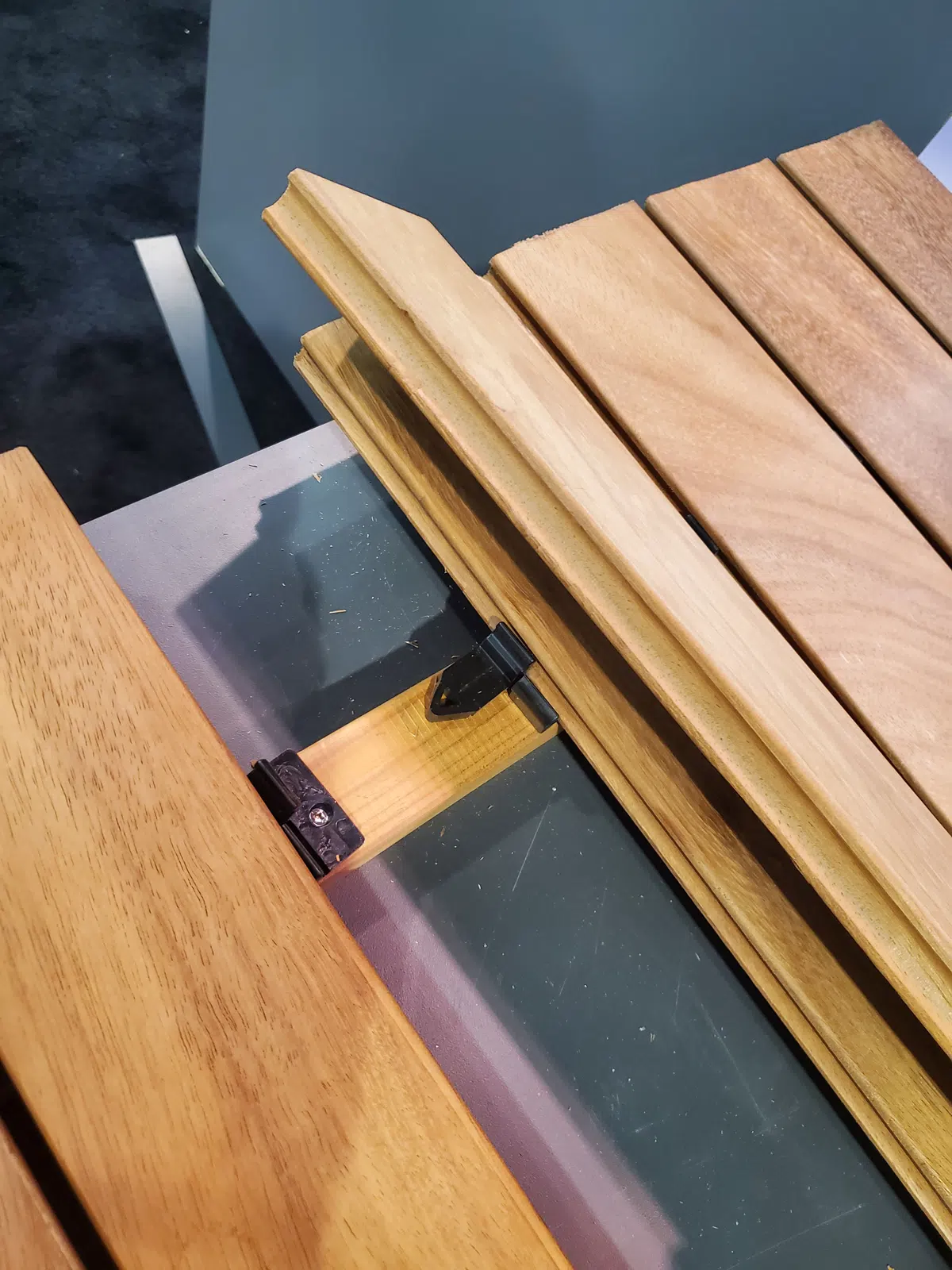 Here's one that's really more impressive for time-saving and performance than other "green" credentials. I've been curious about applications for magnesium oxide in building panels. MgO has lots of potential for resilience. It's extremely fire resistant and is dense and sound deadening.
Huber has created a flooring underlayment called Exacor that's fast to install, with high structural strength and excellent fire resistance. It meets UL 528 fire assembly requirements. These inorganic panels come in three sizes and also help with soundproofing—a good fit for multifamily construction.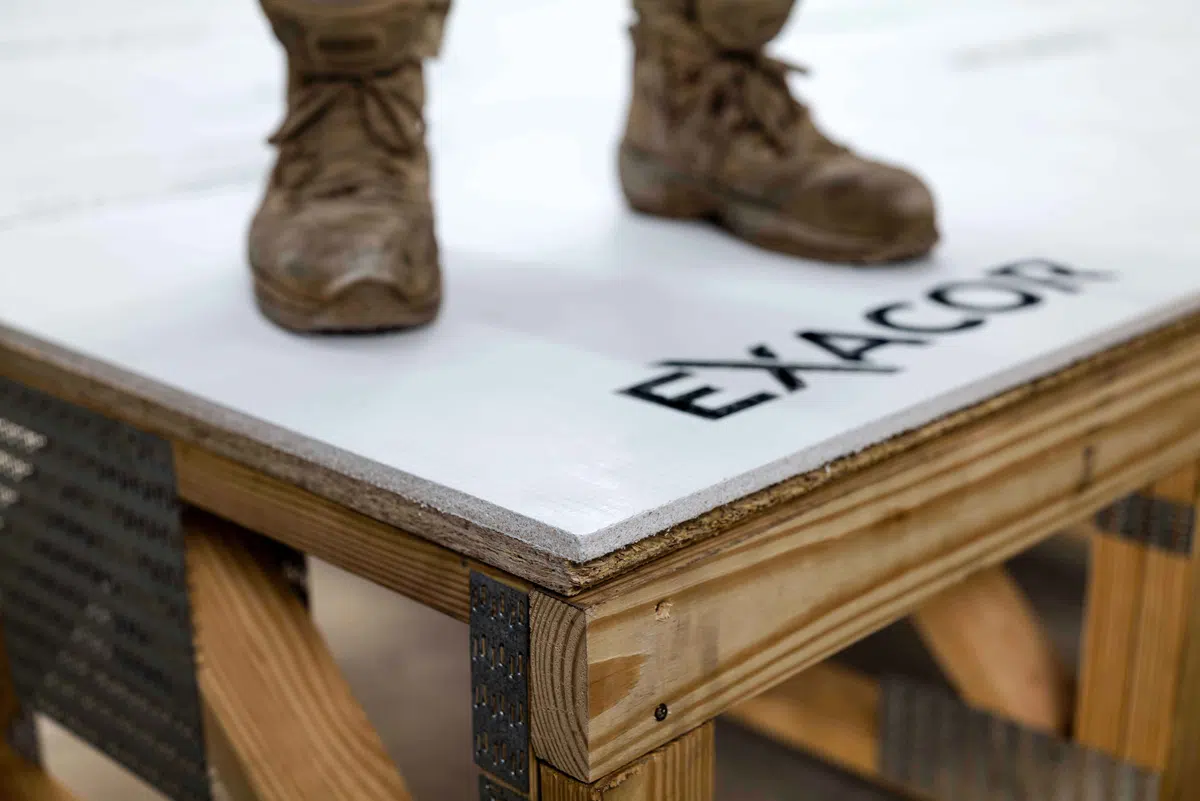 A new solar attic gable fan, The AFG SLR-40, from quietcoolsystems.com also caught my eye. It's quite powerful, moving up to 1,486 cfm of air from a hot attic, and will keep spinning with as little as 40 watts.
It's supposed to ventilate up to 2,400 square feet of attic, although I'm sure that would depend on the cubic volume of the space and the extremes of climate. One key feature I like is that the system has an inverter, so that the fan can run at night without battery support. The thermostat turns the unit on at 75 degrees, and a Bluetooth controller is available. A phone app is in the works.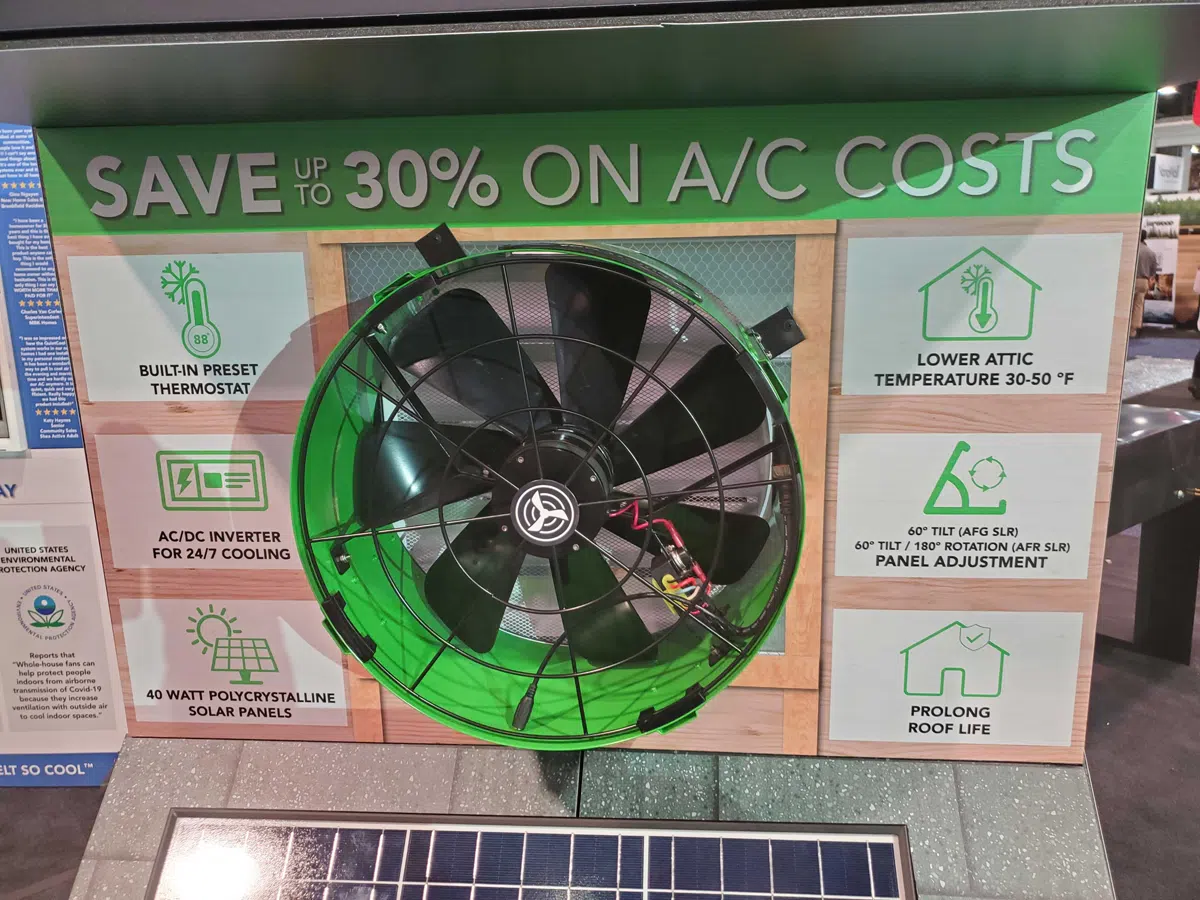 I'll have coverage of a bunch more products from the show in our March/April issue of Green Builder magazine, when we'll select the top 50 Sustainable Products of the Year.
Feb 2, 2023 11:06:24 AM · 2 min read
---

Veteran journalist Matt Power has reported on innovation and sustainability in housing for nearly three decades. An award-winning writer, editor, and filmmaker, he has a long history of asking hard questions and adding depth and context as he unfolds complex issues.