5 Sustainable Building Manufacturers

Alan Naditz
7 min read
Looking for inspiration? Explore the sustainability efforts of these companies that are leading the building construction industry.
1. Environmental Technology Group (E-Tech). This company's new construction technique promises an end to the wasteful practice of 'stick building.'
Home builders have been criticized for years for the method used to obtain the wood needed for housing construction and the process in which the homes are erected. The process, known as "stick building," is the traditional wood-framed home constructed on a building site stick by stick.
Opponents say most of the wood used comes from mature trees that are cut down en masse, with most of the end product disposed of at landfills or burned, causing pollution problems and destroying wildlife habitats.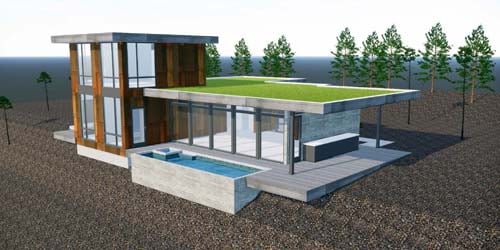 An E-Tech home offers an environmentally friendlier, lower-cost alternative to the traditional "stick-built" home—and it looks pretty good, too. Courtesy Melissa Peter
Enter the Environmental Technology Group (E-Tech), a coalition of concerned individuals who say the problem can be solved if the housing industry adopts the process used by manufacturers of nearly all consumer products. This process includes outsourcing individual sub-components to specialized plants that use automated equipment to stamp out engineered elements designed to be easily assembled.
For almost every consumer product, specifically designed components are shipped to a warehouse location where they are assembled and a completed product is created, packaged and sent to a consumer.
E-Tech is marketing a home built in this fashion, with the one exception being its assembly taking place at the home site instead of at a factory. The process, performed by a trained workforce of a few builders instead of a dozen or more, ends up being faster. Construction takes days instead of weeks under stick building and is far less expensive. The home's smaller footprint makes it far more energy-efficient, and the overall technique results in less construction-generated waste.
More important, according to E-Tech founder Barry Rosengrant, this method has far less negative impact on the environment.
"The ultimate test of sustainability is that all components are easily re-purposed to new structures without further waste of recycling energy," he says. "Thus, design professionals, contractors and homeowners can responsibly collaborate in creating a far better quality home while making a meaningful, positive difference for our planet. We welcome all others who share our commitment."
Cellulose insulation, made from plant fiber, is one of the oldest forms of insulation. It comes in many forms—newspapers, cardboard, cotton, straw, sawdust, hemp and corncob, to name a few.
2. Greenfiber. By making cellulose insulation from post-consumer waste, this company raises the sustainability bar.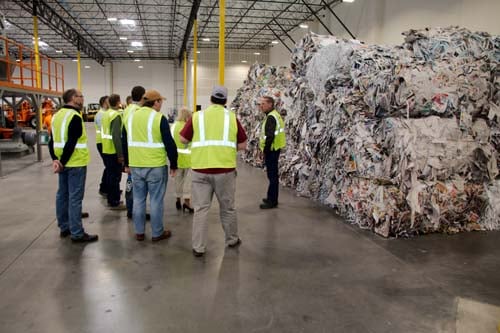 Unlike many insulation manufacturers, Greenfiber uses mostly recycled paper in its product as a show of respect for natural ecosystems. Courtesy Greenfiber
It's an environmental friend, capturing carbon instead of releasing it into the atmosphere. But the one drawback, according to officials at Greenfiber, is the fact that nearly all of the plant fiber-based insulation is made only from virgin material. Nearly all.
"We use paper products that have had a previous life in the consumer cycle, instead of adding the cost of continually harvesting raw materials," the company notes. "This allows us to offer an environmentally responsible option for professional insulation contractors, builders and homeowners."
Eighty-five percent of the company's cellulose insulation comes from recycled paper, and doing so keeps all of the captured carbon within the product instead of releasing it into the environment. Manufacturing also requires one-tenth of the energy needed to produce fiberglass insulation, and the production process—electric-driven facilities vs. gas-fired furnaces—merits a little bit of bragging.
Greenfiber's low-energy manufacturing process generates zero waste, other than dust which is confined within the production system and filtered out of the air that gets discharged into the atmosphere, the company notes. Electric-driven machines are used in all facilities and recycled paper is sourced near Greenfiber's plants. "This carbon-neutral process keeps 160,000 tons of paper out of landfills annually, which is equivalent to 2.72 million trees," Greenfiber states.
"You could actually fill 8,000 semi-trucks with the paper that we have diverted from landfills!"
Greenfiber has a plant in each region of the country to keep delivery of raw materials and shipping of the finished product to within a 500-mile radius, the company adds.
3. IceStone. For this countertop maker, the green way is the right way.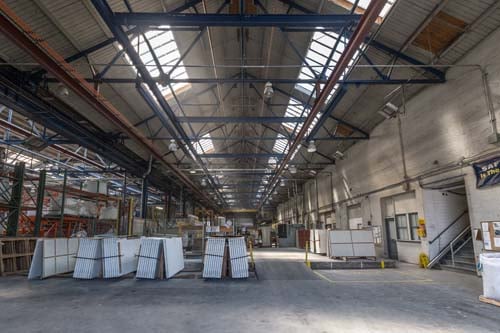 Electric lights are in rare form—literally—at IceStone's production facility, which relies primarily on natural lighting from a massive window setup. Courtesy IceStone
The officials at countertop maker IceStone know they're not a 100 percent zero waste facility—yet. But it's a goal to reach that milestone as soon as possible.
IceStone practices sustainability not only in its products but in its facility and production efforts. Steam-powered kilns are used to cure countertop material. A calibration machine requires a lot of water; a recycling water system enables water's re-use. The company uses electric/hybrid forklifts, and a huge skylight provides natural light in the factory to save energy.
To take even more advantage of the natural light, factory employees start work at about 7:30 a.m. "This is especially important during the winter months," the company notes. "Where we are located (Brooklyn, N.Y.), it starts to get dark at 4 p.m. in the winter. Therefore, we want our employees to take advantage of as much natural light as possible."
The company has also cut down on paper used for everyday work. The fax machine is gone, and all marketing materials are available for download on IceStone's website. And, IceStone tries to work with like-minded vendors who also believe in sustainability and an eco-friendly way of living and working, the company notes.
This attitude ties in perfectly with its countertop products, which are made from 100 percent pre-consumer recycled glass. All of it is produced in the United States, which reduces the amount of energy and pollution that would otherwise occur due to the transportation distance. Certifications and accolades received over the years include EPA's Environmental Leadership Award; B Corporation's Best for the Environment; Cradle to Cradle's Legacy Award; and Inc. magazine's 50 Greenest Companies, to name a few.
4. Stena Bulk. An eco-friendly shipper proves that net zero can also happen on open water.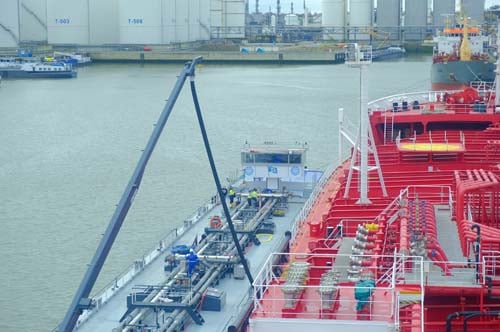 Bon voyage, sustainable style. Customers who need products shipped to them overseas now have a number of low- or no-carbon ways to do so, courtesy of international shipping company Stena Bulk. Courtesy Stena Bulk
Shipping is a huge necessity for much of the green building industry. One international shipping company is developing a way to cut customers' costs and clean the environment.
Sweden-based Stena Bulk has begun offering services priced by grade of biofuel, from a 20 percent mixture to a 100 percent waste-based biofuel. The fuel has the potential of putting shipping on the trajectory towards the International Maritime Organization (IMO)'s greenhouse gas (GHG) reduction targets. This can be done without having to wait for new technology and zero-carbon fuels to emerge as commercially viable options, according to Stena Bulk President and CEO Erik Hånell.
The new offerings will also allow customers to make use of low-carbon shipping options regardless of fuel availability on the specific route, and guarantees that operation is performed without any disturbance to the shipment, Hånell notes.
Offering low-carbon shipping options is initially an ambitious initiative, but is reflective of Stena Bulk's ambition to reduce the environmental footprint of tanker operations through innovation, Hånell says.
New fuels and new technology such as the company's recently unveiled IMOFlexMAX vessel design will also be important. "We can test and learn through challenges and thus take further steps in developments for the future," he says. "Collaboration within the industry will also be a key element, and [we] will continue to develop new solutions together with customers, partners and suppliers."
5. Whirlpool Corporation. A historic home offers keys to the future of household resource planning.
Sometimes, deciding how to move ahead with net zero plans requires taking a step back. For Whirlpool Corporation, the answer came in the form of the ReNEWW (Retrofitted Net-zero Energy, Water and Waste) House.
According to Whirlpool executives, the aspirational vision for the West Lafayette, Ind., home was to offset all of its energy use with solar power, rely on locally available water sources, and have waste-handling systems that prevent any household waste from going to the landfill. The retrofit also sought to preserve the historic character of the house, built in 1928 and located on the Purdue University campus.
The first phase, completed in 2015, focused on energy capture and retrofitting the home to include systems and materials such as geothermal systems, solar paneling, low GWP insulation and triple-pane windows.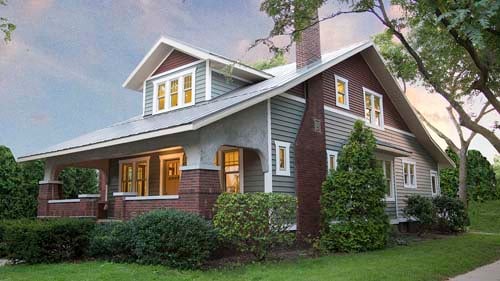 Whirlpool's ReNEWW House continues to discover and demonstrate unique and efficient ways to manage energy, water and waste. Courtesy of Whirlpool
The second phase focused on updating the house's water systems to achieve the goal of net-zero water. This included installing a rooftop rainwater collection system and an interior system that filters water for drinking water usage; and implementing water reuse systems, such as shower-to-toilet greywater recycling and energy-efficient fixtures.
The third phase was focused on reducing the home's production of municipal solid waste to zero. Initial efforts focused on reducing the generation of food waste by researching multiple concepts around composting.
Following this, much focus was on the residents' purchasing of products with recyclable materials to the maximum degree possible, while also teaching good habits regarding recycling.
Meanwhile, data was collected on ReNEWW's efficiency from before and after the retrofit. There are more than 120 different data streams monitored, and 30 sensors that monitor temperature. Electrical monitoring is on every household circuit and flow meters are attached to virtually every pipe in the home.
In 2019, the ReNEWW House continued studying innovative techniques for tracking and disposing of traditional waste, including developing a smart bin that gives immediate feedback to consumers on the quantities and types of trash that they are producing. ReNEWW is also studying how to use waste energy, with research ongoing into how to reuse waste heat that is generated throughout the home.
Nov 10, 2020 10:39:44 AM · 7 min read
---

Alan Naditz is managing editor of Green Builder Magazine. He has covered numerous industries in his extensive career, including residential and commercial construction, small and corporate business, real estate and sustainability.