Zero-Energy Passive House Earns Green Award

Matt Power, Editor-In-Chief
4 min read
This winner of Green Builder's Home of the Year awards program boasts efficiency everywhere you look.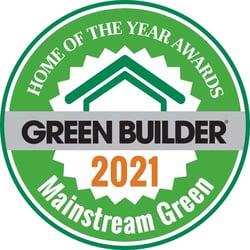 Building his first Passive House in 2014 permanently altered how Bill Freeman, principal of Celebration Green Design & Build in Guilford, Conn., viewed the construction process relative to achieving a much higher level of energy efficiency, superior indoor air quality, and unparalleled comfort.
When it became time to downsize his own residence, Freeman and his partner, Alicia Dolce, knew they wanted to pursue building a zero energy Passive House for themselves. They had several project goals: build on a site with a high walkability score to lower their carbon footprint; create a fossil-fuel-free, all-electric home; incorporate healthy and sustainable building materials; and establish a sustainable site as an alternative to a high-maintenance traditional lawn, to support local pollinators, birds, wildlife and people.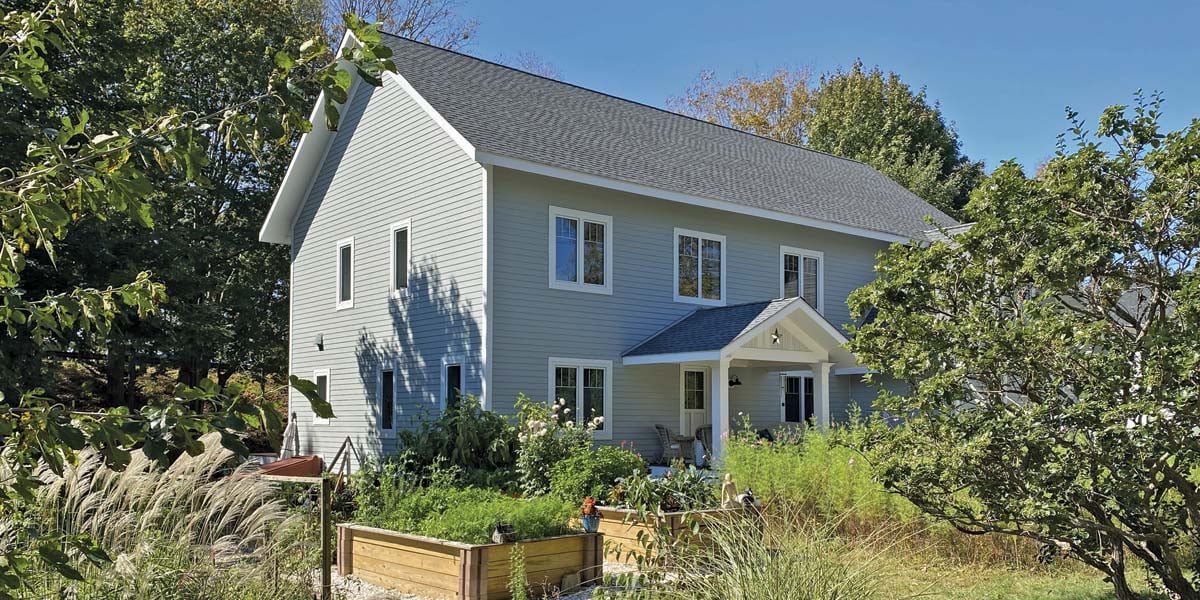 Consistent with the Passive House protocol, the design featured clean lines and generous overhangs to provide shading. During the project development process, Freeman learned that the town was encouraging accessory apartments and modified the plans to maximize the efficiency of the dwelling.
From the Judges:
"The house works very well"
The result was a 3,140-square-foot home: 2,268 square feet for the main residence and 872 square feet for a guest house. It was built on a building lot that is a one-minute walk from the local train station and only a half-mile from downtown shops and the town green.
A lot of thought was given to a sustainable build of the home, according to Freeman. In terms of structure, the house features double-wall construction, high R-value insulation, and multiple strategies to ensure air-tightness of the building envelope, including limited penetrations, taped plywood seams, use of insulated window headers, and precise use of closed-cell foam. Triple-pane windows and doors add to the home's environmental control.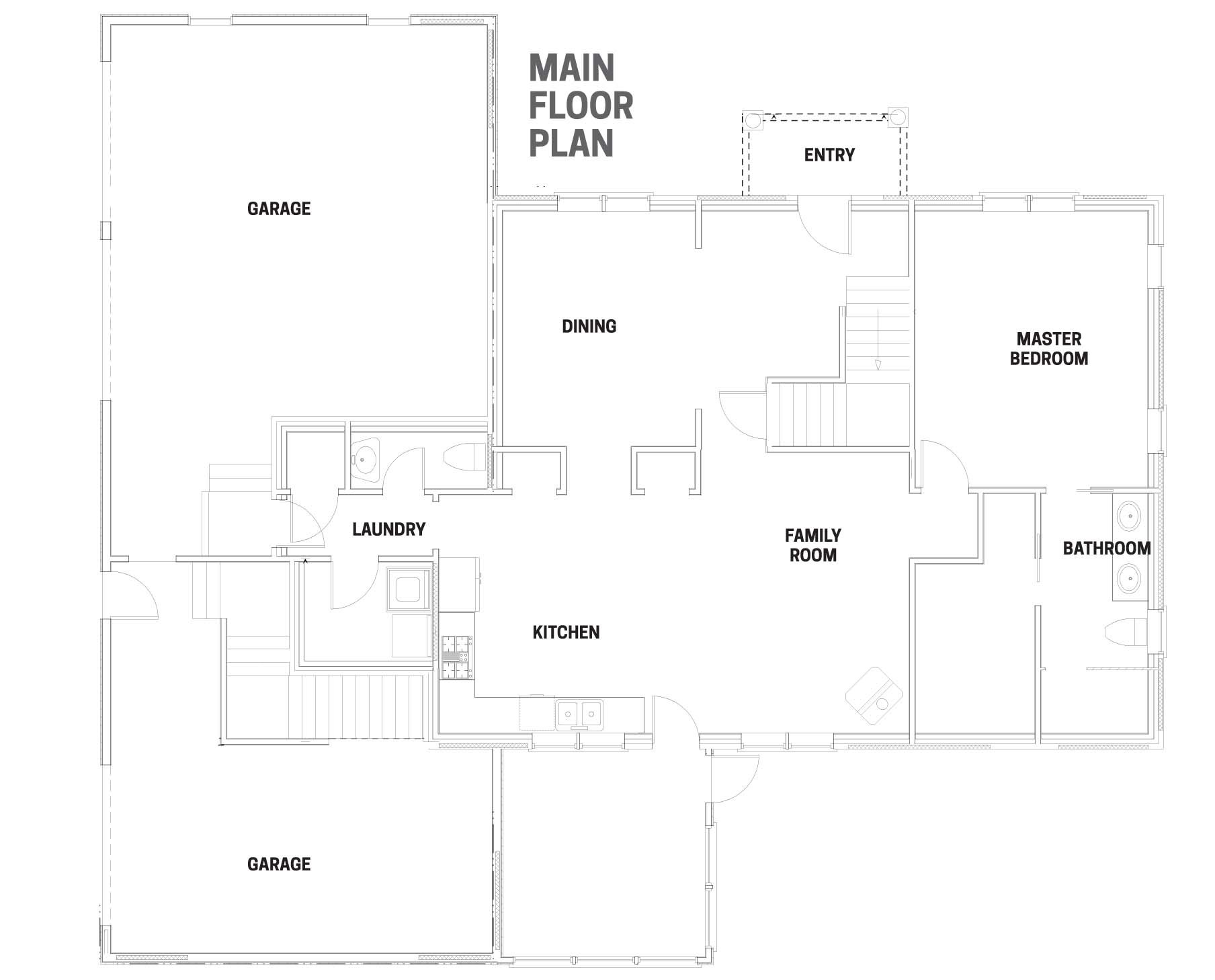 A variety of sustainable, environmentally friendly building material and appliances keep the green-minded inside theme in play: Milliken Declare carpet, locally sourced live-sawn white oak plank flooring with a zero-VOC oil finish, FSC Cumaru decking material, and non-VOC paints.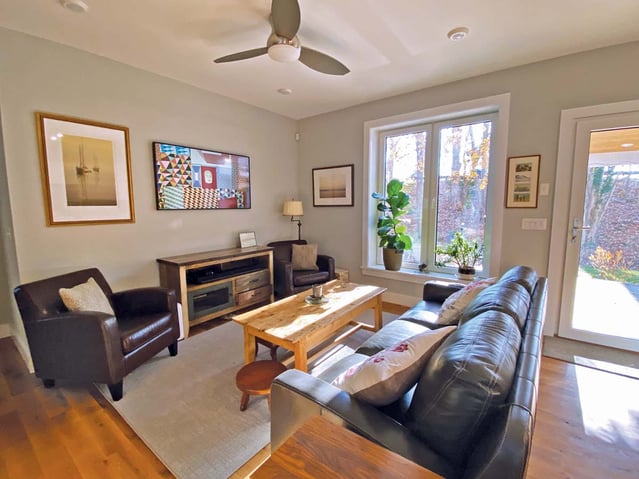 Double-wall construction, high R-value insulation, and triple-pane windows help form a tight building envelope. Credit: William Freeman
The house also features MINOTAIR Energy Recovery Ventilation (ERV) multi-function ventilation for dehumidification, heating and cooling, a Rheem hybrid electric hot water heater, induction cooktops, ENERGY STAR appliances, a ventless heat pump condensing dryer, and a high-efficiency front-loading washer.
There are also a number of environmentally friendly design elements: The guest house features reclaimed kitchen countertops and appliances, there are low-flow plumbing fixtures and LED lighting throughout the residences, and electricity use is offset somewhat by a 9kW photovoltaic rooftop array. The solar paneling also helps the home achieve a Home Energy Rating System (HERS) Index rating of 12.
While most people would plant a basic grass lawn in front and behind the house, Freeman and Dolce opted for an alternative lawn highlighted by an expansive pollinator meadow in the front yard, accented with "no-mow" grass and raised garden beds.
There is also predominant use of native plants to sustain the local bird population and wildlife, as well as natural sustainably certified driveway material from nearby Stony Creek Quarry, and crushed clamshell walkways.
"[Freeman]'s specialty is staying on top of the latest technological innovations in building practices and products, particularly as it relates to energy efficiency," Celebration Green Design & Build notes. "He enjoys challenging himself to stay ahead of the curve and on top of developments in airtight construction, heating/cooling systems, insulation, ventilation, home automation, renewable energy sources, and most recently, comprehensive training in the [Passive House] standard."
There is similar praise for Dolce, who has spent most of her professional career in marketing, advertising, and market research. The company notes that Dolce's background and experience in communications, along with her passion for sustainable design, building, and living green, "perfectly suit her mission to keep abreast of the green/sustainable building movement as it relates to a commitment to raise awareness, inform and educate."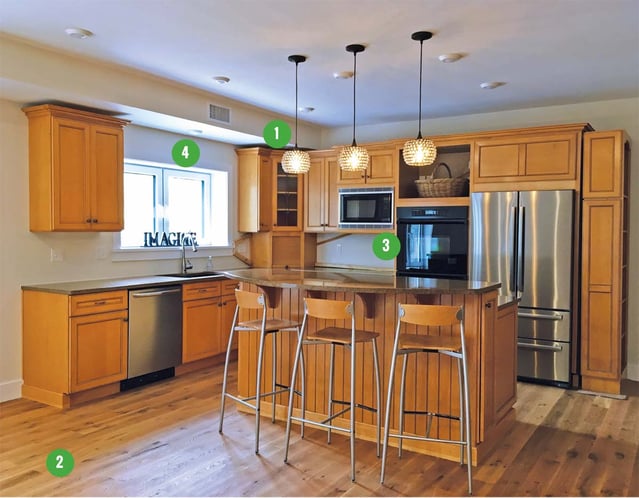 Frugal lighting. LED lights on the ceiling and elsewhere provide a low-cost way of brightening up the interior.
Local lumber. Flooring throughout the house is made from locally sourced live-sawn white oak wood and has a zero-VOC oil finish.
ENERGY STAR appliances. The suite includes an electric induction cooktop instead of gas.
Double defense. The Guilford House's double-wall construction helps stabilize indoor temperature.
Credit: William Freeman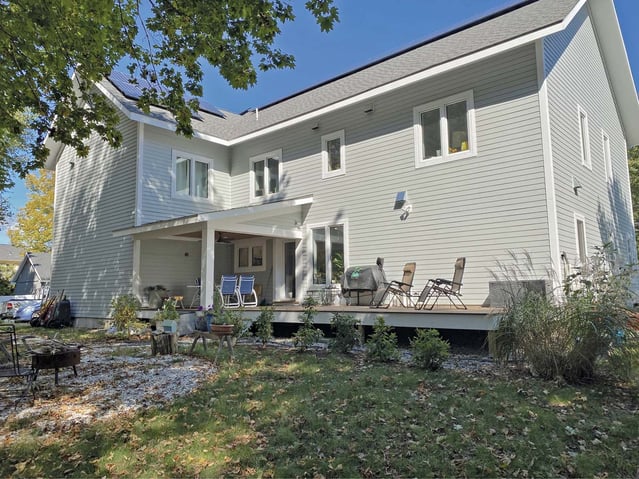 Zero-VOC paints, triple-pane windows and a solar array offer better control of the amount of energy used or lost during the day.Credit: William Freeman
Project Stats
Name: Guilford Zero Energy Passive House, Guilford, Conn.
Builder: Bill Freeman, Celebration Green Design & Build
Architect/Designer: Celebration Green Design & Build
Photographer: William Freeman
Key Components
Appliances: Bosch refrigerator and dishwasher, Blomberg washer/dryer, Samsung oven, Frigidaire induction cooktop
Building Envelope: Double 2-by-4 split wall, James Hardie siding, AZEK Zip wall sheathing, two-inch Lapolla spray foam insulation, Johns Manville fiberglass batt insulation
Cabinets, Shelves, Millwork: Fabuwood cabinets
Caulks and Sealants: James Hardie, 3M tape, Zip wall tape
Countertops: Quartz
Decks: Cumaru
Doors and Hardware: Schlage locks
Electrical: Eaton
Exterior Finishes: James Hardie siding, AZEK trim
Fire Protection: Honeywell
Flooring: Milliken Declare brand carpet, Hull Forest Products hardwood flooring
Garage Doors: Clopay
Home Controls: iDevices
HVAC/Ducts: Minotair Compact air treatment unit
Insulation: Lapolla spray foam, Johns Manville fiberglass batt
Landscaping: Ernst Seed Co., Outdoor Industries (Madison, Conn.), Summer Hill Nursery, Madison, Conn., Acer Gardens, Deep River, Conn., New England Wetland Plants, Amherst, Mass.
Lighting: Halo LED
Paints and Stains: Benjamin Moore no VOC
Plumbing/Plumbing Fixtures: Moen
Renewable Energy Systems: LG photovoltaic panels, SolarEdge Technologies inverter
Roof: Precision Roofing (GAF)
Telecommunications: Ubiquiti modem and router
Ventilation: Minotair
Water Heating: Rheem heat pump
Windows, Skylights, Patio Doors: REHAU Geneo Tilt-Turn windows installed by Access Window and Door, Manitoba, Calif.
Apr 5, 2021 12:46:01 PM · 4 min read
---

Veteran journalist Matt Power has reported on innovation and sustainability in housing for nearly three decades. An award-winning writer, editor, and filmmaker, he has a long history of asking hard questions and adding depth and context as he unfolds complex issues.