Wood Prices Cause Homeowners to Re-Think Decking Options

Samantha Carlin
3 min read
Composite materials are looking better than ever. They're an environmental, economic, and lifestyle investment that lasts a lifetime.
Sponsored Content
The traditional wood deck is becoming a thing of the past as high-performance composite decking options remedy the problems commonly associate with wood. Accordingly, the decking industry is transitioning towards a material that reduces maintenance and environmental costs, a win-win for all.
Composite Decking Gets Realistic
A few years ago, composite decks were easy to spot and only faintly resembled their wood counterparts, but technology has readily progressed the appearance of composite materials. Now, composite contains the same color variations, streaks and grain as their wood equivalent, giving Mother Nature a run for her money.
The wood look-alike is an inherently long-lasting combination of wood and plastic. Because plastic bags can last up to 1,000 years in the ocean or landfill, it is the perfect component to enhance the lifetime and durability of the wood sawdust. In addition, composite boards sometimes are made from recycled materials, averting the need to cut down trees for virgin lumber.

Composite decking company Fiberon uses recycled scrap wood from post-industrial and commercial partnerships that would otherwise be considered trash. Jake Szypka, Marketing Specialist at Fiberon explains how their company does this. "We are vertically integrated, so virtually all of the recycled plastic from the manufacturing process is pelletized and combined with recycled wood to make our boards," he says.
As a result, Fiberon's Good Life composite decking contains an impressive 96 percent of recycled materials, while still being an affordable and authentic-looking option. Other composite boards produced by the company also include recycled materials, with Sanctuary at 95 percent and Concordia, Horizon, and Symmetry collections at 94 percent.
Decking That Lasts: Life-Proof Durability
Traditional wood decks tend to warp and splinter with sun and moisture exposure, often creating an uneven and unsafe surface if left unmaintained within the first few years. With prolonged exposure to the elements and pests, wood will naturally splinter, fade, and rot over the years of use.
Consequently, most wood decks last only 10 to 15 years, even with proper upkeep. Savvy homeowners do the math and realize that replacing decking at this rate is not a good investment.
Due to the unique combination of materials, composite boards are long-lasting, durable and dependable. Fiberon's composite core keeps the products from warping and rotting. Similarly, the plastic component acts as a protective coating meaning fading and scratching is a problem of the past. In addition, the life of composite material is double that of wood decking due to its intrinsic waterproof, weatherproof and pest-proof attributes.
Select Fiberon deck boards feature a PermaTech cap layer for superior stain and fade resistance. The company offers up to 50-year stain, fade, and lifetime performance warranties on their premium products. "While the cost is slightly higher than wood, people are recognizing the composite alternative as an all-around better option," Szypka says.
Low Maintenance Decking Products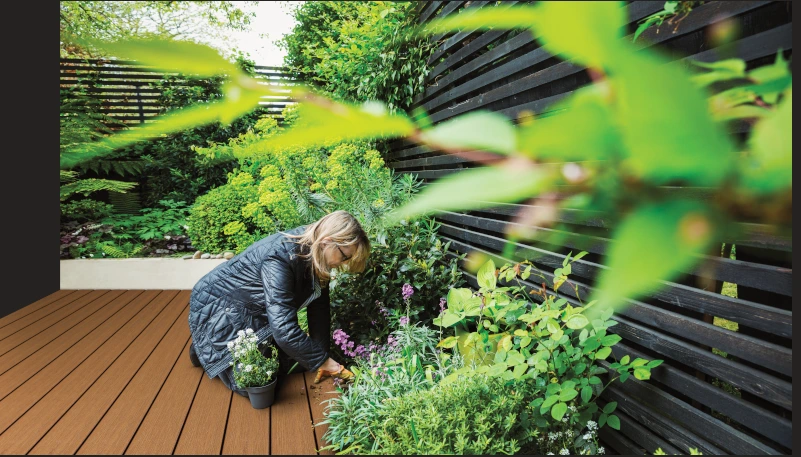 Fiberon Sanctuary composite decking in Moringa, which contains 95% recycled content.
It's no secret that wood decks need an abundance of attention and maintenance. Every one to two years, a wood deck needs to be sanded, painted and/or stained, which requires lots of time and investment. Also, the pressure treatment and stains used for finishing wood are harmful to both the environment and human health.
Preserve composite surfaces, conversely, require only a quick wash with soap and water. No harmful toxins are required to maintain the long-lasting beauty of composite material. Szypka emphasizes the simplicity of composite materials. "After installation, there is almost no upkeep cost," he says. "There is very little time and energy spent since the surface doesn't require sanding, re-painting, or re-staining."
Transparency for a Sustainable Future
Environmental product declarations (EPDs) indicate a company's commitment to understanding and reducing its products and services' environmental impact. EPDs compile the data, including a life cycle assessment, in an impartially transparent way. With an EPD, manufacturers can report objective and third-party verified data regarding the environmental performance of their products and services.
Fiberon has developed EPDs and life cycle assessments for several of its products, with many more to follow. Fiberon believes in transparency and wants to lead the charge towards revealing third-party data in the building industry. Making informed decisions based on energy use and embodied carbon is a high priority for Fiberon to regularly improve its products and manufacturing processes.
In terms of sustainability, Fiberon has been taking action towards reducing its environmental impact from the bottom up. For instance, any scraps, clippings, or samples are ground down and made into new boards.
Similarly, Fiberon understands that the manufacturing process is resource and energy intensive and has implemented closed-loop water systems to reuse water, saving billions of gallons annually. As a result of Fiberon's initiatives, the company now recycles 98.5 percent of waste from the manufacturing process.
Fiberon has a clear commitment to creating sustainable, durable, and beautiful composite decking products. As the world moves towards environmentally responsible building materials, companies like Fiberon are part of the solution.
Mar 2, 2022 10:57:03 AM · 3 min read
---

Samantha is able to express her passion for the environment -- both natural and built -- as the special projects manager at Green Builder Media. Prior to joining the Green Builder Media team, she worked as an order management specialist at C.A. Fortune, a consumer brands agency. She is a recent graduate of the Master in Environmental Management program at Western Colorado University with an emphasis on sustainable and resilient communities. Originally from the suburbs of Chicago, she is currently thriving in Gunnison, CO where she enjoys the surrounding geology, mountain biking, and skiing.