A New Standard of Transparency for the Building Industry

Erin Arrington
3 min read
New sustainability-focused development uses EPDs, other tools to choose products that reflect its mission.
Environmental Products Declarations, or EPDs, have been growing in popularity as a tool that builders, architects, and engineers can use to minimize the environmental impact of their projects.
An EPD is a standardized document that communicates the environmental performance and human health impact of a product or material over its lifetime. These documents support carbon emission reduction efforts by providing transparency while allowing builders to easily compare the long-term impact of products and efficiently choose the most sustainable options.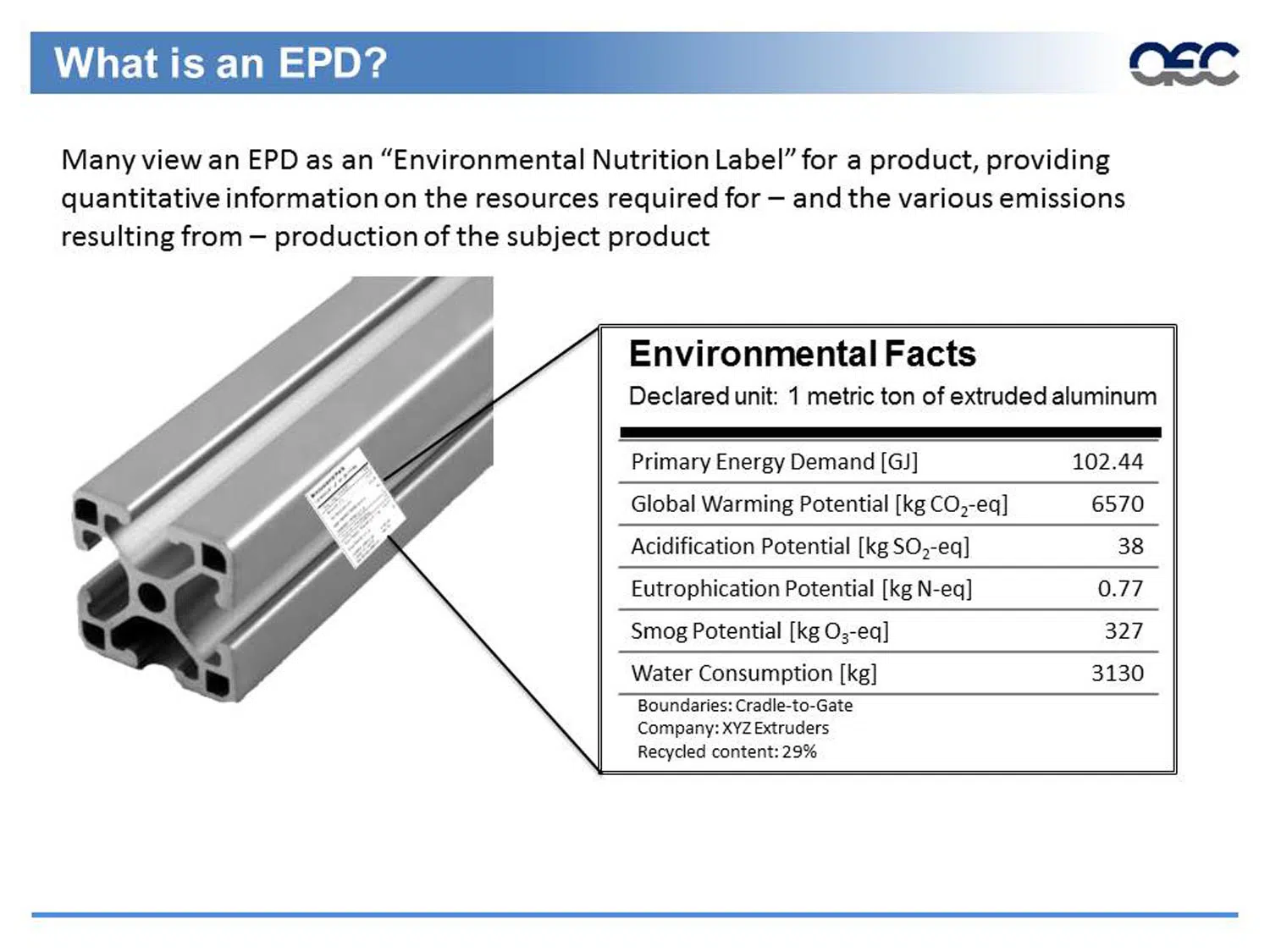 What are EPDs?
An EPD is a condensed version of a life-cycle assessment (LCA), which calculates the data that supports the declaration. They provide a quantitative, standardized basis for assessment and comparison. An LCA itself utilizes life-cycle inventory analysis (LCI) calculations and processes according to the ISO 14040 standard.
Additionally, ISO 14025 (Environmental Labels and Declarations — Type III Environmental Declarations — Principles and Procedures) is used to develop declarations. Using ISO 14025 is another guardrail that ensures EPD programs are constructed in a standardized and comparable way.
Another key component of LCAs and EPDs are PCRs, or product category rules, which outline how data is collected for a specific type of product. PCRs also contribute to the standardization of how products and materials are described and measured.
One of the goals of Environmental Products Declarations is to increase the demand and, ultimately, the availability of products that have a relatively low negative impact on the environment.
Formal EPDs may include:
Product and manufacturer information
Product category rules
Content of materials
Data on raw material acquisition
Efficiency and energy use
Emissions
Waste generation
Analysis of LCA results
Benefits of Environmental Products Declarations
According to the National Association of Home Builders' 2020 Green SmartMarket Brief, "Third-party verification, whether through a HERS score or through certification, is the top way that home builders demonstrate to their customers that projects that they build are green."
Clients seeking accreditations such as LEED will prioritize products with EPDs. In some cases, the use of products with declarations in and of itself is enough to qualify for these credits.
How to develop an EPD
Choose a program operator that will oversee the EPD creation process in adherence to ISO 14025 standards and the applicable PCR.
Find or develop a PCR that applies to your product category. Collect data, including waste generation, raw materials, and energy use.
Conduct a life-cycle assessment.
Prepare a background report for the EPD. Known as an LCA report in the U.S., this report provides further information on the LCA methodology and the standards adhered to. This component is not part of the public EPD.
Acquire third-party verification. Every EPD needs to be verified by an independent, third-party verifier prior to publication to ensure the accuracy and completeness of the document. This independent verification is required for an EPD to be recognized by LEED and BREEAM, as well as other credits and certifications.
Publish the EPD. The program operator will generally oversee the processing, registration, and publication of an EPD.
Once an EPD is completed, it's typically valid for five years, and the cost of producing them is footed by the manufacturer.
In addition to the benefits EPDs offer to professionals in the construction industry, manufacturers can get a competitive edge by incorporating declarations into their product development. Although they're generally not legally required, as awareness of the environmental impact of building projects grows, builders will increasingly rely on EPDs as a way to limit emissions.
The same NAHB brief also found that a perception of a lack of sustainable products to be a factor limiting the growth of green building. It reads, "The availability of affordable, high-quality green products is also a notable driver and the lack of these products is a key obstacle: This perception is shared by builders and remodelers of single-family and multifamily homes, and it reveals an opportunity for manufacturers of residential products."
EPDs and the Sonders Community
Sonders Fort Collins, an upcoming development in Fort Collins, Colo., aims to set a new standard in sustainability and health for its residents. Thrive Home Builders, a primary builder for the community, has utilized EPDs and other transparency tools when considering how to minimize the homes' carbon footprint and which manufacturers to partner with.
Many manufacturers of the products included in the Sonders homes, such as Owens Corning, have been at the forefront of developing EPDs for their products. Uponor, who's contributing pipes and pipe fittings to the Sonders project, aims to have EPDs for their entire product portfolio by 2030.
In some sectors, however, the agreed-upon standards needed as a prerequisite for EPDs have yet to be developed, such as in the smart water industry. In those cases, the builders for Sonders Fort Collins have utilized a multi-pronged approach that considers a company's record of sustainability, as well as other certifications like LEED and ENERGY STAR.
While EPDs are a tool still growing in ubiquity, they're the future for any manufacturer who wants to meet the increasing demand for sustainable homes and communities.
May 25, 2022 1:01:23 PM · 3 min read
---

Erin Arrington is a freelance writer and editor who covers sustainability initiatives throughout and beyond Alaska.