Will "Shrinkflation" Result in Smaller New Homes?

Michele Lerner, Associate Editor
5 min read
Builders say interest rates and prices have floorplans shrinking, but just a little.
Smaller is good for today's homebuyers, especially millennials and Gen Z buyers who want a sanctuary, not a mansion. But even those who would like to own a bigger house can't always afford one in today's environment of higher interest rates and high home prices.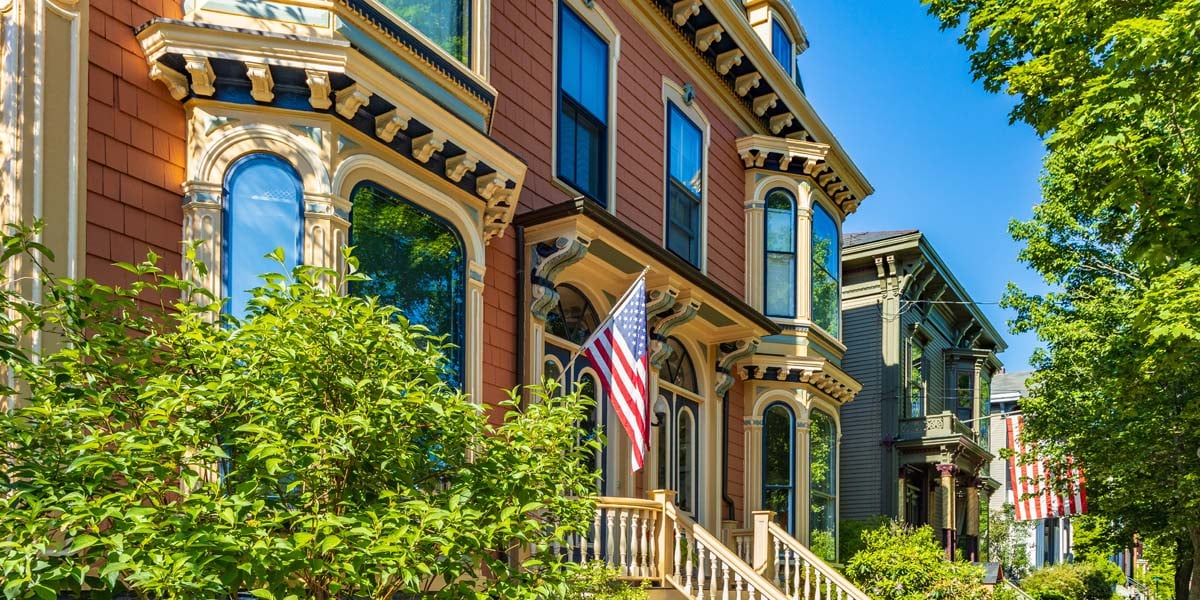 Affordability is a big reason to be satisfied with something less than a McMansion, but there's more to it than just the price. Many buyers want a more efficient floor plan that's easier to maintain, quicker to clean, has less space to heat and cool so they can save on utility costs, according to COGNITION Smart Data market insights from Green Builder.
The National Association of Home Builders (NAHB) reported that the average square footage for a new single-family home was 2,469 square feet in the first quarter of 2023, down 2% from the previous quarter and the lowest average in more than a decade. The NAHB anticipates that home sizes will continue to trend lower because of affordability constraints.
"Homes are still much bigger than they were in the early 2000s," says Kelly Mangold, a principal with RCLCO, a real estate consulting firm. "Affordability has been a challenge for longer than just the past year or two – and in the past builders have tended to build for the upper portion of the market in many cases more than entry level."
Millennial buyers prioritize compact floor plans of 800 to 1,500 square feet, according to COGNITION survey data, which is significantly smaller than the average square footage for new single-family homes during the first quarter of 2023.
The shift among builders to smaller homes can be tied to smaller lot sizes, which have trended down over the past 15 years, Mangold says.
"Smaller lots mean increasing density, and in many cases that may align with both affordability and a smaller home size," she says.
Many of the largest builders are focusing on providing more affordable homes and higher density communities, says Dan Fulton, a senior vice president with Zonda Advising, a real estate consulting and data analytics firm.
"Higher density housing appeals to growing consumer segments, including young people looking for affordability and mature households who desire a low maintenance lifestyle," Fulton says. "The locations may be different, with suburban areas appealing to those looking for an affordable home vs. mixed-use developments and urban locations for those looking for lifestyle."
In addition to smaller single-family homes, builders are offering 16- to 20-foot-wide townhomes, townhome-style condominiums and stacked-flat condos, Fulton says.
While homebuyers and the environment benefit from smaller homes, so do builders and developers.
"The communities that are offering smaller entry level products are seeing more significant increases in their sales pace over the past year," Mangold says. "Communities and builders have been responding to increasingly unattainable prices by offering a more diverse product type to expand to the market audiences they can capture, which means offering a smaller and more affordable product at the entry level when possible."
Fifty percent of all buyers were first-time purchasers so far in 2023, according to a recent report from Zillow, which compares to 45% in 2022 and 37% in 2021. It's not surprising that builders are focusing more attention on this group instead of on move-up or luxury buyers. The jump in market share of first-time buyers is likely a reflection of the fact that many repeat buyers have dropped out of the market to avoid swapping a home with a mortgage of 3% for one at 6% or more, along with high home prices.
What Buyers Really Want in a Smaller Home
Traditionally, many buyers thought "bigger is better" and wanted a large house with the lowest possible price per square foot. Priorities shift over time and now buyers are looking for larger yards and a connection to nature rather than a bigger house, according to COGNITION research.
In the initial months after the Covid pandemic began, people felt they needed more space because they spent more time at home. Private outdoor space became especially valuable, along with flexible floor plans that allow for multiple uses in every room.
In recent COGNITION surveys, millennial buyers prioritized ergonomic offices in their homes with built-in workspaces, optimized screen viewing and a central "command and control" center for their homes, none of which require a massive home office.
Emotional wellbeing and healthy living are also important for homebuyers today, who want sanctuary spaces in their home where they can find peace and solitude, such as a small meditation room or a private garden.
Where Homes May Shrink
The America at Home Study, an extensive survey of how Americans feel about their homes, was first conducted in April 2020, with subsequent surveys in October 2020 and October 2022 to track changing priorities because of the pandemic.
"There is a robust consumer mindset for homes and communities that support how people want to live today, and that doesn't have to mean a big home or a big yard. It means a home that works for different family formations and helps people live better, healthier lives," says Belinda Sward, Co-Founder of the America at Home Study and Founder of Strategic Solutions Alliance.
Data collected by the survey found that 50% of people are "somewhat willing" to accept a "smaller than ideal" home.
The biggest changes in home size are likely to be in entry level homes where customers are most cost conscious, Mangold says.
"It's likely that just overall spaces such as bedrooms and living spaces are getting smaller rather than a dramatic change in unit mix such as more homes with fewer bedrooms, although it is possible that both of those factors are at play in the smaller average square footage today," Mangold says.
Respondents to the most recent America at Home Study ranked the most important rooms as the family room (46%), primary bedroom (19%) and kitchen (18%), which means those rooms may be less likely to be reduced in size than other spaces.
Climate change ranked third as the top concern for those in the most recent survey, with 31% stating it was their biggest concern, 62% citing inflation and 36% citing the economy.
Survey respondents predominantly mentioned eco-friendly features among attributes in a home that were important to their wellness. A private outdoor space or garden (67%) and energy conservation (65%) were top priorities for wellness, followed by water conservation (54%), eliminating chemicals and VOCs (54%), low energy windows (52%) and a home that minimizes impact on the environment (46%), according to the America at Home survey.
The top three features that survey respondents identified as missing from their homes, which builders may want to address, include better designed storage, better technology and energy efficiency, and a better equipped kitchen.
A smaller, more efficiently designed home can provide the features buyers want such as a kitchen that's easier to cook in, a place to work, a sanctuary space and a connection to nature and offer wellness and environmental benefits at the same time.
Sep 11, 2023 8:00:00 AM · 5 min read
---

Michele Lerner is an award-winning freelance writer, editor, and author who writes about real estate, personal finance, and business.