VISION House Sussex: A Grand Plan

Marc Huminilowycz, Guest Columnist
6 min read
These new model homes will offer a real-life demo of quality and common-sense housing.
Summer has arrived in the picturesque Sussex, Wisc., community of Vista Run near Milwaukee—a mixed-use, master-planned development with 300 home sites and 60 acres reserved for community amenities.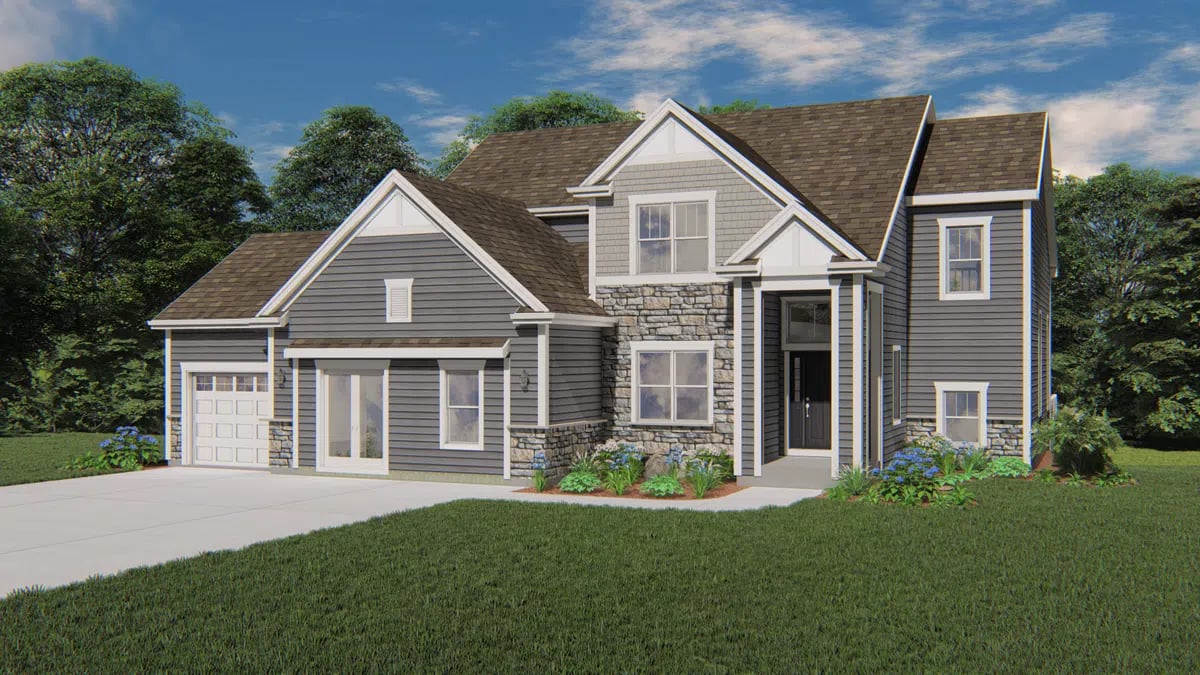 The VISION House Sussex model home, a partnership between builder Tim O'Brien Homes and Green Builder Media, will be one of five new homes in the community. When complete, it will showcase to builders and consumers how to optimize performance, sustainability, health and wellness, intelligence and resiliency at an attainable price point.
Over the spring, Tim O'Brien crews meticulously insulated every nook and cranny of VISION House Sussex to create a high-performance building, minimize heat loss and air infiltration, protect the home from moisture, and maximize its durability.
This involved multiple techniques perfected over the years: enhanced insulation in the exterior walls using a "blow-in blanket" system; filling seams in walls with caulking; installing a vapor barrier; installing baffles at truss ends for proper air infiltration in the attic; sealing the wire and fixture penetrations and top plates in the attic with spray foam to thwart drafts and moisture; and filling the attic with 17 inches of loose, blown-in fiberglass insulation to minimize heat loss.
"We chose the Vista Run community for VISION House Sussex and the other four homes because it appeals to our home buyers, who are typically looking for nearby amenities like schools, shopping and proximity to the interstate highway, along with walkable on-site trails, swimming and gathering places," says Tim O'Brien.
O'Brien adds that the VISION House is being built on a developer lot that was strategically selected for the purpose of marketing the home to drive-by traffic, and for optimum solar orientation to allow for electricity generation and storage supplied by an array of solar panels on the rear (west) and front (east) sides of the home.
"The house gives us the opportunity to provide suitable roof space for solar panels, and the developers have been pretty good at allowing panels on the front of our homes," he says.
The home is two stories, with a master bedroom on the main floor and three bedrooms on the second. As to its floorplan and design, VISION House Sussex, like every Tim O'Brien home, was designed first and foremost with specific high-performance metrics in mind.
"For example, we stay away from cantilevers to avoid cold floors in overhangs," O'Brien says. "For the garage placement, we tried to select the best opportunity for good solar orientations for the home by putting them on the left or right side of the house, without compromising affordability and customer preference."
Water conservation was another consideration in the design of the house. Although landscaping and drip irrigation in garden beds and lawns was included in the model home, Tim O'Brien Homes typically leaves this up to the homeowner.
However, with the entire community on municipal water and sewer, there were two opportunities to reduce the home's water consumption and improve the quality of the water effluent. All water fixtures in O'Brien Vista Ridge homes are low-flow EPA WaterSense certified. And water softeners, required because of the hard municipal well water, are on-demand, with regeneration based on occupant use.
"In response to an EPA concern about too much softener salt making its way into watersheds, we're participating in a pilot project with the Madison Metropolitan Sewage District, using Guthrie and Frey (GF) Ultra Series softeners that reduce sodium chloride intake, and thereby the amount of salt going into the sewage system," says O'Brien.
Using less salt and water during regeneration, the units are 40 percent more efficient than standard water softeners. This saves users money on detergents, soaps, shampoos and water use, while decreasing their home's environmental impact.
Products that Perform
With energy efficiency, indoor air quality, comfort and durability in mind, Tim O'Brien Homes carefully selected a number of market-available and cost-effective high-performance products for its VISION House. These include:
Carrier Dual Fuel Performance Multi-Zone Heat Pump and Gas Furnace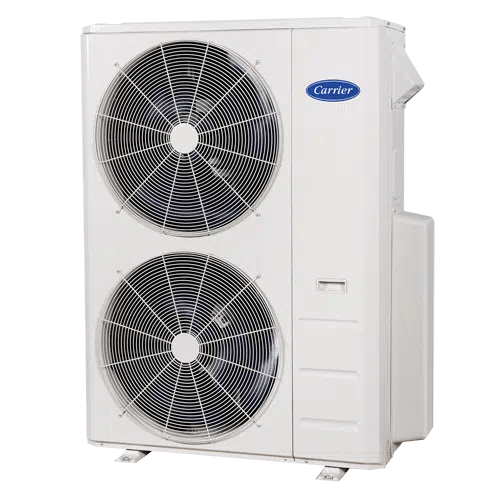 This dual fuel system will include the only gas combustion appliance in VISION House—fan energy-saving Carrier Performance 96 condensing gas furnace with smart electronics and multi-stage capabilities. This system, according to Tim O'Brien, will be used to heat the home only on the coldest days.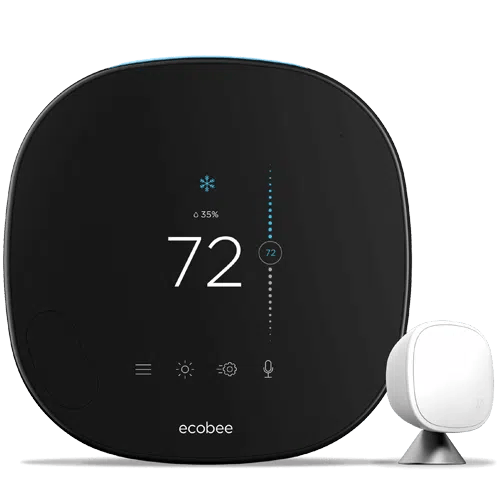 Thanks to its multi-zone heat pump, the Carrier system will reduce the home's carbon emissions by utilizing electricity instead of fossil fuels most of the time, keeping it cool in the summer and warm in the winter, down to 5 degrees Fahrenheit. As a multi-zone system, up to five multiple-style Carrier Performance High Wall Indoor Units, supported by one efficient outdoor inverter compressor unit, deliver warm and cool air to each room.
Controlling this system is Carrier's ecobee Thermostat with InteliSense and voice control, which tailors itself to homeowners' schedules, comfort preferences and outside weather.

Rheem ProTerra Hybrid Water Heater

In the U.S., the average household spends $400 to $600 per year on heating water, which makes up about 18 percent of its total energy costs. Using less energy to operate than a classic 100-watt incandescent light bulb, the ENERGY STAR-certified Rheem ProTerra Hybrid Water Heater in VISION House can save homeowners up to $490 per year in energy costs.
Over 10 years, that adds up to almost $5,000. Featuring heat pump technology, energy use tracking, energy saving and demand response scheduling, vacation and away mode settings, advanced diagnostics and built-in Wi-Fi technology, ProTerra is four times more efficient than a standard electric tank, producing fewer greenhouse gas emissions.
RenewAire Energy Recovery Ventilator (ERV)
The energy recovery ventilator (ERV) in Vision House, which some builders describe as a "fresh air machine," continually replaces stale indoor air with fresh outdoor air cleaned of dust and allergens by replaceable filters on central heating appliances and air conditioning units.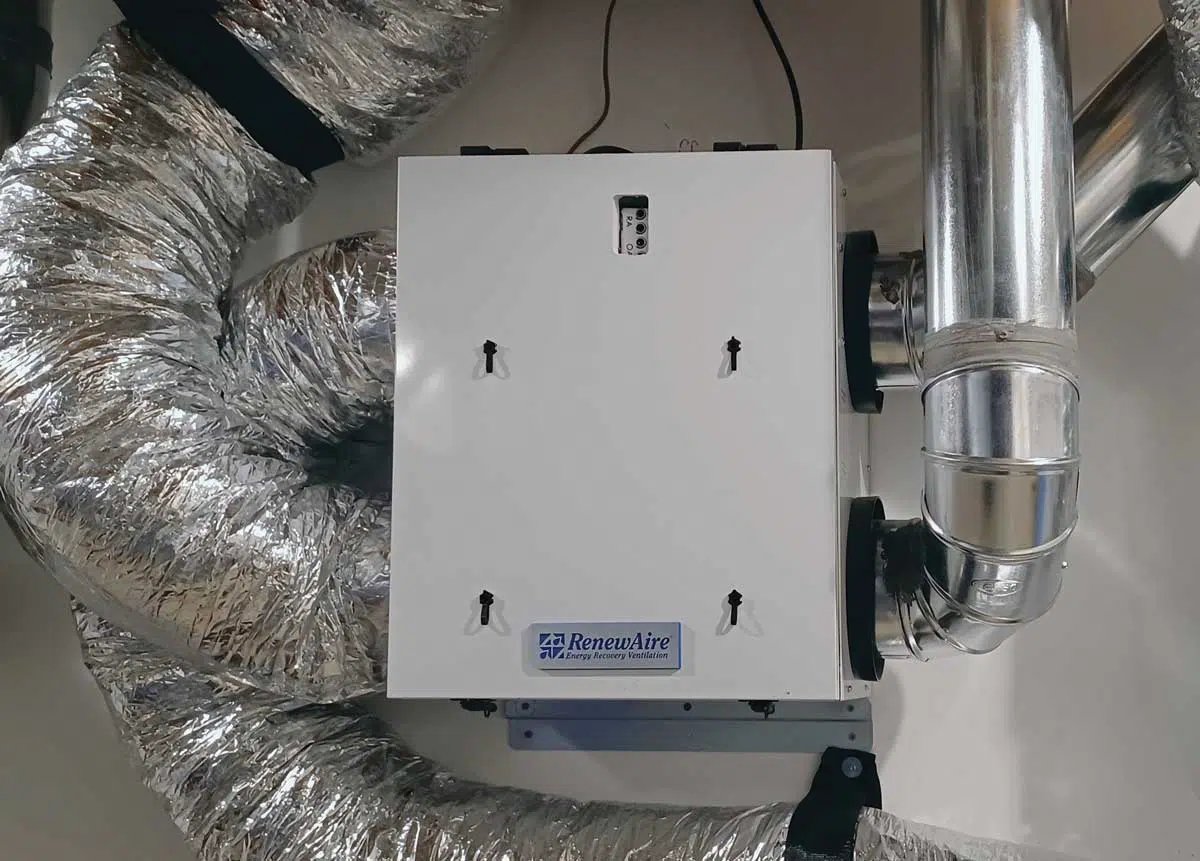 Using balanced airflows and recovering otherwise-expended total energy, warm and humid outside air is precooled and dehumidified in the summer. In the winter, cold and dry outside air is preheated and humidified. This results in less energy needed for conditioning and ventilation, as well as cleaner and healthier indoor air, better health and wellbeing, and cost savings for the occupants, and greater cost savings.
ENERGY STAR Windows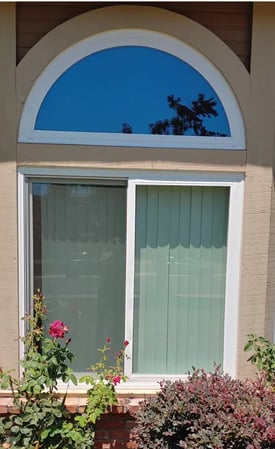 The windows installed in VISION House are recognized as an energy-efficient product by ENERGY STAR, a national program run by the U.S. Environmental Protection Agency and the U.S. Department of Energy. The frames are made of vinyl, a cost-effective material that doesn't rust, corrode or decay. The glass is double pane. To reduce heat transfer, the space in between the two panes is filled with argon gas and warm edge spacers surround the perimeter.
A thin, low-emissivity (low-e) coating on the exterior pane of glass limits the ultraviolet light entering the home while allowing for the passage of visible light. This coating keeps the home from overheating in summer while protecting furniture and flooring. And, weatherstripping surrounds the operable section of the window to minimize the intrusion of air, moisture and pests.
JinkoSolar Panels and Solar Storage
This energy system in VISION House Sussex, consisting of solar panels, batteries and a power inverter, will allow the homeowner to have backup electricity in case of power outages and "peak shaving"—economizing electricity rates by charging during off-peak times and using the batteries during on-peak.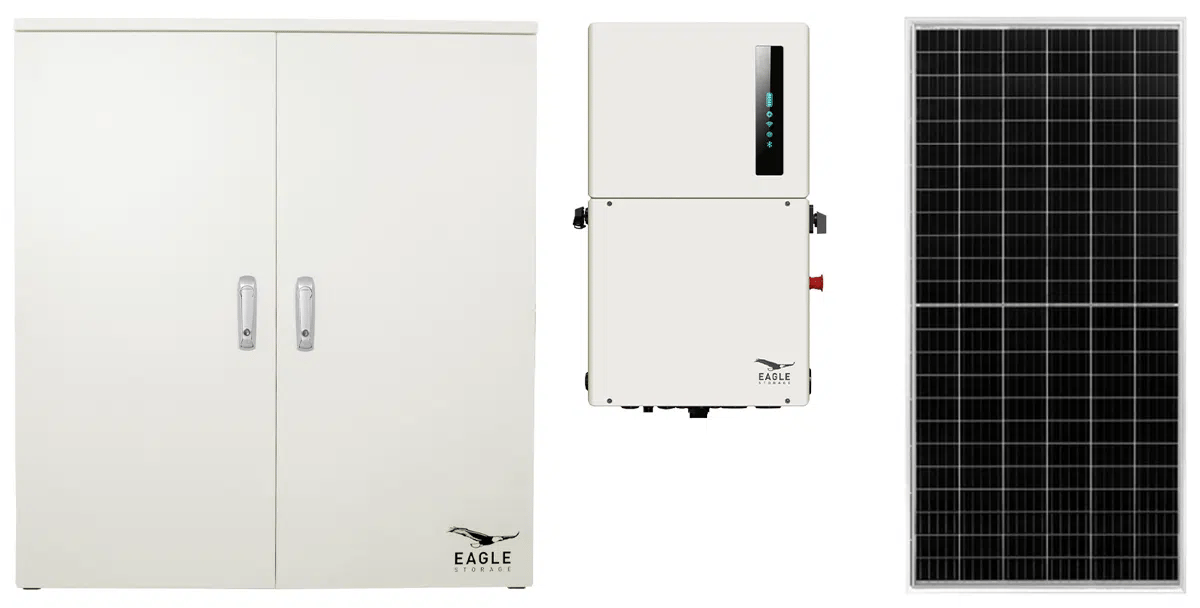 An array of sleek black JinkoSolar Eagle Continental solar panels generates a maximum system voltage of 1500Vdc, producing up to 400 watts per panel. One of the most durable solar panels on the market, Eagle Continental features a frame that will stand up to Category 3 hurricanes and tempered glass that is designed to withstand hailstones larger than a golf ball. JinkoSolar's Eagle RS fully-integrated, DC-coupled inverter manages the power from solar generation and stored electricity from a Li-ion lithium ferrophosphate (LFP) battery.
It features two energy capacity options—13.1 kilowatt hours (kWh) and 26.2 kWh—and a high-power output of 7.6 kilowatts (kW) in all operation conditions to meet a great variety of homeowner needs.
Induction Cooktops
A GE induction cooktop will be part of the kitchen in VISION House. Up to 10 percent more efficient than a conventional stove, an (electric) induction cooktop gets its cooking power and precision from induction technology, which generates energy from an electromagnetic field below the glass cooktop surface to transfer current directly to magnetic cookware, causing it to heat up. With performance superior to standard cooktops, it offers fast heat (boiling water in about half the time) and superb simmering capabilities.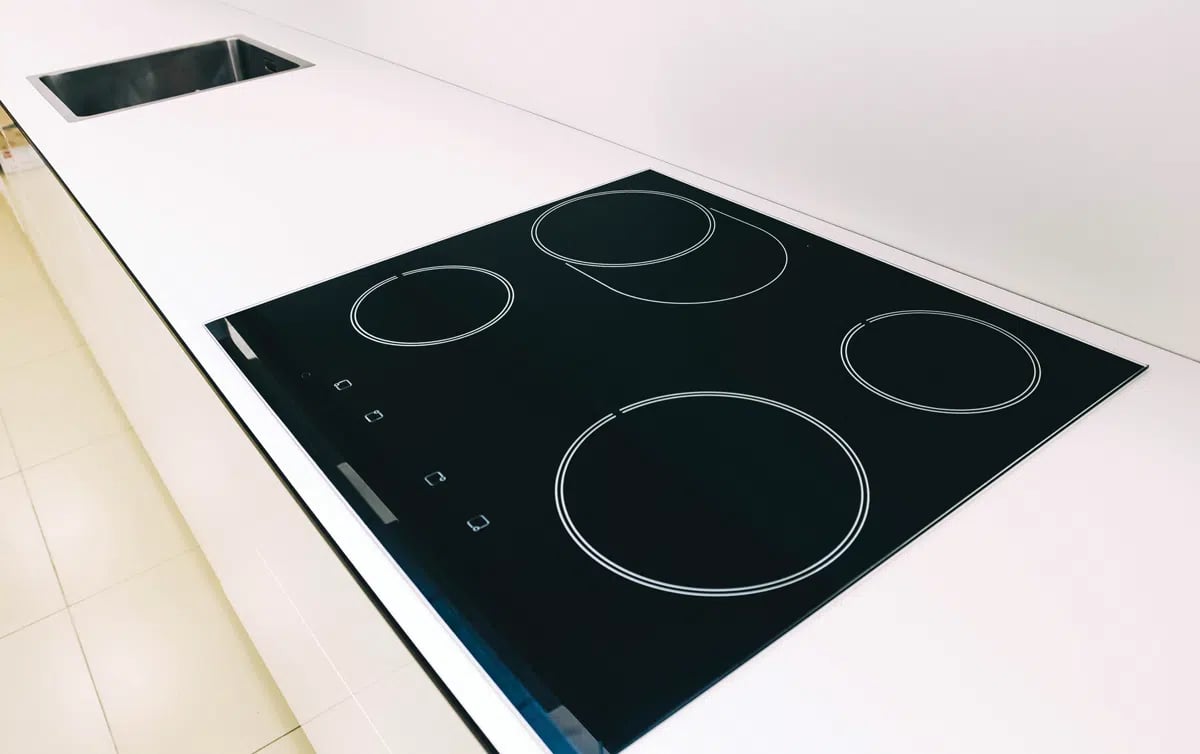 Sep 7, 2023 8:00:00 AM · 6 min read
---

Award-winning content writer and editor specializing in residential building and energy-efficient homes.