VISION House at Mariposa Meadows: Exterior Motives

Cati O'Keefe
8 min read
Don't be fooled by the tranquil appearance of the VISION House at Mariposa Meadows—this is a powerhouse built to withstand the most extreme weather.
Spring finally comes to the meadow. The U.S. Forest Service truck idles at the gate while a ranger unlocks the metal bars that have blocked traffic from the forest road during the treacherous winter season. It is this way every year. From the first real snowfall in November through the end of May, the road to Mariposa Meadows, deep within the San Juan mountains of Colorado near Telluride, remains closed.
A few miles down the road, quietly under blankets of snow, the three super high-performance units that make up the VISION House at Mariposa Meadows complex stand serene and cozy. Set for completion in the short work window of the next four to five months of amenable weather, now is their moment to shine.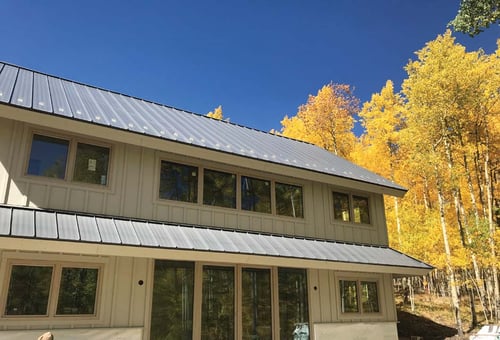 The VISION House at Mariposa Meadows consists of three net-zero energy, high-performance buildings, which will serve as an off-grid sustainability center in the Rocky Mountains of Colorado.
Building science when it really counts
Mariposa Meadows will debut this year, and its timing could not be more perfect. As the world grapples with coronavirus and climate change, interest in living more sustainably has heightened. "On social media, news, blogs and forums, people are actively talking about the coronavirus pandemic's ironic positive environmental impact," says Sara Gutterman, Green Builder Media CEO and co-owner of the project. "We've seen reports of measurable improvements in air and water quality over the past few weeks because of the shutdown of business, industry and transportation across the globe."
While the country—including the building industry—needs to get back to business, is it possible that new sustainable paradigms will emerge, allowing us to house people in smarter ways? Could we indeed have the best of both worlds—a sustainable environment and housing that offers human-centric design, resiliency, energy efficiency and comfort?
Ron Jones says we can. In fact, he has been saying this throughout his decades of work as a sustainable architectural designer and builder. Jones is the co-owner, designer and builder of Mariposa Meadows, which is in many ways his most ambitious project to date. But even with its lofty goals of being off-grid, self-sufficient, resilient and carbon neutral, the building concepts and best practices of this project can be used in any type of high-performance build.
Nowhere is this more clearly demonstrated than in the building science and products behind the project's exterior and building envelopes.
"When we began visualizing the initial phase of development at Mariposa Meadows, we embraced the challenges of building on a remote site at an elevation of 10,400 feet, on steep, rocky terrain in the midst of an aspen forest," Jones says. "And we knew that to execute a successful project, one capable of matching the sometimes extreme conditions there, our design approach and product selections would be of paramount importance."
As the diagram at the end of this article points out, Jones has addressed each exterior aspect by carefully selecting products for their resilience, energy efficiency and beauty.
"Durability is paramount," Jones emphasizes. "We chose everything for a challenging, remote location. In fact, I can't pull out one product and say it is the weak link. Everything selected is best of class—every single component."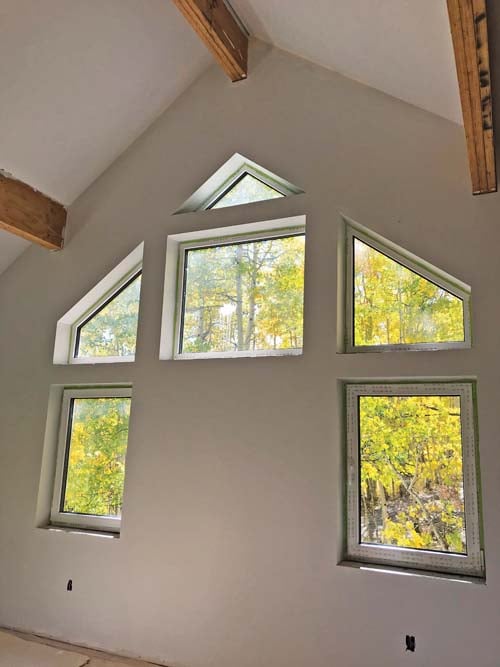 Each home's EuroLine ThermoPlus windows look good and maintain internal temperature even better, thanks to R-10 insulated triple-pane glass.
So as Jones returns to resume work on the buildings, the first thing he does is check to see how they weathered the brutal winter. Let's walk with him around these extraordinary buildings to see how the design, products, building science and systems coexist in a perfectly balanced ecosystem.
Building from a strong foundation
The project's three structures—Aspen Cabin, Atrium Duet and Studio—feature foundations constructed from insulated concrete forms (ICFs), and walls and roofs made from structural insulated panels (SIPs) placed on a carefully prepared site.
"Preparation of the building pads involved considerable effort," Jones says. "[This is] due not only to the topography but also to the geology, since a typical thin layer of soil covered extensive areas of deep-running veins of rock that necessitated a good deal of over-excavation followed by fill and compaction to allow for foundation work, plumbing rough-ins and buried utilities."
The slabs feature four inches of insulation underneath them. "The insulation on the foundations and slabs is incredible," Jones says.
The Nudura ICFs consist of rigid polystyrene forms filled with concrete, which is reinforced with rebar. The forms can be adjusted to accommodate desired wall thickness.
"I'm a firm believer in ICFs," Jones says. "One of the main advantages is that a small crew can handle quite a bit of material." Using ICFs instead of a full concrete structure also reduces the total amount of concrete required—a good thing, since the product is expensive and difficult to deliver to a remote site such as Mariposa Meadows.
Walls constructed from SIPs provided by the Structural Insulated Panel Association (SIPA) and Big Sky top the super-insulated foundation. "Working with SIPs required a learning curve, says Jones. "There's a simple but detailed procedure to prepare. It also takes more machinery than conventional construction, but if you have the equipment and an experienced crew available, it can really speed up the building process."
When Jones enters the buildings, he is not surprised at the temperature inside. "SIPS are so amazing," he explains. "You can go up there first thing in the morning when the temperature is in single digits or zero outside, and inside—where there is no mechanical heat, just solar gain and an insulated envelope—the lowest I've seen the temperature is 40 degrees F."
Jones specified that DuPont's Tyvek DrainWrap and FlexWrap products provide air and water resistance and vapor permeability. The DrainWrap, in particular, offers a grooved surface for water drainage, which is a good choice to use with the fiber cement siding.
Jones is quick to point out that while the DrainWrap-covered SIPs and the ICF foundation are the workhorse products in this collection of resilient buildings, they wouldn't function correctly without complementary choices for the openings.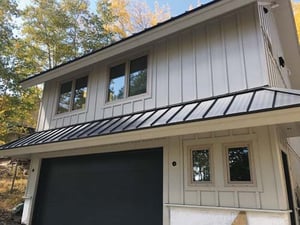 Openings that add value
Jones chose EuroLine's 4700 Series ThermoPlus windows and patio doors for two reasons: their aesthetic, and their performance. He didn't quite bank on the third attribute. "It took seven good men—and me—to move the patio door alone," Jones recalls. "Of the thousands of high-performance fenestrations I have installed, these windows are the heaviest."
The product's heft adds to its durability and resilience, and the triple-glazed glass offers R-10 insulation. "I am so thrilled to have these windows and have the highest praise for the product," Jones adds. "They are beautiful, functional, and magnificent—and one of the most-appropriate components of the building envelope inside and out."
Also part of the thermal story, the Assa Abloy insulated steel entry doors and the Clopay garage doors add functionality to the spaces without sacrificing performance. "The R-15 garage door has a 100-mile-an-hour wind-load rating, which is important for durability and energy efficiency on a wind-whipped site," Jones notes. "In addition, it helps make the garage with its Uponor radiant heating system operational year-round, while also providing security and fire protection."
Impenetrable roofing and siding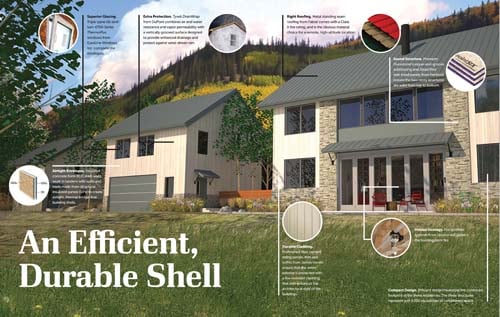 Click the image for a larger version
Jones and Gutterman shared a concern for fire resistance and durability when they were choosing the siding and roof. "Standing seam metal roofing was a no-brainer," says Jones. While they selected the Fabral roofing for its exceptional resilience, they also designed the project so that no penetrations would go through the product.
"There are no hollow soffits on the houses because sparks can come in through soffits," Jones explains. "We also vented everything out through the sides of the houses through the gables. The [energy recovery ventilation], plumbing, exhaust fans and vents all go out through the walls."
Creative Mines Products Used at Mariposa Meadows
TORTOISESHELL CRAFT FOOTHILL RUBBLE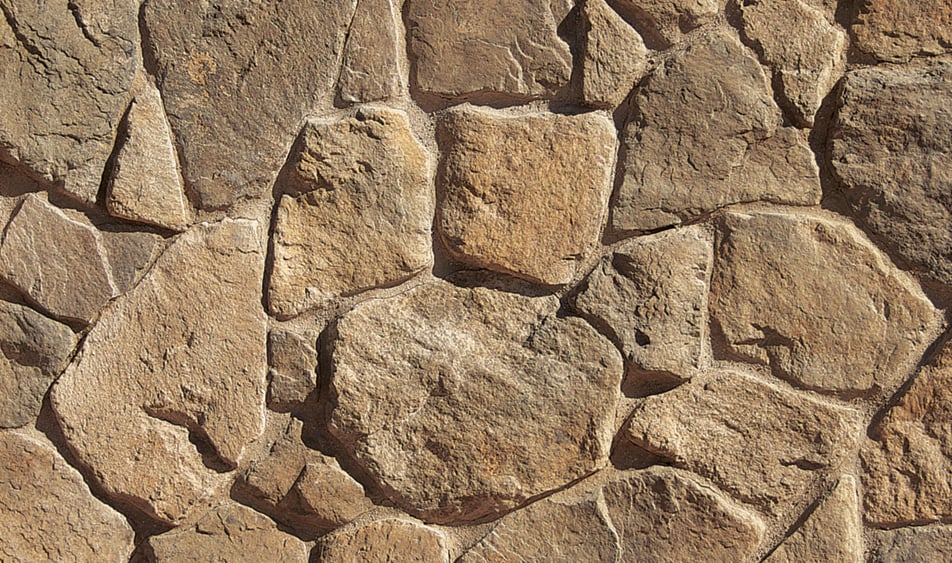 Tortoiseshell Craft Foothill Rubble has rustic, irregular stones that vary considerably in shape, scale and surface texture. Its palette is sepia and olive-brown with hints of bisque and burnt cream.
TWINE CRAFT SPLIT MODULAR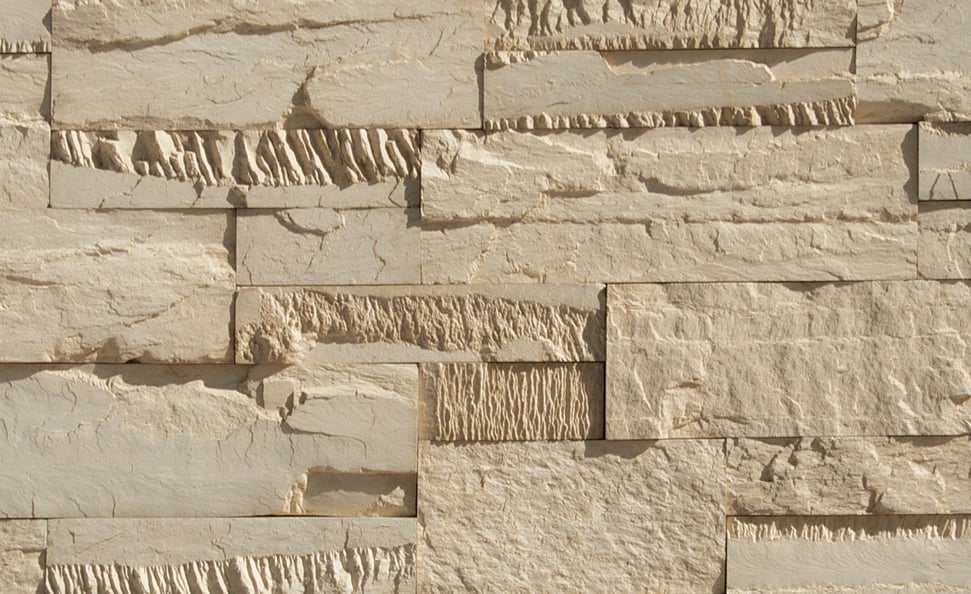 Twine Craft Split Modular is a modular stone with clean cut edges. Its monochromatic khaki color palette emphasizes its split face and occasionally pronounced sawtooth texture.
Jones did this partly because of the heavy snow loads the houses will bear. With no penetrations on the 9:12-pitch roofs, the snow slides off the roof, and what snow remains will not infiltrate the house. The impenetrable roof also provides protection against embers should a forest fire occur.
For a similar reason, Jones opted for James Hardie fiber cement siding and trim. The vertical board-and-batten product is fire resistant and durable, while its solid color qualities and dimensional stability eliminates cracking or peeling. James Hardie offers the siding prefinished with ColorPlus technology, which gave Jones 25 colors to choose from and the promise of low maintenance even at high elevation with its severe weather and with strong ultraviolet rays.
The masonry veneer wainscoting by Creative Mines is a sustainable product that uses natural pumice pozzolan in its 70 percent post-industrial recycled content, replacing smokestack-produced fly ash. The application of this stone will be part of the next few months' work, along with the expansive fire-resistant, low-maintenance Trex hardscaping in the outdoor living areas, once the buildings have been completely finished.
Jones is particularly excited about these important finishing touches, as they will bring these super-insulated structures to life, emphasizing that beauty, sanctuary, livability and comfort are the hallmarks of home.
Follow along as we highlight these portions of the exterior build in upcoming articles. In the meantime, check out the VISION House at Mariposa Meadows story online for more details about the project tenets, building science and innovative products.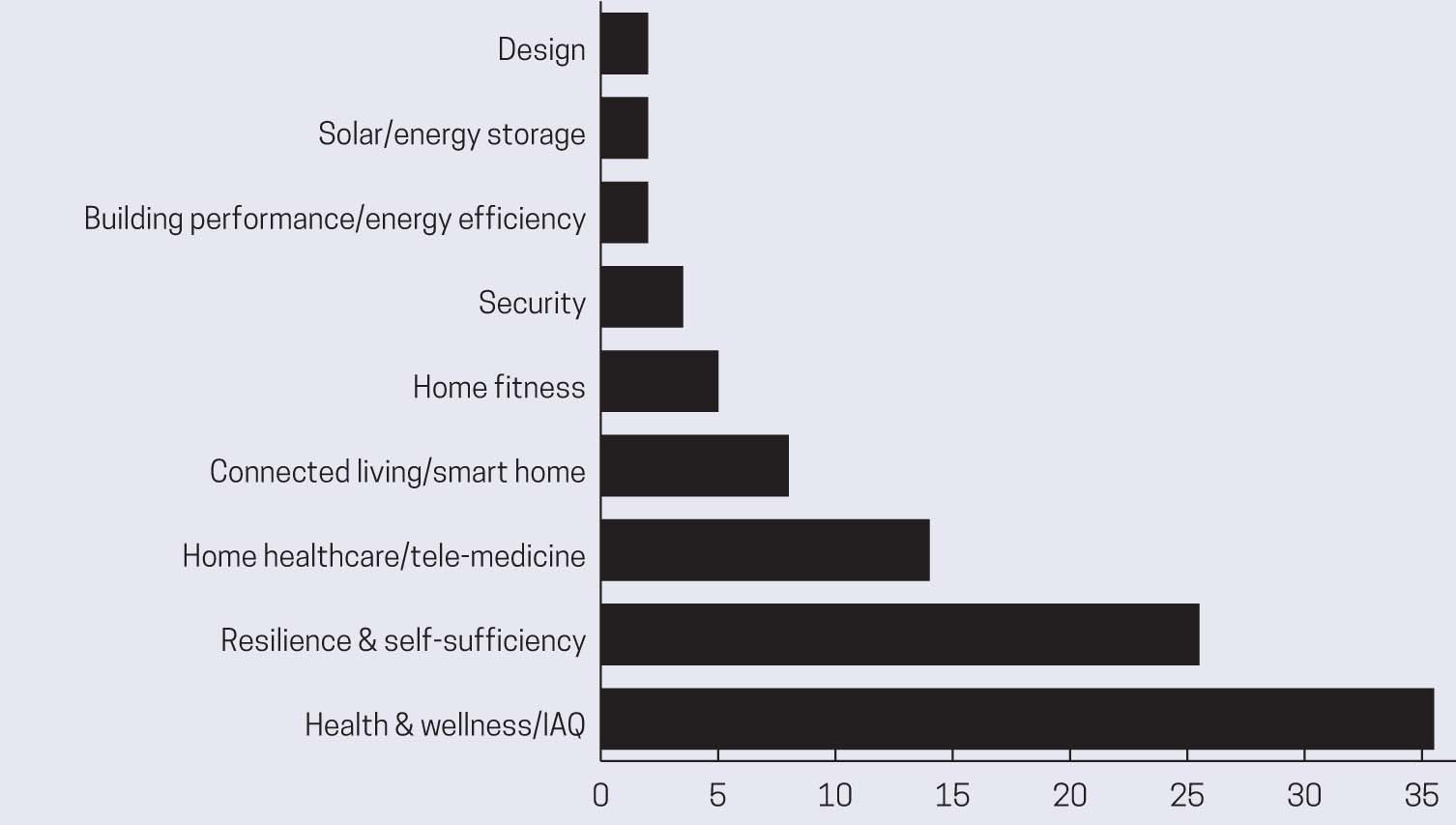 COGNITION Smart Data reveals that COVID-19 is changing how people think about different aspects of living and home. Demand for health and wellness, and excellent indoor air quality has skyrocketed, followed by a burgeoning interest in resiliency and self-sufficiency.
Mariposa Meadows at a Glance
Surrounded by millions of acres of national forest in the San Juan Mountains of Colorado near Telluride, the VISION House at Mariposa Meadows unites extraordinary design, extreme performance, innovative products and intelligent technology. The VISION House at Mariposa Meadows features a wide spectrum of sustainable solutions, from high-performance building envelope systems to renewables to enabling technologies, extending into areas such as wildfire risk mitigation, intelligent water, waste reduction, clean mobility solutions, on-site food production and ecosystem protection. In addition, on-site testing, research and performance monitoring activities, Mariposa Meadows will be used as a destination location for a variety of thought leadership events, with the goal of educating visitors about advanced sustainable living solutions. While the vision for Mariposa Meadows is big, the footprint is small. As with every good building project, the team is doing its best to respect the privacy and solitude of the neighbors—namely, the moose, elk and beaver.
---
Resources:
Green Builder Media: "How to Run Electric Through SIPS"
Green Builder Media: "Mariposa Meadows: Live Life Free"
SIPA: "Building With SIPs: Need to Know"
SIPA: "Designing With SIPs: Design Considerations"
Jul 8, 2020 12:25:33 PM · 8 min read
---

Cati O'Keefe is the editorial director of Green Builder Media. She has 25 years of experience reporting and writing on all aspects of residential housing, building and energy codes, green building, and sustainability.