Video Interview: Catalytic Project Expert Moves Sustainable Projects Forward
Jack Tiebout delves into his experience with economic development, business accelerators, ideas sharing and, of course, plants.
As the opportunity zone program manager at the Colorado Office of Economic Development and International Trade (OEDIT), Jack Tiebout has worked to culminate his many strengths to excel in this position.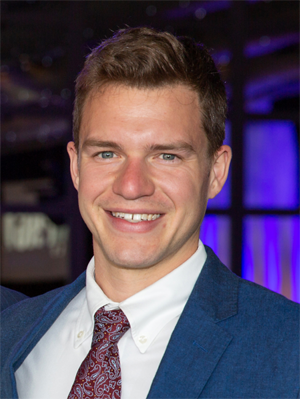 Tiebout, torn between his interests in writing and urban farming, didn't know what the future had in store for him after college. The deciding factor? Tulane University offered him a grant to research urban farming in Detroit. "That was about as enticing as any other post-graduate option I could think of," Tiebout claims as he relives the excitement of this opportunity.
After submitting his successful final report to Tulane, they invited him to join their social entrepreneurship accelerator program. Tiebout used this unique opportunity to create an urban farm from scratch in New Orleans.
Soon after, Faubourg Farms was launched, providing straw bale vegetable gardens and produce to restaurants and schools. With the farm, he partnered up with the ReFresh Project, a food and wellness hub in New Orleans, nationally recognized for their best practices and health-oriented re-development initiatives.
Tiebout's experience with the ReFresh Project allowed him to work closely with urban planners, architects, economic developers, local politicians and community members. Quickly, he realized his calling was for working on catalytic projects, helping bridge gaps between different groups and finding a middle ground.
Tiebout sold his stake in the urban farm and went on to pursue his passion. First, he earned his masters in urban planning and economic development. After graduation, he was able to get experience in policy and work for the Urban Land Institute, a global land use, real estate, and urban planning think tank.
In January 2020, Tiebout joined the Colorado OEDIT team. "I see it as a synthesis of a lot of the early work I did," Tiebout says. "I'm a liaison between local governments, local economic development folks, developers, investors, and a few others that aren't perfectly aligned—and my job is to be the go-between and an advisor to each side."
Tiebout recounts that he didn't take the most conventional route from urban farming to his position at OEDIT. Instead, he struggled to find where he could maximize his strengths. Discovering and amalgamating his less tangible strengths has undoubtedly helped establish his professional goals.
Tiebout was particularly passionate about OEDIT's accelerator program that launched in March 2020. He boasts exceptional success with the first round of 10 businesses they took on. They were able to provide structure, guidance, and opportunities to boost these companies toward success.
National recognition and multiple requests to replicate the process give credibility to OEDIT's success. Tiebout is excited to share what they have learned and facilitate the spread of knowledge. He claims "there is no real secret sauce, so we are happy to share what we have learned and help other folks set up something similar."
When asked to advise our readers, Tiebout expresses his past apprehensions with networking events—recalling feeling selfish and guilty for "wasting" people's time. However, he has realized that it does not have to be transactional; if you come from a genuine place and have good questions to ask, people are happy to connect. Now, "being on both sides of it, I wish that a few years ago I had had confidence and not been as reluctant to reach out to folks," Tiebout says.
When it comes to small sustainability focused home upgrades, Tiebout suggests getting into gardening and house plants. As a previous urban farm owner, he still gardens and collects house plants as a hobby, noting the positive psychological effects of tending to living beings. This trend has boomed in the pandemic, but Tiebout hopes to see it become a permanent trend within households.
---
Publisher's Note: This content is made possible by our Today's Home Buyer Campaign Sponsors: Panasonic, Whirlpool, Rockwool, and Lee Industries. These companies take sustainability seriously, in both their products and their operations. Learn more about building and buying homes that are more affordable and less resource-intensive on Today's Home Buyer.