Trex Steel Deck Framing: Durable, Yes, But We Need More Data
We know they're rugged and durable, and add lifespan to composite decking, but is the sustainability advantage worth the high initial CO
2

Footprint?

I've been keeping an eye on the Trex steel deck framing system since I first encountered it at a builder show in Las Vegas a couple of years ago. Now the company is making a push to spread the word about their Trex Elevations system.At about 2 1/2 times the price of a pressure-treated alternative, it's certainly within the budget of most high end projects.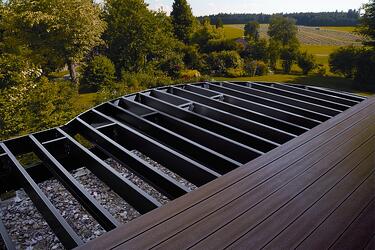 Trex makes a good case for the Elevations steel framing system. They say it "prolongs the life of a deck, with the guarantee of a 25-year limited warranty (surpassing pressure-treated lumber, which is often chemically treated to resist decay for a maximum of 15 years). They point to the prolific deck portfolio of Steve and Brucie Schneider who are TrexPro deck builders in San Rafael, Calif. These two have built hundreds of decks using Elevations, but also for a lot of other years. Their motivation is more practical than "green," however.
Schneider notes, for example, that he can easily use the steel material in ways that aren't deck-related, such as in the construction of low-level retaining walls, flower boxes and landscape walls. The steel framing system reduces excavation time and allows builders to create longer cantilevers—saving time, material and labor costs. Because of its lightweight nature, the material is less physically taxing on the carpenters and is especially beneficial when used for high-reaching structures.
I've asked the Trex people to be more specific about the impact of Elevations on decking longevity, and also to explain why the product has only a 25-year warranty. Shouldn't it be at least 50 years, to warrant the higher cost and higher environmental impact on the production side?
And I've asked them how a steel-framed deck compares in the real world from a life-cycle perspective to pressure treated and thermally treated wood products. We know steel is recyclable, and that does make a difference in a product's actual C02 footprint, but before we can recommend that thousands of builders switch to this system, we need the hard data. Trex has done a great job over the years in offering 100% recycled content in their decking, something few other companies can boast.
I'll update this story with research and add it to the building science feed (assuming you've signed up?) from as soon as I get some numbers from Trex.— Matt Power, Editor-In-Chief