Transforming our Future: Digitization Technologies
Full-scale decarbonization is being accompanied by a massive surge in technology innovation that will transform all sectors of the economy. Here are some of the groundbreaking advances that are digitizing the building industry.

Rising construction costs, material shortages, and labor challenges are compelling the building industry to innovate. (And, dare I say, modernize?) With the goal of increasing productivity and improving profit margins, companies throughout the sector are digitizing all aspects of business operations, from project management to HR to sales.

Advanced technologies like robots, drones, augmented reality, blockchain, and intelligent wearables are dramatically changing jobsite dynamics.

Robots are starting to replace certain human functions for enhanced safety. Robot "mules" can now transport heavy or hazardous materials. Some robots can construct scaffolding, lay bricks, drill, weld, assemble trusses, and paint autonomously, while others are programmed to conduct surveillance and inspect jobsites.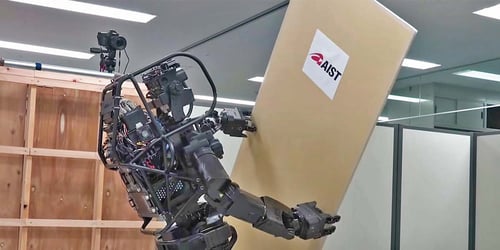 Image source: AIST, Japan's National Institute of Advanced Industrial Science and Technology
According to COGNITION Smart Data, drone use in the construction industry is growing by nearly 240 percent YOY. Drones offer the ability to:
Streamline processes: Drones are being deployed to rapidly map large areas, producing aerial heat maps and thermal images, as well as real-time, actionable data that can be used for rapid decision making.
Enhance safety: Drones can replace humans for dangerous jobs, like scaling supertall structures, to prevent injury.
Manage equipment: Drones can monitor equipment and serve as a valuable on-site security tool, reducing the risk of theft.
Augmented Reality (AR) leverages mobile applications, headsets, and other smart devices to superimpose digital objects onto the real world. AR can be used to visualize construction projects as they are in progress, allowing builders, designers, developers, and owners to make more informed decisions about things like structural changes, product specifications, and design elements.
Blockchain technology is also playing a major role in the digitization of the building sector, expediting and securing workflow processes. Blockchain allows multiple companies to create smart contracts, enabling all parties involved in a project the ability to share one platform for the purchasing and tracking of services, equipment, and materials.
This centralized, shared platform enhances accountability and efficiency by providing an all-in-one tracking system where rules and deadlines are set and then enforced by the blockchain. Blockchain systems enable faster closeouts, increased security, better project tracking, and supply chain automation.
Other digital technologies that are transforming the building industry include WiFi-connected wearables like hard hats and work boots that can alert a foreman if a worker has fallen; headsets that can actively reduce noise pollution while keeping workers in tune with their surroundings; and environmental sensors that detect noise, heat, and wind and provide proactive warnings to evacuate a jobsite if an impending emergency or natural disaster is detected.
Given that the construction sector has been second-to-last on the list of industries that have adopted advanced technologies to create efficiencies (only above Hunting & Fishing), this shift to digitization is overdue.
---
Publisher's Note: This content is made possible by our Today's Home Buyer Campaign Sponsors: Panasonic, Whirlpool, Rockwool, and Lee Industries. These companies take sustainability seriously, in both their products and their operations. Learn more about building and buying homes that are more affordable and less resource-intensive on Today's Home Buyer.