The Transformation of Suburbia

Sara Gutterman
4 min read
COVID has spurred an unprecedented surge in suburban living as people have moved out of populated urban markets into lower-density areas, but the expectations of today's homebuyers are different from those of the families that 20th-Century suburbs were originally built for. What needs to give?
Due to health concerns and the desire for more space, the pandemic prompted an exodus from dense urban markets into secondary and tertiary markets, including medium-density inner suburbs and lower density outer suburbs.
Over the past year, home sales dropped by 17% in large metro urban core areas and 9% in large metro suburbs and exurbs, while suburban home sales in some markets nearly doubled.
According to COGNITION Smart Data, Green Builder Media's suite of market intelligence services, 50 percent of millennials—the most active audience segment in the homebuying sector—are interested in moving to the suburbs, mostly because of the quality of life that suburban living offers. Only 30 percent are interested in urban markets and 20 percent in rural areas.
As more people move to the suburbs, it's becoming painfully obvious that communities that were built in the second half of the 20th Century don't fit today's home buyer's needs.
Time to Retrofit
Many suburban homes built in the second half of the 20th Century have moisture, structural, and durability problems, comfort and performance issues, health risks, and large energy bills. Some of these homes, especially those constructed prior to 1980, were built with materials that contained lead or asbestos.
Today's home buyers are looking for compact, efficient, healthy, and sustainable homes with advanced technologies to augment comfort and performance and reduce long-term cost of homeownership.
They want homes that are smart and responsive. In fact, it is projected that Americans will spend $90 billion on smart home devices by 2023.
They value (and will invest in) energy efficiency upgrades, indoor air quality and water monitoring systems, heat pump technology, solar power, and exterior products that enhance resiliency.
A recent Green Builder Media survey shows that nearly 93% of early adopter homeowners are interested in heat pump technology for their homes.
They are also looking for lifestyle-enabled floorplans. They aren't interested in formal living or dining rooms that are only used a few times each year (but need to be heated, cleaned, and maintained). Rather, they're looking for well-organized spaces that can accommodate remote working, schooling, and home fitness. Pre-COVID, only about 10 percent to 15 percent of homes had dedicated office space—now that number is closer to 75 percent
Cars Be Gone
Beyond the homes themselves, the very design of the 20th-Century suburbs is outdated, with their sweeping, wasteful spaces (when have you ever seen a strip mall parking lot fully occupied?), garage-dominated architecture, and ecological wastelands.
The suburbs of old were so dependent on cars that there were often multiple times more parking spaces per household in a community than vehicles per household.
Today, the average U.S. household owns 1.97 cars. Some older suburbs in Des Moines, Iowa have 19 parking spaces per household, and some in Jackson, Wyoming have 27 parking spaces per household.
With the continued growth of ride sharing, e-bikes, and other alternative transportation solutions, the number of vehicles per household is decreasing, which offers a tremendous opportunity for innovative developers to transform unused parking areas and vehicle infrastructure into higher priority uses that are important to today's homeowners, like parks, bike paths, walking trails, community gathering areas, coworking spaces, mixed-use facilities, retail, and multifamily housing options.
The Missing Middle
With the surge in remote working, home buyers can now live where they want to play, rather than where they have to work. As more homebuyers chose to live away from the urban hubbub, developers are responding in turn.
Land in inner suburbs typically costs 20 percent to 40 percent more than the next ring out. Once considered "next cycle" or "drive to you qualify" opportunities, these outer suburbs have become desirable, allowing developers to acquire cheaper land upon which they can create amenity-packed communities that allow homeowners to buy more home for their buck and achieve a higher quality of life for their families.
These newly developed suburbs, generally built on large pieces of land located 30-45 minutes from downtown urban markets, offer the conveniences of the city, like retail stores, restaurants, and personal services, while also supplying the much in-demand connection with nature and elbow room.
Adaptive Reuse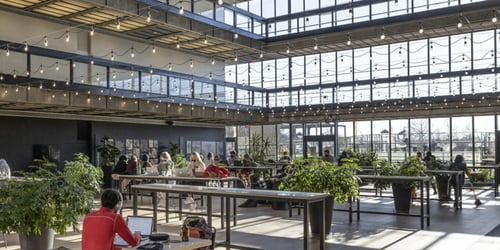 Co-working space at Bell Works
Vestiges of 20th-Century suburban life are littered across America: dead malls, vacated office parks, and ghost box stores—all remnants of an outdated lifestyle. With the revival of the suburbs, developers are retrofitting underused suburban buildings and parking lots, replacing them with communities and amenities that respond to the shifting needs of today's home buyers.
One example: Bell Labs in Holmdel, N.J. Once the research and development facility for Bell Telephone, the sprawling building and 430-acre campus have been redeveloped into a "Metroburb" with mixed-use housing, personal services, and office, retail, entertainment, hospitality, and fitness spaces.
Bell Works has a quarter-mile-long central atrium that serves as a community gathering area, extensive cowork space, a farmers' market, yoga studio, salon, Montessori school, and even a branch of the local public library.
Coworking space at Bell Works
Across the country, the suburban revival is giving a second life to abandoned suburban malls, office parks, and parking lots. Not only is this movement contributing to the development of vibrant communities that reflect the demands of today's homebuyer, it also has the potential to address several of our nation's most urgent challenges.
One such challenge is affordable housing. Every night in the United States, 500,000 people sleep on the streets, and we have a shortage of 7 million affordable housing units nationwide. By transforming underused suburban spaces into affordable housing units, like duplexes, quadplexes, townhouses, and accessory dwelling units, we can rebuild the base of our housing market.
Another crucial challenge: resiliency. By "regreening" suburbia by turning parking lots and paved areas back into natural habitats, municipalities can not only reintroduce ecological diversity but they can also mitigate the risk and impact of disasters like super storms, flooding, and sea-level rise.
Hopefully, 21st-Century developers will be willing to tackle some of the tough issues their predecessors didn't.
Want to read more? Follow me on Twitter and Facebook . For more information about green building and sustainable living, visit Green Builder Media at www.greenbuildermedia.com, like us onFacebook, and follow us on Twitter for regular updates and breaking news.
Feb 4, 2021 12:58:25 PM · 4 min read
---

As cofounder and CEO of Green Builder Media, Sara is a visionary thought leader and passionate advocate for sustainability. A former venture capitalist, she has participated in the life cycle (from funding to exit) of over 20 companies, with an emphasis on combining sustainability and profitability. She lives in Lake City, Colo., with her husband, where she is an avid long-distance runner, snowboarder, and Crossfit trainer. She is also on the Board of Directors at Dvele, runs the Rural Segment for Energize Colorado, and is a former County Commissioner.