The Forever House: Remodeling for Sanctuary
The launch of one of our most ambitious ReVISION House remodels ever highlights best practices for ventilation, energy efficiency, and beauty, in an age of perilous uncertainty.
Our interest in partnering on a ReVISION House project with building science experts Steve Easley and Susan Raterman of California wasn't because of the location or the COVID-19 relevance of the indoor air quality (IAQ) story proposed. Rather, we liked the prospect of applying high-tech building science to a home that, on its surface, might not look like it needs a major remodel.
But looks, in this home, fade quickly once you get past the drywall. This middle-aged home (it's nearing 50), as you'll learn in this introductory article, leaks energy from its pores. It's a building scientist's dream project—an all-too-common case study in too little insulation, too much air conditioning, and not enough quality control during the original build. It's a home that has not held up well with the times.
Meet the Influencers
Steve Easley, MSc, is an internationally recognized construction consultant specializing in solving building science-related problems and educating building industry professionals and their trade partners.
Susan Raterman, CIH, is the founder and president of The Raterman Group, Ltd., an experienced consultant in the critical areas of air quality, mold mitigation, environmental hazards, and industrial hygiene in the Scottsdale, Arizona area.
Fortunately, between them, Easley and Raterman have decades of experience in building science and healthy indoor spaces. They knew what they wanted: an existing house, in a great location, that they could reengineer to avoid unwanted surprises. They set out to create a resilient sanctuary with a modest energy footprint that accommodated two home offices.
The couple knew that to achieve this, it would most like mean a down-to-the-studs remodel that would focus on energy efficiency, IAQ, comfort and long-term durability.
They landed on a lakeside home in Scottsdale, Arizona, built in the 1970s with a great site orientation, but not-so-great performance and design.
The first priority: Look behind the walls and ceiling, and identify the home's hidden energy voids and opportunities. Mitigating indoor temperature swings, Easley notes, will impact many decisions.
The current house fails that test on many levels. The concrete tiles absorb heat during 110-degree-plus days and reradiate that heat into the poorly insulated attic well into the night, just as electricity rates peak every day. Even at 11 p.m., when the outdoor air temperature is 90 degrees, the garage temperature is still 110 degrees.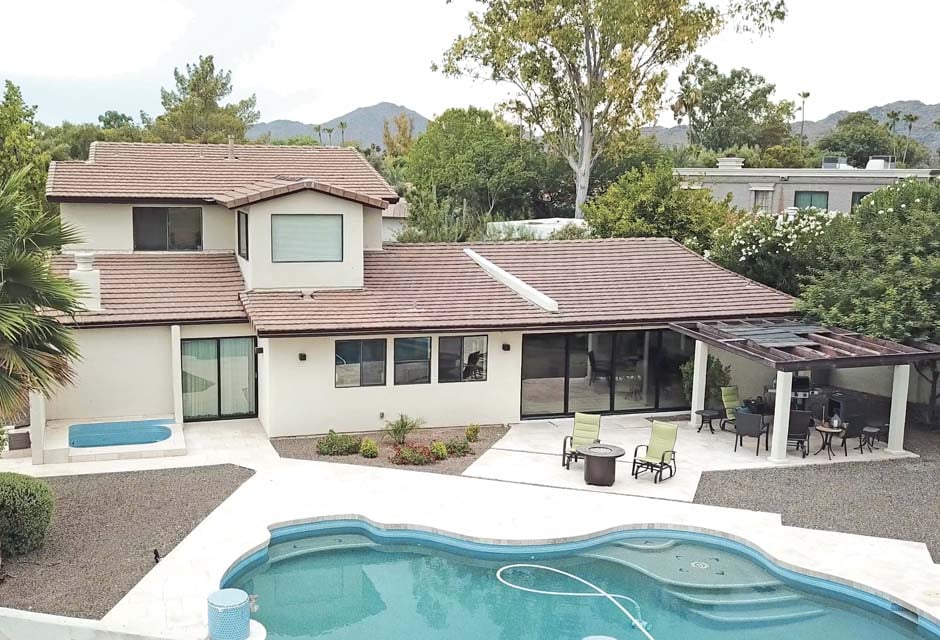 In this first installment of The Forever House story, we'll show you just how bad the performance problems in this house are. You'll learn why the couple has decided to completely dismantle the top floor of the home, and "start over" with an adjusted floor plan, new products, new overhangs, and a higher standard of building excellence.
The thermal scans in the video above tell a more complete story. Note that brighter, warmer colors, such as red, indicate unwanted hot spots. The darker, blue colors indicate cooler surfaces. (Subscribe for for continued, detailed coverage of this project over the next six months).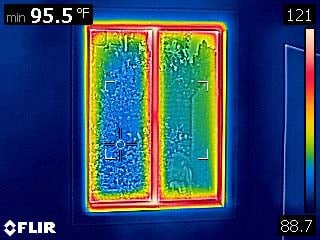 Windows: Past Their Prime
"Non-thermally broken bronze glass aluminum windows were almost universal in the 1970s when this home was constructed," Easley explains. "But obviously they offer almost no defense against the heat.
"We've measured the indoor surface temperature of the glass in this home at 95 degrees," he adds. "So say you have a sliding glass door with a glass area of 40 square feet. If the window faces the sun, the amount of energy that strikes the glass is 250 [British thermal units] per square foot. That's 10,000 BTUs per hour of heat gain. Now, consider that a ton of air conditioning equals out about 12,000 BTUs per hour. Your AC's cooling power is barely keeping up with the heat gain from one sliding glass door."
Image: The original single-pane aluminum window frames leak energy badly but will be replaced with frames with thermal breaks in the remodel. Easley is looking at several brands, including one that makes thermally broken aluminum windows.
Show Home Participants
The Forever House will showcase outstanding products and technology from several leading companies. Categories are still open, however, for sustainable products and innovations that will raise the performance bar.