The Element House: Passive Home Design

Alan Naditz
2 min read
It's lights out at this custom passive home—and that's a very good thing.
The homeowners' vision for this project was for a minimalist structure, built beyond the code in terms of structure, systems and performance. The goal, according to designers, was to create a home that reduced dependency on the power grid with a focus on natural and passive systems. The intended performance was to achieve Leadership in Energy and Environmental Design (LEED) Platinum and Net Zero Energy certification.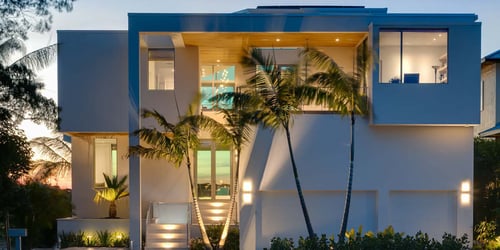 Carefully positioned LED lighting is a key part of the Element House's net zero and sustainably based charm. Credit: Ryan Gamma Photography
Situated on a narrow 67-foot-wide lot, this home in Sarasota, Fla., was designed as a primary residence that the owners could use just for themselves or to accommodate family and friends.
Strategically placed operable windows allow for passive heating, cooling, ventilation, and lighting, thus reducing dependency on mechanical systems for comfort. These fundamental and simple architectural features stand in contrast to the cutting ­edge controls used to operate the variable speed HVAC and low voltage lighting systems.
Natural light fuses harmoniously with the architecture and windows bring daylight into every room—even closets and pantries. These innovations become the defining feature throughout the home.
Along with being ultra-insulated, the home has achieved one of the lowest air-infiltration rates tested locally and nationally. Performance testing shows it in the top one percent of all ENERGY STAR homes. Passive lighting and ventilation, shading, and use of local materials and a high-performance building envelope all contribute to achieving a Home Energy Rating System (HERS) rating of minus 26.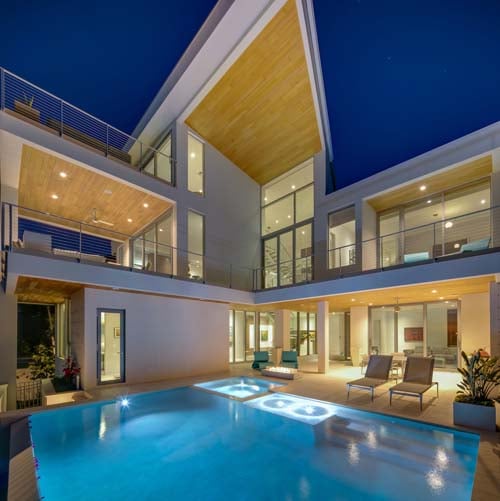 Strategically placed operable windows allow for passive heating, cooling, ventilation and lighting, reducing dependency on mechanical systems for comfort Credit: Ryan Gamma Photography
An optimized solar array is in place to pick up where conservation efforts left off. One hundred percent automated LED lighting was installed throughout the project. The home features the owner's artwork, so it was imperative that much thought was given to controlling natural and artificial light. Window blinds that adjust automatically and smartphone operated controls are integrated throughout the home.
Located in a flood zone, the architectural design offers a non-traditional floor plan, employed to maximize natural daylight and tropical breezes.
The landscape was critical to this project, and the minimalist goals of the architecture translated to the landscape design. The existing shoreline vegetation was protected and nursed to health during the construction. The rest of the new landscaping was intentionally selected to lend scale and designed to soften the rigid forms of the architecture.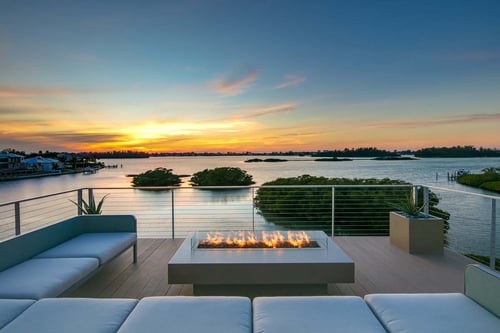 Care was taken to protect existing vegetation and add only drought-friendly plants to the landscape, in an effort to make the project's environmental impact as light as possible. Credit: Ryan Gamma Photography
The placement of large trees frame and enhance the views while providing shade. Only Florida-friendly, drought-tolerant plants were used and site water retention and permeability was maximized. All roof runoff is diverted and collected on site, and within cisterns for irrigation needs.
Only brass-bodied LED landscape lighting was purchased and installed. Rainwater on the site is managed through low-sloped swales with non-compacted earth to speed absorption and minimize bay impacts. A bay-friendly maintenance program is in place to help maintain the integrity of the local waterways.
This project marries design technique and advanced engineering to create a truly sustainable house with an emphasis on simplicity, comfort, and efficiency. The design goes back to basics with true sustainability using shade, natural ventilation and daylight, local materials and sympathy with the Florida landscape.
---

Alan Naditz is managing editor of Green Builder Magazine. He has covered numerous industries in his extensive career, including residential and commercial construction, small and corporate business, real estate and sustainability.