The Duplex Hack

Matt Power, Editor-In-Chief
3 min read
One option for avoiding the potential risks of a 30-year mortgage is to "share" it with renters of your own.
"It's much easier than most people realize to own a duplex," notes Reef Merhi in Houston. "We did a duplex deal recently with an FHA down payment assistance program. That combined with rent proration and deposit transfer meant the new owners received a check at closing, along with their keys, instead of paying closing costs.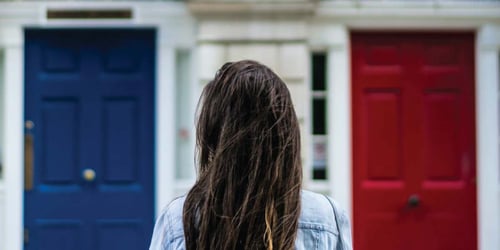 By building two houses at the same time, you create a scenario where you can rent or sell one to reduce your long-term burden. Photo: M Cubed Architects
A few hours of education from your mortgage lender can make a life-changing financial impact and change your family tree for generations."
Moving from strapped renter to landlord, however, is not as straightforward as some blog writers make it sound.
For example, Anastasia Schmalz writes about "How to Quit Your Job, Go Travel, and Not Worry about Money." She compares it to "making money while you sleep."
"We learnt that if we bought an apartment ourselves, our monthly total cost would be $1,000," she asserts. "That's $600 less than what we were renting our apartment for! That means that our landlord had an additional $600 for his travel budget coming out of our bank account, every month."
Landlord Ledger
Property taxes
Mortgage
Insurance
Electric and gas
Internet
Water and wastewater fees
Snow removal and lawn maintenance
Equipment replacement
Wear and tear maintenance
Lost rent (when tenants move)
Maintenance of roof, heating, and floors
Property manager, part-time
Rental registration
Lawsuits
That's enticing copy, but far from the whole picture. The "apartment" she ended up buying was not an apartment, but a multi-family building with three units. I'm intimately familiar with this approach to mortgage reduction, having owned a three-unit, and rented and lived in it for years.
The reality is that the mortgage itself is only the core of your ongoing costs. Along with it come other regular costs. Let's assume you rent with everything included. Many landlords do this because they say it tends to attract better tenants.
Say you're bringing in an "extra" $1,200 bucks a month from two renters on top of your full mortgage payment. By the time you've set aside taxes, insurance, property management, heat, utilities, and snow removal fee, you're lucky if you're still in the black. Chances are you're spending some of your "other" money to keep the place afloat financially.
Are you better off than a person living in a single-family home, with no rental income? Absolutely. You're still building equity, slowly paying down the building, and not digging deep for rent. However, you're also vulnerable, just like any homeowner. If your heating system needs replacing, or your roof fails, you could find yourself back making payments similar to rent at your old apartment.
The key to avoiding this scenario is careful and frugal management of income from your "extra" house. Put away money every month toward long-term maintenance.
You also have the option of simply selling the other half of your duplex. If you live in a popular location, you might even be able to pre-sell the other house, allowing you to own your half—your home—completely mortgage-free.
Building a duplex from scratch, however, is not a "phone it in" type of task. Expect to dedicate a year of your life to managing the project.
Here's a good duplex hack article highlighting some of the challenges you will need to overcome. Remember, build it right, and build it green. That way your property will maintain its value, and save you money year after year.
Want to learn more about first-time home buying? Download this free resource.
---
Publisher's Note: This content is made possible by our Today's Home Buyer Campaign Sponsors: Panasonic, Whirlpool, Rockwool, and Lee Industries. These companies take sustainability seriously, in both their products and their operations. Learn more about building and buying homes that are more affordable and less resource-intensive on Today's Home Buyer.
Sep 27, 2021 1:48:55 PM · 3 min read
---

Veteran journalist Matt Power has reported on innovation and sustainability in housing for nearly three decades. An award-winning writer, editor, and filmmaker, he has a long history of asking hard questions and adding depth and context as he unfolds complex issues.