The Backyard: A Place for Healing

Cati O'Keefe
1 min read
Here's the latest research, trends, ideas, and photos on what's happening in home landscaping.
The backyard remains a hot amenity for DIY remodel projects and new home buyers alike. Here's the latest research, trends, ideas, and photos on what's happening in home landscaping.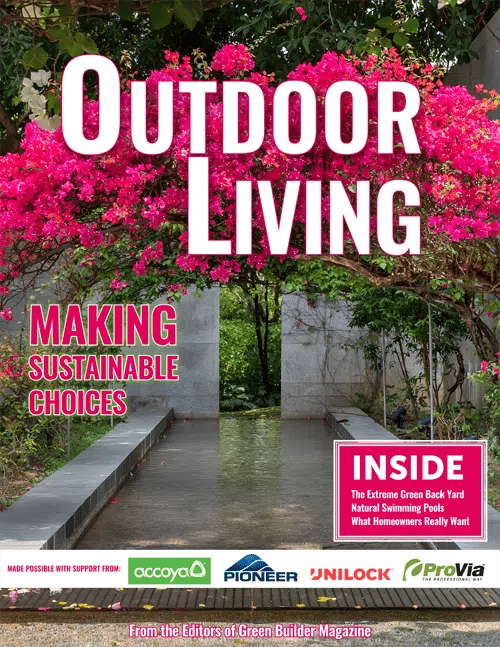 Matt Power, Editor-in-Chief of Green Builder, just rolled out a new custom publication called Outdoor Living: Making Sustainable Choices. He opens the book by reminding us how backyards have evolved:
"Over the past four years, our backyards have become much more than play spaces for kids or weekend barbecues," he says. "They're sanctuaries that allow us to get our feet under us as we process the stress of contagious illnesses, "doomscrolling" the news and worsening climate extremes."
Simply setting foot in nature–even a small slice of the outdoors–reduces our stress, he says.
Join Power as he walks you through the latest developments in outdoor living, including:
A Green Blueprint for Outdoor Living. This features covers how a well-designed sustainable outdoor space starts at ground level. It implements durable materials, efficient energy and water use, and stress relieving sights and sounds.
Natural Sanctuary Spaces Top Homeowner Wish Lists. This comprehensive look at natural swimming pools reviews the best climates for these oases and highlights the important cleaning and filtration work plants offer.
Extreme Green Outdoor Living. Living hard-core green brings rich opportunities for your backyard space. When you ditch the propane, gas lawn mower and bbq grill, you can have the natural, green hangout of your dreams. This article offers a look at the latest products and research that points the way to a simplified backyard plan.
Hardscapes: Architectural Jewelry for Your Backyard Master Plan. There is nothing more restful than built-to-last hardscaping that is durable and beautiful. In this article, find a host of ideas for privacy, water features, pathways, and more.
Find inspiration in this aspirational look at how simple, beautiful and functional backyards can be. Take a few ideas from it for your backyard and bring joy and healing to your home landscape.
Download your free copy of Outdoor Living: Making Sustainable Choices.
May 14, 2023 9:00:00 AM · 1 min read
---

Cati O'Keefe is the editorial director of Green Builder Media. She has 25 years of experience reporting and writing on all aspects of residential housing, building and energy codes, green building, and sustainability.