Storm-Resistant Home Stands Strong in Puerto Rico

Alan Naditz
2 min read
Architects employed a host of storm-proof ideas for a home built in a hurricane zone.
After being hit dead-on or sideswiped by eight hurricanes and tropical storms since 2017, Puerto Rico is not the place many people would want for their next home. The combined impact of the storms—which included Hurricane Irma and Hurricane Maria—topped $92 billion, with more than 160,000 homes destroyed and more than 3,000 people killed, according to the nation's climatic data center.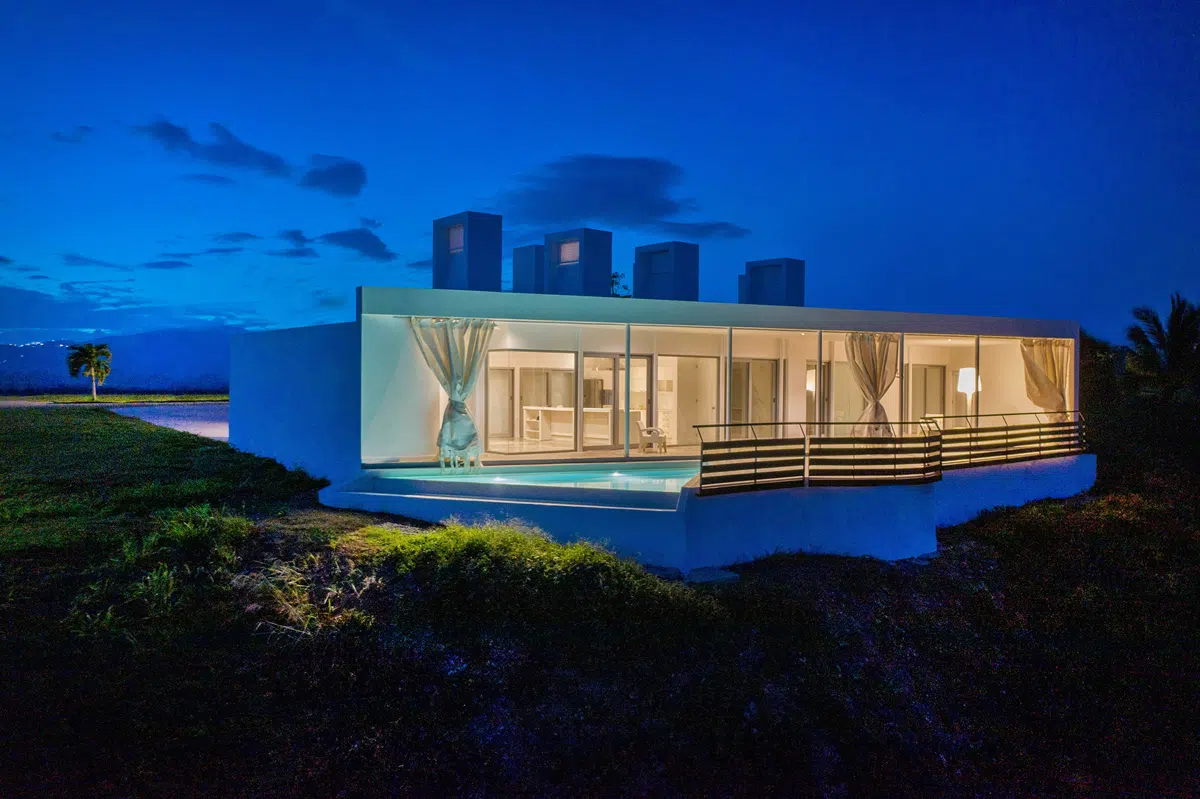 Hurricane-resistant canvas installed in front of windows and in the terrace gives the Fuster + Architects project the ability to withstand winds of 75 miles per hour or more. Credit: Jaime Navarro
But in 2020, when a client approached San Juan-based architecture firm Fuster + Architects about building a new house within the hurricane zone of Puerto Rico's southeastern coast, the architects knew they had to keep several things in mind.
First, the house had to be able to withstand winds of at least Tropical Storm strength—which hit up to 75 miles per hour (mph) and possibly beyond—to at least mid-hurricane level of Category 3, for which winds top out at 130 mph.
They chose an unusual approach. A hurricane-resistant, canvas-like material was installed in front of windows and in part of the terrace. The material, which easily retracts like curtains, also allows light to enter the home. "Usually, hurricane shutters are an unwelcome accessory in many structures," the company notes on its website. "This solution incorporates this element as an integral part of the main architectural expression."
The home is also single story and sunken a half level, with eight "hot air chimneys" that are opened opposite to the prevailing wind direction to create a suctioning effect that continuously circulates air from the outside and through the house. The chimneys double as skylights, bringing in additional natural light—a key feature should power fail for several days due to a storm.
A series of "hot air chimneys" create a suctioning effect that continuously circulates air from the outside and through the inside of the house. Credit: Jaime Navarro
There are other weather-resisting and energy-saving features. The house is constructed in an insulated concrete system with a high R-value, which makes it extremely efficient in terms of cooling. "In Puerto Rico's tropical environment, most concrete structures are not insulated and therefore allow the extreme heat to pass through," the company notes.
The plaster on the house is a structural mortar with high compressive strength of 4,000 psi and a Type N for finishes that are resistant to sulfate and carbonate attacks. The plaster contains the continuous insulation found on the interior of the wall. And, the floor of the house is finished in polished exposed concrete. "It is the only structural element without insulation because it is not needed in this climate," Fuster + Architects notes.
---

Alan Naditz is managing editor of Green Builder Magazine. He has covered numerous industries in his extensive career, including residential and commercial construction, small and corporate business, real estate and sustainability.