Smart Tools for the Nine-to-Five Parent

Michele Lerner, Associate Editor
5 min read
Whether you're fully back in the office, a hybrid worker, or never got the chance to work at home, you know that managing your home is a full-time job. One tool that helps: a smart garage door opener.
Sponsored Content
Busy parents know how hard it can be, especially during the school year, to keep up with the family schedule of sports practices, games, and homework projects. Add in a normal life of managing deliveries, grabbing groceries, and making sure the dog is walked, you can be quickly overwhelmed. That doesn't even take into account your work life.
A smart garage can help you easily manage the ins and outs of daily life–literally and figuratively. One in five households in the U.S. are already equipped with a myQ smart garage door opener. myQ can be found in LiftMaster and Chamberlain smart garage door opener brands or, for less than $30, can be easily integrated with other leading brands of garage door openers with a myQ Smart Garage Control device.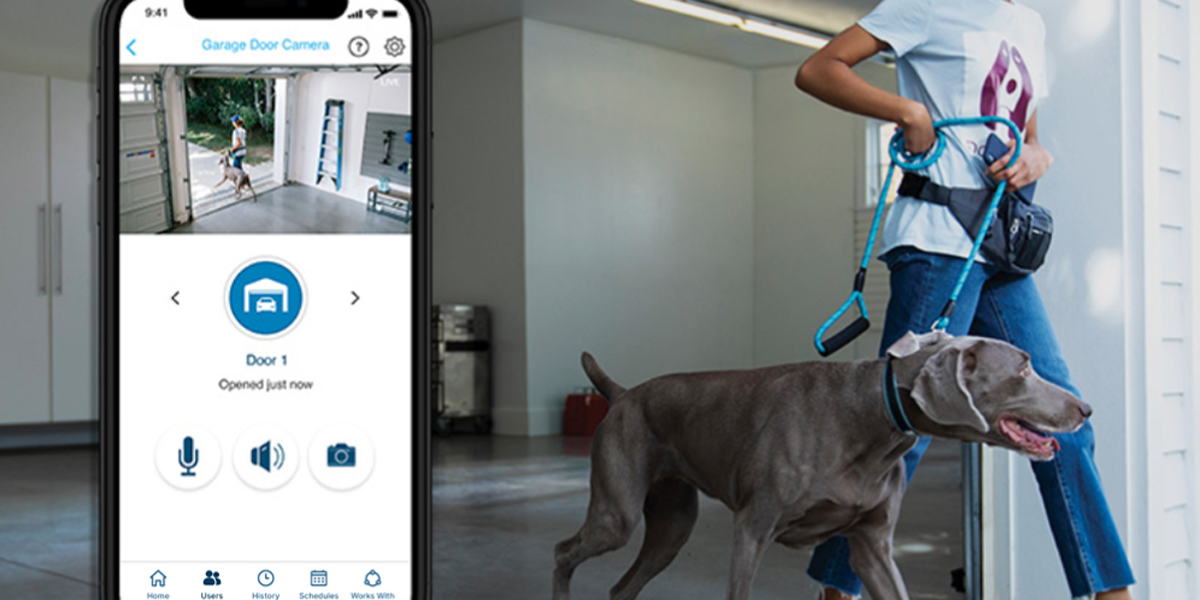 With a myQ smart garage door opener busy homeowners are not limited to opening and closing the garage door within line of sight of the garage. They can open and close the garage door from anywhere with their smartphone through the myQ app. This innovative technology helps enhance the security of the garage and home with real-time alerts that let homeowners know if they left the garage door open.
The app's Guest Access feature also provides a safer way to share access to the home–no need to share keys or codes. Additionally, myQ works with Amazon Key and Walmart+ InHome for convenient and secure in-garage delivery of packages and groceries. You can even add a myQ camera or lock to enhance home security for greater peace of mind.
"The garage is the main entry point to the home for 70 percent of today's homeowners," says Melissa Foley, principal of strategic relationships for Chamberlain Group, a company that provides access control solutions with its myQ smart technology and LiftMaster and Chamberlain garage door opener brands. "Being able to monitor who is coming and going from the garage (kids, friends, extended family), while being able to control who you let in (the dog walker) or keep out (a family of raccoons) makes a myQ smart garage door opener a must have smart home device that puts busy parents in control while enhancing the security of the home."
Home Security for Peace of Mind
If you opt for cameras in your garage, you can see a live stream to monitor who's opened your garage door, how long they stay and when they leave. You can also choose optional video storage options so you can review footage at your convenience.
"With most smart cameras you can monitor your home from anywhere, but you don't have the control to do anything about what you see," says Foley. "When you pair a myQ smart garage camera and garage door opener you get vision and control over what is happening in your garage no matter where you are. If you see someone left the garage door open, you can simply close it."
With the myQ app you can also let your neighbors into your garage to borrow something or to check on your house when you're busy at work or with your kids. Through the myQ Smart Garage Camera you can even chat with your neighbor while they're in your garage to let them know where something is located.
It also provides a safer way to share access to the home. Through the app's Guest Access feature, you can set up "guest profiles" to share and manage when they have access to your home. No more worrying about handing out keys you'll never get returned.
Plus, you can also schedule your garage door to close and the door to lock at a specific time each evening, so you'll know your house is secure even when you're caught up in homework duty.
Deliveries Made Easy
Porch pirates are a giant hassle for everyone, but if you're a busy parent it can be even worse to worry that someone with crime on their minds was at your home, possibly when your kids were on the way there. Then, the hassle of getting the items that were stolen replaced can take up too much of your time.
"As online shoppers continue to demand better delivery solutions that keep their packages and groceries safe, some of the nation's largest retailers, like Amazon and Walmart, are leveraging myQ to bring in-garage delivery services to their customers," says Foley. "With in-garage delivery powered by myQ, busy families can have their packages and grocery orders from Amazon, Whole Foods, Amazon Fresh or Walmart delivered securely into their garage. Rain or shine, packages will stay safe until someone is free to get them."
While myQ removes any concerns around porch pirates, it also looks to remove concerns around letting a delivery driver have access to your garage. With myQ, your package is the key to your garage that gives a vetted delivery driver one-time access–no codes are ever shared with delivery drivers. To move on to their next delivery, drivers must ensure the garage door is closed once the package is delivered. Plus, with a myQ camera you can watch deliveries happen in real time.
Concierge Services In Your Hands
One of the luxuries of life promoted by high-rise apartments and condos is the presence of a concierge to hold your packages and facilitate services such as pet sitters, plumbers and cleaners. You can set up your personal concierge services with the myQ app a couple of ways.
First, you can choose which trusted and frequent service pros should have their own access to your home. For example, if you have a weekly cleaning person, through the myQ app you can set up a "guest profile" to share and manage when they have access to your home. Your myQ app will also alert you when they enter your home and when they leave it.
Second, you can remotely open and close your garage with your smartphone from anywhere. So, while you're picking up one kid at ballet class and dropping the other off for soccer practice, your heating and air conditioning inspector can get started on the job. No more waiting around during one of those four-hour appointment windows.
Self-service control over your garage entrance and visibility into the space can provide peace of mind to busy parents when they're on the road, in the office or multitasking at home.
---
Publisher's Note: This content is made possible by our Today's Homeowner Campaign Sponsors: Whirlpool, Vivint, myQ, Sonos and Jinko Solar . These companies take sustainability seriously, in both their products and their operations. Learn more about building and buying homes that are more affordable and less resource intensive.
Sep 21, 2022 9:17:22 AM · 5 min read
---

Michele Lerner is an award-winning freelance writer, editor, and author who writes about real estate, personal finance, and business.